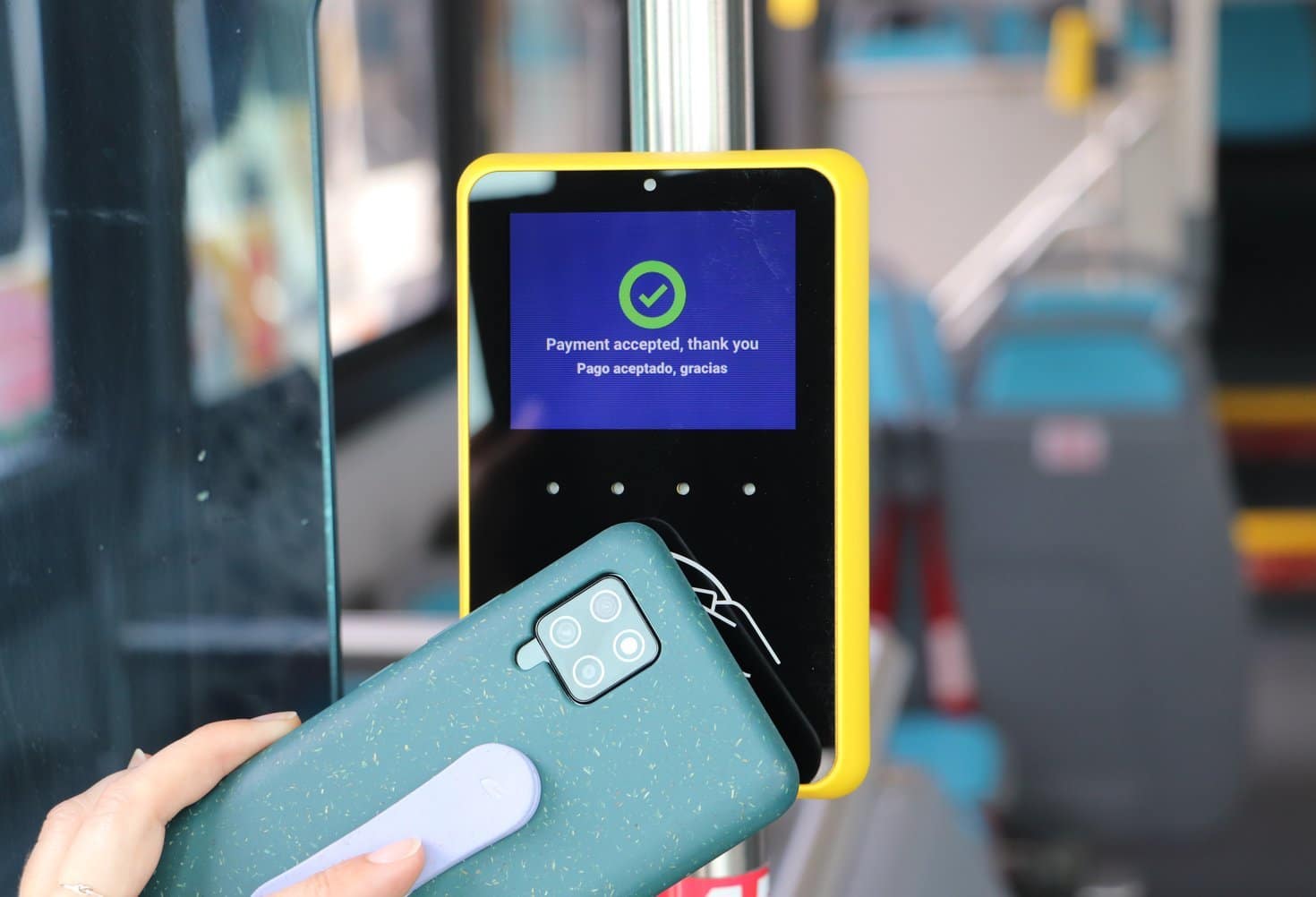 Article Highlights
Key Takeaway:
The rural bus agencies in Northern California are among the first to move under the state-backed Cal-ITP program.
Key Data:
• Table: Validator Bids, SC Soft vs. Kuba
• Table: Transit Processor Bids, Littlepay vs. Enghouse
In one of the first procurements of open-loop technology past the pilot stage for the pioneering California Integrated Travel Project, a group of rural transit agencies in Northern California received a low price for its planned open-loop payments rollout, Mobility Payments has learned.
The four transit agencies, part of a regional consortium called the Far North Group, netted contracts to buy validators at a sub-$900 price per unit, as well as paying minimal integration and certification costs, according to tender documents obtained by Mobility Payments.
"We were satisfied that we received good value on the products," Greg Pratt, general manager of the Humboldt Transit Authority, told Mobility Payments. Humboldt Transit is leading the open-loop procurement for the Far North Group. The agencies will also enable regional fare capping and possibly transfers and senior discounts with open-loop payments, as Mobility Payments first reported in early June.
The four agencies hired India-based SC Soft to supply validators and Australia-based transit payments service provider Littlepay to provide what the state calls "transit processing," which includes fare calculation. The agencies also have a contract with U.S.-based acquirer Elavon, which will use Cybersource as a payments gateway.
Modular Approach
The state-backed Cal-ITP seeks to help hundreds of mostly small bus agencies in the state give their riders the option of paying with contactless Visa- and Mastercard-branded debit, credit and prepaid cards. The agencies now mainly accept cash and paper tickets, though some also take proprietary closed-loop contactless cards or accept low-end mobile ticketing.
The state hopes that by assisting transit agencies to introduce interoperable fare payments, as well as better trip-planning tools to customers, it may ease the serious traffic congestion clogging California roads and highways and help the state meet its climate-change mitigation goals.
The idea behind the California initiative is to enable primarily small and mid-tier transit agencies to shop for the components they need to build largely standalone open-loop payments systems in what the state calls its "Mobility Marketplace." The concept involves agencies buying validators, transit processing and payments processing separately, usually from different suppliers.
For this modular approach to work–without the extra expense of hiring a system integrator–the agencies must ensure that the components of the system are fully integrated among the various vendors.
The Far North Group hired suppliers that are preintegrated. In other words, hardware from the validator supplier, SC Soft, is supposed to already work with fare-calculation software from Littlepay, which in turn can send transactions to payment gateway Cybersource and then to acquirer Elavon. This preintegration purportedly saved the four small transit agencies more than $200,000 that they potentially would have had to pay to the vendors to integrate their products and also to obtain EMV level-3, end-to-end, certification for the open-loop system.
Low-Cost Validators
That's in addition to the money they saved on the low bid for the validators.
Procurement documents obtained by Mobility Payments show that validator supplier SC Soft captured the low bid by slashing the price for its SCV500 validators by 25% to $899 apiece. That is down from the $1,200 price the vendor bid on the same validator model to secure a master service agreement with the state, which was for the most part approved in December 2021.
While the California Department of General Services selected six vendors during its formal procurement process late last year, the state recommends that transit agencies seek informal bids from this group of vendors for their individual projects. That is what the Far North Group did with the help of consulting firm Rebel Group. The latter is paid by the state to help manage the Cal-ITP program.
The $899 price for the SC Soft validator puts the hardware closer to commodity pricing, said one industry observer.
In addition to lowering its price for validators, SC Soft also dropped its fee for installing the units onboard buses to $250 apiece. That was down 29% from the $350 per unit it bid for the MSA contract.
The low prices on hardware and installation are especially noteworthy given that the four agencies–Humboldt Transit Authority, Lake Transit Authority, Mendocino Transit Authority and Redwood Coast Transit Authority–are only ordering a combined 179 validators, including spares. And the region the four agencies cover with their bus services is large and features forests, mountains and rugged coastlines—not exactly cheap to travel around to bus garages to do installations.
All told, SC Soft said it could provide all the validators, installation, implementation costs and the first year of maintenance of the units for just over $360,000 for the four transit agencies. The agencies are believed to be paying the costs with federal grant funds.
The open-loop service was expected to start as early as this month, but may not happen until a little bit later as agencies wait for their validators to be shipped and installed.
SC Soft and Elavon signed individual contracts with the transit agencies in June. Paperwork was expected to be completed with Littlepay in July, though Littlepay probably signed onto the project earlier than the other vendors.
SC Soft's price cuts enabled the vendor to win the bid over Canada-based Kuba, which did not drop its already low price of $972 per unit for its ABT-3000 validator in its master service agreement with the state. Kuba also didn't reduce its per-unit price to install the validators of $562.50 each, more than twice the discounted bid by SC Soft (See table above).
Kuba, which provided validators for at least two other smaller Cal-ITP pilots, did offer the Far North Group what amounted to an 11% discount off its entire proposal price, including five years of maintenance, but that was not enough to beat SC Soft's bid. Neither SC Soft nor Kuba responded to requests for comment.
Aggressive Pricing
SC Soft appears to be aggressively cutting its prices–and margins–to win more business and gain a foothold in the U.S. market. In announcing the wins with the Northern California agencies in late June, SC Soft called its five-year master service agreement with the state a "multiyear, multimillion opportunity." In a statement, Sanjay Bali, SC Soft CEO said the win "will establish us under the Cal-ITP, which has opened a large market for us."
Mumbai-based Aurionpro Solutions, a technology supplier to banks and government agencies, acquired a majority stake in SC Soft in 2019 and increased that stake to 90% in June of this year. It said it would buy the remaining 10% by the end of 2022.
SC Soft said it had revenue of US$4.1 million in its 2019-20 fiscal year, the latest year it provided figures for in its proposal to be part of the California master service agreements. That was up from $3.1 million in 2018-19 and just under 1.8 million in 2017-18.
SC Soft provided a combined 230 validators for the Cal-ITP pilots in Monterey County and Sacramento, which launched last year and continue to the present. It supplied this hardware working directly for Littlepay.
Its other, larger EMV-enabled validator projects, are mainly outside the U.S., including those in India, Russia, Turkmenistan and Nigeria. It also supplied U.S.-based SPX Corp. with more than 1,000 validators for the latter's Genfare fare-collection service. And SC Soft announced last month that it will supply validators for open-loop payments for a one-line metro under construction in Quito, Ecuador.
SC Soft's validator, the SCV500, the only model of standalone validators it offers, also can scan QR and other 2D barcodes, used on mobile and paper tickets.
Waiving Integration Fees
Payments service provider Littlepay also dropped its price for the Far North Group bid, decreasing its service fee from 2.8% of open-loop revenue collected to 2.25% for its software-as-a-service platform.
The fee for transit processing includes aggregation of transactions, multiagency fare capping, managing the deny list and performing other risk management. Littlepay would then send the transactions for payments processing to the Cybersource payment gateway then on to acquirer Elavon.
Littlepay global head of commercial Paul Griffin said Littlepay considers the contracted service fee it bid for its MSA with the state of 2.8% as a "ceiling price." The company has offered the lower 2.25% fee to transit agencies piloting open-loop payments under the Cal-ITP program, as well as to early adopters like the Far North Group, he said, adding that the company would start to bid the higher rate later in the year for "late comers."
Littlepay, founded in 2015 and part of the ICM Mobility Group, works solely as a transit PSP in open-loop payments projects. It processes US$500 million worth of fare payments annually for 250 transit agencies. Many of these are small bus operators in the UK. The customers also include transit agencies in Finland, led by multimodal Helsinki transport authority, HSL, as well as train and bus operators participating in a planned national rollout in Costa Rica. Littlepay also is involved in open-loop trials in Portugal and Spain, along with four Cal-ITP pilots.
The company brought in US$8.5 million in revenue in calendar year 2021 and $7.5 million in fiscal 2020-21. That's substantially up from $4.6 million in sales in 2019-20 and $1.9 million in 2018-19.
Littlepay's bid for the Far North Group business indicates its waiver of integration fees possibly saved the four transit agencies at least $140,000. That includes waivers because Littlepay is already integrated with SC Soft (as well as Kuba, which is a sister company in the ICM Mobility Group) and Elavon and Cybersource.
Of the $140,000, the largest share was the waiver of fees for integrating with the payments processor and acquirer. Littlepay said an integration fee of $100,000 was "not required" because of this. Its preintegration with SC Soft allowed it to waive another $20,000 in integration fees.
And Littlepay said the $20,000 fee it would have needed to charge to work on EMV level-3 certification was "not applicable" to the Far North Group project if the group agencies chose either SC Soft or Kuba as validator supplier.
EMV level 3 is an end-to-end certification, from the validator through to the acquirer. Littlepay said Kuba and SC Soft validators already have level-3 certification with Elavon/Cybersource.
Elavon's contract with each of the Far North Group agencies says it will charge $0.03 per transaction processed, which includes the gateway fee from Cybersource. That's the same fee Elavon charges other state agencies as part of its MSA with the state.
Visa-owned Cybersource participated in the Cal-ITP pilots because Elavon did not yet support Visa's MTT, transit transaction model or pay-as-you-go protocols for processing of fare payments in the U.S., according to a filing last year by Littlepay. That may still be the case, which could be why Cybersource is participating in the Far North Group project. Competing payments processor and acquirer Fiserv, which also has a state contract, had not been certified to handle card-present transit transactions as of last year.
The $0.03 transaction fee from Elavon does not include separate interchange fees that it passes through to transit agencies that accept open-loop payments. These fees usually are significantly higher than the processing and acquiring fees.
But sources have told Mobility Payments that Cal-ITP or other state officials encouraged Visa to cut a key interchange rate by introducing–at least temporarily–a special rate for transit agencies in California and perhaps elsewhere. Neither Visa nor Cal-ITP has confirmed the interchange rate cut.
Meanwhile, SC Soft in its proposal to the Far North Group agencies said it also could have charged hefty integration fees: $35,000 for integration with the transit processor, had Littlepay not been chosen; another $35,000 to integrate with a processor of 2D bar code transactions, also if the transit processor had not been Littlepay; and yet another $35,000 for the EMV Level-3 certification. But SC Soft waived these three fees totaling $115,000.
These fees combined with Littlepay's potential integration and certification fees would have totaled $250,000, according to the bids submitted to the Far North Group. It's not clear whether the vendors would have really charged all of these fees if they were not already preintegrated or had prior certifications.
If they had tried to charge the fees, it might have drawn resistance from the transit agencies, which would have asked why they should fund integrations that other transit agencies would benefit from in the future.
Still, the fee waivers appear to have influenced the Far North Group's decision on which vendors to choose.
When asked why the group chose Littlepay over competing transit processor Enghouse for the project, Humboldt Transit's Pratt told Mobility Payments it was because of the "savings from integration and implementation costs." (See transit processor table above.)
Domination by a Few Vendors?
Pratt also confirmed that the fact Littlepay was already integrated with SC Soft and Kuba helped make these two suppliers the top candidates for providing validators because it would move the project along faster, he said.
There is only one other company with a state master service agreement to supply validators, Germany-based INIT. But INIT's prices–at least those in its state contract–are much higher than those from SC Soft and Kuba. INIT's lowest price for a standalone validator runs more than $2,200 at the low volumes Far North Group needed. INIT is also not integrated with any other transit processor except for its own platform.
Of course, transit agencies can always go outside of the state-contracted vendors to buy open-loop technology. But they would have to go through a formal procurement process to do so.
Toofan Otaredian, managing director for Enghouse (pronounced ENJ-HOUSE), which uses transit PSP platform Switchio from Czech Republic-based Monet+, does not have integrations with any of the validator suppliers or acquirers that have master service agreements with the state of California.
He contended to Mobility Payments that this lack of integrations with the state-contract vendors is not a problem.
"We have already realized integrations with other validators with comparable technologies," he said. "Moreover, we are in negotiation with the category A (validator) vendors to execute preintegrations with their validators, as well. We expect that those integrations would be realized smoothly in a short period of time." He did not respond to a follow-up question of whether Enghouse was also planning to preintegrate with Elavon.
Littlepay's Griffin was not shy about pointing to Littlepay's apparent pole position for future procurements by transit agencies under the state open-loop technology program.
"Right now, we clearly have a 'first-mover' advantage in the market as a result of our investment in the initial pilot projects and having achieved integrations with the main device vendors," he told Mobility Payments. "All of that work was completed by Littlepay and its partners in 2021, and so we can now onboard agencies pretty much on demand and without charging upfront project costs. We've already done all the plugging and playing."
Like INIT, U.S.-based Bytemark, which also has a state contract, did not submit any price bids for the Far North Group procurement for the transit processor contract, though they submitted answers to questions in the group's scope-of-work document. And the Far North Group is not believed to have asked one or both of the vendors for bids. INIT is the only vendor with a state contract to supply both validators and transit processing.
One industry observer told Mobility Payments he believes a few of the state-contracted vendors have an inside track on future procurements. They can offer the lowest prices and currently can waive integration and certification fees.
"This would make Littlepay, SC Soft, and Kuba the default winners for every new procurement," he said. "Even if I'm wrong, however, Littlepay and SC Soft have set the price bar very low, making it even less likely that the higher-cost integrators, e.g., INIT, will get any business from the marketplace."
The state signed the five-year master service agreements with only a total of six vendors after disqualifying a number of prospective suppliers late last year–many for failing to meet strict administrative rules in the state's tendering process.
That could be a problem since the state has opened up its Mobility Marketplace not only to around 300 transit agencies in California but also to agencies throughout the U.S. that want to roll out open-loop payments technology.
The six vendors do not include Elavon and Fiserv which had earlier contracts with the state to provide payments processing and acquiring.
Far North Group's Pratt said the transit group, in general, chose SC Soft, Littlepay and Elavon because they offered the "lowest prices."
And when asked if the group obtained those price concessions following negotiation with the vendors, he replied that, no, they offered the reductions in response to the standard scope-of-work, SOW, document that the agencies put out, as required, on the project, prepared by the Rebel Group. No negotiations were necessary to obtain the lower the prices.
It remains to be seen whether transit agencies that come later will enjoy the same low prices that the Far North Group agencies received. And observers believe that large agencies probably won't use the so-called Mobility Marketplace, at all.
But for small and mid-tier agencies that mainly accept cash and paper tickets, California's procurement program promises to reduce barriers for them to introduce open-loop payments–including lowering costs to buy hardware and pay for processing.
© Mobility Payments and Forthwrite Media. Mobility Payments content is for individual use and cannot be copied or distributed without the express permission of the publisher.