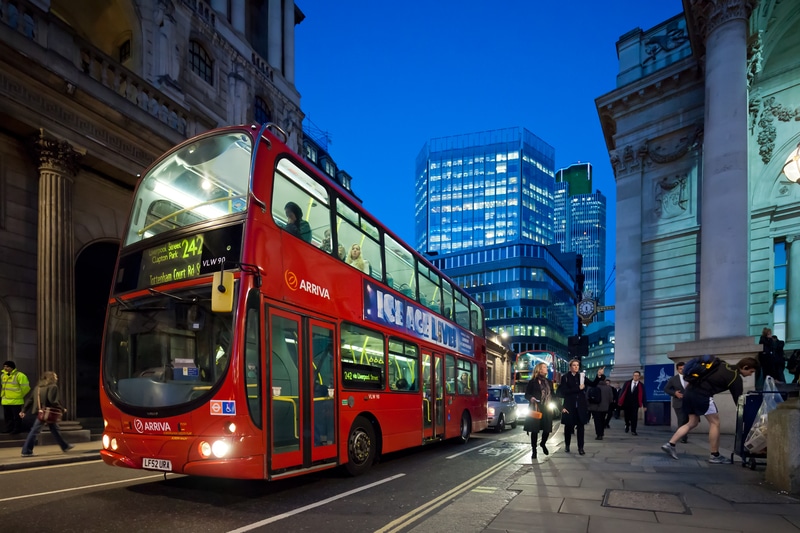 Article Highlights
Key Takeaway:
Transport for London has launched its much-anticipated call for tenders to find the next vendor to run its fare-collection system–with the so-called "Project Proteus" expected to be one of the most expensive and complex fare-system contracts in play globally. The new contract will be worth up to £1.5 billion.
Key Data:
The contract will be worth up to of £1.5 billion (US$1.8 billion) over 12 years, including expected extensions.
Organizations Mentioned:
Transport for London yesterday launched its much-anticipated call for tenders to find the next vendor to run its high-profile fare-collection system–with the so-called "Project Proteus" expected to be one of the most expensive and complex fare-system contracts in play globally.
The contract will be worth up to £1.5 billion (US$1.8 billion) over 12 years, including expected extensions. The vendor that transit officials choose will be responsible for taking over maintenance and operation of a fare-collection system that handled around 4 billion trips a year across the agency's bus, metro, tram and other transport modes before the pandemic. Transport for London, or TfL, predicts ridership will return to pre-Covid levels before August 2026, when the new contract will take effect–following a one-year delay.
Despite the size and anticipation for the new contract, Proteus will make few major changes to the fare-collection system. But one significant change that it will make will be to implement an account-based ticketing system for the agency's closed-loop Oyster card. TfL's contactless open loop payment service is already covered by account-based ticketing, and the change could bring Oyster into a larger ABT system. Oyster has been a card-based system since the agency launched it in 2003.
This new account-based system will enable cardholders to more easily reload their Oyster cards and will allow TfL to make changes to fare policy and support new services more readily because these will be made in the back office, not on cards and readers.
"The Proteus view is, this is about services," said Tim Jefferson, UK-based senior consultant for The Human Chain/FirstPartner. "This is not about (incumbent vendor) Cubic, not about a transit specialist software company. This is about how do we have the agility and flexibility going forward?"
New services, for example, could include support for payments for ride-share, bike-share and other mobility providers that are part of a mobility-as-a-service platform, he said.
The payments could be with open loop or Oyster. While TfL more and more appears to be emphasizing open-loop payments–along with pay as you go, in general–it has no plans to retire the Oyster brand.
But there will be no major changes to TfL's showcase open-loop payments service–though one notable added feature in the Proteus project would be developing the ability to link customers' contactless credit and debit cards to the same cards loaded as tokenized credentials in NFC wallets. This would enable riders to tap their cards, smartphones and smartwatches interchangeably.
The feature would make use of the payment account reference, or PAR, specification from industry group EMVCo. The PAR creates a unique identifier associated with a specific cardholder PAN, enabling merchants and acquirers to track the PAN and all tokens stemming from it. The PAR feature needs to be supported in readers.
The main focus of the Proteus project procurement, however, is on finding a vendor to successfully operate and maintain the existing system while reducing the overall cost of revenue collection, TfL officials have said. The contract will also "look to develop, enhance and expand these (revenue-collection services) to meet our future needs," a TfL spokesman told Mobility Payments.
Incumbent Vendor Expected to Compete for New Contract
U.S.-based Cubic Transportation Systems, which has had the TfL fare-collection system contract in some form for more than 20 years, has much to lose if it doesn't win the new Proteus deal.
And unlike incumbent vendors on other large fare-collection projects, Cubic will not have as much of a leg up on competitors. That's in part because TfL owns or has the rights to intellectual property throughout the fare system, including the proprietary Oyster card. In addition, the agency, which takes an active role in developing and managing its fare system, is eschewing bespoke contracts in favor of a more modular approach.
To further ensure what it promises will be a level playing field, TfL also contracted early to replace thousands of aging readers on board its buses and on rail instead of including the reader replacement in the new contract. Since Cubic knows the fare system well–especially the Oyster software–requiring the Proteus contractor to replace the readers could have potentially given Cubic an advantage in winning the new contract.
Cubic made out okay with this particular decision since it has the deal to replace the readers. The decision also led TfL to add another year onto Cubic's current revenue-collection contract. The contract was originally set to expire this year, but was extended to August 2025 in 2017.
The agency earlier this year extended the contract again to August 2026 because supply chain problems, among other issues, have delayed the rollout of the new readers. They're not scheduled to be fully installed on board buses until June 2026. (TfL oversees 8,500 buses in and around London) And while readers for rail won't be installed by the time the new contract takes effect, they're expected to be manufactured and tested by then. These readers will then be installed by the Proteus contractor.
This one-year extension will also help TfL make sure the readers work well in the field before any change of vendors occurs. It also gives the agency more time to hold the procurement. TfL expects to award the Proteus contract in August 2024.
The first phase of the procurement, launched Monday, will assess the economic and financial standing of potential suppliers, as well as their capabilities and relevant past experience, according to one of the procurement documents. Bidders have nine weeks to respond to the tender request. Following an evaluation period, the agency will shortlist the bidders with the three highest scores to move to the next round.
Replacing Handheld Readers; Back-Office Refresh Planned
Among other changes the transit agency plans for the new contract are:
• Replacing handheld readers for revenue inspection. There are around 2,500 of the devices now in circulation.
• Decoupling readers from electronic ticketing machines on board buses and then removing the machines from the vehicles, since the agency no longer issues paper tickets on buses.
• Refreshing the fare system's back office and front office.
The new contractor might also be called upon to support UK Department for Transport initiatives to expand pay-as-you go open-loop payments at more than 200 rail stations in Southeast England, as well as accepting barcode-based payments at some Transport for London stations. Support for both initiatives are subject to further discussions with the department.
No mention is believed to have been made in the tender documents released Monday of using white-label EMV cards to replace proprietary Mifare cards for Oyster. Transport for London is expected to make that decision later.
It's not clear whether development work to link concessions with open-loop cards and credentials for seniors, students and other categories of riders eligible for the discounts is part of the planned contract.
© Mobility Payments and Forthwrite Media. Mobility Payments content is for individual use and cannot be copied or distributed without the express permission of the publisher.