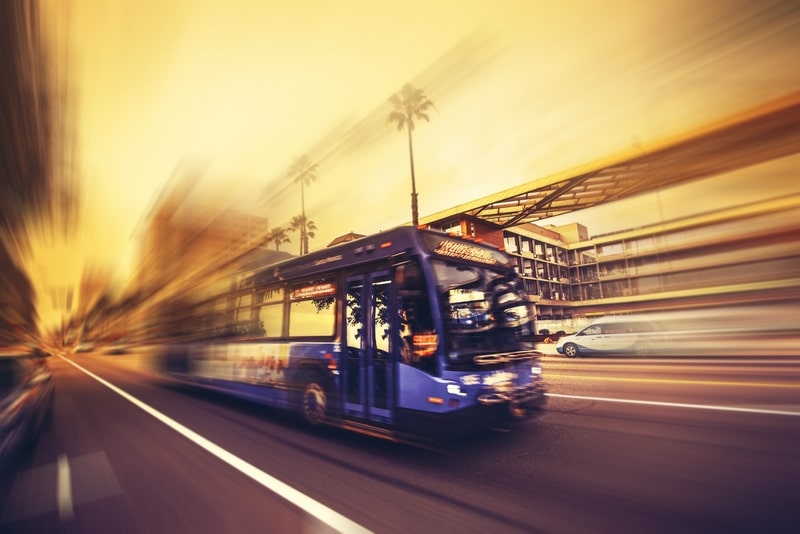 Article Highlights
Key Takeaway:
California's "Mobility Marketplace," which aims to sell transit agencies in the state and beyond the core components they need build open-loop fare-collection systems, is now open for business. Agencies will find a mix of prices and levels of integrations among vendors.
Key Data:
• Table: Cal-ITP vendors-transit processors
• Table: Cal-ITP vendors–validator suppliers
• Table: Procurement rankings of Cal-ITP vendors
California's "Mobility Marketplace," which aims to sell transit agencies in the state and beyond the core components they need to build open-loop fare-collection systems, is now open for business.
Agencies will find a mix of prices and levels of integrations (see tables below) among vendors that the state has lined up to supply the open-loop technology. And because the procurement process late last year did not go entirely smoothly–leading to several disqualifications of well-established vendors–agencies will have a total of just six vendors to choose from when they go shopping for their open-loop technology wares.
The new contracts, which took effect this month, will offer agencies an opportunity to buy their validators and certain fare calculation and processing services from the vendors. Agencies also can hire either of two merchant acquirers, Elavon and Fiserv, which the state contracted with earlier.
And the state is opening up its marketplace to transit agencies in other states. Gillian Gillett, head of the California Integrated Travel project, or Cal-ITP–the initiative in the state Department of Transportation that is spearheading the open-loop payments push–told Mobility Payments last month that she's received calls of interest from such states as Illinois, Michigan, Oregon, Massachusetts, South Carolina and Florida.
Still, no transit agency, either inside California or out, has officially said yet that it plans to order from the Cal-ITP program. And interviews by Mobility Payments with some of the contracted suppliers indicate that while they are fielding questions and interest from agencies, they have yet to receive orders. Of course, many agencies will need to apply for grant funds to pay for the validators. And in order to buy from the marketplace, agencies need to complete a not insignificant amount of paperwork.
But there's little doubt that some agencies will indeed place orders with the vendors. One of them is Anaheim Resort Transportation, a small Southern California bus agency serving the city that is home to Disneyland and other tourist attractions.
"We wanted to go to an open-payment solution 10 years ago," Diana Kotler, longtime executive director of the agency, told Mobility Payments last month. "If I go to a supermarket, I should be checking out regardless of what credit cards I carry. The same should apply for transit. It's our philosophy. And it's always been there. The product hasn't been available. So now the product will become available."
Eschewing System Integrators
The concept of lining up qualified vendors to supply what are designed to be plug-and-play components is not entirely new. But it follows a trend for more transit agencies to take a modular approach to building their fare systems. In doing so, they are eschewing contracts with large system integrators to build bespoke systems for them.
State officials believe the Cal-ITP concept will save money and enable California's roughly 300 transit agencies–especially the many small bus agencies throughout the state–to accept contactless credit and debit cards and NFC wallets.
The officials reason that open loop will offer a needed alternative to the fragmented, cash-heavy fare-collection systems in the state, encouraging more riders to take public transit. That includes providing alternative open-loop cards and mobile accounts to accommodate at least some of the state's large population of unbanked and underbanked customers. In addition, the state is testing a system to link customers' contactless bank cards to their eligibility to receive senior discounts.
But without system integrators to oversee the rollouts, transit agencies likely will be responsible for more of the planning and organization of the projects that they are used to. "User instructions" advising transit agencies on how to buy technology from vendors under the state's master service agreements, say agencies should first develop a "scope of work." Then they would send this document to selected contractors and negotiate prices, including any value-added services they want. They must then execute a user agreement with the contractor or contractors they choose, binding them to the work.
Cal-ITP has said it will provide technical assistance to the agencies, "ranging from developing a project scope and engaging with vendors to implementing a new fare payment system—as capacity allows." The Department of Transportation, or Caltrans, however, confirmed to Mobility Payments that Cal-ITP itself has no employees. Gillett heads the California Integrated Mobility program, of which Cal-ITP is a part. But this office was believed to have only five employees earlier this year. So it's unclear how much capacity Cal-ITP has to offer assistance to agencies, though the program does use consultants.
A Caltrans spokesman told Mobility Payments Wednesday that Cal-ITP is, in fact, increasing its staff support. It is already staffed by consultants through grant funds. In addition, the California Integrated Mobility program is "working to add resources from within Caltrans, including hiring data analysts and data specialists," he said.
Vendor Rates Range Widely
The five-year master service agreements for the six selected vendors that took effect March 1 give a good snapshot of how the vendors have initially priced their wares. These prices are subject to change, however, and vendors could decrease them following negotiation with agencies. In addition, some vendors have said the state didn't provide them with a lot of information on which to base their quotes, which is another reason the prices could change–though the vendors will not be allowed to increase their prices, only lower them.
The prices as bid by vendors vary widely. For example, in the validator category, UK-based Kuba priced its lowest-cost device at under $1,000 for the first unit, and $907 per unit if an agency orders 1,000. The vendor's other units were much higher priced. Singapore-based SC Soft actually ranked as the lowest cost validator supplier overall for the procurement process. It bid only one model, which it said would start at $1,250, dropping to $1,150 in volumes. Both Kuba and SC Soft have provided validators for Cal-ITP trials.
Meanwhile, Germany-based INIT, known more for its vertically integrated fare-collection projects than for a modular approach to tendering, offered a price that was nearly twice that of SC Soft, and much higher than Kuba's lowest-cost device. A representative for INIT working on the project did not respond to multiple requests for comment from Mobility Payments.
The other Cal-ITP vendor category is for "transit processors," which is sort of a cross between a payment service provider, or PSP, and a fare calculation provider. INIT–the only vendor to win contracts in both categories–made the highest bid in this second category, as well.
INIT came in with a commission rate of 6.45% to process $10,000 per month or less worth of open-loop revenue. That compares with a rate of 3% for U.S.-based Bytemark, 2.8% for Australia-based Littlepay and 1.61% for Canada-based Enghouse. INIT's rate dropped to 5.45% for processing a higher volume, $100,000 in revenue per month. At this volume, Bytemark's rate fell to 2.5%, while Littlepay's rate remained constant. Enghouse's rate edged down to 1.4%.
As with validators, the transit processing rates, as well as integration costs, represent the maximum amount vendors can charge. The state encourages agencies to comparison shop for the lowest prices.
Dark Horse Emerges in Transit Processing Category
Of the two categories of suppliers in the Mobility Marketplace, transit processors are the most interesting.
They are software-as-a-service providers, not vendors of what is often commoditized hardware, as in the validator category. Transit processors are responsible for taking the credit and debit card taps from the validators and ensuring that the correct fares are charged to valid payment accounts. They apply agency fare rules, discounts and fare capping. They also manage deny lists and do other fraud management, among other tasks.
While Littlepay beat Enghouse in the non-cost scoring part of the procurement process in the transit processor category, including on integrations with validators makers and payments processors, Enghouse had a much-lower processing fee. And it still did fairly well on integrations and other non-cost scoring. So combined, Enghouse ranked first among the four vendors competing for transit processing business.
For the other vendors competing in this category, Enghouse came out of nowhere. Littlepay, which provides transit processing/PSP services for all of the live Cal-ITP trials launched to date and for several modular rollouts in Europe, had expected to be the frontrunner in the category.
Toofan Otaredian, managing director of Enghouse Transportation, told Mobility Payments that it was no doubt a surprise to Littlepay that Enghouse is now in the pole position among vendors in the category.
"We are confident that that we can do it cheaper, and I think they didn't expect that, that we showed up," he said.
While he acknowledges his company does not have experience in the U.S. with open loop, it does in Europe, where among other projects it is working on is a nationwide rollout of open loop in the Netherlands. The project includes 40,000 EMV-enabled validators, Otaredian said, adding that Enghouse has a 60% share of the project, mainly for the cities outside of Amsterdam.
Enghouse's work on the project, however, is on the front-end, not transit processing, through its Dutch-based subsidiary Telexis Solutions. Telexis was Otaredian's former company, which Enghouse Transportation's parent, Enghouse Systems of Canada, acquired in 2018.
Europe is a place where transit is heavily being used, he said. "So we know how to handle a huge volume of transactions and how to deal with multiple operators at the same time," Otaredian said.
Paul Griffin, global head of commercial for Littlepay, noted that Enghouse is using a subcontractor, Czech Republic-based Monet+, to provide it with the technology it needs to compete as a transit processor.
"We were not at all surprised to see Monet+; we were just surprised to see Enghouse white-labeling Monet+," Griffin told Mobility Payments. "I think it's a surprise that it's got this added SI (system integrator) layer, and you just question the value of what that SI is adding to a purely modular project."
Otaredian said Enghouse configures Monet+'s Switchio platform and integrates it for the project at hand. But Griffin contended that Enghouse is entirely dependent on Monet+ to offer transit processing.
And while Otaredian noted that the rate that Enghouse bid for the Cal-ITP project was around half that of Littlepay's, Griffin said that Enghouse's lower fee "doesn't decrease the overall cost of processing to a large degree for a transit agency.
"It's a fairly small reduction in the overall scheme of things. Let's also keep in mind that the fees are 'ceiling' prices, under which all vendors can price their proposals. So no one is cheaper than anyone else at this stage."

Integrations Play Important Role
Besides price, orders from agencies may come down to which technology providers the vendors are integrated with.
For example, if a transit agency chooses one of the three validator suppliers with state contracts, INIT, Kuba or SC Soft, and the agency's transit processor isn't integrated with that particular supplier, then agency could be facing an integration fee of between $20,000 and nearly $111,000, according to the bids. The same goes for integrating the transit processor with a payment processor, though integration fees across all vendors and categories are also open to negotiation.
Littlepay placed first in the procurement scoring for integrations, with Enghouse coming in second. Littlepay's integrations include two of the three validator suppliers, Kuba and SC Soft; and one of the two state-selected payment processors, Elavon.
Bytemark is integrated with one of the three validator suppliers, INIT. And INIT in its role as a transit processor is integrated only with its own validators. While transit agencies could go outside of the Mobility Marketplace to buy validators, INIT has no integrations with any other validator maker except its own units.
But all of the vendors interviewed said they could easily integrate with any of the validator suppliers that agencies choose if they are not integrated with them already.
Also, Griffin rejected the characterization that Littlepay is part of the "same company" as Kuba in the ICM Mobility Group, with the implication being that Littlepay might favor this validator supplier over others.
"It's common knowledge that we have some shared ownership with ICM, but we're entirely separate companies under separate management, and we treat all of our partners completely equally," he said.
Although the transit processing vendors listed all of their integrations with payment processors, including those they use for e-commerce, Mobility Payments is only looking at integrations with payment processors that are part of EMV level 3, end-to-end, certifications for open-loop fare collection projects.
INIT fares better on this score, having integrations with four different payment processors, including both acquirers hired by the state, Elavon and Fiserv. Littlepay boasts five integrations with payments processors as part of EMV certifications, including the one with Elavon.
Bytemark, which says it provides SaaS ticketing for more than 60 agency clients, still has no live open-loop projects. But it listed two pending integrations with a payment processor, Fiserv, for EMV level-3 certified open-loop services. One of the integrations is for Capital Metro, serving Austin, TX.
Bytemark CEO Eric Reese told Mobility Payments that he can't talk about other open-loop projects he's working on unless they've been announced by the agency.
"What I can say is that we have certifications that are in process that will be live later this year," he said.
California's Mobility Marketplace has been officially open for business for fewer than three weeks, though the winning vendors have been known for much longer than that. And although there still appear to be no concrete orders, Reese, like the other vendors, say they believe the orders will come.
"There is very definitely interest across the state of California and other potential participants," he said. "That makes us very excited about the prospects."
© Mobility Payments and Forthwrite Media. Mobility Payments content is for individual use and cannot be copied or distributed without the express permission of the publisher.