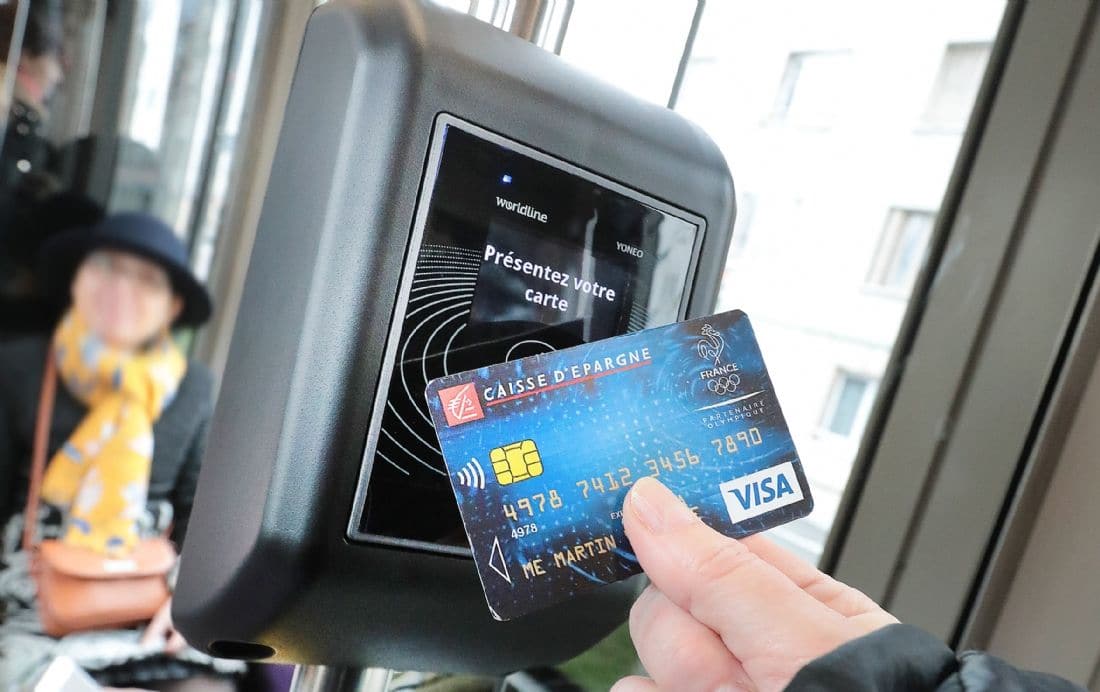 Article Highlights
Key Takeaway:
More than 30 transit agencies have launched acceptance of contactless EMV payments or have hired vendors to implement the technology. The French capital, however, is a major holdout.
Key Data:
Table: List of first 25 French cities moving to open, with launch dates, major vendors, acquiring banks and ability to process domestic debit.
France had fallen behind such open-loop payments hotspots in Europe as the UK and Italy. But it has been catching up over the past couple of years, starting with small to medium-sized cities.
And by this summer, two of France's top five cities, Lyon and Toulouse, plan to begin accepting contactless credit and debit cards and open-loop card credentials in NFC wallets. That would bring the number of open-loop cities or transport networks in France to at least 25, according to Keolis, one of France's largest transit operators. (See table below.) And there are other French agencies not on the list that are planning launches, as well.
"It's (open-loop payments) not so cheap, if you see what I mean, because everything has a cost," Christophe Badesco, head of AFC ticketing globally for France-based Keolis, told Mobility Payments. "But for me, it's so convenient that I cannot imagine for now any (transport) network without open payment."
Badesco, a backer of the technology and one of the driving forces behind deployments of open loop in France, including in the first city to support it, Dijon, in 2018, notes that every tender request he sees from public transit authorities includes a "chapter on open payment." In the future, Badesco believes that all transit authorities in France will want an open-loop payments system.
Vendors also see the move to open loop. François Mottet, strategy lead for France-based Flowbird, told Mobility Payments that his company is currently working on around 10 open-loop projects in France and Monaco. Two have already launched, in Amiens, north of Paris; and Monaco. The others will launch in coming months, including in Toulouse, as well as the French cities of Angers, Clermont-Ferrand and Avignon.
"What we can see in France, we have a lot of agencies asking for open-payment capability," he said. "I would say, every ticketing tender issued right now, they are asking for open payment."
Another vendor, UK-based Kuba, is also working on multiple open-loop projects. In addition to the Eastern French city of Besançon, which launched in January, it's providing open-loop technology for Cannes, in the South of France, which will launch as early as next week; as well as Cherbourg, Arras and Oise County, said Tarik Dinane, head of Kuba France.
While most agencies seeking to revamp their fare-collection systems are indeed asking for open-loop payments, there are a few notable exceptions–one most of all.
No Plans Yet for Open Loop in Paris
In Paris, France's capital and by far its largest city, transit officials have no current plans to support open loop. That is despite the fact that the city will host the Olympics in 2024. The event will bring potentially millions of foreign visitors to the city, just about all of them packing contactless bank cards.
Sources told Mobility Payments that the situation in Paris is, as one put it, "very complicated."
Paris regional transit authority, Île-de-France Mobilités, is seeking to take more control over the fare-collection system from such long-standing incumbent transit operators as RATP and SNCF, the latter the region's major rail operator. But according to sources, RATP, operator of the Paris Metro, buses and trams in the Paris metropolitan area, does not fully support open-loop payment, at least not for now across its massive and complex Paris network.
That could always change, and RATP already offers open loop on the bus shuttles it runs serving the Paris region's two largest airports, as well as on small transport networks it operates in a couple of small or mid-tier French cities.
Île-de-France Mobilités ultimately will make the decision on whether public transit in the region goes to open loop. And for now, the authority is apparently putting its electronic payments money into enhancements of its closed-loop Navigo card. That includes enabling digital versions of Navigo on NFC-enabled Android phones this summer and in Apple's Wallet for use with Apple Pay later next year. The authority and transit operators have to ensure the virtual Navigo cards work on thousands of validators.
The failure to move on open loop means that visitors to the Summer Games, if they want to take public transit, will either have to buy a closed-loop Navigo card with tickets or passes stored on it, download a digital version of the card or use paper tickets and passes, which remain available.
It would also mean that Paris will be part of a shrinking number of European capitals not supporting open-loop payments on one or more of its major transport modes. The list of capitals that currently supports open loop is growing and includes London, Rome, Madrid, Brussels, Stockholm, Prague and soon, Amsterdam and Helsinki.
Flowbird CEO Bertrand Barthelemy told Mobility Payments that while Île-de-France Mobilités didn't put open-loop payments into its "first bucket of priorities," the move could definitely come in "step two" of the agency's revamp.
"It's a massive organization, and they have the big transformation to go through and big changes, and so they decided that they would have step one and then the step two, and open loop, I believe, (will be) in step two," he said.
Other Cities Move on Technology
Marseille, France's second largest city and one with a comparatively high percentage of low-income people, also has no apparent plans to go to open loop, but France's next two largest cities have been implementing the technology for expected launches this year.
One of them is Lyon in the Southeast of the country, where transit authority SYTRAL plans to launch open loop this summer on its buses and four-line metro, along with trams and two funicular rail lines, an agency spokeswoman confirmed to Mobility Payments. Keolis operates nearly the entire transport network in Lyon.
The project is behind schedule, but when it launches, it will be the largest city in France so far to accept open-loop payments. All told, 4,000 new validators have been rolled out, as part of the €18 million (US$19.8 million) project, according to the spokeswomen. A key technology supplier for the project is France-based Worldline.
The certified readers in the validators will accept Visa and Mastercard-branded cards and credentials on wallets connected with Apple Pay and Google Pay, along with cards and wallets supporting France's domestic debit and interbank network, Cartes Bancaires, or CB, the agency spokeswoman said.
In addition, customers will be able to tap one card to pay for several people. Other French cities are rolling out this feature, too, usually enabling one card to pay for up to nine traveling companions. This obviously complicates any plans to offer fare capping, however.
Many of the other open-loop projects in France also support debit payments processed through the domestic CB network. (See table.)
Another one of them is in Toulouse, France's fourth largest city. Transit agency Tisséo plans to launch open loop in May, but only on its shuttle serving the airport. It won't expand to the entire transport network of buses, a two-line metro and two-line tram until September 2023, a spokeswoman told Mobility Payments. The budget for the project is €6 million (US$6.6 million), she said.
All told, the project will include 2,000 new terminals, according to Flowbird, which is supplying the devices, as well as serving as payments service provider and doing fare calculation.
The open-loop terminals will be separate from the validators that accept the agency's closed-loop cards in Toulouse. That's the case in several of the French projects, though the majority integrate open-loop with closed loop on the same validator.
Besides the cities listed in the table and those mentioned by Flowbird and Kuba, among others implementing or planning to implement open-loop service are Lille, Le Harvre, Le Mans and Arcachon.
Reducing Use of Paper Tickets
Since the launch of open-loop payments in France, Keolis is seeing an average of 38% of customers who used to use paper tickets now using open-loop payments. That rate varies according to the city, with Dijon, the first city to move to open loop, seeing a rate of 39%, Aix-en-Provence at 43% and Amiens, 29%, according to Badesco.
He did not have an open-loop adoption rate for all fare media, including contactless closed-loop cards. Closed loop is used often in France, especially by frequent riders. In figures Keolis released in October, only 2% of regular customers tapped contactless EMV cards or open-loop credentials on NFC devices to pay. That compares with 28% of occasional riders who used open-loop payments.
In addition, the majority of bank cards that customers tapped to ride were used for only one trip per day, with 40% used for two trips per day and 10% for three trips.
Calypso Chief: Bank Cards Not Built for Public Transport
Most of the cities supporting open loop or planning to do so also issue contactless closed-loop cards, mainly using Calypso technology. Philippe Vappereau, CEO of the France-based Calypso Networks Association, which manages the technology, cautions agencies that EMV contactless cards are designed for use in retail payments.
"Open-loop payments rely on the infrastructure put in place by payment networks like Mastercard, Visa or American Express," he told Mobility Payments in a statement. "They are based on EMV specifications built primarily for the global payments industry–not for public transport ticketing–and do not allow you to write data into the card. They allow you only to read it."
He said transit authorities and operators will face a challenge trying to support concessionary fares, such as discounts for seniors, with bank cards. There are other disadvantages compared with closed-loop cards, as well, he contended.
"Closed loop offers better 'sovereignty' over the ticketing system, which is critical for PTAs (public transit authorities) to retain control of their region's mobility policy, and offers vital efficiencies for operators," he said. "For example, managing a season ticket with closed loop-based media comes at a much lower cost than via EMV account-based ticketing."
Some French Cities Support Full Authorization
In France, closed-loop fare cards store tickets or passes, not value, and customers mostly have to buy these tickets in advance.
On the other hand, with open-loop payments, most–but not all–cities support pay-as-you-go fares, though users are still purchasing tickets when they tap their credit or debit cards or phones on validators.
But at least 10 of the current open-loop cities in France, nearly all of them small, have open-loop systems that fully authorize the transaction before the rider travels. Riders, in effect, are prepaying for their tickets.
Full authorization obviously decreases the risk of the agency accepting a fraudulent card or credential. But with pay as you go and deferred authorization, there is usually only the risk of a fraudulent payment on the first ride. After that, the card or credential would be blacklisted on terminals.
And full authorization is only considered suitable for small transport networks because transaction times for a fully authorized open-loop transaction are around two seconds. That's compared with 600 to 800 milliseconds for the deferred authorization model and pay as you go, according to Keolis' Badesco.
Supporting Domestic Debit
All or most of the French cities supporting open-loop payments are expected to accept CB domestic debit cards, in addition to those branded Visa and Mastercard.
According to France's major interbank group, le Groupement des Cartes Bancaires, there are nearly 74 million CB cards on issue, which it said are used to pay for two-thirds of consumer commerce in France.
Contactless payments with CB cards are growing rapidly at retail, the organization said, with banks recording 6.3 billion transactions valued at €103 billion in 2021. That transaction value was up by 45% from the previous year. Growth was even higher in 2020, with the value of contactless retail transactions nearly doubling from 2019.
That is one reason transit agencies want their open-loop services to support CB cards and credentials, in addition to those branded Visa and Mastercard. But another important reason is that processing costs for agencies are lower with CB cards than with the international card brands.
The open-loop fare system has to be equipped and certified to process CB cards following Cartes Bancaires scheme rules and protocols, otherwise the transit agency won't get the lower processing costs. CB cardholders can still tap to pay at non-CB certified readers if their cards carry a Visa or Mastercard co-brand. But the transaction would follow rules of the international schemes and would come with higher fees for agencies.
Paul Griffin, global head of commercial for UK- and Australia-based payments service provider Littlepay, noted that France was a global pioneer with its domestic chip cards in the 1980s and 1990s.
"I think this history has given French consumers a willingness to adopt new payments tech, and this translates well for transit," he told Mobility Payments. "There is definitely strong rider demand to pay with contactless bank cards."
Littlepay, working with Kuba, supplies the open-loop technology for Besançon. The Littlepay PSP is integrated with La Banque Postale as the acquiring bank for the project.
CB certification and integration is not an easy one to get, Griffin said. "All that innovation has left us with a complex domestic payments environment that needs to be supported," he said. "This does raise the bar in terms of integration and compliance for companies like ours entering the French market for the first time. Still, we believed it was worth it, and we built out the new processing capabilities to suit the French market."
Besançon's open-loop system is not yet fully certified to process CB cards, acknowledged Griffin, who said he expects that to happen before the end of the second quarter.
Flowbird said it was the first supplier to be certified to process CB cards for transit, last year. It has integrations with two acquiring banks, La Banque Postale and Crédit Mutuel-CIC.
"It's (CB certification) really something you're required (to have) by the transport operator to reduce the cost," said Flowbird's Mottet.
With or without CB-card acceptance, it appears that more and more French transit agencies see the value of giving their customers the option to tap their bank cards to pay, in addition to offering ticketing with closed-loop cards and other payment methods.
Yet, until France's most important city makes the move to open loop, the country will still have some catching up to do in Europe.
© Mobility Payments and Forthwrite Media. Mobility Payments content is for individual use and cannot be copied or distributed without the express permission of the publisher.