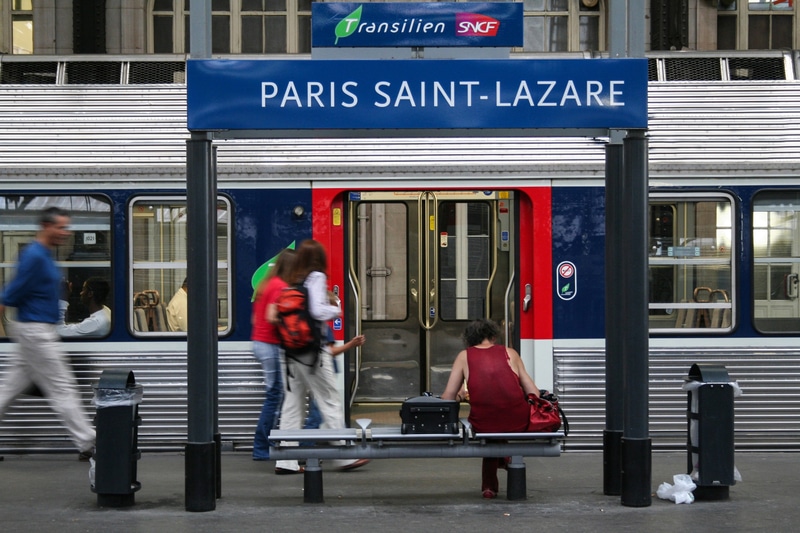 Article Highlights
Key Takeaway:
French national rail operator SNCF is considering launching an open-loop payments service in and around Paris–perhaps as a demonstration project to coincide with the Rugby World Cup to be held in France next year. The project could be a first for Paris, which unlike other European capitals, has so far shunned open-loop payments.
Key Data:
Table: Updated list of French open-loop projects
French national rail operator SNCF is considering launching an open-loop payments service in and around Paris–perhaps as a demonstration project to coincide with the Rugby World Cup to be held in France next year, sources told Mobility Payments.
SNCF is an official sponsor of the tournament and is now looking for technology suppliers for a possible launch. The operator did not immediately confirm the project in response to a request from Mobility Payments.
More than 30 cities in France have launched open-loop transit payments or plan to do so (see updated table on this page). But Paris is not one of them. Mobility Payments first reported on the expanding French open-loop market in late March.
Most of the cities with projects (according mainly to data from France-based transit operator Keolis), are small to medium-sized. Only two of France's top 5 cities are supporting fare payments from debit and credit cards and credentials in NFC wallets.
One of them is expected to launch next week on its airport shuttle in Toulouse, France's fourth largest city. Transit agency Tisséo will expand to the entire transport network of buses, a two-line metro and two-line tram next year. The budget for the project is €6 million (US$6.3 million).
All told, the project will include 2,000 new terminals, which France-based Flowbird is supplying, as well as serving as payments service provider and doing fare calculation.
In Lyon, France's third largest city with the country's second largest transit authority, SYTRAL, launched open loop on its network May 30, following about a two-year delay. Users are able to pay with contactless debit and credit cards and NFC wallets on the four-line metro, along with trams and two funicular rail lines. Keolis operates nearly the entire transport network in Lyon.
All told, more than 4,000 new validators have been rolled out, as part of the €18 million (US$19 million) project. France-based Worldline provided the validators and is the payments-service provider.
Since the Mobility Payments report in March, other open-loop projects have launched in France, including those in Cannes, Salon-de-Provence and a pilot in Nîmes. Others will launch soon, including in Angers, Clermont-Ferrand and Avignon (see table), the latter four projects with Flowbird as the main supplier.
Cannes uses a payments platform from UK- and Australia-based Littlepay and validators and a back office from Canada-based Kuba, sister companies in the ICM Mobility Group. Other cities or jurisdictions, such as those in Cherbourg, Arras and Oise Department (county) also are working on open-loop technology.
Most of the projects accept France's popular domestic debit card, Cartes Bancaires, or CB, in addition to cards branded Visa and Mastercard.
The first open-loop transit payments service in France launched in Dijon in 2018, and according to Worldline, speaking at a recent conference, debit and credit cards now make up 40% of single ticket sales and day passes. All told, Dijon transit providers have recorded more than 4.3 million taps since launch of the service, Worldline said.
But as Mobility Payments has reported, Paris is conspicuous in its absence from the list of French cities supporting open loop and is also one of a shrinking number of European capitals not supporting the technology on one or more of its major transport modes. The list of capitals that currently support open loop is growing and includes London, Rome, Madrid, Brussels, Stockholm, Prague, Moscow and soon, Amsterdam and Helsinki. Others are in various stages of work on the technology, such as Dublin and, likely, Berlin and Athens.
Paris regional transit authority Île-de-France Mobilités ultimately will make the decision on whether public transit in the region goes to open loop. And for now, the authority is apparently putting its electronic payments money into enhancements of its closed-loop Navigo card. That includes enabling digital versions of Navigo on NFC-enabled Android phones this summer and in Apple's Wallet for use with Apple Pay later next year. The authority and transit operators have to ensure the virtual Navigo cards work on thousands of validators.
Big state-owned transit operators SNCF and especially RATP–the latter running the Paris Métro and buses and trams in the city–were said to be resistant to a move to open loop.
RATP does accept open-loop payments on the shuttle buses it operates serving the Paris region's two largest airports, though these transport a lot of tourists, who would be expected to carry contactless credit and debit cards, not the closed-loop Navigo card.
If SNCF goes through with its plan to launch what may be only a demonstration project or proof of concept, it could still represent the start of France's largest city finally supporting open-loop payments.
© Mobility Payments and Forthwrite Media. Mobility Payments content is for individual use and cannot be copied or distributed without the express permission of the publisher.