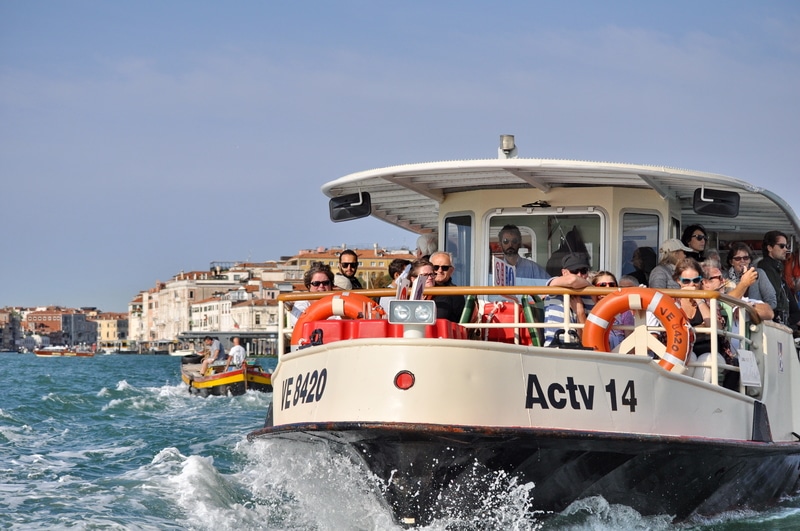 Article Highlights
Key Takeaway:
Transit officials in Venice are believed to have chosen U.S.-based fare-collection system vendor Conduent, working with acquirer Elavon, for a five-year concession agreement to roll out open-loop payments, Mobility Payments has learned. Conduent and Elavon were one of three "groups" bidding on the unconventional contract, which comes with a difficult business case for vendors.
Key Data:
Table: Venice Concession agreement
Transit officials in Venice, Italy, are believed to have chosen U.S.-based fare-collection system vendor Conduent, working with acquirer Elavon, for a five-year concession agreement to roll out open-loop payments, Mobility Payments has learned.
The contract is unconventional for open-loop projects and is expected to present a difficult business case for any fare-system vendor that takes it on. That vendor, which sources say is Conduent, will be required to fund all hardware and software costs–including at least 1,700 certified validators for Venetian buses, trams, water buses and shuttles, as Mobility Payments reported earlier this month.
In exchange, the vendor will receive a commission on all open-loop revenue of a maximum of 3.5% the first year, though the initial rate could be negotiated downward, and the fee would likely be lower in subsequent years. The acquirer, believed to be Elavon, would receive a maximum fee of 1% for domestic debit cards, not more than 3% for "non-consumer" domestic cards and up to 5.5% if a customer uses an international bank card.
A representative of Venice transit agency AVM confirmed to Mobility Payments today that a vendor group had been selected, but did not confirm that Conduent and Elavon had won the contract. He said an announcement was pending what appeared to be a standard waiting period, in case any of the other bidders want to protest or appeal. It could take 30 to 40 more days to finalize the contract, he said.
At least one knowledgeable source told Mobility Payments earlier this month that the contract would likely be a money-loser for the winning fare vendor, though added that he believed the project could become a valuable reference implementation, serving as it does the renown tourist destination of Venice.
Plans call for the launch of the service in the early part of 2023.
There were a total of three vendor "groups"–fare-system suppliers paired with acquirers–that had bid on the contract, the transit agency Azienda Veneziana della Mobilità, or AVM, confirmed to Mobility Payments earlier this month. The other two were believed to be France-based Flowbird, allied with an unnamed acquirer; and Italy-based Pluservice, working with Nexi, which is now part of SIA.
It could be that the selection of the winner hinged on which vendor would negotiate the lowest commission fee.
Northern Italian Projects
Conduent also has experience with ticketing and other transit projects in Northern Italy.
Conduent's Transportation business unit, though not confirming it bid on the contract in Venice, told Mobility Payments recently that it has 10 projects in Northern Italy, mainly with small to mid-tier transit agencies. They include more conventional open-loop payments systems for transit agencies serving the cities of Brescia and Bergamo, both east of Milan.
Conduent earlier this month also announced it would be providing an electronic ticketing system–though not supporting open-loop payments–to a transit agency that operates a fleet of nearly 100 boats on popular Maggiore, Garda and Como lakes.
The boat operator, Navigazione Laghi, is ordering more than 260 validators, according to Conduent, which said it also provides real-time monitoring and tracking system for the operator.
Conduent also recently won a validator contract with the Helsinki regional transport authority, HSL, as Mobility Payments reported. The vendor said it has experience with EMV payments elsewhere in Europe, as well as Australia and the Americas.
A business services outsourcing company, Conduent said in April it plans to sell or spin off its transportation business unit. The unit provides such technology for transit agencies as back-office systems, including account-based ticketing and validators for closed- and open-loop projects, among other products. The unit also includes a large road-tolling systems operation, as well as parking technology. A spokesman told Mobility Payments earlier this month that there were no updates on the separation plan.
Saving on Fixed Costs
AVM wants to avoid paying for upfront costs to give customers the option of tapping contactless credit and debit cards to pay fares. The agency acknowledged it was exploring the market–to see what it would bear with the concession contract.
According to a request for proposal issued earlier this year by the agency, the winning fare-collection system vendor must pay for all hardware and software costs, including buying and installing between 1,700 and 1,900 certified validators for its various transport modes, which AVM and its subsidiary Actv manage.
That's in addition to the vendor providing a fare-calculation engine; integrating the EMV payments service with the existing electronic-ticketing system; signing up and integrating an acquirer and providing a "traveler's portal," where customers can consult their transaction history and possibly associate their contactless payment bank card with AVM's Calypso-based closed-loop Unica card. The card stores storing tickets and passes.
In addition, the vendor chosen as the concessionaire has to fund a "communication campaign." This refers to a provision that mandates that the concessionaire invest in communications "encouraging the use of digital tools for the purchase of travel tickets." By one estimate, the vendor would have to spend €500,000 (US$526,000) for this campaign.
The system will accept such major payments brands as Visa, Mastercard and American Express, in addition to Italian debit card Bancomat; along with these credentials in NFC wallets, such as those connected with Apple Pay and Google Pay. The NFC payments services don't yet support Bancomat.
With the large number of tourists that visit Venice every year, the vendors that bid on the project perhaps believe that the open-loop service will turn a profit or at least attract enough taps to cover costs. Tourists, of course, are less likely to carry the agency's closed-loop card.
But there is no guaranteed payment if the commissions don't cover the costs of the system.
© Mobility Payments and Forthwrite Media. Mobility Payments content is for individual use and cannot be copied or distributed without the express permission of the publisher.