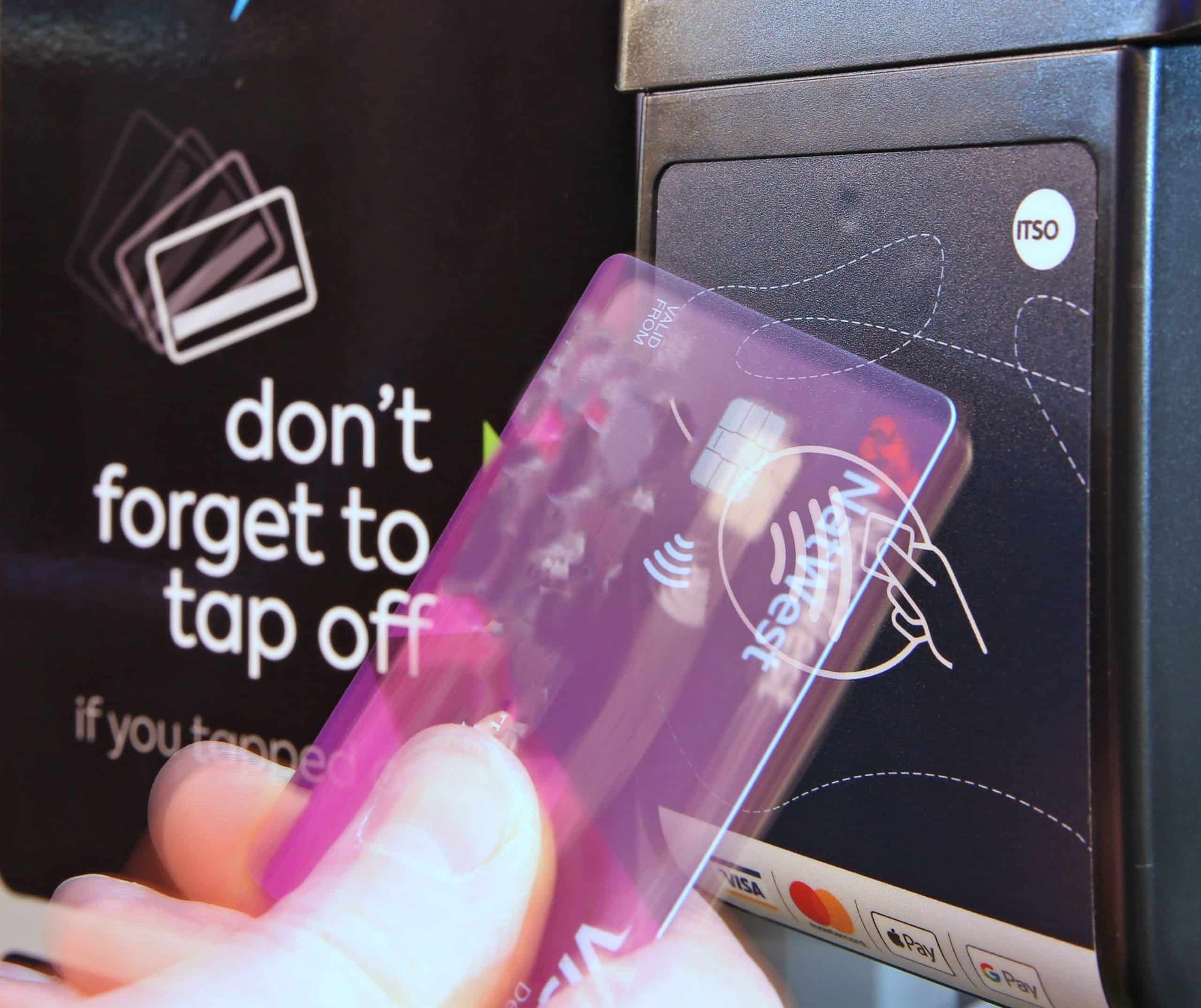 Article Highlights
Key Takeaway:
Transit agencies, depending on their size, are being asked to spend hundreds or thousands to tens of millions of dollars to roll out open-loop payments. Is it worth it? A panel of experts weighs in.
Key Data:
Transport for London, which has seen use of contactless credit and debit cards and NFC wallets to pay fares soar to more than 60% of trips since fully rolling out the technology eight years ago. Other agencies have seen open-loop adoption rates only in the low single digits.
There's little doubt that open-loop payments is the highest profile trend in the fare-collection industry.
Hundreds of transit agencies have adopted the technology and many more are considering doing so.
A number of them no doubt hope to emulate the success of Transport for London, which has seen use of contactless credit and debit cards and NFC wallets to pay fares soar to more than 60% of trips since fully rolling out the technology eight years ago. The includes growth resulting from changing commuter patterns because of the pandemic. Other agencies, such as those in New York and Sydney, had already reached at least half that penetration rate less than two years after their full deployments.
Update: Transport for New South Wales told Mobility Payments that more than 50% of adult customers that ride on transport modes equipped to accept open-loop payments tap their contactless credit and debit cards to ride, a high percentage of those using mobile wallets. And the Metropolitan Transportation Authority in New York said just under 37% of rides on the New York City Subway were via its OMNY service as of last month–likely a large majority of those OMNY trips being open loop. (The agency began issuing a closed-loop OMNY using white-label EMV technology in the fall of 2021). Overall, two-thirds of OMNY trips are with payments services such as Apple Pay, a spokesman told Mobility Payments. End update.
But other transit agencies have had varying degrees of success gaining adoption for open-loop payments, with some mired with rates in the low single digits. This is by design for some agencies, which see open loop as a fare-payments option mainly for their infrequent riders, such as tourists and other visitors. They do not offer fare capping with bank cards as they do with their closed-loop cards.
And then there are agencies that are holding back on the move to open loop. The pushback in some places is palpable, though not too vocal, at least for now.
"It's (open loop) is coming now like a freight train and most of us are resigned to it," a veteran of a large U.S. transit agency, who asked not to be named, told Mobility Payments. "It will unfortunately cost a lot of money to implement. It will also put the card brands in charge of customer fees, which could be low at first but could ramp up. There is no way to provide specific passes and fares for those in need. There is no way they will share the data we now have with closed loop. We will no longer have a spot in the Apple or Google wallets."
Debating the Pros and Cons of Open Loop
Given the differing views in the industry about the need for open-loop payments and the substantial competing commercial interests at stake, the stage is set for the first event of its kind: an online debate about the advantages and drawbacks of the technology.
Mobility Payments and Asia-Pacific payments and identity business association APSCA have assembled a panel of experts to hash out the broad issues that transit agencies and fare-collection schemes should know about as they consider enabling their customers to pay fares with their bank cards and open-loop credentials on NFC devices.
The online debate kicks off next Wednesday, Oct. 5, at 4 p.m. Singapore time, 9 a.m. in London. Download the brochure.
The panelists represent a broad range of views on the topic. They include Kurt Brissett, executive director of connected journeys for Transport for New South Wales, an agency that has widely rolled out both closed-loop and open-loop payments; and Jit Ng, a payments industry expert who worked nearly 25 years at Visa Europe and who has experience with a major transit agency.
Two leaders of major closed-loop card schemes in Asia are also on the panel–Ting Chen, chairwoman of EasyCard Corp in Taiwan; and Nora Tang, general manager of the technical department and international projects for Octopus Holdings in Hong Kong.
And there are key voices from the vendor community: Paul Griffin, global head of commercial for Australia- and UK-based Littlepay is a strong advocate for open-loop payments for agencies of all sizes. He is likely to square off with panelist Ralph Gambetta, a nearly 20-year veteran of the Calypso Networks Association, the most-used closed-loop technology in Europe.
Rounding out the panel is an independent consultant, Mick Spiers, who held key positions with such large fare-collection system suppliers as Thales and Cubic Transportation Systems.
"Events like this are so critical; the world of mobility payments is constantly evolving," said Spiers. "There is a lot of misunderstanding about the pros and cons of different payment means and payments schemes."
The organizers note that the event is fully independent and no outside parties, including sponsors, have influenced the content of the debate or overall makeup of the panel.
Discussing Costs and Other Important Issues
The debate aims to address the nitty-gritty issues that transit agencies face when they consider launching acceptance of open-loop payments.
Among the top issues are costs–from deploying certified terminals to integrating back office and other software to paying bank card fees.
"Transit agencies incur significant costs when they adopt open payment," argues Calypso's Gambetta. "In addition, they take on the risk of depending on the financial industry's pricing policies. That is especially true if the public agency completely replaces closed loop with EMV."
Backers of open-loop payments contend that transit agencies can actually reduce their costs by adopting the technology. That includes cutting or even eliminating costs for maintaining and upgrading proprietary cards and terminals, ticket-vending machines and ticket counters, along with saving on commissions paid to retail networks that sell and reload their closed-loop cards.
"Agencies are now realizing that riders want to pay as they go with their bank-issued cards and want to access capped fares without having to mess about with closed-loop cards and top-ups," said Griffin of Littlepay, which is a sponsor of the online debate.
For Griffin, transit agencies running a closed-loop card program are needlessly building and maintaining a "parallel payment system." In effect, the agencies are "issuing cards and creating pseudo-currencies city by city–it's horribly wasteful," he argues.
Bank card fees to accept credit and debit cards vary by the country or region, and Griffin said that transit agencies shouldn't be surprised by them. In any case, their savings from doing away with closed loop would more than cover these costs, he contends.
"I don't recall agencies ever refusing to adopt e-commerce credit card top-ups for their closed loop cards–these incur the exact same fees that we are talking about in open loop," he said. "Agencies are not great at assessing the true costs of fare-collection strategies and often forget that they are already paying card fees for a large chunk of their closed-loop programs."
Update: Transport for New South Wales' Brissett commented that there are "several implementation considerations that transit agencies need to be aware of to ensure that they realize the full benefits of open-loop." If they do, he said "open-loop payments are a game changer for transport agencies and customers in terms of providing choice." End update.
'Transit is Not Retail'
Backers of open-loop payments for transit often equate tapping to pay fares with making a retail purchase. If customers can use their debit or credit cards to buy a cup of coffee or a sandwich, why not use the same card to pay for a ride on the bus or metro, they say.

One might expect panelist Jit Ng to agree. After all, after his nearly quarter century with Visa Europe he joined Transport for London, or TfL, which runs the premier open-loop payments service in the world.

"Transit is not retail," explained Ng, who is not representing TfL on the debate panel. "Transit has a huge social responsibility. It has to offer transit service at a cost that is affordable for the whole city. It has a social responsibility to make sure that people get home."

It means that transit agencies must offer service when it might not be commercially viable to do so. And unlike retailers, if costs to accept open-loop cards increase, including from payment schemes, transit agencies can't simply increase their fares to cover the higher fees.

"For the transit sector, open loop will make the customer journey easier and frictionless, but it will come at a cost," Ng said. "While capital costs are easily understood, the operational cost needs to be negotiated and taken into account to ensure that the payment schemes and suppliers support transit operators and do not expect a retail profitability model to be applied to their business case."
Besides costs, panelists are expected to discuss a range of other issues agencies would encounter when offering open-loop payments, including what to do about low-income riders and other customers who may not carry bank-issued cards or mobile wallets, how to support concessionary fares for seniors, students and other categories of riders and whether open loop really does threaten a transit agency's data and brand.
The event kicks off at 4 p.m. Singapore time, 9 a.m. in London. Register for the event here. A recording of the webinar will be available after the event.
© Mobility Payments and Forthwrite Media. Mobility Payments content is for individual use and cannot be copied or distributed without the express permission of the publisher.