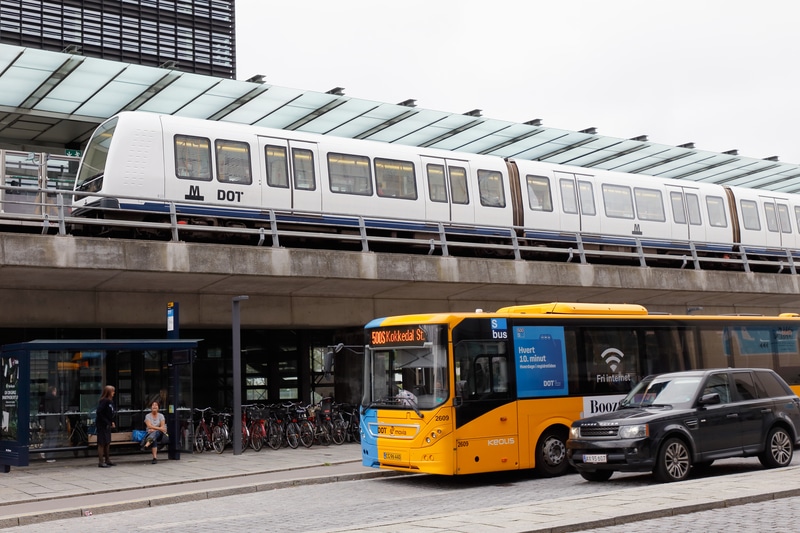 Article Highlights
Key Takeaway:
Transit officials in Denmark plan to launch the first version of their national mobile-ticketing app this spring for single rides, before introducing a full pay-as-you-go version next year.  This app might fly only in a country like Denmark, which has no transit gates, a smartphone-savvy population and few unbanked people.
Key Data:
MobilePay, a mobile retail payments app launched 10 years ago by Danske Bank, now has 4.5 million users, or around three-quarters of the population. On average, each user conducted more than 100 transactions last year.
Organizations Mentioned:
Transit officials in Denmark plan to launch the first version of their national mobile-ticketing app this spring for single rides, before introducing a full pay-as-you-go version next year.
The country's planned DKK 500 million (US$71.2 million) fare-collection project is unique in that it would make mobile ticketing the dominant fare payments method nationwide, even potentially eliminating a much-used closed-loop card program that is now providing nationwide multimodal fare payments, as Mobility Payments earlier reported.
"It's very, very expensive to have a physical infrastructure and a card-based system," said Kasper Schmidt, CEO of transit-agency-owned fare system company, Rejsekort & Rejseplan, or RKRP, speaking at the recent Transport Ticketing Global conference in London. "And we want to and the PTAs (public transport authorities) want to move the money from costly investment in physical (card) infrastructure and (instead) offer more frequent buses, more reliable (transport) services."
RKRP runs the current ticketing system, which uses low-end Mifare Classic technology to enable customers to tap to pay on buses, trains, light rail and the metro across the Scandinavian country of 5.8 million people. RKRP collects revenue for eight transit agencies and distributes the money among them.
Transit officials would keep that clearing and settlement system and likely the same fare rules, with the planned fare-collection system, a mobile-only check-in, check-out service using a new mobile app.
This nationwide mobile-ticketing system would know where customers get on and off the transit vehicle, using such technologies as GPS and other sensors. The app would also include a separate trip-planning feature.
RKRP is in the tendering process, having narrowed its list of bidders to a shortlist of eight vendors, as Mobility Payments reported in October. The framework agreement RKRP will use to procure the mobile-ticketing technology will consist of five vendors, which have likely already been chosen.
Some transit agencies in Switzerland, Germany and Austria have launched the same or similar mobile-ticketing systems, using either GPS or Bluetooth. As in Denmark, few if any transit operators in these countries have gates. But no agency in Europe or beyond has launched the near-hands-free technology on a scale that the eight transit agencies that co-own Denmark's national fare-collection company plan to do. There is even talk of completely phasing out Denmark's more than 10-year-old closed-loop Rejsekort card.
"The beauty of that is that it's just a replication of the card-based ticketing system that we have in place nationwide, which allows us to travel from anywhere to anywhere in Denmark–literally from any station and any bus stop to any station and bus stop using one card," Copenhagen-based independent consultant Søren Sørensen, told Mobility Payments. "And (you) just check in at the start of the journey, check in every time you change your mode and then you check out."
The closed-loop Rejsekort currently has 3.3 million active users. The company behind said it recorded 140 million trips with the card in 2019, the last full year before the pandemic.
The new mobile system would change users' card-tapping gesture to a swipe of the finger in a smartphone app. The full mobile-ticketing service would be pay as you go, with users funding the fares with credit or debit cards or bank accounts they register as part of a planned account-based system.
Before launching this nationwide mobile-ticketing system, scheduled for 2024, RKRP will introduce a prepaid mobile-ticketing service this spring. Users will still be able to ride on any mode–bus, train, metro or light rail–nationwide. But they would only be able to prepay for single rides, point to point. And the app would not yet use such wireless technologies as GSP. It would instead display a 2D barcode to roving inspectors to validate tickets.
Could it Scale in Other Countries?
Denmark is perhaps the ideal country to try to make a national mobile-ticketing system the dominant fare payments method.
First, besides very high smartphone penetration, Danes have demonstrated they are more than willing to use their phones instead of cards. MobilePay, a mobile retail payments app launched 10 years ago by Danske Bank, now has 4.5 million users, or around three-quarters of the population. On average, each user conducted more than 100 transactions last year.
"Personally, I don't have a (physical) wallet myself on me; I haven't had that for two years," said Schmidt during his Transport Ticketing Global presentation. "I don't bring cash. I have my health card on my phone. I have my driver's license on my phone. I have all my credit cards on my phone. The only thing that I don't have on my phone is my travel card."
Denmark also has few unbanked people for transit agencies to worry about and no transit mode has gates. Although it's possible to open gates with a check-in/check-out app, today that would require users to scan a separate QR or other 2D barcode in the app. Schmidt, in response to a question from Mobility Payments, pushed back on the notion that gates are even necessary.
"Skip the gates," he said. "It's costly. Use them maybe in London, where you use them for crowd control. But why have them elsewhere? I don't understand that."
He added that he knows there are "areas where they're important for other reasons."
Among those reasons are security, even if the gate isn't used for ticketing, said Sørensen, the Danish consultant.
"If you have a very low-trust society, where people will just use public transport and say, 'we don't give a damn about tickets, we just go,' then you need to put in some ways to kind of help them understand that they are limited in what they can do."
QR and other 2D bar codes would work with all but very large agencies, which require fast throughput through their gates. That includes such agencies as Transport for London, he said. But even the Tmoney fare-collection system, serving the fast-paced transit system in Seoul, is experimenting with a Bluetooth-based mobile ticketing app using 2D barcodes to open gates. In addition, some technology suppliers are working on fast Ultra-Wideband, or UWB, technology, which could do what Bluetooth does and potentially also accurately open gates for individual riders, as well.
Sørensen said the thornier problem is what to do about the unbanked and underbanked for agencies considering rolling out pay-as-you-go mobile ticketing, in which users pay for rides with cards or bank account information stored in their accounts.
"It's a problem with any digitized ticketing system," he said, noting that these systems usually require riders have a credit or debit card or a smartphone, and also have a bank account and to be creditworthy. "The problem is, if you are not that, then you mostly you have to be able to pay using cash."
Update: Gian-Mattia Schucan, founder and co-CEO of Switzerland-based Fairtiq, which conducted a successful pilot for RKRP of the check-in, check-out mobile-ticketing system for RKRP last August through November, told Mobility Payments he believes the system could scale in other countries. That includes dealing with riders without smartphones or bank accounts.
Some–maybe fundamentally simplified–system for people without mobile phones needs to be there for the foreseeable future," he said. "But with rising mobile penetration all over the world that can be designed for much lower volumes. For unbanked and underbanked populations that do have a mobile phone, prepaid solutions are possible as easily as they are in closed-loop systems." End update.
Whither Denmark's Closed-Loop Card?
RKRP's Schmidt acknowledges that even in Denmark, there are perhaps 5% to 10% of riders who cannot or will not use a smartphone or meet other prerequisites of the planned mobile-ticketing system. For those people, the fare-collection company will have to provide an alternative, which he hopes can be cheap and anonymous.
At the launch of the pay-as-you-go mobile-ticketing system, that alternative will likely continue to be Denmark's closed-loop card, Rejsekort, which has proved remarkably functional considering that it uses very low-end card technology. Still, the future for the Rejsekort is anything but certain.
"At some stage, we will have to look into what will the future be for the physical card system," said Schmidt. "But we think we'll start having the mobile solution work first to see how many customers (will use that). And then we will decide upon the future of that (card) system."
Regardless of whether agencies keep their closed-loop card programs or not, any mobile-ticketing system that enables users to pay with their bank accounts in the app is not good news for backers of open-loop payments, such as Visa and Mastercard, Sørensen said.
"They're not part of the loop," he said. "Of course, they are part of the loop if I decided to put my Visa card (as the funding source), and then it will end up as a Visa transaction. But that's my decision. It's not the system's decision."
On the other hand, with open loop, "Visa and MasterCard have to be part of every transaction, and also be the default payment provider."
© Mobility Payments and Forthwrite Media. Mobility Payments content is for individual use and cannot be copied or distributed without the express permission of the publisher.