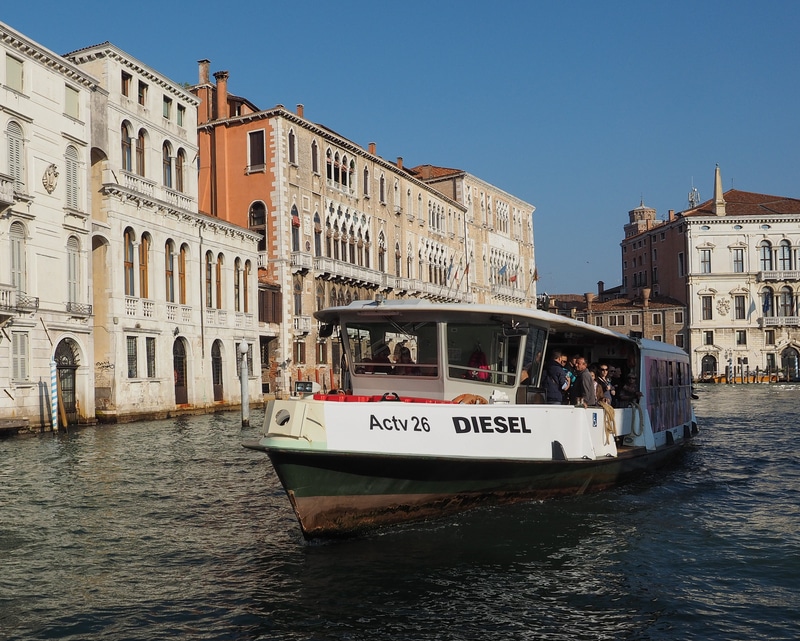 Article Highlights
Key Takeaway:
Venetian transit agency AVM's "unique" procurement model yielded surprising bid results and has attracted interest elsewhere in Europe.
Key Data:
• Chart: Agency estimate vs. actual bids
• Table: Ranking of three vendors' bids
After the pandemic, AVM, the Italian public transit agency that runs buses, trams, water buses and shuttles in Venice, Italy, wanted a low-cost, low-risk way to introduce open-loop payments to riders in the tourist mecca.
It hit upon the idea of a capex-free procurement model that would outsource the open-loop service as a five-year concessionaire agreement. AVM would hand over nothing upfront for at least 1,700 validators, as well as software, back office and integration. Instead it would pay commission fees to a vendor group that would include a validator supplier and an acquirer. The group would operate the service for the five years, and AVM would get to keep the validators and software.
AVM officials worried that it would not receive many bids, if any, for its tender request. It estimated the project would cost only €4.2 million (US$4.5 million) over the five years–not a high budget to attract vendors.
But the agency was "very surprised" at the response from the market, said Gianluca Cuzzolin, COO for the waterborne mobility system at AVM and its subsidiary Actv, in response to a question from Mobility Payments. Cuzzolin spoke at the recent Transport Ticketing Global conference in London.
The market response included a low bid that came in well below the agency's estimated costs for the project over five years, he noted. That was from a group made up of fare-collection vendor Conduent and acquirer Elavon. They were joined by bids from two other groups. Mobility Payments first reported the win by the Conduent/Elavon group last June. The parties finally announced the project in December.
"Our solution, for me, is marvelous," Cuzzolin told Mobility Payments, clearly happy about the response to AVM's tender request issued last year. "We don't take money from them, and we don't pay them (for hardware). They supply us with the new validators. They prepare the software and give us the software."
Visa Provides Partial Funding
Visa may have helped the vendor response. The payments scheme is providing partial funding for the project-officially for marketing and promotion. Visa does not have a direct contract with AVM, and all the transit agency would say is that it is not receiving any money from Visa.
But at least one observer knowledgeable about the project believes Visa might have a contract with the winning Conduent/Elavon consortium. "They didn't fund it (besides marketing), but probably they are a ghost member of the (consortium)," said the source.
Visa might have agreed to pay for the €750,000 that the Conduent/Elavon team offered as part of its overall bid. The money would satisfy a communication campaign that AVM required vendors to commit to launching to promote the open-loop service to riders. (See table on bid results on this page).
Some observers wonder if Visa is, in fact, also funding other parts of the project. It's not uncommon for such schemes as Visa and Mastercard to help agencies pay for open-loop projects as a way of seeding the market. They often do this via marketing contracts, but there are other payments, as well.
The schemes hope to encourage more use by customers of cards and wallet credentials carrying their brands to pay for transit fares. They also hope the riders will make the cards and credentials top of wallet for retail and other contactless purchases. And these payments companies want to sell their products for transit, as well, such as prepaid and private-label card "solutions" and processing services.
Bid Undercuts Agency Estimate
AVM and Cuzzolin last week released what appeared to be new details of just how low the bid by Conduent/Elavon came in as compared with the agency's earlier estimate of the project cost.
The overall bid by the vendor group translated to just over €3.43 million in fees AVM would have to pay over five years, more than 18% lower than the agency's original estimate of €4.2 million. (See graph on this page).
Most of that decrease came from lower estimated acquiring fees, totaling just €904,000 over the five years from the Conduent/Elavon's bid, 42% lower than the agency's original estimate for acquiring fees of €1.57 million.
The bid to operate the open-loop service, not counting acquiring, also came in lower, by a little more than 4%, at an estimated €2.52 million over five years. That is compared with the agency's estimate of €2.63 million.
The total fees come from lower commission fee rates bid by the vendors and applied to projected open-loop fare revenue. Elavon said it could handle acquiring for the large majority of transactions–on domestic payments cards–by charging only a little more than one-half of a percent or 0.55%. That compares with the maximum acquiring rate the agency would allow of 1% for domestic transactions, which AVM predicts will make up 86% of all open-loop transactions.
Elavon bid 1.8% for domestic non-consumer cards, against a maximum rate permitted by the agency for these cards of 3%. And it bid 3.5% for international cards against a maximum 5.5% agency rate.
For the non-acquiring part of the contract, Conduent bid a 2.49% commission on all open-loop revenue it would collect during the first year of the five-year contract, compared with a 3.5% rate estimated by the agency for the first year.
Conduent's bid reduced the rate by only a tenth of a percentage point each year after the first year, ending at 2.09% for year five. That is generally higher than the agency's estimated rates for the final four years of the contract, in which it dropped the suggested rate by half a percentage point each year, ending at 1.5% for year five. But overall, it still meant Conduent would collect less in fees over the five years of the contract than the agency's proposed rates–€2.52 million for the Conduent/Elavon bid versus €2.63 million for the agency estimate. (See graph.)
Besides Conduent/Elavon, a pairing of payments provider Nexi and fare-collection supplier Pluservice, both of Italy, bid on the contract and came in second, on the strength of a higher technical score than Conduent/Elavon. Nexi/Pluservice appealed the award, but a local court refused to reverse it. A third vendor pair, France-based Flowbird and Italy's Leonardo S.p.A., placed third.
Total revenue from all fare-payments methods is estimated to reach €109.3 million during this first year of the contract. In the tender documents, the agency perhaps optimistically predicted open-loop would amount to 14% of all fare revenue during the first year of the service. It means the agency is forecasting that open-loop revenue will top €15 million for the first year.
That year was going to be 2023. But AVM said it now expects the open-loop service to launch by early 2024.
High Expectations for Open Loop
By the fifth year, AVM predicts open loop will account for 20% of total fare revenue, which by that time total revenue would reach €140.8 million, said AVM. This means open-loop revenue alone would amount to more than €28 million in five years' time, according to the AVM projections.
AVM ridership topped 140 million in 2019, 23% of that from tourists. But AVM will not target the open-loop service only at tourists and other occasional riders, according to Giovanni Seno, general manager of the AVM group. Seno, who also appeared at Transport Ticketing Global, indicated that the forecasted open-loop penetration rates in the agency's tender documents are conservative.
He told Mobility Payments he believes open-loop payments could account for 50% of fare payments by 2025. And he pledged that open loop would support concessionary discounts and even yearly passes eventually. But he added:
"I'm not sure that the dream becomes a reality, that a fully open-loop, open-payment environment will ever be in place," he said.
Regardless of the penetration the service reaches, AVM's approach to procuring an open-loop payments system is "unique in the industry," according to Seno.
He noted that agencies in other countries, including those in France and Germany–though not in Italy–have contacted AVM. They are considering adopting AVM's procurement model for their own open-loop projects.
© Mobility Payments and Forthwrite Media. Mobility Payments content is for individual use and cannot be copied or distributed without the express permission of the publisher.