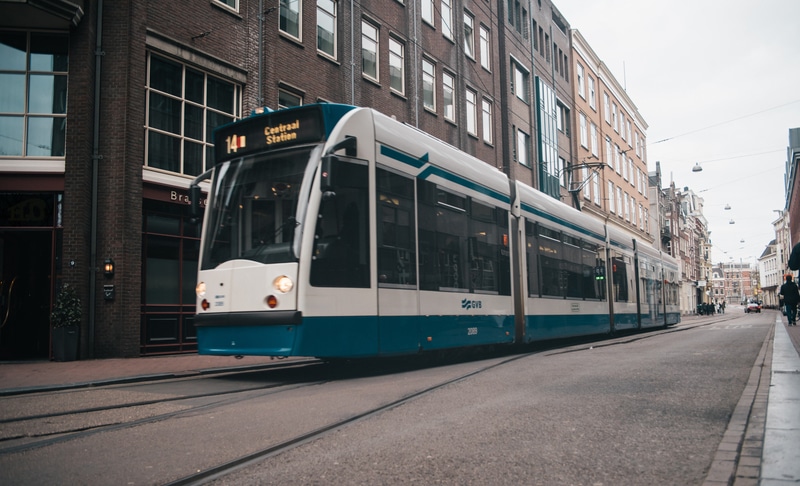 Article Highlights
Key Takeaway:
Transit agencies in the Netherlands have released more details about their plans to support concessionary fares and other popular discounts with open-loop payments.
Key Data:
• Table: OVpay-stats-Feb. 2023 and Nov. 2022
Transit agencies in the Netherlands have released more details about their plans to support concessionary fares and other popular discounts with open-loop payments, Mobility Payments has learned.
The features are part of a nationwide open-loop rollout that is progressing in the Netherlands. At present, customers can only pay largely for full-fare single rides with their debit and credit cards and credentials in NFC wallets.
According to slides of a March 29 quarterly meeting attended by representatives of 10 Dutch transit agencies, obtained by Mobility Payments, the "project deliverables" to link open loop to concessionary discounts for senior citizens would be ready by May 1.
The agencies participating in the nationwide OVpay project include nine public transit companies, such as NS, the Dutch national railway; and tram, bus and metro operators RET in Rotterdam and GVB in Amsterdam. The project also includes Translink Systems, the fare-collection provider that the nine transit companies co-own.
OVpay representatives, however, were not available to comment on the presentation, including to say exactly when they plan to launch the concessionary discount service with open loop. As Mobility Payments reported in early January, according to the program director, Bas van Weele, who also serves as director of external affairs for transit operator Arriva in the Netherlands, the concessionary discount feature would be available by the third or fourth quarter of this year.
Last week's presentation by the OVpay group also disclosed the latest figures for adoption of open-loop payments in the Netherlands, as the rollout continues to ramp up. They show an open-loop penetration rate of just under 4% of all trips and 10% of all full-fare trips. Cumulative "taps" with debit and other open-loop cards and wallets reached around 5.5 million by February. (See table.)
These adoption rates and taps are up substantially from November 2022. That is likely–especially when it comes to taps–because of the launch of open-loop acceptance by the biggest transit operator in the Netherlands, NS, the national railway. A spokeswoman for NS told Mobility Payments this week that the company recorded 780,000 trips paid for with debit and credit cards in February and March. During the first week after launching the open-loop service Jan. 31, NS said it recorded 70,000 customers or trips paying with debit and credit cards and credentials, so the take-up rate has increased.
It's unclear if "taps" in the OVpay figures coincide with "trips" counted by NS. In any case, the figures demonstrate that while there is growth, open-loop payments in the Netherlands are still mainly used for single, full-fare rides by occasional riders.
But that could change after transit operators and Translink begin to link concessions and other discounts with open-loop. Van Weele told Mobility Payments earlier this year that OVpay's open-loop payments options are "not meant for just occasional riders."
Few Agencies Support Concessions with Open Loop
The difficulty for agencies to support senior and other concessionary discounts with open-loop payments has been holding back growth of open loop, since concessions make up 30% to 40% or more of trips for some agencies.
To date, few transit agencies have been able to establish eligibility for the concessionary discounts and to deliver them after customers tap their debit and credit cards or wallet credentials. Open loop is usually offered as a pay-as-you go service for customers who seldomly register with the agency.
Agencies generally use closed-loop cards to offer seniors, students, disabled persons and other categories or riders concessionary discounts–sometimes issuing these versions of the closed-loop cards with the riders' photos on them.
New York's Metropolitan Transportation Authority in late October began enabling users to tap their credit and debit cards to receive 50% concessionary discounts. But the program did not establish eligibility for the half-off fares. It only transferred their eligibility, which had already been established when the customers earlier registered for a Reduced-Fare (mag-stripe) MetroCard.
In California, a state-funded program to help agencies procure open-loop technology launched a little-used senior discount verification program that was able to swiftly establish eligibility for senior discounts through the state's department of motor vehicles database. Riders would then be able to tap their credit and debit cards and credentials to receive the discounts. But the program couldn't scale, so Cal-ITP relaunched it last year, working with another state agency to adapt a single sign-in platform developed by the U.S. federal government. Only one small transit agency is believed to be using the new program, however.
And in Turkey, fare-payments company Kentkart launched a concessionary discount service for open loop with a transit agency in the south-central Turkish city of Gaziantep. The service also establishes eligibility, a quick process using Turkey's advanced electronic ID database. The service is believed to have been curtailed after a major earthquake hit Gaziantep Province and the wider region in early February.
Signing Up for Service
According to the slides (translated from Dutch) from the March 29 presentation by the OVpay group, Dutch transit customers wanting to link concessionary discounts to their debit cards would first go to the OVpay website or app to create an account.
They could then link this account to their debit cards, apparently by entering a primary account number, or PAN; or their IBAN from the underlying bank accounts.
An initial version of the sign-up procedure, however, would apparently require customers to set up the link between their transit accounts and debit cards after first paying for a full-fare journey with the card. This transaction would appear on their bank statements as a reference code, which begins with the letters "NLOV," and then is followed by a set of 14 alphanumeric characters. They'd enter this code into the OVpay site or app, along with the amount of the full-fare transaction.
The riders would then enter their date of birth in a separate field. All of this information would be checked by the system–though it is not clear which organization would do the validation. If the information is confirmed, the system would link the debit card to the rider's age in an OVpay back office.
Senior citizens, 65 and above, make up 20% of total public transit riders in the Netherlands, note OVpay backers. The seniors receive a 34% discount off the full fare rate. Dutch transit agencies are also talking about enabling children to receive concessionary discounts, perhaps linked to their parents' bank cards.
Supporting Other Discounts
Dutch transit operators offer a range of other discounts that are separate from concessions.
These discount offers are popular with riders because they can cut 20% to 40% off of travel costs for riders and much more when combined with concessions.
For example, GVB of Amsterdam offers a discount plan, GVB Extra Flex, that offers 40% discounts for regular customers who ride during off-peak hours. Customers who are also entitled to an age discount can get up to 60% off.
One other attractive feature of the discounts is that customers who register their bank accounts can post-pay for the discount products every month.
As with concessions, customers get these post-paid discounts by tapping the much-used OV-chipkaart (OV-chip card) closed-loop card. Public transit operators across the country accept OV-chipkaart on their various transport modes. The interoperable card is based on low-end Mifare Classic technology.
Dutch transit operators and Translink–which manages and processes OV-chipkaart transactions–plan to replace the existing card with a new closed-loop card based on EMV technology. The new card, to be called OV-pas (public transport pass), will not use white-label EMV technology like cards issued by SL in Stockholm and MTA in New York. Instead, the Dutch agencies have hired Netherlands-based mobile bank bunq to issue and manage a prepaid EMV card, as Mobility Payments has reported.
Customers now need a personalized version of the existing closed-loop OV-chip card to get the discounts. This feature is expected to move to the EMV-enabled prepaid OV-pas card, to be launched this year.
The presentation last week also discussed plans to enable "simple discount products" with debit cards. The OVpay group defined these products as being a "single-carrier discount, with no identity verification required."
According to the meeting slides, to receive simple discounts with their debit cards and credentials, customers would again need the 14-character reference code from their bank statements, which means they would have to take at least one full-fare trip with their debit cards or credentials.
The customers would then buy a discount product on the website or app of resellers of these fare products. (They would not buy these products on the OVpay site or app). The customers would link the discount product to the reference ID from their bank statements.
The customers could then travel by checking in and checking out out with the debit card and would receive the discounts.
According to the meeting slides, plans call for an initial launch–likely pilots–of this simple discount service with open loop during the second quarter. Three large transit agencies in the Netherlands would be the first to launch the service: Amsterdam's GVB, RET of Rotterdam and Transdev Netherlands, a bus and train operator. OVpay organizers plan to follow the simple discounts by enabling more complex discount products.
It's obvious that only Dutch debit card and credential holders would be able to make the link with either the concessions, general discounts or both, since the link requires customers to have a reference number from their bank statements.
Also, this type of system to link concessions and other discounts would not work well in countries with a lot of unbanked and underbanked transit riders.
Debit cards and credentials are used far more often than credit cards in the Netherlands. Such major Dutch banks as ING, Rabobank and ABN AMRO issue the debit cards and credentials.
Open Loop Grows but Still for Occasional Use
The OVpay meeting presentation last week showed that more customers are tapping their open-loop cards and credentials to pay for rides.
Figures through March 15, 2023, show that open-loop–primarily debit payments–accounted for around 4% of total trips–up from 1.69% through Dec. 9 of last year.
Today, the vast majority of transactions are conducted with the national OV chip card, which, as mentioned, can store discount products and supports concessions.
As a percentage of full fare, single rides, open loop accounted a higher percentage of trips–about 10% as of March 11–up from around 6.3% in December, the figures show.
The number of total or cumulative "taps" from 2022 through February 2023 were also up, to around 5.5 million, compared with around 1.9 million through the end of November 2022. Dutch agencies require customers to tap in and tap out to complete a trip. This could mean there are two taps counted for each trip without a transfer.
Regardless, the taps or trips have doubled over the course of a few months. As of February, just about all public transit companies in the Netherlands had launched open-loop acceptance, including Nederlandse Spoorwegen, or NS, the national rail operator. The only major transit operator not included in the latest usage figures is RET of Rotterdam. RET is expected to launch OVpay soon.
But until the nine public transit companies participating in OVpay, along with Translink broadly enable customers to receive concessionary and other discounts with their debit cards and credentials, open loop will likely continue to make up a relatively small share of total payments.
© Mobility Payments and Forthwrite Media. Mobility Payments content is for individual use and cannot be copied or distributed without the express permission of the publisher.