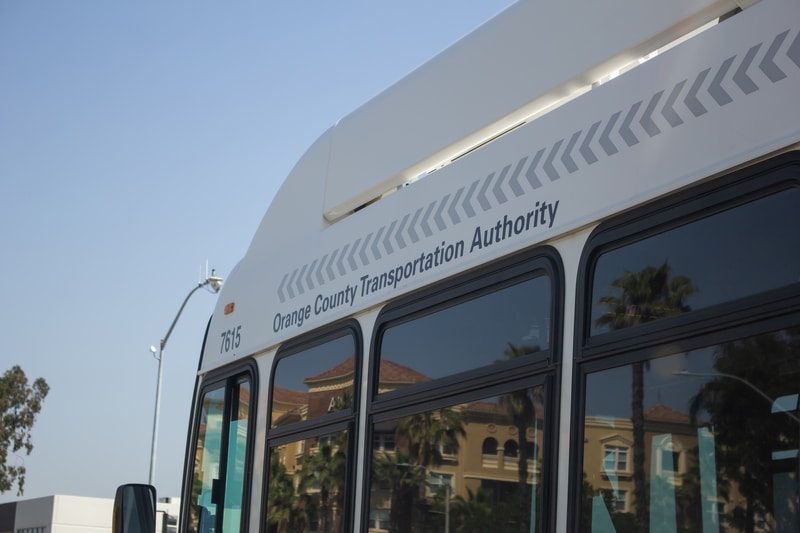 Article Highlights
Key Takeaway:
Two transit agencies in California issued RFPs this year that appear to shun modular, all open-loop, approach of the California open-loop procurement program, Cal-ITP. Reports showed that the program vendor received no new orders for open-loop technology during the second quarter, though one source said projects were in the pipeline.
Key Data:
• Chart: Cal-ITP projects through Q2 2023
The Orange County Transportation Authority, or OCTA, in Southern California, would seem to be exactly the type of transit agency that the state's open-loop procurement program, Cal-ITP, is targeting.
It's a small to mid-tier agency that accepts mostly cash for riders to pay for their 40 million annual trips. And among OCTA's top priorities for its fare-collection system is to be able to accept open-loop payments.
But OCTA is not going through Cal-ITP's "Mobility Marketplace," that is, it's not planning to buy the open-loop technology it needs from among six vendors with master service agreements (MSAs) with the state. Instead, OCTA earlier this year issued a request for proposal for a fully hosted account-based fare-collection system supporting both open- and closed-loop payments, along with mobile ticketing.
That is despite the fact that this procurement will likely end up costing the agency more–at $14.5 million over five years–than going through the state program would have.
OCTA would not be in the market for new validators from Cal-ITP to begin with since the agency bought and installed nearly 500 validators on board its buses starting in 2016 to scan mobile tickets from the agency's OC Bus app. It hopes to use this hardware to also accept both closed- and open-loop payments. But the agency spokesman said there are other reasons OCTA is not going through the state program.
"OCTA needs to support reduced-fare programs, including students, seniors and passes; Cal-ITP MSAs do not support all reduced-fare options we would like to support," an OCTA spokesman told Mobility Payments. "(The) MSAs also don't address those customers without a bank account, or the so-called " 'underbanked.' "
Cal-ITP has, in fact, enabled agencies to support concessionary fares for seniors, with one small agency trialing it. More agencies plan to try it out and Cal-ITP plans to support other concession types, such as discounts for military veterans and students. But there have been usability issues and low adoption so far with the system.
In addition, to accommodate more underbanked people, Cal-ITP has proposed agencies promote use of nonbank open-loop payments programs, such as the Cash App from fintech Block, formerly known as Square. But use is low for this initiative, as well, so far. And some backers of the open-loop-only concept have acknowledged that agencies would have to continue to support cash acceptance for the foreseeable future.
No New Agencies
All of this further calls into question whether California's bold plan is working to encourage mainly small transit agencies–many of which accept cash and paper tickets for the most of their fares–to go primarily to open loop.
That approach relies on the modular approach to procurement, in which agencies separately hire validator and fare-calculation or "transit processor" suppliers, along with acquirers. The vendors are responsible for integrating their platforms with one another, usually for a fee.
But OCTA is not the only California transit agency in Cal-ITP's sweet spot that is not apparently going with the full state program. A smaller transit agency in California, Santa Cruz Metro, issued its own RFP June 30, for an account-based fare-collection system for its 96 fixed-route buses and more than 30 demand-responsive vehicles. Like OCTA, it asks for support for both open- and closed-loop payments, as well as mobile ticketing–though according to one source, the RFP is on hold.
In addition, Mobility Payments has obtained reports on the latest orders to vendors with MSA contracts through the state of California.
They showed that through the second quarter of 2023, the Cal-ITP program had still attracted orders from just six agencies and one small group. That was the same number after the first year of the program, which ended in the first quarter of this year, as Mobility Payments reported.
The new second-quarter reports show several of the same agencies ordered more EMV-enabled validators, totaling $382,800 for the quarter. That increased total validator orders by just under 40% in the second quarter, bringing total validator orders for the 15 months of the Cal-ITP program to just under $1.4 million (See chart above.)
And a source said there are projects in the pipeline, but declined to mention any names of agencies that have signed up.
TAP-Clipper Satellites
One of the problems for Cal-ITP said a backer is that many small agencies in Los Angeles County and the San Francisco Bay Area, are already part of closed-loop card programs owned by large transit authorities. These are TAP from Metro of Los Angeles and Clipper from MTC of San Francisco. Large fare-collection system provider Cubic Transportation Systems, which does not participate in the Cal-ITP program, manages and maintains both TAP and Clipper for the authorities.
Combined, around 50 transit agencies, most of them small, use TAP and Clipper, under agreements with the respective authorities. That has included restrictions in the past, including a memorandum of understanding from MTC dating from 2010 that states transit agencies using Clipper "shall not establish other fare payment systems or fare policies that could deter or discourage these patrons' preference to use Clipper."
The two authorities are expected to eventually support open-loop payments–and they could include the satellite TAP and Clipper agencies when they do.
In addition, there was still only one transit agency–a city bus operator serving Myrtle Beach, South Carolina–procuring from the Cal-ITP program. Cal-ITP has made its Mobility Marketplace available to transit agencies throughout the U.S. And it has also encouraged a U.S. federal agency, the General Services Administration, or GSA, to open its Multiple Award Schedule, MAS, procurement program to suppliers of EMV-enabled validators. It's not clear yet if any validator supplier has sold hardware through the GSA program.
Low Open-Loop Transactions Value So Far
Meanwhile, during the second quarter of this year, Littlepay, the only Cal-ITP-vetted "transit processor" to get orders as of June 2023, reported some revenue figures.
That indicates that the Cal-ITP projects are beginning to move out of the trial stage. But Littlepay only reported revenue of $27,800 for the quarter, mainly for May and June. Of this amount, at least $15,000 were fixed fees, for on-boarding and setup.
The remaining $12,150 might be revenue from Littlepay's SaaS fare processing fee of 2.25% (It calls this its introductory rate). That includes Northern California commuter rail agency Capitol Corridor, the largest agency that has bought open-loop technology through the Cap-ITP program and a "fiscal sponsor" of Cal-ITP.
But part of the $12,150 might be a consultancy fee for Capitol Corridor. And the agency's open-loop project still remains in pilot. As Mobility Payments reported in May, the second phase and eventual rollout is to put validators and readers in all train cars, starting this summer. It will equip 75 train cars.
In any case, it would mean open-loop transactions are still low for the first two to three months for the five agencies or small groups for which Littlepay reported revenue–totaling at most $540,000 in open-loop transaction value. But besides Capitol Corridor still being a trial, these transactions do not include any activity from Monterey-Salinas Transit, the first agency to pilot Cal-ITP and which this year installed all-new validators to roll out the service beyond the trial stage.
Requirement for Closed-Loop Cards
Littlepay integrates its platform with acquirer Elavon and Visa's Cybersource to handle the Cal-ITP program open-loop payments transactions. The OCTA spokesman said the agency might hire a "payment processor" from the California MSAs, which likely referred to Elavon. Elavon is the only acquirer left in the Mobility Marketplace, after Fiserv dropped out. But the OCTA spokesman said the agency is also considering such payments companies as Fiserv, CP Commerce and Paymentus to handle its project.
The agency added that the closed-loop cards will enable customers to use cash to reload at local retailers, "and they can continue to gain incentives for weekly and monthly passes." The new system will support fare capping, certainly with closed loop and mobile ticketing and likely with open loop. This would enable users to avoid having to buy daily, weekly or monthly passes, or all three, in advance.
Germany-based INIT provided all or most of the validators to OCTA from 2016 to 2018. The spokesman said it will be able to be use this hardware also accept both closed-loop and open-loop cards. "The existing validators have a maintenance contract, different from an upgrade. The RFP required any vendors to establish an API to work with all existing hardware," he said.
An industry observer, however, told Mobility Payments he doubts that the agency will be able to use the hardware for EMV payments without a significant upgrade.
INIT is one of the vendors with an MSA to supply validators through the Cal-ITP program, but OCTA will not be buying new ones.
Meanwhile, Santa Cruz Metro said in its RFP that it wants to be able to "customize" the closed-loop cards as reduced fare smart cards, possibly with the rider's name and photo and the name of the applicable reduced fare program, or concession.
Santa Cruz Metro does say it wants the new validators it buys to integrate with payments service provider Littlepay and acquirer Elavon. Since both have MSAs with the state, that could mean that the agency is planning to buy through the Cal-ITP program for at least some of the technology it needs.
The agency had originally planned an open-loop pilot for early 2022, working with UK-based Masabi, outside of the Cal-ITP program. That pilot didn't happen.
A spokesperson for Santa Cruz Metro, however, did not respond to questions about whether it plans to buy any technology through the state Mobility Marketplace or if its RFP has been put on hold.
Yet, both the RFPs from OCTA and Santa Cruz Metro, as written,
indicate that neither agency is buying into the concept of a purely modular system that accepts open-loop payments for all or nearly all of its transactions. This is contributing to Cal-ITP's slow start.
© Mobility Payments and Forthwrite Media. Mobility Payments content is for individual use and cannot be copied or distributed without the express permission of the publisher.