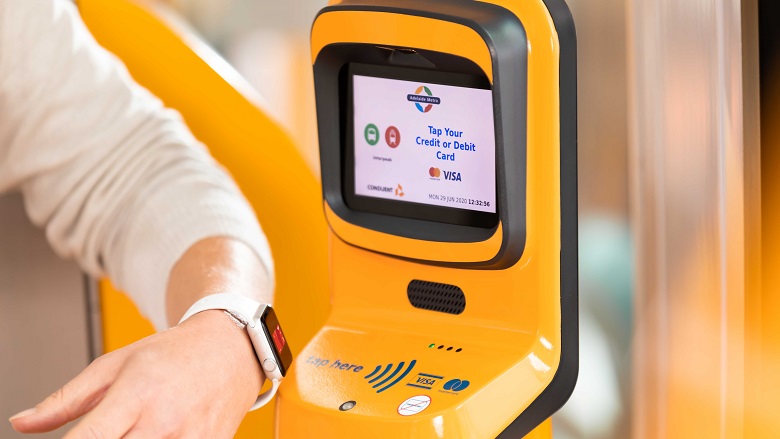 Article Highlights
Key Takeaway:
Adelaide Metro, which serves Australia's fifth largest city, plans to roll out open-loop payments throughout its transport network, including on its most-used mode, buses. But the agency has no plans, at least in the near future, to support concessionary discounts with open loop. Concessions make up a large share of rides.
Key Data:
• Chart: Share of Concessionary Fares
• Chart: Share of Bus, Train & Tram Fares
Adelaide Metro, which serves Australia's fifth largest city, plans to roll out open-loop payments throughout its transport network, including on its most-used mode, buses.
The agency is now installing around 1,300 validators on board buses for the rollout of the open-loop service by the end of this year. It's following that with installation of another 1,100 validators on trains, with that implementation scheduled to be completed by mid-2025. Adelaide Metro first launched open loop on its trams, which began as a pilot in 2020, and then on the agency's guided busway, the O-Bahn.
The agency, which is controlled by the government of the state of South Australia, is spending AU$7 million (US$4.5 million) alone to accept Visa- and Mastercard-branded credit and debit cards and card credentials in NFC wallets on trains. Most of that will go for hardware, supplied by U.S.-based Conduent, a spokesman for the state's Department for Infrastructure and Transport told Mobility Payments. He did not respond to a question about the total cost of the open-loop project.
Adelaide Metro is pricing single-ride adult tickets paid for with open-loop cards and wallets the same as when customers tap the agency's much-used closed-loop card, metroCARD. Both fare methods cost riders AU$4.25 (US$2.75) for a single trip during peak hours. The open-loop service, however, appears to be targeted at occasional riders and visitors.
High Use of Concessions
Adelaide Metro is not offering fare capping, unlike Transport for New South Wales, by far the largest agency in Australia that has launched open loop. The Sydney agency, which completed their open-loop rollout in 2019, offer daily, weekly and weekend fare capping.
Transport for New South Wales saw adoption rates for open-loop payments climb to around 50% as of last year, as Mobility Payments reported. That does not appear to include trips made with concessionary discounts, however.
And Adelaide Metro, like Sydney and nearly all other transit agencies that have introduced open loop, is not supporting concessionary discounts with credit and debit cards.
For Adelaide, that is a significant point because according to the Department for Infrastructure and Transport, concessionary discounts, including for those for students, seniors, disabled persons and veterans, made up nearly 60% of the 47.5 million passenger rides Adelaide Metro delivered in the year ending June 30, 2022. That was the last year for which figures were available online. (See chart below).
Most riders now receive their concessionary discounts with different versions of Adelaide Metro's contactless closed-loop metroCARD.
"At this stage, concession discounts are currently not possible as all 'Tap and Pay' customers are anonymous," the spokesman told Mobility Payments. "Adelaide Metro is investigating options to allow customers to access concession tickets."
The closed-loop card also stores 14- and 28-day passes. That helps explain why metroCARD made up more than 83% of passenger trips in fiscal 2021-22. Most of the rest were free trips, while paper tickets accounted for fewer than 2% of trips. The agency is planning to eliminate paper tickets altogether, like it did cash, on board buses and other modes, with the help of open loop.
Open Loop Use Low for Now
The open-loop footprint for Adelaide is small at present since it's used only on trams and the O-Bahn. And according to the state spokesman, only around 15% of full-fare trips are paid for with credit and debit cards and NFC wallets–a figure that would be much lower still if concessionary rides were included.
Availability of contactless readers will grow much larger this year when Adelaide Metro launches the open-loop service on its regular fixed-route buses. Figures show that bus rides made up 72% of all passenger trips in 2021-22, followed by trains at 16.4% and trams at 11.5%. Total trips, at 47.5 million, were lower because of the pandemic. (See chart below.)
Adelaide Metro's incumbent vendor, Conduent, will be supplying all of the validators for the buses and trains, as well as the validators that will be installed on 30 gates at the Adelaide Railway Station, the spokesman said. The vendor is also supplying other technology for the open-loop expansion. Commonwealth Bank of Australia is expected to process and acquire the payments transactions for buses and trains, as it does on trams and the O-Bahn.
Conduent has faced questions about what many consider to be its limited experience in rolling out open-loop payments after it was named the winner in May of a 15-year, AU$1.7 billion (US$1.1 billion) contract for a new fare system in Australia's second largest city, Melbourne.
© Mobility Payments and Forthwrite Media. Mobility Payments content is for individual use and cannot be copied or distributed without the express permission of the publisher.