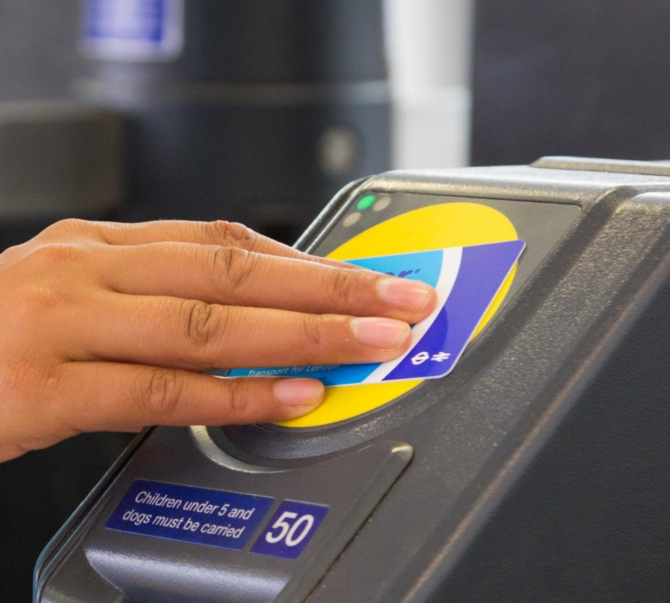 Article Highlights
Key Takeaway:
The estimated £1.1 billion contract would migrate Transport for London's closed-loop Oyster card to the authority's sophisticated contactless back-office system in order to make pay as you go its main fare product. That includes adding weekly fare capping and calculating fares and caps for concessionary fares.
Key Data:
Transport for London says it still issues up to 30,000 new Oyster cards per day, a number that hasn't declined with the growth of use of contactless credit and debit cards to pay fares.
Organizations Mentioned:
(This premium article was originally published on Nov. 15, 2020 in Mobility Payments' sister publication NFC Times.)
Mobility Payments Exclusive Insight – Transport for London, which runs the largest open-loop fare payments system globally, has issued a notice that it is preparing to seek proposals for a major upgrade of its revenue-collection system.
The estimated £1.1 billion (US$1.5 billion) project aims to retire the aging legacy back-office system for Transport for London's closed-loop Oyster card and put it on the same system as the contactless open-loop system. The overhaul will also replace thousands of readers at 280 London Underground stations, on board 8,500 buses and at thousands more commuter, light rail and national rail stops or stations, along with some retail outlets. Mobility Payments sister publication NFC Times last February reported the plans to revamp the system in time for the August 2025 expiration of the current fare-collection contract.
U.S.-based Cubic Transportation System, which implemented the original Oyster card system, holds the current contract following an extension three years ago. The London transit authority says it would consider splitting up the project into more than one contract, in part as it seeks a variety of vendors that can add value and innovation to the revenue-collection system. Transport for London issued a "prior-information notice" last Wednesday, seeking interested vendors.
While Covid-19 has sharply cut public transit use in London, as elsewhere, Transport for London collected more than £5 billion (US$6.6 billion) in revenue per year before the pandemic. And the new fare-collection contract has long been anticipated to revamp the nearly 20-year-old Oyster system.
Although contactless payments with credit and debit cards and NFC devices–which Transport for London fully rolled out in 2014–surpassed use of Oyster a couple of years ago for the main fare payments category of pay as you go, Oyster remains popular. And the transit agency has no intention of phasing out the closed-loop service.
The new fare-collection contract will focus on EMV and ITSO platforms, the latter serving as the UK interoperable standard for fare collection cards and readers outside of London. That is expected to mean the end of use of Mifare technology from NXP Semiconductors for Oyster.
Further, the system revamp would apparently put Transport for London's fare collection function closer to a full account-based ticketing, or ABT, system. At present, it's a hybrid system, with acceptance of contactless payments combined with the old Oyster terminals. With ABT, the agency could accept more types of fare media or tokens for both closed- and open-loop fare collection, and collect revenue from different mobility services, among other advantages.
Transport for London officials have said in the recent past that they want to migrate Oyster to the agency's sophisticated contactless back-office system in order to make pay as you go its main fare product. That includes adding weekly fare capping, in addition to daily capping, for Oyster users. Users of open-loop contactless payments have enjoyed both daily and weekly fare capping for years. The agency also plans to calculate fares and caps for concessionary fares–such as those for seniors and disabled persons–with Oyster.
This and other parts of the upgraded system would enable the agency to promote a "digital first" strategy and further reduce the number of ticket windows and ticketing machines it must staff or maintain. The new system would also enable Transport for London to greatly reduce or eliminate acceptance of magnetic-stripe tickets.
Overall, officials say they hope to simplify the infrastructure, improve use of staff time, reduce fraud, increase system reliability and improve customer satisfaction.
UPDATE: One UK-based consultant said he believes that Transport for London will indeed consider developing a mobility-as-a-service, or MaaS, offer. "This might be of interest if they can generate revenue from private mobility providers who want to use their platform," he told NFC Times. Just this week, the transit authority announced it is co-organizing a trial of e-scooter rental operators in London next spring. END UPDATE.
No Phase-Out for Oyster
Andrew Anderson, head of transformation portfolio, payments for Transport for London, said during a conference earlier this year that there continues to be a significant number of customers "that contactless does not work for." That includes people who prefer to pay with cash or with season tickets; those who want to manage their budget carefully so favor a preloaded card like Oyster; users who get concessionary fares; and, of course, children who do not have bank cards.
He noted that the agency still issues up to 30,000 new Oyster cards per day, a number that hasn't declined with the growth of contactless.
That is despite the fact that "contactless is now the single-most popular way to pay for transit in London," Anderson said. He added, however, that most of the gains for contactless open-loop payments have come at expense of season tickets–which have fallen by at least 50% since the agency fully rolled out contactless–not from Oyster. Customers use both contactless bank cards and most Oyster cards for pay-as-you-go transactions.
Transport for London is asking suppliers to respond to its prior-information notice by expressing interest by Dec. 4, upon which they would be sent a questionnaire. The deadline for submitting the completed questionnaire is Jan. 8
© Mobility Payments and Forthwrite Media. Mobility Payments content is for individual use and cannot be copied or distributed without the express permission of the publisher