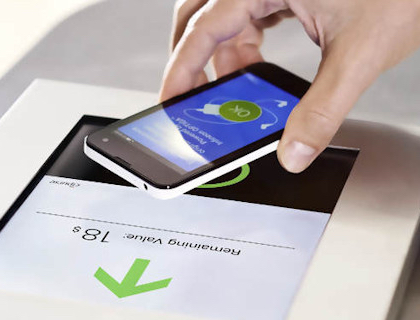 Article Highlights
Key Takeaway:
While there has been high hopes among members of the OSPT Alliance for rollouts of the group's Cipurse technology–which is an alternative to industry-leading Mifare–there have been few rollouts so far. Among plans by the Cipurse specifications group is final adoption of a specification supporting Cipurse mobile ticketing with host card emulation.
Key Data:
Organizations Mentioned:
• OSPT Alliance
• NXP Semiconductors
• Rambus
• Planeta Informática
• Autoritat del Transport Metropolità
(This premium article was originally published in July 2019. © Mobility Payments and Forthwrite Media.)
The mid-tier city of Vinnytsia in the Ukraine is rolling out its first transit smart cards for payment of fares on buses and trams this summer, replacing cash, which riders have used for years.
While the fact that a public transit agency is rolling out transit smart cards is not noteworthy, the contactless chip technology that Vinnytsia has adopted is–since it's one of the few transit-ticketing projects so far using nearly 10-year-old Cipurse technology. Announced in January 2010 by vendors seeking to break the market dominance of Mifare technology from NXP Semiconductors, Cipurse has not yet caught on, although Cipurse backers say there will be many more transit projects–among other applications–to come with Cipurse.
That includes use of Cipurse by a major transit agency, Autoritat del Transport Metropolità, or ATM, in Barcelona. Cipurse, however, will be one of at least two certified technologies that the agency will use on cards and in NFC phones for its much-anticipated–but much-delayed–T-mobilitat, or T-mobility, program. The other certified technology is Mifare DESFire from NXP. And there could be others.
To date, the only transit project that is apparently live with Cipurse is in Cuenca, Ecuador's third largest city. Suppliers there have equipped 500 buses serving the city to handle up to 40,000 daily rides with Cipurse. There is also a planned transit project, which has been delayed, in Curitiba, Brazil, according to one vendor that supports Cipurse.
Latin America is the region where Cipurse has garnered the most interest so far, with the technology used or specified for driver's licenses and highway tolls in Brazil, among other planned projects.
The first-ever transit-ticketing smart card in the Ukrainian city of Vinnytsia by the Vinnytsia Card Service will mainly cover around 100 trams, 150 trolleybuses and 300 buses and handle roughly 150 million passenger trips per year. Cipurse technology creator Infineon Technologies is supplying the Cipurse chips, as it has in Cuenca, Ecuador.
Long-Delayed Major Project
But the largest project so far for Cipurse is with Barcelona transit authority ATM. The authority's T-mobilitat program will replace mag-stripe tickets with a unified fare collection system across a range of transit modes in greater Barcelona and across the Catalonia region. It was originally supposed to go live with Cipurse and perhaps other technologies starting in 2016, but that probably won't happen until next year and the service won't be fully rolled out regionally until at least 2021.
"We have chosen Cipurse due to its capacity to deploy an open structure, end-to-end security; it's fully scalable and interoperable features," said Carme Fàbregas, CTO at ATM and a longtime supporter of Cipurse, told Mobility Payments' sister publication' NFC Times through a spokeswoman. She noted that the technology is governed by membership organization OSPT Alliance, of which ATM is an evaluator member. "We are undoubtedly promoting the opening of the market and fair (competition), thus refusing lock-in markets."
But while the Barcelona transit authority has been voicing support for Cipurse technology for years, ATM has also certified at least one other chip technology for the T-mobility program, Mifare DESFire, according to Fàbregas' statement through the spokeswoman. NXP's DESFire technology competes directly with Cipurse and the main supplier of the Cipurse chips, Infineon. And Fàbregas indicated through the spokeswoman that NXP's DESFire also could support end-to-end interoperability. Both technologies could "manage multiple on the market chips."
Pitching 'Open Standards'
But there are definite differences between how Cipurse is managed and how NXP manages Mifare.
The vendor-led OSPT Alliance develops and maintains Cipurse specifications, certifies products and helps to market the technology. Founding members of the alliance, which announced the initiative in January 2010, were Infineon; Giesecke & Devrient; Oberthur Technologies, now Idemia; and Inside Contactless, later called Inside Secure, which is no longer an OSPT member.
The group now has nearly 100 members, with recruitment helped along by OSPT's low membership fees. Reader and terminal makers and systems integrators can join for only €1,000 (US$ 1,120) annually and transit agencies and associations are not charged any membership fees. About a dozen transit agencies belong to the alliance. Besides ATM, that includes the Washington Metropolitan Area Transit Authority, or WMATA, and São Paulo Transport, as well as smaller agencies in Peru, Norway, Kuwait and the U.S. This does not mean the agencies are necessarily planning to introduce transit payments with Cipurse technology.
Vendors with certified products or plans to certify products pay €5,000 to OSPT in annual fees. The group has certified around 20 products to date, mostly from four vendors: Infineon, Idemia, G&D and Gemalto.
OSPT seeks to sell transit authorities and operators, along with other service providers, on what it stresses are "open standards," which it defines as technology that is specified and is available publicly for license under "equal, transparent terms and conditions–more commonly known as reasonable and non-discriminatory terms," said an Infineon brochure on Cipurse. "Ideally, an independent body certifies open-standard products and all industry players are free to join the standardization body and contribute to the standardization process." This will help lead to interoperable and innovative multimodal services, said the chipmaker.
Infineon compared this approach to transit ticketing "standards" used by groups promoting Calypso technology in Europe and beyond and also the ITSO organization in the UK. Infineon calls the approach "far healthier and a more robust situation than a certification process that is controlled by a single company."
That is a veiled reference to NXP, which dominates the closed-loop contactless and NFC transit ticketing market. While NXP licenses various forms of Mifare to other industry vendors, it provides most of the chips itself and controls the technology, which it notes has been used for 70% of the contactless transit ticketing projects globally. That includes Mifare compatible cards in China. OSPT frequently refers to the Mifare technology "proprietary," though never mentions NXP by name.
Few Rollouts So Far
But OSPT's "open standards" pitch hasn't apparently caught on with transit agencies, with few rollouts so far. Of course, it's difficult to go up against the well-established Mifare ecosystem and takes a long time to encourage transit agencies to switch technologies. Moreover, a small but growing number of transit authorities and agencies have decided to upgrade to open-loop payments, accepting credit and debit cards for payments of fares, while phasing out their old closed-loop card technology.
OSPT president Philippe Martineau, who works for OSPT full member Rambus, declined to be interviewed for this article, citing travel commitments and holidays, and the group's PR agency declined to make anyone else available from the group.
A spokeswoman for Infineon, when asked if the Vinnitsa and Cuenca transit-ticketing projects were the only ones that are live or about to go live noted that, generally speaking, there are more Cipurse projects than those that have been made public. The chipmaker did not elaborate.
Artur Costa, CEO of Brazil-based Planeta Informática, a full member of the alliance and provider of technology for many of the Cipurse projects either live or in advanced stages of planning, also said there are a number of Cipurse projects in the works. He also added that he could not reveal more information.
Among the projects already announced that Planeta has worked on are the transit projects in Cuenca, Ecuador, and Curitiba, Brazil; road tolling in São Paulo and the Brazilian driver's license project planned for launch in 2021, as well as an access-control system that he said is based on host card emulation technology.
Among the technology Planeta provides for the projects are secure-access modules, or SAMs, for readers. Costa said SAMs supporting Cipurse could be inserted into terminals supporting other technologies, including potentially old Mifare terminals, to "virtualize" Cipurse.
Expanding to Other Applications and HCE
Cipurse backers are also focusing on other applications for the technology besides transit ticketing, including ID, access control and micropayments. It also is looking to support other mobility services.
In addition, OSPT has developed specifications for Cipurse to support host card emulation for mobile NFC ticketing, access control and other applications. The spec is in its final stage of review. HCE would enable service providers to avoid the need to store their Cipurse applications on secure elements in the users' NFC-enabled smartphones.
Rambus announced in late May that its ticketing unit, formerly called Ecebs, is working with Infineon on products enabling mobile ticketing using HCE. The technology would "allow for secure download and storage of tickets on NFC-enabled smartphones and the ability to deliver tickets remotely to smart cards," said Rambus in a press statement.
A Rambus spokeswoman told NFC Times that the company has received interest from customers in Latin America for its Cipurse HCE technology, but declined to elaborate.
Russell McCullagh, vice president and general manager of Rambus Ticketing, said through the spokeswoman that the company's Cipurse HCE technology will enable ticketing "either by delivery of a travel ticket or top up to an external smart card via NFC or by storing a secure representation of the travel smart card within the phone and then using NFC to enable a consumer to tap their phone at a point of service to validate the journey."
He added that while the development uses HCE, the ticket isn't stored in the cloud, which would be too low for mass transit. Instead, it is stored in the phone. But, of course, the ticket is not stored on a secure chip in the phone, which HCE doesn't require. Rather, the representation of the ticket is securely stored in phone memory using cryptographic processes, including white-box cryptography, said McCullagh. "This provides sufficient security to protect the tickets in a device," he said.
Rambus Ticketing, formerly known as Ecebs, is being acquired by Visa along with Rambus' payments unit.
Infineon told NFC Times that with the phone securely storing a (representation) of the ticket, a customer "will have the ability to use their mobile phone to top up an electronic-purse balance or ticket in real time."
The technology also could enable users to top up their transit smart cards by touching them to NFC-enabled mobile devices and then use the cards for immediate travel, said Infineon.
HCE could help increase the appeal of Cipurse technology for mobile ticketing. Rival NXP last year debuted HCE-based Mifare ticketing working with Google, and the technology is already in use in Melbourne and some smaller cities.
But it will likely take much more than HCE to help Cipurse grab market share from Mifare or other technologies used for transit ticketing or for a range of other closed-loop applications.
© Mobility Payments and Forthwrite Media. Mobility Payments content is for individual use and cannot be copied or distributed without the express permission of the publisher.