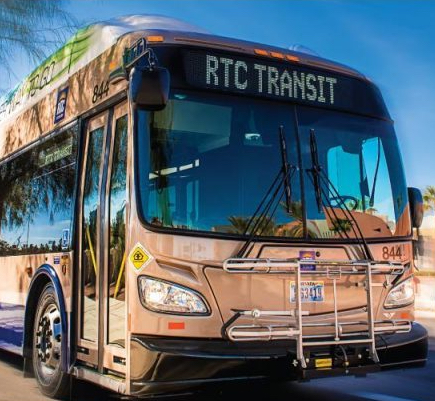 Article Highlights
Key Takeaway:
Uber has enabled its app users to also purchase public transit tickets in two cities, Denver and Las Vegas, as of January 2020. All told, Uber's separate "Transit" unit already provides trip planning in its app in 15 cities, Uber could add payments and ticketing/passes to these cities, as well.
Key Data:
Organizations Mentioned:
• Uber
• Masabi
• RTC Southern Nevada
• RTD Denver
(This premium article was originally published in January 2020. © Mobility Payments and Forthwrite Media.)
Mobility as a service is expected to reshape the traditional transport industry, and while it is just getting rolling, the pace is starting to pick up. The latest bit of momentum came this week when global ride-hailing service Uber announced it will enable mass transit riders to buy and redeem tickets from its app in a second U.S. city, Las Vegas.
That follows Uber's support for transit ticketing in Denver last May. Uber offers trip planning for bus, light rail and other modes of transit in both cities and in others. While both Denver and Las Vegas are mid-tier cities located in the American West–where the vast majority of transit is done with private automobiles–there are signs that Uber plans to step up its mobility-as-a-service, or MaaS, initiatives.
There were reports this week of Uber's intention to enable mass transit planning and ticketing in Sydney and Melbourne, Australia's two largest cities. All told, Uber's separate "Transit" unit already provides trip planning in its app in 15 cities, offering what it says is real-time information and end-to-end directions to users. Uber could add payments and ticketing/passes to these cities, as well.
By definition, MaaS brings together multiple transport providers under one gateway, usually in an app. And at a minimum, MaaS providers enable users to plan their entire trips. Some experts define MaaS more narrowly, insisting that in order to qualify as a MaaS provider, the gateway or app must also enable users to plan, book and pay for the travel with a single account.
While there are a number of MaaS providers that combine more than one transport means, such as vehicle ride sharing, bicycle sharing, taxis and, later, autonomous vehicles, the core of MaaS in most cities is expected to be mass transit.
And these days, more and more mass transit agencies are willing to participate. They have been hurt in recent years by the growth of alternative means of transport, especially such ride-hailing services as Uber and Lyft. As a result, they are more amenable to working with these services rather than viewing them strictly as competitors. It means, however, that the transit agencies will have share more data with Uber, Lyft and other MaaS platform providers.
In Denver and Las Vegas, Uber is working with UK-based technology provider Masabi, which provides the transport ticketing functionality for Uber's app using its Justride mobile-ticketing software development kit (SDK).
According to Masabi, when riders in Denver and Las Vegas enter a destination in the Uber app, they will see "Transit" as an option. If they select this option, the app will provide information riders need to "get to their destination using public transportation including real-time transit data, trip-planning and end-to-end directions."
The rider will select their route, then could purchase transit passes using their Uber payments accounts. They would redeem the tickets or passes with the app. The app purchase feature covers a range of pass types. For example, in Las Vegas and the surrounding region, riders can buy passes good for the Las Vegas Strip or for "All Access," in addition to hourly, residential and monthly passes. They can use their transit passes even when their smartphones are offline. The passes are stored in the Transit tickets section of the Uber app, and when ready to ride, users activate the passes and scan them when they board.
Masabi said that since launching in May, the Uber transit service in Denver continues to "grow rapidly," although the company did not release transaction numbers. It said only that more than 60% of local riders have purchased a transit pass at least twice in the same month. That probably refers to the Denver transit authority, RTD's, own Mobile Tickets app, which uses Masabi technology to enable mobile payments, and which is used much more frequently to purchase RTD tickets than the Uber app.
Mass transit in the Denver and Las Vegas markets is tiny, however, when compared with major cities in North America, Europe and Asia. But there are reports that Uber is in talks with big transit authorities in Melbourne and Sydney in Australia to enable users to plan, book and redeem tickets in place of the contactless Myki and Opal cards, respectively, that most mass transit riders use in these cities. The transport authorities in these cities, however, accept contactless and NFC payments, not 2D or other bar codes, like the Uber app transit option uses.
Other MaaS Providers
Meanwhile, Masabi also announced this week that its technology is now enabling transit riders in Las Vegas and Southern Nevada to use the separate Transit app to buy passes for rides. Payments is a new feature for the Transit app, which Masabi says is available in more than a dozen cities in North America using its software.
In total, the Transit app is used in more than 200 cities globally, but most only for route planning across multiple modes of transit. Until recently, users in Las Vegas had only been able to use the app for trip planning with buses, the Las Vegas Monorail, a bike-sharing program and rides on Uber and Lyft, according to Masabi. Now with the unified Transit payment account, the users in Southern Nevada can not only buy and redeem tickets in their home market, but in other cities that support the Transit account, including transit systems in Denver, Cincinnati, and Santa Monica, Calif.; along with bike-share programs in Chicago, Toronto, and Washington, D.C., according to Masabi.
Uber and Transit are only two of a growing number of MaaS app and platform providers. Others include Google Maps and Moovit, which both offer information for trip planning. Others, such as Jelbi, UbiGo, Whim and myCicero provide ticketing, pricing and/or payments in addition to trip planning.
Today, Masabi's Justride software is mainly used by transit agencies in agency-branded apps for what the company calls its Fare Payments-as-a-Service. It says it has signed up more than 70 transit agencies in 10 countries to use the system.
The Masabi service competes with U.S.-based Delerrok, which offers cloud-based ticketing to small- and medium-sized transit agencies and which has a tie-up with Cubic Transportation Systems.
© Mobility Payments and Forthwrite Media. Mobility Payments content is for individual use and cannot be copied or distributed without the express permission of the publisher.