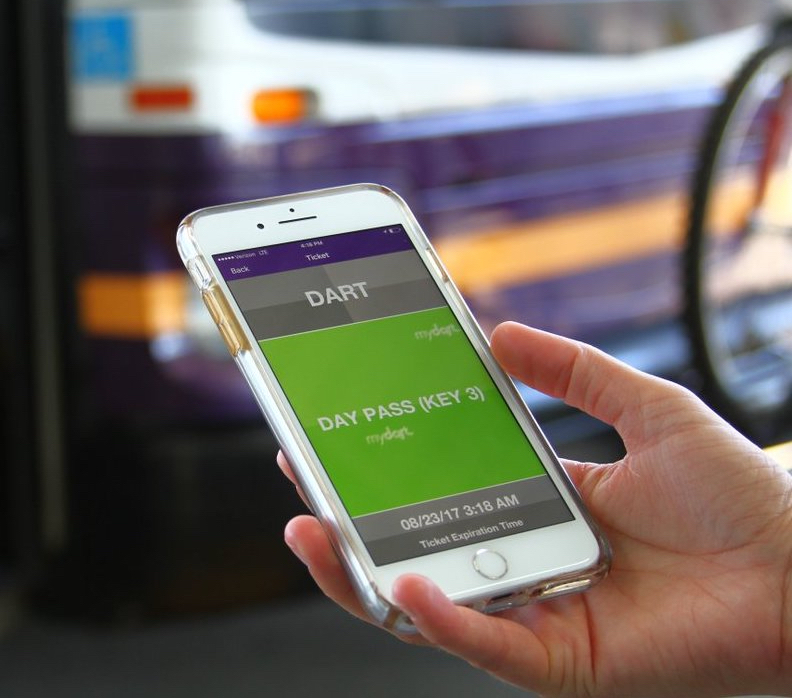 Article Highlights
Key Takeaway:
SaaS ticketing platforms,like one from U.S.-based Bytemark, are seeing increased demand from transit agencies wanting to enable "touchless" ticketing quickly and with low start-up costs. There are tradeoffs and the mobile-ticketing services sometimes compete with well-established agency fare cards.
Key Data:
Table: Major SaaS ticketing vendors, including investors, important clients, pricing and partnerships with third-party apps.
Organizations Mentioned:
• Bytemark
• Siemens Mobility
• Masabi
• Token Transit
• Capital Metro (Austin)
• Sound Transit (Seattle)
• DART (Des Moines, IA)
It comes as little surprise that demand for mobile ticketing by transit agencies has soared at the same time ridership plummeted during the Covid-19 pandemic.
Transit agencies have needed a way to introduce mobile and other "touchless" fare payments to address perceived fears by riders that notes, coins and paper tickets are more likely to harbor the virus than their own smartphones. Mobile ticketing–using a device the customers always have with them and which they can use to buy tickets or add value over the network, could ease those fears.
With their quick time to market and generally low start-up costs, software-as-a-service ticketing platforms have had a leg up in signing up public transit agencies, especially small to mid-tier agencies.
That's according to Stephanie Schrauth, VP for product strategy and marketing for New York-based Bytemark, which offers SaaS ticketing in a competitive market that includes such companies as UK-based Masabi, U.S.-based Token Transit and, more recently, large automated fare-collection system supplier Cubic Transportation Systems, also based in the U.S.
"There was a huge wave of RFPs that came out because agencies that had put it (mobile ticketing) off, Schrauth told Mobility Payments. "Now there was not really a good reason to put it off and, in fact, there was a very good reason to enable it."
Agencies continue to sign up for the services post-lockdown as ridership increases and agencies try to lure wary customers back to their bus, tram and train services.
The SaaS ticketing vendors have been around for years and have together signed up hundreds of transit agencies to date, especially small to mid-tier bus operators, along with some tram and commuter rail providers, especially in the U.S. They offer mobile ticketing available on both Android and iOS devices, with tickets validated by visual inspection by drivers. A growing number have added validators that can scan bar- or QR-coded tickets or accept contactless reloadable cards.
The platforms are account-based, and users buy tickets and passes or load, usually via credit or debit cards stored in the apps. A growing number of platforms are also starting to support cash loads at retail outlets through networks of bill-payment locations, such as those run by InComm Payments and its VanillaDirect Pay service. The platforms are also beginning to offer fare capping and plans call for supporting open-loop payments.
The SaaS platforms offer a trade-off­–quick and low-cost launch of service, especially when no validators or other hardware is involved, in exchange for the agency not owning or being able to fully customize the ticketing apps. They generally pay a percentage per transaction or of their gross ticketing revenue to the ticketing providers.
Trip-Planning Apps Become Interested
The agencies generally use their own apps–either provided as white-label apps by the SaaS providers and branded by the agency or as consumer-facing apps from the providers–but in the past year or two, trip-planning app providers, such as Transit, Moovit, Uber and Google, have become interested. These international app providers don't want to get involved in the ticketing and sometimes not the payments, so they use SDKs or APIs from the ticketing platforms to offer users an opportunity to plan, book and pay for their public transit rides all in the trip-planning app.
Token Transit and Masabi dominate the implementations so far with trip-planning apps. Bytemark, now a subsidiary of Germany-based Siemens Mobility is the latest to support the third-party apps. It announced a deal with Transit this spring, and York Region Transit in Canada was Bytemark's first agency client to sell tickets through Transit, starting in April.
Bytemark's Schrauth said she believes that much of this trend is being fueled by the transit agencies themselves, which want to sell tickets through multiple apps, including the high-profile trip-planning apps. These app providers have been only too happy to accommodate them. Some agencies have made the trip-planning apps their default apps.
The success of public transit ticketing sales through the trip-planning apps, however, have been mixed so far, with some of the first transit agencies to participate, such as RTD Denver and RTC of Southern Nevada, in Las Vegas, reporting that the vast majority of their mobile transactions are with their local apps. These local apps also use SaaS ticketing, in the case of Denver and Las Vegas, from Masabi. In both cases, the agencies' local apps predated the sales in trip-planning apps by at least two years.
"The agencies, in general, have been been advertising their own apps, and if people are already using it, I think they're going to continue to, just because it's a habit at that point," said Schrauth. "And a lot of times for the trip-planning apps, it depends on what you're trying to get out of them. If you're a commuter, you know, you might not need your trip planning, you might just care about what's (stop) coming up next."
Signing Up Presto During Pandemic
Bytemark, founded 10 years ago, says it serves a total of more than 50 transit agencies, mostly in North America. Among the new clients is Presto, a fare-collection system covering 11 transit operators serving the greater Toronto area and which is owned by transit authority Metrolinx. Bytemark announced in September 2020 that two of the Presto agencies–Durham Region Transit and Hamilton Street Railway–were using its service, mainly to offer bus passengers mobile ticketing.
The 11 local transit providers all use the closed-loop Presto card, and the two agencies added mobile ticketing with a white-label Bytemark app. Bytemark had already been serving another agency, UP Express, which runs an airport line and which uses the Presto card. All of the mobile-ticketing users for these agencies validate their tickets by showing the bus driver or other agency staff the tickets on their smartphone screens for visual inspection.
The head of transit support services for the city of Hamilton said that with the launch of the white-label app, which is branded "Presto E-Tickets," for the Hamilton Street Railway, would allow the agency to get rid of paper tickets. The agency, which provides around 21 million rides on buses and streetcars in a typical year, still accepts cash, in addition to the Presto card and mobile ticketing.
In addition, the E-Tickets app includes a trip-planning feature from Hacon, Bytemark's sister company within Siemens Mobility. Users of Bytemark apps in Austin, Texas; and Des Moines, Iowa; also get the feature, Bytemark said. Another sister company within Siemens, eos.uptrade, is a ticketing provider focused on Europe.
Competing against Agency Cards
But according to Presto, the mobile ticketing fare payments do not count toward loyalty programs, discounted transfers or "co-fares" that may be in place for Presto card or paper-ticket users.
While E-Tickets app users can buy period passes that offer discounts and also tickets with senior and youth discounts, the fact that the Presto card is already well-established and offers more perks for riders doesn't bode well for the mobile-ticketing apps.
Competing against established agency fare cards that offer special discounts and cover multiple modes of transit in other cities has proved difficult for the mobile apps.
For example, bus and commuter rail operator Capital Metro in Austin, which officially launched the Bytemark service in early 2014, said its mobile ticketing sales accounted for a healthy 28% of its total ticketing sales in 2019–the last full year before the pandemic. That was up from 25% the year before, the agency told Mobility Payments sister publication NFC Times.
On the other hand, Sound Transit in Seattle, which launched the Bytemark app in late 2016 for light rail and commuter rail, adding express bus in 2019, sold less than 1% of its tickets from mobile in 2019, the agency told the publication. That compares with the popular closed-loop Orca card, which accounted for 77% of rides that year. The agency intends to offer a virtual Orca card on NFC phones next year and could drop the Bytemark service.
Other SaaS ticketing platforms whose services are competing with other popular fare cards, such as Clipper, which serves a nine-county region of the San Francisco Bay Area, have not fared well, either.
"I think it would depend on two main factors," said Bytemark's Schrauth. "One would be marketing and awareness (of the app). And the other thing would be, what other options do people have? If the agency has a whole bunch of options for people to pay, and they're already using something that they're comfortable with, they might be less likely to move over to an (mobile) application."
She added: "For agencies that only offer cash, for example, then you're going to see a much quicker adoption, just because carrying around a phone is easier than carrying around exact change or can be."
With many agencies that have the goal of ridding their fare-collection systems of cash and which are keen to attract riders back to the system, mobile and contactless payments will no doubt continue to expand, creating more opportunities for SaaS ticketing platforms like Bytemark's and other fare-collection system suppliers.
© Mobility Payments and Forthwrite Media. Mobility Payments content is for individual use and cannot be copied or distributed without the express permission of the publisher.