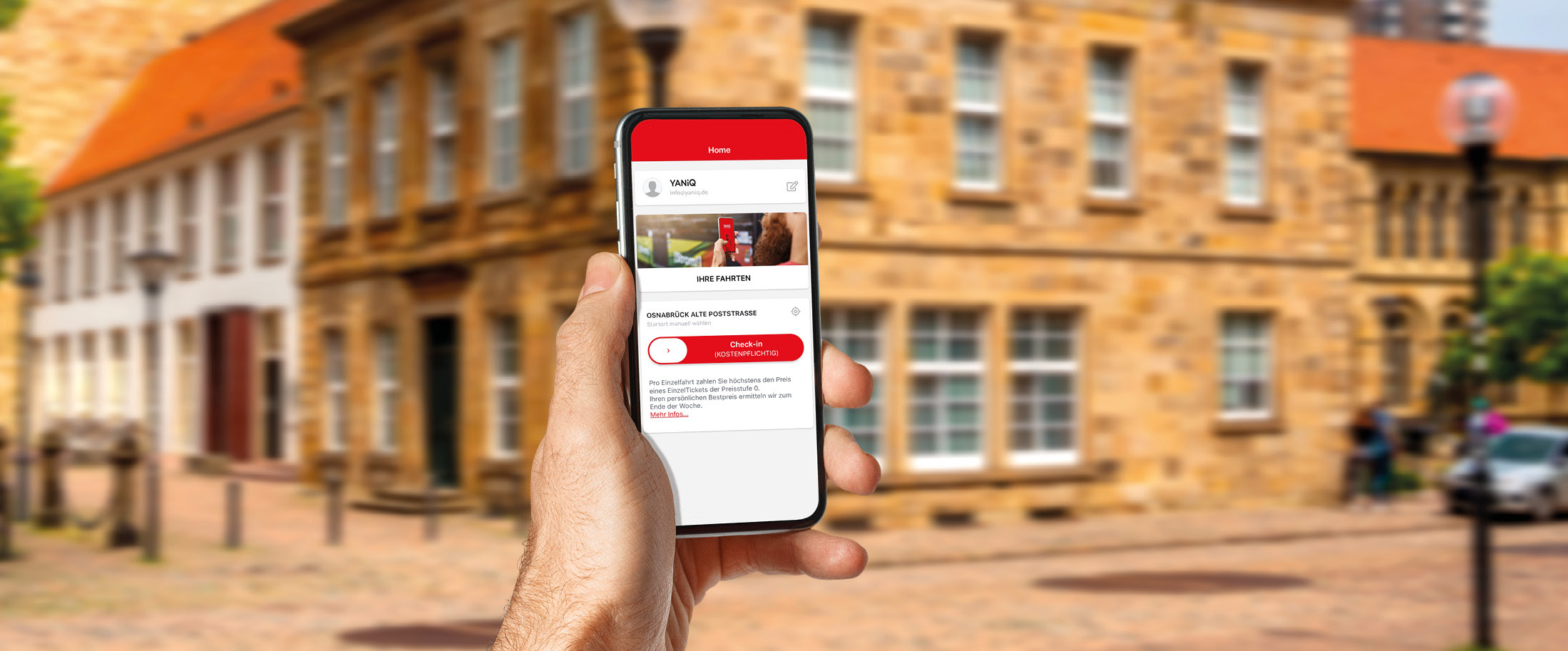 Article Highlights
Key Takeaway:
Check-in/be-out, or CIBO, systems, are being tried by some transit agencies, particularly in Europe, as they seek to offer hands-free convenience to riders. Agencies need measures to deter fraud if they launch these systems.
Key Data:
Three months after launch, the YANiQ app had received 3,600 downloads across the Android and iOS platforms, the agency reported in late February 2021.
Organizations Mentioned:
• Stadtwerke Osnabrück
• eos.uptrade
Despite the growing popularity of contactless, NFC and QR-code technologies for electronic fare-collection, some transit agencies are experimenting with other technologies to collect fares. That includes Germany's Stadtwerke Osnabrück, which launched the first check-in/be-out systems in the country last October in the city of Osnabrück.
Stadtwerke Osnabrück, the public agency that manages utilities, public infrastructure and transport for the city of 170,000, launched check-in/be-out with its YANiQ app, following a months-long pilot program. The much larger German city of Hamburg plans to launch a CIBO system later this year. Both are using a system in which riders check in with a swipe in the app, then simply leave the transit vehicle at the end of their trip.
There are also some ticketing apps in operation in Germany using technology from Switzerland-based Fairtiq, that are CICO, that is, requiring users to both check in to begin the trip and check out to end the trip.
A system launched in 2018 by the ticketing agency, TIP, that runs ticketing for 19 public bus, tram and train operators serving Porto, Portugal's second largest city, uses a hybrid NFC check-in/BLE be-out system for its Anda mobile app.
Check out is handled in similar ways. For the YANiQ app, a pair of Bluetooth low-energy beacons aboard each bus, combined with GPS and motion-sensing data from the passenger's smartphones, track the passenger's journey. The back end of the system stores that information and calculates the best available ticket pricing for each passenger at the end of the week, and passengers can view trip and pricing information in the application at any time.
All of the CIBO systems have faced the task of deterring fraud in a system that does not require users to tap a card or phone or take any other action to check out.
Competition with Regional Mobility App
Three months after launch, the YANiQ app had received 3,600 downloads across the Android and iOS platforms, the agency reported in late February 2021.
When YANiQ launched, Stadtwerke Osnabrück said that it eventually planned to integrate the app's CIBO fare payments functionality with the VOSpilot mobility app, which provides multimodal trip planning, transit information and QR-code-based mobile ticket purchases for Verkehrsgemeinschaft Osnabrück, or VOS, the association of transit agencies and mobility companies in the region around Osnabrück. The group includes Stadtwerke Osnabrück.
So far, the integration between YANiQ and VOSpilot hasn't come to pass, and neither Stadtwerke Osnabrück nor VOS has specified a timeframe. In October 2020, Stadtwerke Osnabrück said that it chose to launch YANiQ as a separate application, developed by vendor eos.uptrade, in case of problems with the system.
"This enables us to make technical adjustments or changes more quickly," Werner Linnensbrink, head of mobility services for Stadtwerke Osnabrück, said in a statement at the time.
In a survey the month before YANiQ launched, about 43% of the 1,000 VOS passengers surveyed said they regularly used VOSpilot but it's not clear how that will translate to take-up of the separate YANiQ app.
"Compared to users of our mobile ticketing app VOSpilot, the number of users is low but growing," Daniel Voelsen, a deputy project manager at Stadtwerke Osnabrück, recently told Mobility Payments. "We can see that YANiQ users use the system constantly and frequently."
He added that YANiQ is an "additional solution" for people who "expect to use public transport as easily as Shazam, Pokemon Go or Tinder."
They can go hands free for most of the trip and they receive weekly fare capping. To pay the charges, the system does a SEPA-based direct debit from the bank accounts users load in the app during registration.
And there is talk of Stadtwerke Osnabrück plans to launch its own online "mobility portal," which will also offer trip planning and booking for buses, car sharing, and parking service, in the second half of 2021.
Dealing with Fraud and Other Challenges
Also like other CIBO systems, YANiQ monitors passengers to prevent ticketing fraud, such as passengers turning off their smartphones' Bluetooth connection mid-trip to trick the system into charging a lower fare.
If Bluetooth is disabled or the mobile connection is lost, the system is still able to collect enough data about the device's location to calculate fares for the trip.
The system backs up the BLE beacons' data with GPS information from the user's smartphone, as well as combining it with motion-tracking information from the phone. And although the application can only send the passenger's location information to the system's back-end servers when mobile data is available, if passengers are in an area, such as a subway tunnel, without a cell phone signal, the application stores location-related data and transmits it to the system's back-end servers when the signal is restored.
"It is also possible that if you're offline, that you can store the data locally on your device and it will be sent to the back end later, so that's not a problem," Voelsen said at the Transport Ticketing Digital Summit in June, organized by Clarion Events. That's also the case for other CIBO systems, such as Hamburg. And the YANiQ application allows offline check-in and uses a barcode for backup validation, if needed.
But if a user's phone is powered completely off, YANiQ can't collect any data, even to send later, because GPS and BLE logging both require power. The system monitors for such situations, which could be instances of attempted fraud or simply dead batteries (although the agency's buses offer USB phone chargers).
"We can identify that conspicuousness in our back end," Voelsen told Mobility Payments.
Ultimately, however, Stadtwerke Osnabrück is relying on its passengers to use the system correctly–and honestly.
"If anything is switched off (BLE, GPS, fitness data), the user will instantly receive a notification," Voelsen told Mobility Payments. "It's a new situation, where users are responsible to use the system properly, but we think responsibilities are a lot 'lighter' than before, and YANiQ guides our users. It's just different and a question of habits."
And Voelsen expressed optimism, telling Mobility Payments that although the system monitors for fraud prevention and provides guidance for customers, "it turns out that those worries aren't as important as feared before."
And according to Voelsen, multiple sources of data on passenger location, such as the combination of BLE, GPS and motion sensing data also help prevent YANiQ users from paying bus fares for pedestrian or bike journeys that happen to follow bus routes.
"When someone changes to a scooter or to a bike, and uses the same route and the same timetable as the bus, then we don't want to charge the customer the (bus) fare," said Voelsen at the conference. "So we can see with the motion technology from the operating system of the smartphone if someone is walking or cycling or something."
Using Passenger Data
Cashless and mobile ticketing in general have been touted as more efficient for agencies, more convenient for most customers, and likely to be perceived as safer during the ongoing Covid-19 pandemic. But Voelsen mentioned an additional benefit of the CIBO system for Stadtwerke Osnabrück: aggregate data on how passengers use the city's bus system.
"We can use anonymized data for timetable planning and so on," he said.
Like similar systems in Hamburg and elsewhere, YANiQ has to deal with potentially sensitive customer data such as payment account information, personal identification, and location tracking.
In accordance with the European Union's General Data Protection Regulation requirements, data from the application is stored on two physically separated computer systems. One holds information about BLE location tracking, motion-sensor data, the identity of each beacon, fare optimization calculations, timestamps, and aggregated journey data. The other stores customers' master data and validates payments for optimized fares once they've been calculated.
© Mobility Payments and Forthwrite Media. Mobility Payments content is for individual use and cannot be copied or distributed without the express permission of the publisher.