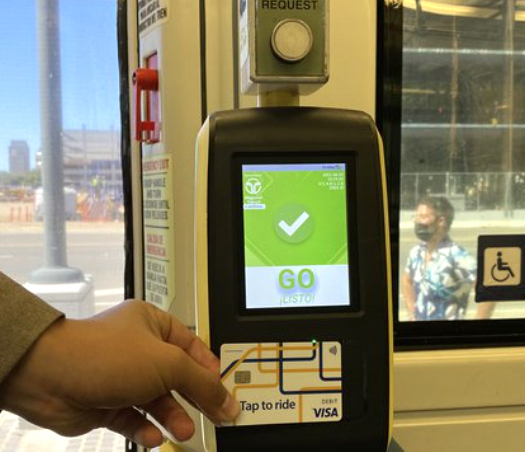 Article Highlights
Key Takeaway:
Interest is running high among small transit agencies in California to participate in a state-funded program, Cal-ITP, to help the agencies procure open-loop payments technology, according to a source with Cal-ITP. The intiative, which will set up contracts with vendors to sell agencies the hardware and software they need, will also be available to agencies outside of the state.
Key Data:
California's more than 300 transit agencies have a combined 8,500 fixed-route public transit buses and more than 19,000 total revenue vehicles, including light rail, vans, and other demand-responsive transport vehicles, though not counting commuter and long-distance rail. The latter also could buy validators or transit processing services via the state contracts.
California transportation officials are hearing strong demand among transit agencies in the state to move to open-loop payments, a person handling communications for the state Department of Transportation's California Integrated Travel Project, or Cal-ITP, which is helping agencies procure the fare-collection technology, told Mobility Payments.
In addition, the state as early as today plans to announce two more "demonstration" projects or pilots of open-loop payments. They likely will be held in or near the state's Central Valley, like the first two previously announced Cal-ITP pilots, as Mobility Payments has reported. These first two pilots are going on in Monterey County and in the state's capital city, Sacramento.
At least five demo projects are expected. And more agencies have expressed interest in rolling out the technology once it's available.
"In terms of market interest, lately every conversation that our broader Cal-ITP team has had with a transit agency on a non-payments-related topic has gravitated to contactless payments, with the agency expressing to Cal-ITP that they want to move away from their closed-loop payment system in favor of accepting contactless open-loop payments like any other merchant," Erika Ehmsen told Mobility Payments. "(The agencies ask), 'how can I start accepting credit and debit cards?'"  
The Cal-ITP initiative seeks to help the state's more than 300 mostly small transit agencies make their fare-collection systems more uniform and easy to use, based on open-loop payments, along with enabling more accurate trip-planning and discounts for riders. The initiative aims to increase transit ridership, decrease costs for agencies and help the state meet its climate change mitigation goals.
As Mobility Payments has reported, the California Department of Transportation, or Caltrans, and its parent, the California State Transportation Agency, CalSTA seek to build a "mobility marketplace," at which transit agencies could shop for the key components they would need build open-loop fare collection systems. According to one consultant working on the project, the products and services the state contracts for are intended to be "plug and play."
In essence, the state is seeking to use its contracting clout to line up qualified suppliers for these components. The state has already awarded contracts to payments processors/acquirers, Elavon and Fiserv. It issued two more RFPs June 30, one to seek bids from suppliers of EMV-enabled payment acceptance devices, or validators; and the other to provide fare-calculation software for the back office, including engines that could calculate fare capping and other discounts. State officials call the latter "transit processor services."
Among backers of the state initiative is Visa, which is seeking to promote open-loop payments globally.
The procurement concept compares with single-vendor contracts transit agencies often sign today, either with systems integrators to build bespoke fare-collection systems or, in some cases, software-as-a-service ticketing platform providers. Small bus operators and others are usually unable to purchase bespoke systems, and if they use SaaS ticketing vendors, they do not own this part of their fare-collection systems.
One option for a number of small agencies in the state has been to join regional fare collection systems based on close-loop contactless fare cards, TAP and Clipper, controlled by authorities in Los Angeles and San Francisco, respectively. These two large authorities are enhancing their closed-loop programs and appear to have no immediate plans to support open loop.
Backers of the Cal-ITP initiative say the state is in effect seeking to create bench contracts, with vendors fulfilling orders by agencies as they come in for their qualified products and services. The state believes it can attract a number of vendors to bid on the contracts by offering a large potential market, which Ehmsen said includes 8,500 fixed-route public transit buses in the state and more than 19,000 total revenue vehicles, including light rail, vans, and other demand-responsive transport vehicles, though not counting commuter and long-distance rail. The latter also could buy validators or transit processing services via the state contracts. Many of these 19,000 transit vehicles, such as buses, will need multiple validators to enable boarding at more than one door, added Ehmsen.
Interested agencies are not only limited to those serving cities, towns or small counties. For example, one or more of the authorities that manage intercity Amtrak train service in California have said they expect to buy at least 1,300 validators from the Cal-ITP program within the next five years.
Moreover, California has said it will invite agencies in other states to buy validators and transit fare calculation processing under the Cal-ITP contracts, just like it did with its purchasing contracts for N95 and surgical masks earlier during the pandemic.
According to one or more of the Cal-ITP RFPs, agencies outside of California that engage in aggregated purchasing have expressed interest in the Cal-ITP procurement program" and might buy from vendors that the state selects–at the same prices that California transit agencies will pay. These include members of the Oregon cooperative procurement program and the Washington State Purchasing Cooperative.
When asked how transit agencies, including small ones, would be able to afford to buy validators and other components of a new fare-collection system when their budgets are already tight, Ehmsen said there would be state and federal funding for these types of purchases and Cal-ITP guide the agencies in identifying these funding opportunities. The Cal-ITP program itself does not include funding for agencies to buy the hardware or software to be available under the procurement contracts.
© Mobility Payments and Forthwrite Media. Mobility Payments content is for individual use and cannot be copied or distributed without the express permission of the publisher.