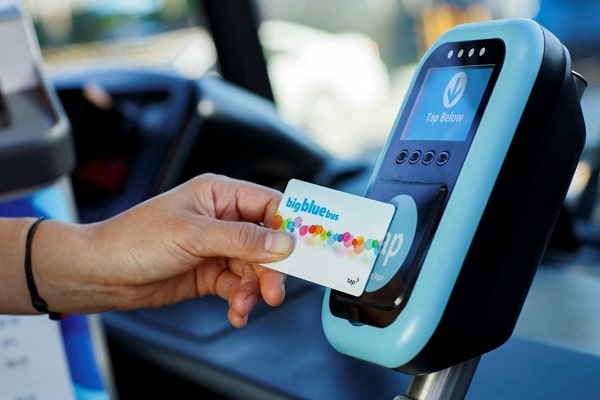 Article Highlights
Key Takeaway:
Transit agencies in the U.S. are interested in going cashless on board their vehicles, though few have yet managed to carry out the feat.
Key Data:
In California alone, officials estimate the unbanked and underbanked combined make up as much as 30% of the state's residents.
Organizations Mentioned:
• Greater Dayton RTA
• Big Blue Bus (Santa Monica)
• Masabi
• Token Transit
The Greater Dayton RTA, which this month stopped accepting paper passes and tickets, will hit its Nov. 1 deadline to go completely cashless on board its vehicles, an agency representative confirmed to Mobility Payments.
If it meets the goal, as expected, RTA will be among the few transit agencies in the U.S. to rid its buses of cash payments. Even large agencies, such as New York's MTA, Metro in Los Angeles and WMATA serving Washington, D.C., still accept cash on board buses, albeit requiring exact change of customers when they board. A number of large agencies elsewhere, however, such as those serving London and Sydney, no longer accept cash on buses–London ending the practice in 2014.
Brandon Policicchio, Dayton RTA's chief customer and business development officer, said he doesn't know of other U.S. agencies, that have eradicated cash from their buses, including small to mid-tier agencies, like his.
There are some working on it, such as Big Blue Bus of Santa Monica, CA, which launched a cashless pilot on all of its nearly 200 buses in July. And a much larger U.S. transit agency, MBTA in Boston, plans to eliminate cash on all its vehicles, including buses, as part of an overhaul of its fare-collection system due to be completed by 2024. In addition, at least some agencies in the U.S. have stated longer-term plans to go cashless, such as Metro Transit serving Madison, WI.
The Covid-19 pandemic is helping to fuel this cash-eradication trend. Although there isn't definitive scientific evidence that notes and coins are a significant risk factor for transmitting the virus, many customers perceive this to be the case.
In addition, cashless speeds boarding and can save transit agencies money.
Agencies, of course, are duty-bound to accommodate their unbanked and underbanked customers, who often rely on cash. And some advocates for the unbanked are pushing back against the moves to go cashless by agencies and other government agencies, arguing that the poor and those who prefer not to use electronic payment would be left out in the cold.
In California alone, officials estimate the unbanked and underbanked combined make up as much as 30% of the state's residents. The state, which is embarking on a program to help small transit agencies, mainly bus operators, to procure open-loop fare technology, hopes to enlist fintechs to offer alternatives to riders without credit and debit cards or conventional bank accounts.
But in its tendering documents, California officials said that the fintechs and other bank card alternatives would not be enough. "We see that the current state of the issuance market does not provide sufficient solutions for every existing transit payment use case, and cash may need to continue to be accepted for some time."
The early agencies in the U.S. trying to remove cash acceptance on board vehicles are mostly relying on a combination of closed-loop reloadable smart cards and mobile ticketing, along with a network of retail cash-reloading points.
The Greater Dayton RTA is anchoring its cashless journey with its Tapp Pay smart cards, along with mobile ticketing through its default mobile app, the trip-planning app Transit. Transit incorporates an SDK from SaaS ticketing vendor Masabi to enable account-based fare payments. Customers are able to load their mobile accounts with stored value and to pay fares with either QR code-based mobile ticketing or their contactless cards. In addition, Tapp Pay's pay-as-you-go system offers both daily and monthly fare capping.
RTA enables customers to use a network of cash-loading points by fintech T-Cetra at retail outlets in Dayton. The transit agency will have 300 outlets in the county it serves, 200 within a quarter mile of the nearest bus route. RTA itself has five transit centers where customers can reload, and these are the only places where they can buy a Tapp card.
In July, after just a few months, use of the Tapp Pay cards had soared, accounting for 70% of all Tapp Pay transactions (mobile ticketing make up the rest) and 58% of all fare transactions of any kind. Mobile ticketing accounted for the next highest share of total transactions at 25%, Policicchio told Mobility Payments. Cash usage on board buses had dropped from 43% in May 2020 to 10% in July. The agency will remove the fare boxes on board buses by Nov. 1, Policicchio confirmed to Mobility Payments in the past week.
In Santa Monica, the Big Blue Bus agency said for the systemwide cashless pilot that began in July, customers will have to either pay with the closed-loop TAP card or with mobile ticketing. TAP is used by 26 agencies in Los Angeles County, including by the largest agency in the county by far, Metro, the developer of TAP. Big Blue Bus introduced discount offers to give customers more reasons to use cards or mobile ticketing.
Big Blue Bus supports mobile ticketing in the Transit app, which uses an API from SaaS ticketing platform Token Transit. Customers also can use Token Transit's own consumer-facing app to buy the tickets. For both apps, customers validate tickets via visual inspection by bus drivers.
While customers need a credit or debit card to buy the mobile tickets in these apps, if they use TAP, either a physical card or a digital version of TAP in wallets supporting Apple Pay and Google Pay, they can load the cards with cash at 450 outlets, including participating 7-Eleven convenience stores and Walgreens retail pharmacies. Users also can create TAP accounts and load them via the web or through a TAP app.
© Mobility Payments and Forthwrite Media. Mobility Payments content is for individual use and cannot be copied or distributed without the express permission of the publisher.