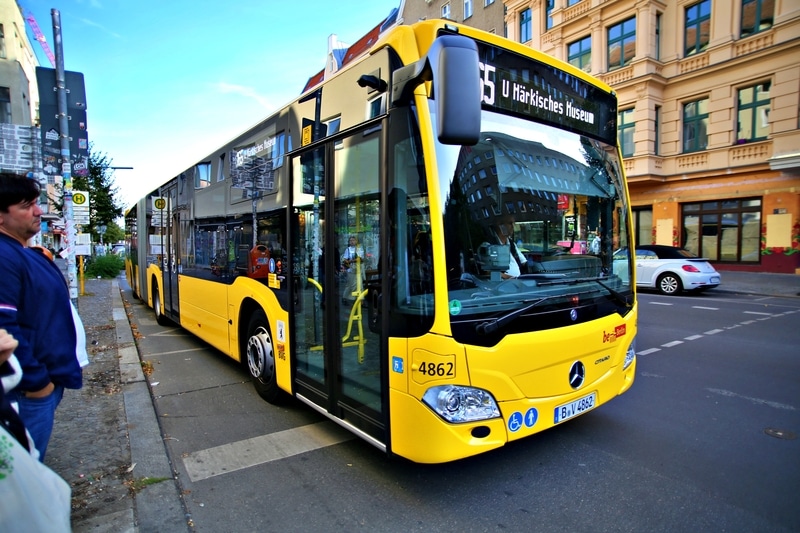 Article Highlights
Key Takeaway:
BVG, Germany's largest transit operator, is conducting a citywide pilot of contactless EMV payments on board the operator's nearly 1,500 buses and have eliminated cash acceptance on the vehicles. Government officials have not yet given the green light to make the contactless service permanent.
Key Data:
BVG spent €2.1 million (US$2.5 million) installing glass panes around the bus driver stations, to ease driver concerns about catching the virus from passengers.
Organizations Mentioned:
• BVG (Berlin)
• SWB Bus and Bahn (Bonn)
Germany's largest transit operator, BVG, said its pilot of contactless EMV payments extends to all of its nearly 1,500 buses, and the company has eliminated cash acceptance on board the vehicles, a spokesman confirmed to Mobility Payments. But officials in Berlin have not yet decided whether to make the contactless payments service permanent, he added.
"This is not a decision that the BVG has to make," the spokesman said. "This is a political decision."
BVG, which said it transported a total of more than 1.1 billion people in 2019, the last full year before the pandemic, also runs the city's underground metro, tram and ferries. These transport modes also could potentially get contactless EMV payments sometime in the future.
But contactless open-loop fare payments is not common in Germany, which is known for its gateless, trust-based fare systems as compared with most other large cities outside of the German-speaking world. Ticket checking is largely left to roving inspectors, who validate tickets during spot checks.
SWB Bus and Bahn, the transit agency serving the mid-tier city of Bonn, is believed to be the first in Germany to accept contactless EMV payments. That service launched only last March.
But given that the BVG contactless bus pilot in Berlin is large and was launched largely as an effort to help remove cash acceptance on board the BVG fleet to better protect drivers from contracting the coronavirus, it seems likely that the operator will continue to use the technology. BVG had earlier said in a statement that to make the service permanent, it would first have to submit a request with the state's tariff approval authority.
Berlin bus customers can pay for tickets with contactless credit cards and, more importantly, Germany's popular domestic debit card, Girocard. Users also can pay with card credentials stored in wallets connected with Apple Pay and Google Pay. In addition, BVG is issuing or plans to issue a reloadable fare card, BVG-Guthabenkarte, which uses contactless EMV technology. And the operator also sees contactless payments as quicker than cash acceptance, improving punctuality of buses.
But the main driver for contactless EMV appears to be Covid-19, which caused BVG to close front-door entry on all buses in March 2020, only opening them again within the past two months.
That reopening was originally scheduled for April 2021, but bus drivers had protested. BVG spent €2.1 million (US$2.5 million) installing glass panes around the bus driver stations, to ease driver concerns about catching the virus from passengers.
And the operator timed the reopening of the front doors to coincide with the citywide launch of contactless payments on board the buses. "This avoids close and long-term contact between drivers and customers," said the operator in July. There were much smaller contactless payments pilots conducted on board BVG buses earlier, largely by staff members.
BVG also used the occasion of the front-door opening to restate that it was barring cash acceptance on board buses. Of course, all people on board are also required to wear masks.
The contactless terminals are installed at the front of the buses, and that is the only place customers can pay. But customers can still board through the middle doors of buses, where available, and not pay at the front if they already have a ticket.
BVG also has a high-profile mobility-as-a-service app, Jelbi, which it launched in 2019. The BVG spokesman said the app has been downloaded at least 265,000 times and had 115,000 people registered. He could not say, however, how many tickets to the various transport modes BVG operates have been sold in the app.
Meanwhile, BVG responded to an earlier request for comment by Mobility Payments that the big transit operator was blocking other MaaS apps from selling tickets for its transit services.
The CEO of MaaS Global, the company behind the third-party MaaS app Whim, Sampo Hietanen, in July alleged that BVG was blocking Whim from reselling BVG tickets. He contended that the operator wanted to stifle competition from other MaaS apps.
"BVG in Berlin just wants to be the only aggregator for all the different modes, whereas they're actually a public transport operator," Hietanen said.
The BVG spokesman, when asked if it refuses to allow Whim to resell its tickets, originally said there were no third-party apps available from which to buy tickets to public transit in Berlin or the surrounding region. When asked why, he responded, "There is no particular reason for that," adding: "And it is not impossible to join forces with apps like Whim. But it is not only a decision of the BVG but all companies of the public transport combine (association) of Berlin and Brandenburg (VBB)."
© Mobility Payments and Forthwrite Media. Mobility Payments content is for individual use and cannot be copied or distributed without the express permission of the publisher.