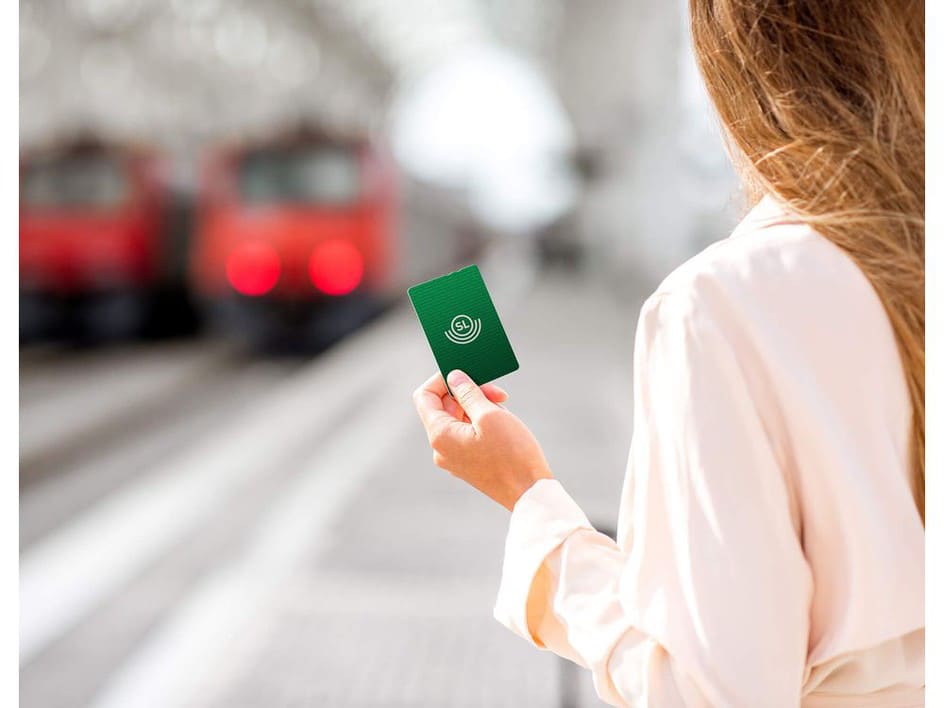 Article Highlights
Key Takeaway:
With more agencies moving to open-loop payments, there is growing interest among transit agencies in closed-loop EMV cards. But there are pros and cons for these cards versus proprietary card technology such as Mifare.
Key Data:
• Table: Early agencies moving or likely to move to white-label EMV
• Chart: Bids on Stockholm's white-label EMV project
As more transit agencies introduce open-loop fare payments, interest is starting to grow in use of white-label EMV cards that agencies can issue in place of proprietary closed-loop cards for riders who don't have bank cards or don't want to use them to pay fares.
Besides major transit authorities in New York and Stockholm, which have launched white-label EMV in recent weeks, Mobility Payments has learned that Transport for London and Sydney's Transport for New South Wales are considering the technology for their high-profile closed-loop cards, Oyster and Opal. (See table on this page).
In addition, officials in the largest state in the U.S., California, which are seeking to help the state's 300-plus transit agencies move to open-loop payments over the next few years, are weighing white-label EMV cards as an alternative for the state's large unbanked and underbanked populations or other customers without bank cards.
Sometimes called closed-loop EMV, white-label EMV technology has been used by domestic debit schemes and retailers for their private-label cards for years. Under the current budding trend in the mobility space, transit agencies would be the sole issuers of the EMV-based closed-loop cards–though some agencies are also looking at issuing co-branded cards with banks or other financial institutions or fintechs.
However, this second issuing model is different from past implementations of EMV prepaid "fare cards" in such cities as Chicago and Philadelphia. In these cities, separate closed-loop transit purses shared space on open-loop prepaid EMV cards branded by Mastercard. These cards overall have not done well in the market, with Chicago killing its co-branded Ventra card in 2017, while the Key card in Philadelphia continues.
If this new type of white-label EMV cards for transit do take off, it would be a blow to backers of such well-established closed-loop products as Mifare and Calypso. These closed-loop cards are generally considered to be faster at the gate and less expensive for agencies to buy. But white-label EMV backers say the price of the technology is coming down, and they contend that the EMV cards are fast enough for transit, as demonstrated by the number of agencies accepting open-loop EMV cards for fare payments.
In addition, if the first major rollout of these new closed-loop EMV cards by a transit agency is any guide, prices for white-label technology will be competitive with such products as Mifare DESFire, Mifare Plus and Calypso. Tender documents obtained by Mobility Payments for that first rollout, by Storstockholms Lokaltrafik, or SL, in Stockholm, show that transit officials received a low price in bidding on a four-year contract. (See below.)
Cubic: White Label EMV Not for Every Agency
Mick Spiers, vice president for strategy and marketing for Cubic Transportation Systems, the largest fare-collection systems integrator globally, said Cubic is fielding lots of questions from agencies about white-label EMV. He cautions, however, that the technology is not for every agency.
While white-label EMV simplifies fare-media issuance, it only makes sense if the agency is also rolling out open-loop payments and full account-based ticketing, he told Mobility Payments. In particular, Spiers doesn't recommend white-label EMV for agencies that are not planning to introduce open-loop payments.
"And the reason for that is that you incur the constraints associated with going to EMV in terms of things like certification–making sure that your readers are certified–but without the advantage of opening yourself up to open loop," he said.
Some of those constraints with EMV white-label cards include having a harder time supporting concessionary discounts for seniors, students and other groups as compared with the card-centric approach. "If you're issuing all of your own contactless smart cards, you're fully in control," Spiers said. "You're not at the behest of something where you're not allowed to read and write to the card."
Still, a couple of big agencies have already moved to white-label EMV and others are seriously considering the move.
First White-Label EMV Transit Cards Launch
New York's Metropolitan Transportation Authority, or MTA, this month launched its closed-loop OMNY card–based on the same EMV technology that powers the contactless debit and credit cards its customers are increasingly tapping to ride with on the New York City Subway and buses. Plans call for the closed-loop OMNY card to help fully replace the agency's nearly 30-year-old mag-stripe MetroCard in 2023.
MTA declined to provide the cost of its EMV-compatible OMNY cards, saying only that the price is part of its contract for the entire OMNY fare-collection system with Cubic. Cubic declined to release the information.
Cubic has been building an account-based ticketing system for MTA, so the closed-loop OMNY card represents a token on the network. When a user taps the card on OMNY fare gates or validators, the fare calculation is done and value is deducted on the back-end, the same as with open-loop cards. The processing of the closed-loop payments, however, is not done by the credit or debit card processor but separately by MTA's own processor, which is probably Cubic.
And unlike the white-label EMV rollout in Stockholm, MTA customers will be able to load money into their accounts, doing so at more than 4,000 retail outlets, such as major drugstore chains in New York City. Later, users will be able to load value at vending machines in subway stations.
The OMNY cards have a Mastercard bank identification number, or BIN, and a CVV number. That means they follow the EMV payment cards specifications. But the card is not issued by a bank or other BIN sponsor. And the OMNY closed-loop cards cannot be used as prepaid cards for retail purchases in stores.
The OMNY launch followed a move to white label in September by SL, the agency that oversees metro, bus, tram and commuter rail in Sweden's largest city, Stockholm. An SL spokeswoman told Mobility Payments that one reason the agency wanted white-label EMV cards is that the agency's "validators are already EMV certified." With closed-loop EMV, the agency doesn't have to maintain a separate fare card program on terminals. SL had launched its open-loop payments service seven months earlier, in February.
The SL spokeswoman said the agency plans to completely phase out the existing Access card, which uses Mifare Plus from NXP Semiconductors, by the spring of 2023. Stockholm's ferry operator, run by a separate agency, also plans to move to white-label EMV.
Stockholm transportation officials released a request for information, or RFI (download), about the project in March 2020, which noted that the white-label EMV cards that SL and ferry operator Waxholmsbolaget would issue would not be used for straight payments.
Customers buy tickets stored in their accounts in the back-office and the closed-loop EMV cards act as a secure ID token pointing to the tickets on the network. The RFI also stated that in the future, the authority wants to be able to provision the closed-loop EMV cards to mobile wallets.
The SL spokeswoman said the agency has already issued 23,000 closed-loop EMV cards, even though the new contract with Idemia doesn't take effect until March 2022. She didn't say which vendor provided those cards, but it was likely Idemia, which has the existing contract to supply the Mifare Plus cards for SL. (See below.)
Agencies Behind Oyster and Opal Looking at White-Label EMV
The transit agency with the world's largest open-loop fare payments service, Transport for London, is interested in moving its closed-loop Oyster card to the white-label technology, as well, though it has not made a decision yet, one agency official told Mobility Payments.
A change might happen when the agency, known as TfL, updates its massive fare-collection contract in 2025. At that time, it will move to an account-based ticketing system.
"TfL wants to go to an EMV solution for Oyster in the bid to reduce our back-office costs," the official said. "The team is currently looking at the alternatives and not ruling anything out."
Moving to white-label EMV would mean pulling the plug on Mifare DESFire technology. Transport for London has been one of NXP's biggest customers for Mifare, with the agency having issued well over 100 million Oyster cards since 2002. Before the pandemic, Transport for London said it was still issuing 30,000 new and replacement Oyster cards per day.
Oyster issuance has fallen sharply since the pandemic hit, down to 40,000 per week, a Transport for London spokesman told Mobility Payments. But he expects Oyster card numbers to climb again after the pandemic and noted that the agency has no plans to phase out Oyster, despite the much faster growth it is seeing for contactless open-loop fare payments.
UK-based Tim Jefferson, senior consultant for The Human Chain/FirstPartner, said he believes there is no question that Transport for London will drop Mifare in favor of white-label EMV for its Oyster cards.
"They will move, as they don't want proprietary card technology lock-ins," he told Mobility Payments. "They want flexibility to use open standards of EMVCo."
He added that he believes white-label EMV cards that agencies purchase in relatively high volumes will be cheaper than provisioned Mifare cards and that agencies moving to white-label EMV will also save money by not having to support Mifare readers or reader modules.
Meanwhile, the transit agency that runs another large open-loop project, Transport for New South Wales in Sydney, is also weighing a move to white-label EMV, Mobility Payments has learned.
Like their counterparts in London, transit officials in Sydney also layered their open-loop payments service on top of the terminal infrastructure already in place, in this case, that of the closed-loop Opal card. A digital version of Opal that Transport for New South Wales launched as a large pilot last December already uses EMV technology. The agency hired Mastercard Prepaid Management Services to administer the program.
When asked if the digital Opal card trial–which has 10,000 registered users–is a prelude to a move to white-label EMV for all Opal cards, Transport for NSW would only say that "the trial is being run to evaluate whether an Opal-branded digital EMV card is suitable for broader use."
The statement to Mobility Payments also noted that the trial is part of the transit agency's mobility-as-a-service, or MaaS, platform, with which it works with "partners" Mastercard, Commonwealth Bank of Australia and gift and general-purpose reloadable card provider EML Payments, along with major digital wallet providers.
Transport for NSW calls its account-based MaaS platform "Opal Connect" and accepts payments from both open-loop credit and debit cards and closed-loop Opal–so far mainly for online payments. So going forward, the agency might want to use the same EMV card technology for both open-loop and closed-loop cards.
In addition, adding digital versions of closed-loop cards to such Pays wallets as those connected with Google Pay, Samsung Pay and Apple Pay is believed to be easier with white-label EMV technology since it is similar to the open-loop credit and debit cards that these NFC Pays services routinely support. Closed-loop cards, such as those supporting Mifare, require separate implementations.
Price of White-Label EMV is Key
Transit agencies have to balance any advantages they see for white-label EMV cards against the price of the cards.
Cubic's Spiers said he believes proprietary closed-loop cards are still cheaper for agencies than white-label EMV. That extra cost to agencies would be less, however, if they joined with, say, a bank to issue a co-branded card. He could not point to any examples in the market yet of co-branded white-label EMV cards, in which both the retail and transit payments supported EMV.
Open-loop payments backers say the price for white-label EMV cards is coming down, however.
Netherlands-based Rebel Group, which is consulting for officials in California pushing the open-loop payments initiative, the California Integrated Travel Project, or Cal-ITP, estimated last year in a feasibility study that white-label cards could cost agencies as little $1.50 apiece.
A spokeswoman for Rebel and Cal-ITP recently told Mobility Payments that this estimate assumes there would be a large statewide contract for the cards that would drive down the price. That kind of contract is "unlike today's landscape, where each agency or regional group of agencies must negotiate and contract for their own transactions, splitting the market and driving up soft costs," she said.
While California state officials are letting centralized contracts for transit validators and fare-calculation software, in addition to payment processing, it's not clear they will do the same for white-label EMV cards or set up a statewide issuing program, as Cal-ITP and Rebel suggested in the study.
Simon Laker, who specializes in open-loop transit payments for UK-based Consult Hyperion, and who backs the idea of agencies already accepting open-loop EMV cards to use white-label cards for closed loop, told Mobility Payments he believes a price of $1.50 would be low in today's market. But a sub-$2-per-card for agencies "should be achievable," he added. One major factor is the volume of cards the agencies order.
Besides volume, card prices are often determined by the pricing strategies of card manufacturers and the negotiating skills of buyers.
One or more of those factors were likely at play in one of the first big contracts by a transit authority to buy white-label cards, in Sweden.
Stockholm Gets Low Price on EMV Cards
Documents obtained by Mobility Payments show that transport officials in Stockholm got a favorable bid from card manufacturer Idemia on a four-year contract signed in May to supply what is expected to be millions of white-label EMV cards.
Idemia's bid came in well below that of two other bidders, Germany-based Giesecke and Devrient and Sweden's PostNord Strålfors. Idemia bid of SEK 46.7 million (US$5.4 million) had a price differential of 30% to 35% from the other two bids. (See chart on this page.)
Stockholm transport officials declined to release a price per card for the contract, but Mobility Payments has learned that the vendors bid on a hypothetical 4.2 million cards for a two-year period. Officials used this amount to evaluate the bids.
Based on that, Idemia's bid came in at only around US$1.29 per card. The bids don't include shipping or fixed costs, such as warehousing and order handling; along with some development costs. These additional costs would only add around $0.25 per card, said a source. If accurate, this would make Idemia's total bid around $1.54 per card.
The Stockholm Traffic Administration, the transit authority that oversees SL and ferry operator Waxholmsbolaget and handles procurement, noted in one of its tender documents that price would make up 85% to 90% of its decision on which bidder to choose, with quality accounting for the other 10% to 15%.
Idemia did not respond to multiple requests for comment about the contract or trends it sees in the market for white-label EMV cards for transit agencies.
The prices in the Stockholm tender and estimates by consultants would indicate that white-label EMV cards are becoming competitive with prices for higher-end Mifare and other proprietary technologies.
White-Label Backers: No Need for Two Infrastructures
An important advantage of white-label EMV for agencies is that they could use the same infrastructure of terminals to accept both closed- and open-loop payments. Both types of cards would also use the same type of cryptographic key management, which would offer banking-grade security.
The spokeswoman for SL in Stockholm told Mobility Payments that besides being able to use the same EMV-certified validators for both types of cards, the agency chose white-label EMV because the EMV "security standard is important."
EMV-level security is not necessarily needed for the mostly low-value transit transactions, however. And security provided by higher-level Mifare cards or cards supporting Calypso and FeliCa from Sony Corp. are believed to be more than up to the task of securing transit transactions.
Security aside, supporting two card infrastructures, one for open loop and one for proprietary closed-loop, adds to costs for transit agencies, even if the two applications can be stored on the same reader hardware, said Consult Hyperion's Laker.
"You've got to run two applications on the reader, so that second proprietary application will need some development from the system integrator, rather than it being off-the-shelf EMV in the kernel," he told Mobility Payments.
That includes separate processing arrangements and defining how to operate the cards using separate technologies. "While none of that's actually very difficult, it turns into quite a number of dollars when you ask your vendor to try and implement it," he said.
Paul Griffin, global head of commercial for open-loop payments service provider and processor Littlepay-and a strong supporter of the white-label EMV concept for agencies running open loop–told Mobility Payments he thinks the economies of scale will grow smaller and smaller for proprietary closed-loop card systems as open-loop contactless payments expand.
"An authority has a huge closed-loop system that is costing an arm and a leg both on a base system annual cost, hardware, card management and on a per-card cost basis" he said. "It gets to a point that even if the (white-label) EMV were cards were more expensive to issue, it would still be cheaper than maintaining a big, parallel payments or banking infrastructure within a transit network."
And with more and more transit agencies wanting to outsource their cash reload operations for closed-loop cards to retail outlets, it's also simpler and generally less expensive to integrate with the white-label EMV cards than proprietary closed-loop cards in terms of development and integration costs, said Laker. Some examples of the fintechs that operate the retail reload networks are InComm Payments and PayNearMe in the U.S. and Payzone in the UK. All already reload prepaid bank cards used for retail transactions.
Closed-Loop Technology Providers Push Back
Alexander Dimitrov, global segment marketing manager for Mifare and other segments at NXP, noted to Mobility Payments in a statement that while open-loop fare payments is often used mainly by occasional riders and visitors to a city, an agency's closed-loop cards are usually targeted at long-term and regular customers. This would generally make an agency's closed-loop card their most-used fare media.
"With closed-loop, service providers have full system ownership and 100% coverage of user demographics, in the case of unbanked citizens, elderly people, etc.," he said, referring to concessionary discounts and other flexibilities proprietary cards offer.
In addition, he said white-label EMV cards, when delivered in "collaboration" with banks or payments networks, such as Visa and Mastercard, would require agencies to pay additional charges. That's "in comparison to closed-loop solutions using Mifare DESFire or Mifare Plus that deliver the services without any additional transaction fees." (White-label EMV cards solely issued by transit agencies, like the OMNY and SL cards, do not incur extra transaction fees).
Meanwhile, transaction times are another advantage, in general, for closed-loop cards with proprietary technology. Technologies like FeliCa from Japan's Sony Corp., for example, used in Tokyo's bustling subway stations for Suica and other closed-loop fare cards, are reputed to be superfast, with transaction times as low as 100 milliseconds.
Philippe Vappereau, CEO, Calypso Networks Association, which manages the closed-loop Calypso technology used by a number of agencies in Europe and beyond, contends that contactless transactions made using Calypso typically take just 100 to 200 milliseconds. Some observers place Calypso's speed a bit slower than FeliCa, but still significantly faster than the 500 milliseconds or more that EMV cards have traditionally taken to conduct fare transactions.
Consult Hyperion's Laker acknowledges that it's been a "challenge" to increase the speed of EMV cards for transit, adding that how fast the cards respond often depends on which card vendor is implementing the EMV technology.
He insists, however, that "you can meet the required thresholds of the transit agencies" for passenger throughput with EMV cards. And Consult Hyperion has demonstrated that in tests, though he declined to release the results because he said they were conducted for the firm's clients.
EMV might not meet the famously strict requirements for speed of such transit operators as JR East in Japan. But Laker pointed to use of EMV technology for open-loop payments by Transport for London, for which more than half of total trips are paid with EMV credit or debit cards or card credentials on NFC devices.
"In older agencies like TfL, where they've got really old, small stations, and where they need to get people out of them in a hurry, it's definitely still meeting the requirements there and getting quicker than when we launched in 2012-2014."
Calypso Network's Vappereau asserts that the speed advantage for such closed-loop technologies as Calypso comes from the fact that the technology was not created by and for banks and retail payments networks. While Calypso Networks is using a security evaluation process from EMVCo to certify products for mobile fare payments based on host card emulation, its overall Calypso specifications are designed for transit agencies, not banks, he told Mobility Payments in a statement.
Vappereau also takes issue with closed-loop card technologies like Calypso being called "proprietary." Any qualified vendor can produce the cards or mobile applications based on Calypso specifications, so there is no vendor lock-in, he argued. And the technology is now open-source. While Calypso offers technical interoperability among agencies, it doesn't have the centralized clearing and settlement like open-loop EMV technology does from the payments networks.
"Calypso specifications enable an operator or authority to have an exclusive voice in how the technology should and will evolve," he said. "For example, a key priority to the transport-ticketing community is speed and getting people through the turnstiles as quickly as possible has always been at the heart of our technical work."
Card-Centric Systems Expected for Years to Come
It will take a lot to dislodge such entrenched card-centric closed-loop technologies as Calypso and Mifare. For the latter, NXP has said it has shipped more than 12 billion Mifare chips to date, most for transit fare collection, with hundreds of transit agencies using the technology, at present. While many of these agencies use very low-cost Mifare Classic cards, a number of agencies, including large ones, use higher-level Mifare DESFire and Plus.
And although some backers of white-label EMV cards believe the technology is suitable for closed-loop cards even for transit agencies not rolling out open-loop payments, the main market is for agencies that have launched open loop and need a closed-loop technology for their unbanked and bank card-resistant customers.
"The question on whether it's going to be an increasing trend, that's a difficult one," said Cubic's Spiers. "Maybe people will sit back now and watch. And they'll see that now that there's a few agencies that are out there doing full account-based ticketing, full open payment and complemented by a white-label EMV closed-loop issued card, people might say, 'okay, let's see how it goes.' And if it turns out to be a great success, then we might get a bunch more cities deciding to do the same."
© Mobility Payments and Forthwrite Media. Mobility Payments content is for individual use and cannot be copied or distributed without the express permission of the publisher.