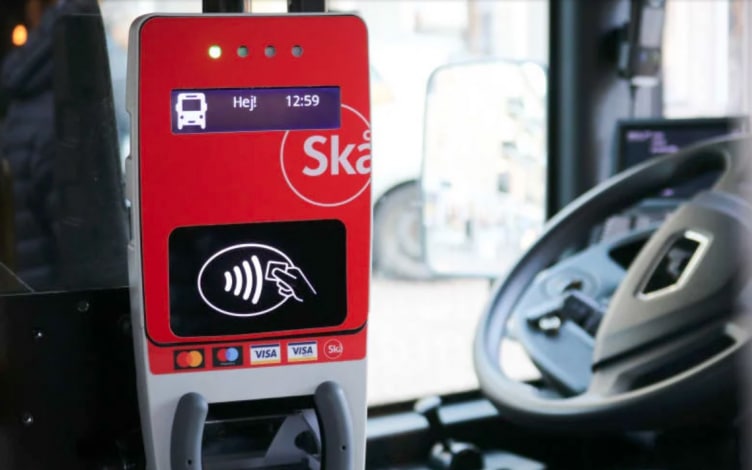 Article Highlights
Key Takeaway:
The agency that serves Sweden's third largest city is introducing the Express Mode feature for Apple Pay for ticketing on buses. It says contactless open-loop payments now account for 30% of ticketing. But mobile ticketing using 2D barcodes remains the dominant payments method for the agency.
Key Data:
Skånetrafiken's mobile ticketing app, which uses 2D barcodes to display tickets, accounts for more than twice the share, 64%, of tickets paid for with contactless on board city buses.
Organizations Mentioned:
• Skånetrafiken (Malmö)
• SL (Stockholm
• Telia
Skånetrafiken, the transit agency serving one of Sweden's largest counties, announced today it has expanded its contactless open-loop payments service to include the Express Mode feature for Apple Pay.
While the majority of its customers use 2D barcode-based mobile ticketing, the agency said the new Apple Pay feature would make it simpler for customers to pay with their NFC-enabled iPhones. With Express Mode, riders don't have to authenticate themselves with Touch ID, Face ID or by entering a passcode to pay and can still tap in or out when battery power is very low. Some transit agencies in such other countries as the U.S., Japan, China and the UK also offer Express Mode with either open- and closed-loop virtual cards.
The city of Turku in Finland launched the Express Mode feature earlier this year. But Skånetrafiken notes that it was the first transit agency in the Nordic region to launch contactless payments, in general, with bank cards and NFC wallets, starting in December 2019. Skånetrafiken rolled out the contactless service with integration from a division of Swedish telco Telia and readers supplied by Estonia-based Ridango.
Skånetrafiken also accepts payments for tickets with Google Pay and Samsung Pay.
A spokesman for Skånetrafiken told Mobility Payments that contactless payments, either with bank cards or NFC wallets, now account or around 30% of tickets sold on buses within cities. He didn't have a breakdown handy of the share of contactless ticketing that comes from NFC wallets and what percentage are with contactless bank cards.
The agency only accepts contactless payments on city buses, not on its trains or regional buses. And customers can only buy single-fare tickets with contactless. It does offer customers daily fare capping. After they buy two single-fare tickets within a 24-hour period on city buses, other single tickets during the period are free.
Meanwhile, Skånetrafiken's mobile ticketing app, which uses a 2D Aztec code, similar to a QR code, to display tickets, accounts for more than twice the share, 64%, of tickets paid for with contactless on board city buses, the spokesman told Mobility Payments. The remaining roughly 6% of tickets on city buses are spent with travel cards and paper tickets. The agency did away with cash acceptance on board its buses in 2011.
While customers have to prepay tickets and passes with the mobile app, this method of ticketing perhaps remains dominant because customers also can use it to buy and redeem tickets on other transport modes, can purchase monthly passes–not just single or daily tickets–and can receive youth and student discounts.
All told, Skånetrafiken's city buses deliver around 150,000 trips per day, at present. Transit ridership, including on train and buses, is still down by about 20% to 30% from pre-pandemic levels, said the spokesman. The agency serves a county with a population of around 1.4 million people in the south of Sweden. The service area includes Malmö, Sweden's third largest city.
Because closed-loop cards account for such a small share of ticketing for Skånetrafiken, the agency is unlikely to consider replacing its closed-loop card technology with white-label EMV cards like Stockholm Public Transport, or Storstockholms Lokaltrafik (SL), is doing to replace its Mifare-based Access card.
SL launched contactless open-loop payments last February and offers it on various modes of transport–metro, bus, tram, commuter rail and ferry.
"We're following the discussion about (white-label) EMV cards," the Skånetrafiken spokesman told Mobility Payments. "We'll see what happens in the future. Some months we've had about 80% to 90% of our total tickets bought in our app, so hopefully the need for travel cards won't be as big in the future."
© Mobility Payments and Forthwrite Media. Mobility Payments content is for individual use and cannot be copied or distributed without the express permission of the publisher.