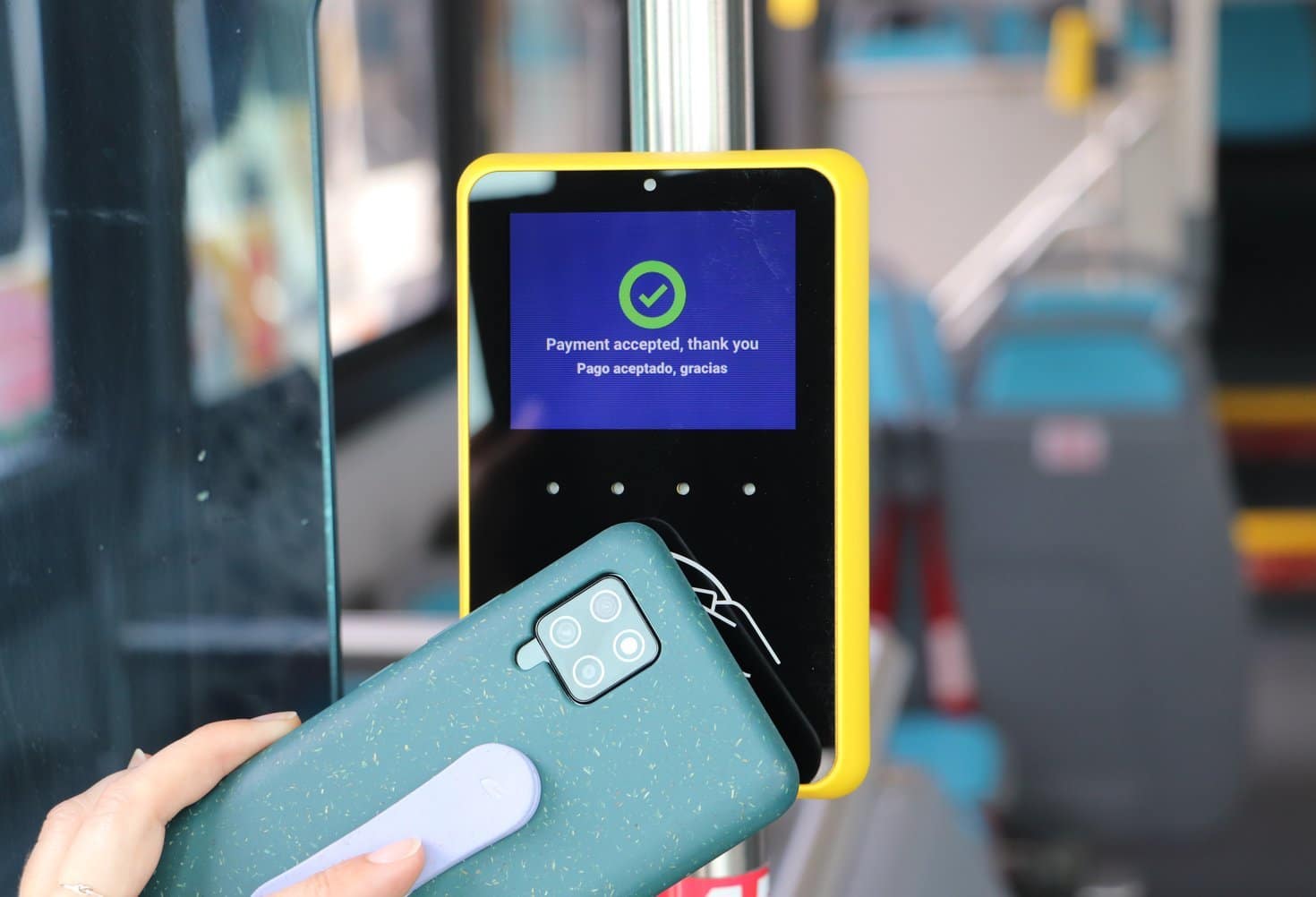 Article Highlights
Key Takeaway:
California officials have issued a notice of intent to award contracts for a high-profile initiative to help transit agencies procure the hardware and software they need to accept open-loop payments. The number of qualified suppliers appears to have come in well below expectations.
Key Data:
Table: Bidder rankings on non-cost criteria
California state officials have released a list of seven bidders it intends to award contracts to for the supply of core technology for the state's ambitious plan to help more than 300 transit agencies roll out open-loop fare payments statewide.
The list of vendors proposed for the awards of five-year contracts include those that have worked on pilots this year of the state's innovative modular approach to procurement of open-loop fare-collection systems. The request for proposal, issued last summer by the state, called for hiring multiple suppliers as part of two contracts–actually master service agreements–one for validators and other payments acceptance devices and the other one for back-office software to calculate fares.
The two vendors that scored the highest on the non-cost evaluations by the state are validator supplier Kuba and fare-calculation software and payments service provider Littlepay, Mobility Payments has learned.
The list of bidders proposed to receive contracts also includes systems integrator Init Innovations in Transportation and Bytemark, the latter known for providing software-as-a-service ticketing.
Init was the only qualified vendor to bid on both the validator and fare-calculation software contracts. The company made it through to the final proposed list of awardees for both agreements despite having the highest-priced bids in both categories–$2.3 million for validators and $20.7 million for fare-calculation software over five years, by far the largest in the second category, Mobility Payments has learned. (See list of qualified bidders, rankings and costs below).
As part of the process, the vendors would have submitted bids on hypothetical implementations of open-loop fare payments for a certain number of both large and small transit agencies. Then officials would add up the points assigned to each bidder based on how they scored on both the cost of their bids and on the non-cost evaluations of their proposals.
It's not clear, however, how much costs in particular played a role in selection of bidders or whether there was true competitive bidding among the vendors at all, after a shortlist of qualified bidders was selected.
Number of Qualified Bidders Falls Short of Expectations
That's because there were only seven qualified bidders–or a total of six companies since Init successfully bid on both supply contracts. That is well below the 11 slots the state had indicated would be open for technology suppliers to receive contracts, according to a June 30 request for proposal.
That RFP stated that the state intended to award the master service agreements, or MSAs, to a total of seven bidders to provide validators and four to provide back-office, fare-calculation software.
Given that only three qualified bidders were selected for the seven slots for validators and only four emerged for fare-calculation software to fill four slots, all the qualified bidders were apparently accepted, regardless of cost.
State officials did not confirm this and did not comment on the bidding process.
Mobility Payments has learned that some bidders, especially for the validator contract, were either disqualified or for some reason failed to make the cut. Among these are believed to be such high-profile validator suppliers Flowbird and Access-IS, part of HID Global. Neither firm said it could comment.
It remains to be seen whether state officials will seek to add more vendors before they finalize the contracts. That could potentially happen if any bidders protest their exclusion.
However, sources connected with the project told Mobility Payments they believe that the number of vendors that have made the cut so far should be enough to supply agencies with the technology they need to accept contactless EMV cards and credentials on NFC devices.
The California Department of General Services, the state's main procurement agency, is handling the bidding process, and its intent to award notice was dated Monday. The program itself is being run by an office in the Department of Transportation called the California Integrated Travel Project, or Cal-ITP. Officials from the Department of General Services and Cal-ITP did not respond to or declined to comment in response to questions from Mobility Payments. The qualified bidders also declined to comment.
Seeking to Simplify Payments and Reduce Congestion
Cal-ITP's approach seeks to make it easier for transit agencies–especially small and mid-tier public bus operators–to buy the validators and back-office software they need to begin accepting EMV credit and debit cards and credentials in NFC wallets.
The state won't be paying for the hardware or software, at least not as part of the Cal-ITP program. Instead, it is setting up what it calls a "mobility marketplace," that is, agreements with multiple qualified vendors that transit agencies can shop with, saving the agencies time and money.
Among other things, the concept would enable agencies to avoid hiring systems integrators to build the entire open-loop payments system for them–often an expensive proposition–though the agencies likely will need to pay for some integration services under the Cal-ITP program. Agencies will have to fund the purchases of validators, back-office software and integration themselves, likely through federal and possibly state grants.
California officials say that fueling the Cal-ITP program is the fact that residents conduct the vast majority of their travel with private vehicles, which clogs roads and freeways and pollutes the air.
The officials say they hope a simplified and interoperable open-loop payments service rolled out throughout the state–in addition to such enhancements as better route-planning tools–will entice more residents to take public transit. The payments system would offer pay-as-you-go fare capping and other discounts. Officials are counting on both large and small transit agencies in the state to adopt the technology.
In addition, Cal-ITP plans to open the supply contracts to transit agencies in other states, and officials in Oregon, Washington and Illinois, among other states, have expressed interest, Mobility Payments has learned.
Program Faces Challenges
But the initiative faces a number of challenges, including how to accommodate the nearly 30% of unbanked and underbanked residents in California, most of whom either don't have credit and debit cards or who don't want to use them because of fees connected with the payments accounts.
Officials have proposed such EMV-enabled digital payments alternatives as Square Cash for these customers. But agencies will no doubt continue to accept cash on board buses and other vehicles for years to come, even with successful open-loop payments rollouts statewide.
In addition, some transit agencies appear to be hesitant to move to open loop, including the two largest agencies or authorities in the state, Metro of Los Angeles and the Metropolitan Transportation Commission in San Francisco. Both have well-developed closed-loop card programs, TAP and Clipper, respectively, which they are enhancing and which are used by a range of small to mid-tier agencies in the countries or regions they serve.
Part of this hesitancy may be due to merchant (interchange) fees agencies have to pay to accept open-loop payments in the U.S., which are much higher than in Europe and parts of Asia Pacific. While California has already contracted for acquiring and processor services at low rates with Elavon and Fiserv, this does not affect the much higher interchange rates and also scheme fees that agencies will have to pay to take contactless credit and debit cards and credentials on NFC devices.
Vendor Rankings, Cost of Bids
Vendor scoring on non-cost criteria in the RFP, obtained by Mobility Payments, show that UK-based Kuba and UK- and Australia-based Littlepay ranked the highest in their respective categories of validators and fare-calculation software. Init placed second for validators and Canada-based Enghouse Transportation came in second for fare-calculation software on the non-cost scoring (see graphic below).
This scoring is based on such criteria as the vendor's experience and description of their solutions and, more importantly, their integration plans and references provided by customers.
Start-up Kuba is supplying validators for two Cal-ITP pilots announced last July. Both are for small bus operators serving the city of Santa Barbara and surrounding county, north of Los Angeles. Kuba said at the time it is also providing some "systems integration" for the projects.
Kuba has also worked on other contactless EMV projects, the latest in the French city of Besançon.
Littlepay has provided back-office fare-calculation software, called "transit processing" in the state procurement documents, for all of the announced Cal-ITP pilots, including the first one launched last May by Monterey-Salinas Transit, a bus agency serving Monterey County south of San Francisco. Littlepay also has participated in a Cal-ITP pilot on light rail in the state capital, Sacramento, and for the two Santa Barbara pilots.
The five-year-old company also has references for contactless EMV rollouts elsewhere, including with major UK bus companies outside of London and with multiple transit agencies in Finland, including the Helsinki Regional Transport Authority.
Finishing second in the validator category and fourth for fare-calculation software based on non-cost criteria was Init, a major systems integrator globally. The company sports such references as the rollout of open- and closed-loop payments with account-based ticketing for TriMet in Portland, OR. It also has supplied or will supply account-based closed-loop payments in such major U.S. cities as San Diego and Houston, the latter recently awarded to the vendor. That's in addition to projects in Europe, including in Init's home base of Germany.
As a systems integrator, Init would have had to demonstrate to state officials in its bids that it could integrate with other vendors' hardware and back-office software, since the Cal-ITP concept calls for a modular or plug-and-play approach to building open-loop fare systems.
Canada-based Enghouse (pronounced Enjhouse) Transportation does not appear to have a long list of open-loop fare projects it has been involved in, but its Enghouse Telexis unit in October did announce the launch of contactless EMV payments with transit operator Transdev in the Netherlands. The project began in only one region of the country, but will roll out to all of Transdev's operations in the country, supported by 6,000 validators.
On its site, Enghouse said it uses an open-architecture that supports validators and other acceptance devices from multiple vendors. It bid the lowest amount among vendors seeking to be part of the back-office fare-calculation master service agreement at just under $6 million over five years.
SC Soft, which is headquartered in Singapore, ranked third for non-cost evaluation for validators. The company supplied the validators for the first two Cal-ITP pilots, with bus operator Monterey-Salinas Transit and light-rail operator Sacramento RT.
It has also said it's implemented validators in Sochi and Stavropol in Russia to accept EMV contactless cards and NFC wallets, among other projects. SC Soft bid the lowest amount among the vendors seeking to be part of the validator contract, at $1.7 million.
And U.S.-based Bytemark ranked third out of four suppliers in the fare-calculation category for non-cost criteria. It provides non-NFC mobile-ticketing to more than 60 transit agency clients, mostly in the U.S.
While it hasn't yet been involved in the launch of contactless EMV payments, Bytemark is helping its client Capital Metro in Austin, Texas, along with one or more bus operator clients in Massachusetts to implement open-loop payments. Launches are planned for next year. Bytemark also is believed to be involved in an open-loop pilot in the Toronto area. The SaaS ticketing vendor is majority owned by Germany-based Siemens Mobility, with Init having owned a 5.1% share of Bytemark as of last year.
The cost bids for the five-year contracts submitted by the vendors likely won't apply when transit agencies actually order hardware and software, except perhaps to serve as a price ceiling. And, as mentioned, it's unclear whether the cost bids were involved in the selection process. Those cost bids came in as follows, Mobility Payments has learned:
Validator agreement:
SC Soft: $1.71 million
Kuba: $2.21
Init: $2.31 million
Fare-calculation software agreement:
Enghouse: $5.99 million
Littlepay: $9.80 million
Bytemark: $11.79 million
Init: $20.76 million
© Mobility Payments and Forthwrite Media. Mobility Payments content is for individual use and cannot be copied or distributed without the express permission of the publisher.