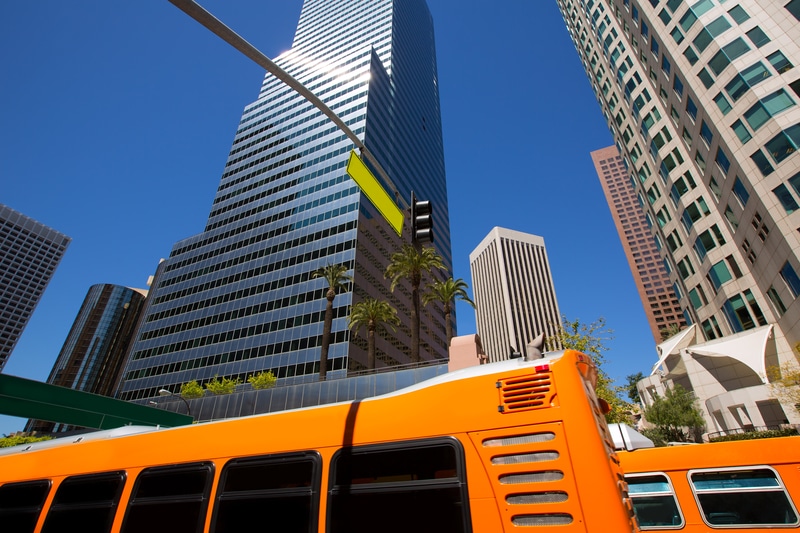 Article Highlights
Key Takeaway:
Deep dive on state of California's contracting process to line up suppliers of open-loop technology for transit agencies throughout the state. A number of well-known industry vendors that bid on two much-anticipated contracts from the state were disqualified last month, mostly for failing to meet strict administrative requirements, documents reveal.
Key Data:
Table: Facts about bidders for the state of California procurement
Table: Ranking of bidders awarded contracts
Organizations Mentioned:
• Cal-ITP
• California Department of General Services
• Flowbird
• Scheid & Bachmann
• Access-IS
• Littlepay
• Vix
• Bytemark
• Masabi
• Kuba
• Enghouse
• SC Soft
A number of well-known industry vendors that bid on two much-anticipated contracts from the state of California to the supply open-loop payments technology to transit agencies statewide were disqualified last month, mostly for failing to meet strict administrative requirements, documents reveal.
The bid and evaluation documents, obtained by Mobility Payments from the California Department of General Services, show that out of a total of 22 bids received for the five-year multivendor master service agreements, the state only deemed seven bids as qualified. That's a disqualification rate that one industry veteran termed as "very high."
Among the bids disqualified were those from such well-established or top-tier fare-collection technology suppliers as Scheidt & Bachmann, Flowbird and Access-IS, along with Modeshift. None met the state's administrative requirements.
Other well-known vendors, Vix Technology, Masabi and Paragon ID, along with ZED Digital, were also knocked out of the competition for one or both of the supply agreements because of both administrative and technical issues flagged by state evaluators.
As Mobility Payments reported last month, a total of six vendors, which together submitted the seven winning bids in the procurement, will receive master agreements, or contracts. The list consists of Germany-based Init; UK and Australia-based Littlepay; U.S.-based Bytemark; Enghouse and Kuba, both headquartered in Canada; and SC Soft of Singapore. (SC Soft was disqualified for one of the contracts it bid on but prevailed on the other).
See tables below for facts about all of the bidders and ranking of those awarded contracts.
The General Services Department has been handling the procurement for the California Integrated Travel Project, or Cal-ITP, which is undertaking a high-profile initiative to help transit agencies throughout the state procure the core technology that officials believe they will need to roll out open-loop payments. The master agreements call for vendors to be able to supply validators, as well as fare-calculation software and services to large, mid-tier and small transit agencies throughout the state.
Officials believe that by using their state's substantial contracting clout to set up a so-called "mobility marketplace," they can help California's roughly 300 transit agencies–especially the numerous small public bus agencies–to launch open-loop payments. These small agencies would have trouble procuring the technology themselves. Officials also have said they will open up the supply contracts to transit agencies in other states, and officials in Oregon, Washington and Illinois, among others, have expressed interest.
California state officials chose open-loop technology because they believe it will help simplify and unify California's fragmented fare-collection systems. Cal-ITP, which is part of the state Department of Transportation, also believes that enabling people to tap to pay with contactless EMV credit, debit or open-loop cash cards and card credentials in NFC wallets will encourage more residents to take public transit in a state notorious for its congested roads and freeways.
The Cal-ITP program will not fund the hardware, software or services it hopes agencies will buy from the vendors the state contracts with. Instead, the program is designed to line up a list of qualified suppliers that can provide "plug-and-play" components for agencies to use to build their open-loop fare-collection systems.
Still, it remains to be seen how many transit agencies will place orders for open-loop technology through the mobility marketplace. So far, few agencies have made commitments to do so. That includes agencies serving communities in the three largest population centers of the state–Los Angeles, San Francisco and San Diego, which continue to develop their own closed-loop fare card programs.
In addition, while the number of vendors the state has selected to receive supply contracts appear to be sufficient to provide the open-loop technology participating agencies will need, the number fell well short of the slots the state had set aside for suppliers (see below).
Strict Rules for Compliance
Among the vendors that failed to comply with state procurement rules and was booted from the procurement, was France-based Flowbird. The vendor has provided fare-collection technology for a number of projects, including those in UK and France, along with Indianapolis, IN and New Orleans, LA in the U.S. Flowbird had submitted bids for both the validator and fare-calculation software contracts and failed on both.
The vendor Dec. 14 filed a notice of intent to protest the state's planned awards of contracts to other vendors on both its bids. That was a day after the state had issued its notice of intent to award the seven contracts to the six vendors.
A Flowbird executive, however, told Mobility Payments recently that Flowbird had later decided not to protest. He declined to say why the company had dropped the protest or to specify on what grounds it had originally considered filing the action.
Other vendors that were disqualified either declined to comment or did not respond to requests for comment by Mobility Payments. A California Department of Transportation official connected with the Cal-ITP program also declined to comment, citing the procurement process.
One requirement that tripped up several vendors, including Flowbird, was one mandating that all three of the customer references that each bidder had listed in its bid or bids had to respond to a state request for information within five business days. If even one of the three did not respond in time, the vendor would be disqualified. Eight bids were kicked out solely for this reason. That included two failed bids apiece by Flowbird and U.S.-based Modeshift.
Read the state Evaluation and Selection Report here:
"Yes, timely responses from customer references was one of the requirements that some proposers did not meet," a spokeswoman from the California Department of General Services confirmed to Mobility Payments.
S&B Disputes Missing Customer Review
Among other bidders disqualified by this rule was Germany-based fare-collection system supplier Scheidt & Bachmann, which saw its bid to provide back-office fare-calculation software and services rejected for non-compliance when the state did not receive a review from one of its three customer references by the deadline.
The references that S&B had submitted with its bid included one for a major open-loop payments project with Translink in the Netherlands. The other two were for open-loop projects in Bonn, Germany; and Ottawa, Canada. The state said it received the reviews from the Netherlands and Ottawa, but not from Bonn.
In several emails to state procurement officials marked urgent, a Scheidt & Bachmann regional vice president argued that the third reference had responded in time. She contended that the problem lay with the state.
"The email was blocked days later by a security protocol," the vice president wrote, according one of the emails, sent Nov. 15 to a state program manager. "However, the requirement was still met, per the proof attached, and we are requesting fair consideration and for our (cost) bid to be opened tomorrow. Your urgent response would be greatly appreciated."
The state rejected the claim, saying that its agent had checked her inbox and junk mail folder and the S&B customer's response was not there.
The state officials also noted to the company that they had warned vendors of the importance of all three customer references being received on time. And agents also sent an email to bidders if they hadn't received one or more of the responses by the deadline–though apparently they gave bidders 24 hours or less to make sure all outstanding customer responses were in.
It meant that S&B's tender for the back-office software and services contract was disqualified and its separate price bid for the proposed work would not be opened. The company did not file a protest.
Other bidders had two or all three references fail to respond and were also disqualified. For example, all three of Flowbird's references on one of its bids and two of three on the other failed to respond in time.
Other reasons for disqualifications were paperwork issues, such as having a subcontractor sign a document instead of the bidder itself. And five bids failed because of technical disqualifications, including four whose proposed standalone validators did not meet requirements, according to state evaluators.
Other correspondence between vendors and state agents showed that bidders initially had no idea why their tenders were turned down, after being informed only that their bids were non-compliant.
California-based industry veteran and consultant Gary Yamamura, who heads technical and management consulting firm Edept, said he was surprised by the number of disqualifications for this procurement, especially for administrative reasons.
"For very large agency procurements, there can and have been several disqualifications, but those were typically for small, relatively new vendors that truly couldn't meet the basic vendor requirements, for example, number of years in service, number of actual clients with similar technology," he told Mobility Payments. "I can't think of any, however, where so many submitted proposals and yet more than half of the bidders, including some of those in the top tier, were disqualified."
Yamamura was not saying that the state's procurement process was necessarily flawed. And he's seen other RFPs with these types of strict rules.
One bidder, whose company was awarded one of the California open-loop contracts, said he's also seen these types of strict requirements in other RFPs and was ready for them.
"We followed their rules. Our references responded as requested," said the bidder, who asked not to be identified. "The reality is that we never really know how often submissions are rejected for technicalities, so we pay attention to every detail."
More Slots Available than Suppliers
The number of disqualifications meant that the actual prices vendors submitted as part of their bids–which accounted for 60% of the final score for each bidder–took on much less importance.
Only those bidders that met the administrative and technical requirements had their price bids opened. Vendors bid on hypothetical supply contracts for three representative transit agencies–one small, one mid-tier and the other large.
These bid prices varied wildly in the transit processor category, ranging from $20.8 million by Init to just under $6 million by Enghouse. The prices included monthly fare-calculation service fees over 60 months, along with integration and other costs.
Bids were closer among the selected suppliers of validators, with the low bid by SC Soft coming in at $1.7 million as compared with the highest bid of $2.4 million by Init. These prices were for a five-year agreement to supply and install standalone validators to the three hypothetical agencies and to maintain them over 60 months.
It's unclear how the bid prices from each of the vendors awarded contracts will be used. They may provide a ceiling above which the vendor cannot charge when providing technology ordered by a transit agency.
Meanwhile, these seven winning bids–from a total of six companies (with Init successful on both of its bids) were well below the 11 slots the state had set aside for technology suppliers to receive contracts.
According to the state RFP, there were seven slots open for suppliers of validators and four to provide the back-office, fare-calculation software and services. The RFP refers to the latter as "transit-processing services," and it includes technology to calculate fare capping and other discounts for transit agency customers.
Given that only three qualified bidders were selected for the seven slots set aside for validators and only four emerged for fare-calculation software and services to fill four slots, all the qualified bidders were apparently accepted, regardless of the price portion of the bids or the scores from the bidders' technical evaluations.
And it's not entirely clear if there will be any impact from the high number of disqualifications.
Not filling all of the available slots for suppliers means there will be fewer vendors available with experience in rolling out open-loop payments in the U.S., since some of the disqualified bidders had open-loop projects in the U.S. In addition, one or more of the excluded bidders boasted a high number of integrations with other validator makers, fare-calculation software providers or payments processors. Well-connected vendors are something that will be needed as part of Cal-ITP's plug-and-play approach.
But one of the successful bidders told Mobility Payments that those suppliers that were selected have sufficient experience, capacity and connections to handle all business that comes.
Winning Vendors Not Assured Business
The type of multiple-vendor master service agreements that California has undertaken means there will be no guarantees that transit agencies will place orders and how much they will buy, however.
And these vendors may have to compete with one another again on price when there is order, since there is nothing to stop a vendor from offering low prices when a customer comes along.
"It only awards a 'hunting license,' and does not guarantee that any one vendor will actually get to sell anything," said Yamamura. "Basically the 'winners' have to compete for every untethered agency within the state that wants to implement open payments. These types of multiaward RFPs are generally unattractive."
It's also possible that transit agencies could seek suppliers not selected for contracts by the state, though that would mean they would have to undertake their own procurement process. Large agencies are the most likely ones to take this route.
This would be a problem for the Cal-ITP program since the three largest urban areas in California: the Los Angeles region, the nine-county San Francisco Bay Area and the San Diego region, accounted for a combined 88% of all public transit trips in the state, according to a nearly 10-year-old study by the California Department of Transportation. All three regions are dominated by a major transit agency, Metro of LA, MTC in San Francisco and MTS in San Diego. And all three have been focusing on their closed-loop card programs in recent years, TAP, Clipper and Pronto, respectively. The closed-loop cards also are used by surrounding transit agencies.
The large agencies have so far decided against rolling out open-loop payments. They may be put off, in part, by the high card fees based on interchange that agencies have to pay to accept open loop in the U.S.
Making Public Transit More Appealing to Residents
Yet, state transportation officials believe that this type of procurement is a good way to encourage transit agencies, especially the small public bus operators, to move forward on open loop.
The state wants to get more of its nearly 40 million residents off its packed roads and into public transit, which will also help it meet its climate change mitigation goals.
The U.S. Census Bureau estimated that the percentage of people who use public transit in California was only around 5%. Many other U.S. states have this level of usage or even lower. But these states don't have California's urban sprawl and serious congestion problems.
In addition to making fare payments simpler, the state is also seeking to make it easier for potential riders to plan their trips with their smartphones by supporting standardized trip-planning technology. This would also help the riders to know when their bus or other transit vehicle will arrive. Being in the dark about when a late bus or train will come is a major reason people shun public transit in California and beyond.
One reason the state chose open-loop payments technology was that it would more readily enable users to post-pay for transit rides, with pay-as-you-go fares and fare capping. This could help low-income people, who often rely on public transit yet can't afford to prepay for monthly passes to receive discounts.
Cal-ITP program organizers also plan to help agencies roll out innovative services alongside the basic open-loop payments technology. One would seek to accommodate the state's large populations of unbanked and especially underbanked residents by encouraging fintechs to issue more alternative open-loop cards that riders could tap. An example is the Square Cash app card.
Another innovative service would enable transit customers to register for concessionary fares, such as senior citizen discounts, which they could receive by tapping their open-loop cards via a tie-in with the state's massive Department of Motor Vehicles database. Cal-ITP along with one small transit agency launched a test of this system last month.
So it seems that with the procurement process nearly complete to line up vendors to supply validators and back-office software, the state's "mobility marketplace" will soon be open for business.
Of course, just how many transit agencies will shop there and how much they buy remains to be seen.
© Mobility Payments and Forthwrite Media. Mobility Payments content is for individual use and cannot be copied or distributed without the express permission of the publisher.