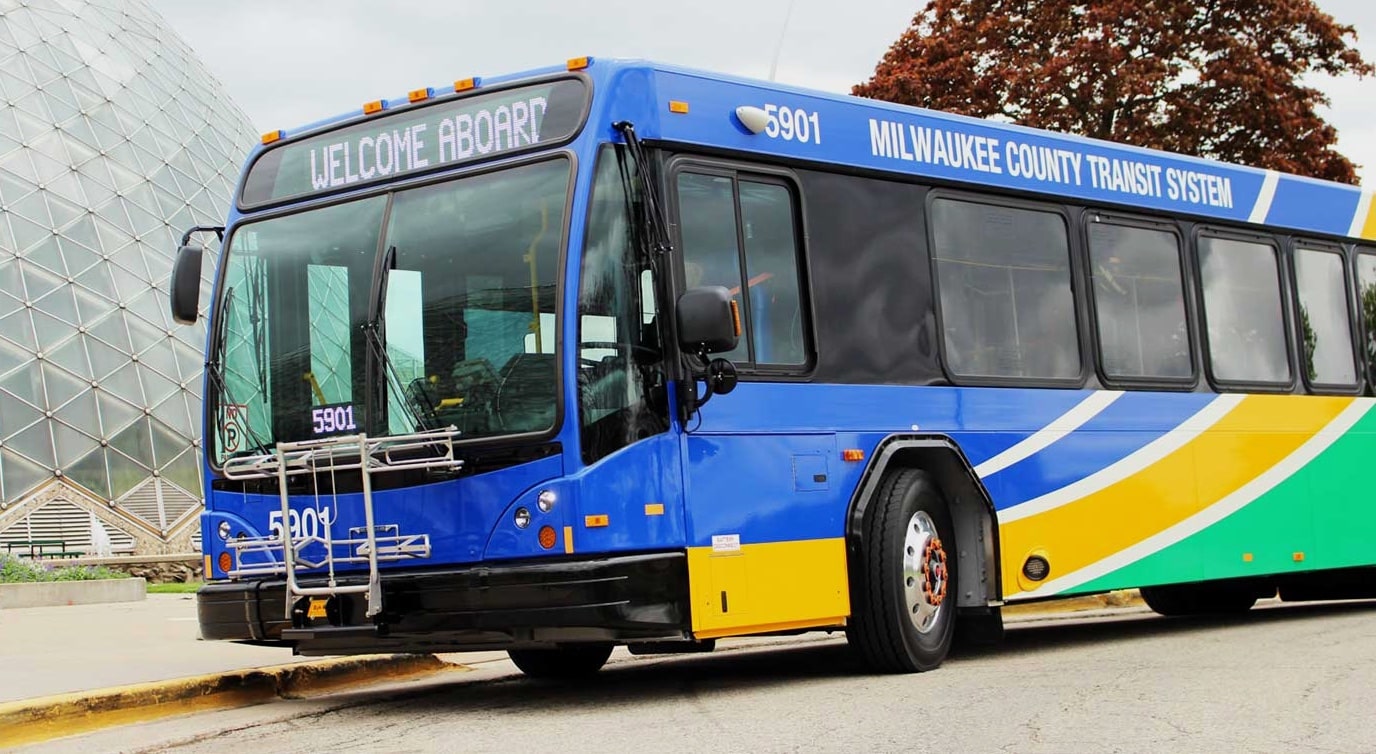 Article Highlights
Key Takeaway:
The Milwaukee County Transit System has selected Cubic Transportation Systems for its new account-based ticketing system, using Cubic's SaaS-ticketing platform Umo. Nearly all agencies using Umo to date are small.
Key Data:
The Milwaukee County Transit System is larger than other Umo clients that have been disclosed, with around 370 buses. The agency reported fixed-route ridership of 15.5 million in 2020, down from 26.4 million in 2019, before the pandemic, making it a mid-tier agency.
UPDATED (Jan. 27, 2022): Transit officials in Milwaukee, WI, who plan to launch a new fare-payments system this year, have chosen Cubic Transportation Systems' software-as-a-service Umo platform for the project, Mobility Payments has learned.
Milwaukee Transport Services, which operates the Milwaukee County Transit System and which ran the fare-collection system procurement last year, confirmed the Cubic win to Mobility Payments today, Jan. 27, after declining to comment last week. The contract award has not yet been announced. Plans call for the account-based ticketing system to be operational by October 2022.
Cubic's proposal was selected over those of nine other vendors–Bytemark, Flowbird, INIT, Genfare, Kontron, Masabi, Modeshift, Scheidt & Bachmann and Vix, according to tender documents obtained by Mobility Payments.
Cubic last month told Mobility Payments that it had signed contracts with agencies for its Umo platform that had not yet been disclosed publicly because the transit agencies involved have not yet made them public. It had declined to name any of the cities or regions where the projects are located, saying only that they would go live "over the course of the next several quarters."
Milwaukee County Transit System is one of those projects, though Cubic did not confirm it. But Cubic did announce Jan. 26 that it had won a contract with British Columbia transit agency BC Transit to provide Umo to more than 30 "transit systems" in the Canadian province, outside of Vancouver . The transit systems are mostly small bus services, many of them from cities or towns that have agreements with BC Transit to coordinate transit, procure new technologies and provide other services. Cubic also implemented the bespoke fare system for the largest agency in the province, TransLink in Vancouver, which launched open-loop payments in May 2018. This project is separate from the Umo project.
BC Transit announced Wednesday that the Umo project would cost $23.2 million, though this is likely capital costs. The agency would likely also pay monthly transaction fees on a sliding scale that in the U.S. usually ranges from $0.10 per transaction to $0.03.
Even before the BC Transit contract was announced, Umo served small bus agencies almost exclusively. The contract with Milwaukee County Transit System and its operator, Milwaukee Transport Services, would likely be the largest to date for Umo in terms of ridership, though it depends on how much ridership Umo will be handling for BC Transit.
BC Transit would be considered a mid-tier agency, as well, serving a total of around 26 million fixed-route bus passengers in the 2020-21 fiscal year, down from around 56 million in 2018-19. It said it serves around 130 communities across British Columbia. Only a percentage of those rides and communities would be included in the new contract with Cubic for Umo.
Cubic has a separate operation that implements large bespoke fare-collection systems for such major transit agencies as those in New York City, San Francisco, Boston, Washington, D.C., Los Angeles, along with Vancouver and those outside of North America. The latter include agencies in London, Sydney and Brisbane.
Umo mainly targets small to mid-tier agencies with Umo, competing with other SaaS ticketing platform providers, such as Masabi, Token Transit and Bytemark, along with some other fare-collection systems integrators. Masabi and Token Transit each say they have more than 100 live agency projects, and Bytemark says it has more than 60 projects. Most of the projects for the three providers are in North America. Milwaukee Transport Services is not believed to have specifically asked for a SaaS platform in its tender documents.
Cubic announced its Umo platform play a year ago, following its earlier $43 million acquisition of U.S.-based SaaS ticketing start-up Delerrok. With SaaS ticketing, agencies don't own the fare-collection system so they can't customize it with their own features. But by plugging into the SaaS platforms, they can usually get a quicker time to market and lower capital costs than if they procured a fully customized system. They pay monthly fees based on fare transaction volume or value.
Cubic: 'A couple of Very Significant Wins'
Bonnie Crawford, VP and general manager for Umo Mobility at Cubic, told Mobility Payments last month that there were just over 30 transit agencies live with Umo as of the end of 2021. That included around a dozen agencies that had been live with Delerrok's TouchPass app before the Cubic acquisition, another eight that Delerrok had signed up but that were not yet live and a dozen agencies that Cubic had signed up itself, she said.
That doesn't count any of the new agencies Cubic says it has won, which Crawford said brings the total of live or planned Umo projects to 70. But Crawford confirmed Jan. 27 that she is counting 30 transit "agencies" from the BC Transit project in that figure of 70. Some of these systems are regional, covering multiple towns and have between 2 million and 5 million in annual ridership. But many others appear to be very small "systems" with only a handful of bus routes.
Regarding the size of the new Umo contracts, Crawford said last month that they include a "couple of very significant wins in the fare collection space," though she had declined to elaborate. At least one of these is believed to be the BC Transit contract. The other is probably Milwaukee County Transit System.
Among features that Umo offers besides SaaS ticketing or fare payments are a trip-planner provided by Moovit, a fleet management service and Umo Pay, which would enable agencies to accept open-loop payments.
Umo Pay is not yet live, however. Crawford said last month that Cubic would be announcing one or more launches among Umo clients in 2022, likely starting with pilots before possibly moving to rollouts. The vendor would be able to offer agencies fully certified contactless EMV readers for rollouts, she said. BC Transit said it would eventually support open-loop payments through the Umo platform, and Milwaukee Country Transit made open loop an option in its RFP.
"The process to get the bank certifications is wrapping up," said Crawford. "A number of the other competitors that are out in the market are kind of operating on waivers. You can get a waiver to go out and do pilots, but you can't really roll out to full service without the bank certification."
Crawford said another part of the suite, Umo Rewards, was live, but she declined to say where. And it's not clear when the Umo MaaS part of the suite would go live, though Crawford said last month that an agency in Boise, Idaho, now using the Umo app, would soon be part of the first integration of Umo MaaS when it adds a park-and-ride feature. Users would be able to pay for the parking service from the same Umo app as they pay for fares. This would fit only a very loose definition of MaaS, however.
Among the approximately 30 agencies that are currently live with Umo are the Valley Regional Transit in Boise, which announced its Umo launch in November; Ventura County (CA) Transportation Commission, which also announced last fall–launching with eight small bus operators; and Omaha Metro, NE, which launched Umo in September. The latter is believed to have originally been signed up by Delerrok, but the app didn't launch until well after the Delerrok acquisition.
The Ventura County agencies have a combined 160 buses or other transit vehicles equipped with Cubic validators to accept fares from mobile phones and reloadable smart cards, and Omaha has equipped around 170 buses with Umo validators.
Milwaukee Seeks Account-Based Ticketing System
The Milwaukee County Transit System is much larger, with around 370 buses. The agency reported fixed-route ridership of 15.5 million in 2020, down from 26.4 million in 2019, before the pandemic. The level of ridership places Milwaukee in the mid-tier category and in the top 30 public bus agencies in the U.S.
A request for proposal that the Milwaukee transit system's operator MTS released said the agency was planning to migrate its existing card-based fare-collection system to an account-based system.
The RFP for the project said the fare-system contract would require new validators installed on all buses, enabling the agency to accept closed-loop contactless cards and, as an option, contactless credit and debit cards, as well as contactless mobile payments. Customers also could buy "fare forms sold through mobile phone apps." The validators would also support scanning of 2D barcodes. That includes barcodes on tickets sold in ticket vending machines. And buses would continue to accept cash from fare boxes that had been part of the existing system, provided by Scheidt & Bachmann.
The new fare system would include a mobile app, enabling customers to purchase and validate fares and add value to reloadable smart cards and use a trip-planning feature. The agency now uses a white-label mobile-ticketing app from Tixora, which uses visual validation of tickets by bus drivers. It also offers a trip-planning feature.
With the new system, customers would be able to reload their accounts to pay fares by phone or closed-loop smart card at a retail network, where customers could also purchase new smart cards.
There would be fare-capping and concessionary discount for seniors and disabled persons, as well as special fare cards for university students and others.
© Mobility Payments and Forthwrite Media. Mobility Payments content is for individual use and cannot be copied or distributed without the express permission of the publisher.