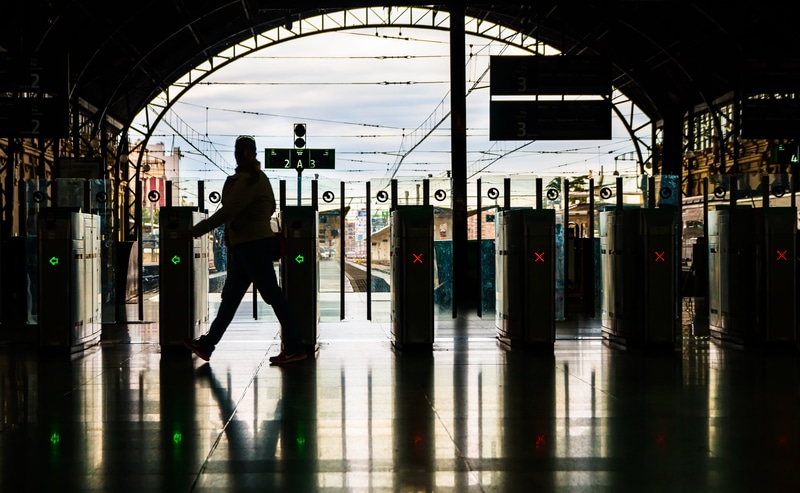 Article Highlights
Key Takeaway:
While there are some rollouts of hands-free (or nearly hands-free) mobile ticketing using such technologies as Bluetooth, Wi-Fi and GPS, chipmakers are now working with another RF technology, ultra-wideband, or UWB. It's faster and much more accurate than any of these other RF technologies. And it is also estimated to cost as little as Bluetooth low energy (BLE) to roll out or will be in the near future. Rollouts of UWB-based mobile ticketing are not imminent, however.
Key Data:
If and when it is introduced by transit agencies, supporters of the technology say they believe UWB's accuracy of 50 centimeters or less under optimal conditions stacks up well against BLE, which is accurate up to around a meter, sometimes more; and Wi-Fi, at a few meters.
Organizations Mentioned:
• Infineon Technologies
• NXP Semiconductors
• Apple
• Samsung
• Google
• eos.uptrade
• Scheidt & Bachmann
• BVG (Berlin)
Demand for hands-free (or nearly hands-free) ticketing has been growing, using such technologies as Bluetooth, Wi-Fi and GPS to enable customers to board buses and trains with only a swipe of their finger in a smartphone app to check-in and check-out. Sometimes they don't even need to swipe.
Now chipmakers are working with another radio-frequency technology, ultra-wideband, or UWB, which is faster and much more accurate than any of these other RF technologies. And it is also estimated to cost as little as Bluetooth low energy (BLE) to roll out or will be in the near future.
Popularized for Tracking
While UWB technology has been around for years, Apple–as it has with other pre-existing technologies–has done much to popularize consumer uses for the technology.
Apple started putting UWB chips in its devices in 2019 with the iPhone 11, following with its Apple Watch in 2020, and now uses the technology mainly in its AirTag tracking devices. Other smartphone makers, including Samsung and large Chinese OEMs have matched Apple's move, putting UWB chips in their own flagships and some of their other mainly high-end devices. And Google included support for UWB in its latest Android 12 operating system.
UWB enables AirTags to track lost keys, purses or other missing items to within a few centimeters or so. The tags also use Bluetooth and NFC technology to assist in the tracking process. Apple later updated the technology after receiving complaints about AirTags being used to track some individuals by people attaching AirTags to their cars or belongings without their consent.
Tech companies are touting UWB for a range of other applications that make use of the technology's precise localization capabilities, as well as its quick data transfers. The applications include keyless car entry, smart home point-and-trigger connectivity, accurate indoor navigation, warehouse asset and product tracking, secure-building access and tap-free payments.
UWB's precision offers dependable security, including deterring relay attacks. That comes in handy for one of the early applications gaining support in the market–keyless car entry, which loads digital keys onto key fobs or smartphones. Such automakers as BMW and Volkswagen are backing the technology.
UWB chips work by sending up to a billion short radio pulses per second. The technology calculates the location of chips in UWB devices or tags by measuring how long it takes for pulses travel from one device to another, a measurement called time of flight.
Other localization technologies, such as BLE and Wi-Fi, usually determine location by measuring the intensity of the signal received from other devices, either weak or strong. This is a much less reliable system. In addition, GPS technology does not work well for mapping or other localization indoors, which is a particular strength of UWB.
UWB also avoids interference that sometimes creates problems for BLE and Wi-Fi because it operates over a very wide frequency spectrum between 3.1 to 10.6 GHz. UWB consumes almost as little power as BLE does and can send data at a rate more than 10 times faster than BLE. Like Bluetooth, UWB devices generally have to be in line of sight to transmit data efficiently.
Use Case for Transit Ticketing
This means, of course, that UWB could quickly send a ticket or other credential from a passenger's UWB-enabled smartphone to a transit gate also equipped with UWB.
But like most other proposed uses for UWB, transit ticketing using UWB chips is still under development.
If and when it is introduced by transit agencies, supporters of the technology say they believe UWB's accuracy of 50 centimeters or less under optimal conditions stacks up well against BLE, which is accurate up to around a meter, sometimes more; and Wi-Fi, at a few meters.
This greater accuracy for UWB could even enable hands-free fare payments through bustling transit gates, Björn Scharfen, VP of digital security and identity, strategic initiatives, at Germany-based Infineon Technologies, told Mobility Payments.
"You can really detect hundreds or thousands of users being in one station at the same time, and I really think this is the accuracy that is needed, compared to Bluetooth, where if you may have too many people, it might not be possible to detect them."
UWB's effective read range of around 50 meters–that is, the distance at which the technology could detect a customer approaching a gate–opens up other possibilities, said Scharfen.
The range offers enough time for a UWB-based fare payments system to do a preauthorization on the customer, giving transit agencies more piece of mind that they will get paid.
"When you enter an EMV open-loop transport gate with a new credit card, the validity won't be checked immediately but only while you are taking the subway," Scharfen said. "With ultra-wideband, a prechecking of the UWB enabled payment device could be done while entering the station and the gate will open. So next to the convenience aspect for the customer, this is an advantage for the transport authority."
Of course, the gate opening would have to be timed to respond at the right time and for the right customer.
Infineon, which acquired Cypress Semiconductor, a strong player in the connectivity market, in a $9.4 billion deal completed in 2020, is working on a range of UWB applications, including keyless car entry.
And Infineon is one of the few chipmakers so far that has talked about the possibility of using UWB for transit ticketing and fare payments.
Stefan Rüping, Infineon distinguished engineer, security chip architectures, in a piece published last May, declared that "the next big step will be transitioning from contactless to an entirely touchless experience," adding that "as the technology ends up in more consumers' hands, PTOs should seriously consider" adopting it for ticketing. He was not calling for UWB to replace contactless, however.
Netherlands-based NXP Semiconductors is another chipmaker working on UWB chips. In late 2020, NXP suggested that UWB could be used for "hands-free transit ticketing, even at fare-gate barriers. "Simply approach the turnstile with your UWB-enabled device in your pocket or your bag and the reader lets you through." NXP declined an interview request to talk about UWB.
Both NXP and Infineon are members of the FiRa Consortium, a trade group promoting UWB. NXP co-founded the group in 2019 with door-lock company Assa Abloy and its HID Global subsidiary–known for its access-control products; along with Samsung Electronics and Bosch. The founders are sponsor members. FiRa sponsors also include Apple and Google.
In addition, NXP two years ago announced it was working on a demo with its UWB chip in Japan with telco NTT DoCoMo and Sony, the latter two companies are pioneers in use of NFC technology for mobile payments, including fare payments, with their "Osaifu-Keitai" wallet phones. NXP's early 2020 press release displayed use cases for UWB, including hands-free payments at retail.
Around the same time, there were reports that large Tokyo-based transit operator JR East was equipping one or more transit gates for a test UWB technology with Japanese wallet phones. There were no further reports of the test or its results.
Combining RF Technologies?
Both NXP and Infineon have strong market shares in NFC and contactless payments chips, which may be why both suggest that UWB could be combined with NFC, along with Bluetooth, when it's implemented for transit ticketing and some other applications.
Infineon's Rüping noted that BLE uses less energy in standby mode than UWB, so it's an "ideal choice to monitor for when a UWB-capable device comes within range, activating the technology so customers can pass through barriers and use public transport without breaking their stride," he wrote.
He added that since UWB requires that smartphones be turned on to operate, this could leave transit customers with a problem if their phones were to run out of battery before they enter or exit the fare-collection system. With most NFC wallets, though not all, users only need residual battery power or none at all-to tap in or out.
The NFC fare payments applet could either be stored on a secure element or in phone software, the latter using host-card emulation technology, which Google favors.
But Rüping acknowledges that combining technologies, including provisioning a payments applet to an NFC secure element mainly to have a fallback in case the transit customer's battery runs out of power, would not be the most convenient implementation for either agencies or users.
"If you want the full convenience with UWB, and you don't want to take your device out of your pocket, it's simply sufficient that you keep the device in your pocket."
But he added that NFC would also be a very secure way to protect the payments application as part of a UWB mobile-ticketing app. Without it, users would likely store their credit or debit cards in an account stored in the back office and would have to authenticate themselves from time to time to access it. That might entail entering a username and password or scanning a fingerprint or other biometric on their phones.
"UWB does not replace the decision you (agency) have to make: How much security do you put on the device," Rüping said.
UWB Commercially Still in 'Infancy'
As Infineon noted last May, widespread commercial rollouts of UWB applications are still in their infancy. NFC, BLE and Wi-Fi are highly mature and just about all smartphones support them, especially the latter two RF technologies. And there is a broad ecosystem or reader, beacon and other technology vendors to support these technologies.
It could take years for UWB to match the infrastructure that these other RF technologies have built up. And regularly updated versions of the technologies are making progress, as well, including enabling faster and more accurate Bluetooth and Wi-Fi localization.
It means that hands-free or nearly hands-free mobile ticketing will continue to grow using the more established technologies.
For example, Switzerland-based start-up Fairtiq last year told Mobility Payments that transactions on its mobile-ticketing platform more than doubled, as Covid-wary riders continued to seek what they consider to be more hygienic payments methods.
Fairtiq mainly uses Wi-Fi and GPS to enable more than 50 transit agencies in Switzerland and elsewhere in Europe to offer mobile ticketing with either check-in and check-out (CICO), or check-in and be-out (CIBO). The latter also uses motion sensors to determine when users have left a train or bus and checks them out automatically or reminds the customer to do so.
Fairtiq founder and CEO Gian-Mattia Schucan told Mobility Payments that the company is not currently looking at UWB technology, since it takes a hardware-free approach to implementing its mobile-ticketing systems. It shuns such devices as beacons on board vehicles or on train platforms, which is why it doesn't support BLE.
Other industry suppliers, such as eos.uptrade and Scheidt & Bachmann, both of Germany, are enabling German transit agencies to offer CIBO services, both using BLE. In addition, transit operator BVG in Berlin was planning to test a check-in/check-out mobile ticketing system last year, though an official also said the operator would avoid using BLE, likely in favor of Wi-Fi and GPS. It's not clear which technology supplier BVG is using for the test.
All of the CIBO and CICO projects are with agencies in such countries as Germany and Switzerland, that do not have fare gates or other barriers for their trains. Roving conductors ask customers to show proof they have a ticket, including in their mobile-ticketing apps.
As mentioned, with UWB's accuracy and speed, ticketing or fare payments could include gated transit systems, which likely would be a first for a hands-free ticketing application. Gates would have to open without a tap from a contactless closed- or open-loop card or a card or paper ticket sporting a magnetic stripe or QR code.
But before that happens, UWB has to mature and its ecosystem must develop. The fact that no transit agency has yet announced it is holding a trial of UWB ticketing is telling.
However, with tech giants like Apple, Google and Samsung supporting UWB in their handsets and mobile operating systems, there is a very real possibility that the technology will be used for mobile ticketing someday, perhaps soon, said Infineon's Rüping.
"You have UWB in the mobile phones now," he said. "You have it in the iPhone and Android phones. So the question will be, 'Can I make use of the technology that is already there for these kinds of things?'
I guess if you really would have had to build it brand new for the devices, it would not happen. But as it is there, it might come up."
© Mobility Payments and Forthwrite Media. Mobility Payments content is for individual use and cannot be copied or distributed without the express permission of the publisher.