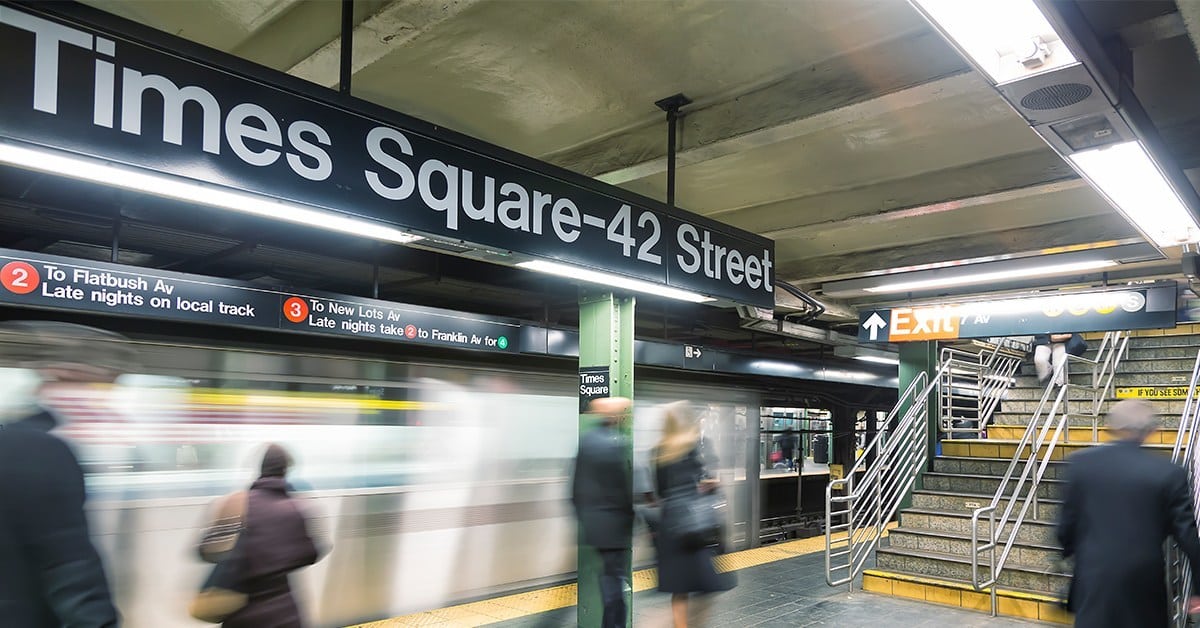 Article Highlights
Key Takeaway:
More transit agencies are seeking to expand their customers' transit card reload options by tapping the retail payments networks of such fintechs as InComm Payments.
Key Data:
InComm, which has a large network of 250,000 retail locations in North America, now supports around 50 agencies with one or more of its transit services.
Despite the strong push behind electronic fare payments and buzz around going cashless, only a few transit agencies in the U.S. have actually eliminated cash acceptance on board their buses and other vehicles or plan to do so.
But the largest retail network in the U.S. enabling sales and reloads of transit fare cards and mobile accounts says many U.S. transit agencies are now talking about this very idea.
"It's a conversation around tables nationwide," Michael Herold, vice president for business development, Tolling & Transit, for U.S.-based InComm Payments, told Mobility Payments. He added that many agencies will be watching the results of the Massachusetts Bay Transportation Authority's planned launch of fully cashless acceptance as part of its large fare-collection system overhaul. That account-based ticketing project in Boston is due for completion in 2024.
"I think a lot of agencies would love to get rid of the cash, but they're very fearful of the blowback from something like that," said Herold. "So definitely, it's a conversation. Boston's the largest agency that's really considering and actually is moving in that direction. So if it works well in other markets, I'm sure other agencies will follow suit."
Until that happens, most transit agencies plugging into retail payments networks like InComm's are seeking to reduce, not eliminate, cash acceptance on board their buses and other public transit vehicles. And while the number of transit agencies supporting sales of cards and cash reloads of accounts at retail outlets is still relatively small, it's been ramping up over the past few years.
Agency Demand Increasing
Herold said that after InComm launched with its first transit agency, the Utah Transit Authority, in 2013, then a few others, in Connecticut and Buffalo, NY, it saw a lull in demand from agencies. That changed around three to four years ago, as more transit agencies started to go to account-based ticketing, or ABT. In addition, he said more agencies have realized the benefits of reducing cash handling on board vehicles, such as lower costs, faster boarding times and, more recently, reduced contact between customers and bus drivers during the pandemic.
InComm, which has a large network of 250,000 retail locations in North America, now supports around 50 agencies with one or more of its transit services: Reloads of physical and digital cards and accounts, selling and activating fare cards, loading time-based passes and offering VanillaDirect Pay. For transit, the latter is mainly a mobile payments and ticketing platform.
Among the 50 agencies are those in such cities as Dallas, Phoenix, Austin, Columbus, Seattle and New York with the Metropolitan Transportation Authority, or MTA. The agency began selling and reloading its white-label EMV-based OMNY card through InComm locations in October. Herold said that around 90% of the RFPs for new ABT fare-collection systems in the U.S. he sees include a requirement for a retail cash reload network.
"It's no different than any other gift card," he said. "We took our gift card mall model that's been wildly successful for the Starbucks, Apples and Home Depots of the world and just applied it to transit."
InComm and other fintechs offering retail payments networks for transit card reloads, such as U.S.-based PayNearMe and T-CETRA, and UK-based Payzone, serve smaller agencies, as well as larger ones. (Transit agencies in Europe have largely eliminated cash acceptance on board buses and other vehicles).
For InComm, that includes agencies in Portland, ME; Spokane, WA; and in Dayton, OH, where the Greater Dayton RTA, in fact, is the first and probably the only U.S. transit agency that has completely eliminated cash acceptance on board its vehicles. Besides InComm, RTA works with T-CETRA, which is headquartered in Ohio. The transit agency noted it has 300 retail locations available in the county it serves, 200 of which would be within a quarter mile of the nearest bus route.
While InComm is integrated with the POS terminal systems of the merchants in its network, not all of those systems can support all of the transit services, such as mobile account reloads or loading tickets and period passes. It depends on which services the retailers are equipped to handle and whether they want to support them.
Account-Based Ticketing Needed for Timely Reloads
Metro of Los Angeles is also an InComm transit client and one of the few, if only ones, that does not support account-based ticketing for its closed-loop TAP cards. (Metro has a hybrid ABT system for its TAP mobile app, and has used PayNearMe for reloads.)
"It really requires an account-based system because we're not utilizing the chip and the card to load value, we are utilizing our own technology of barcodes and mag-stripes that are placed on the back of the cards," said Herold. "That's how our retailers are reading the data, and that's married to the chip, so that the customer can literally walk out the door, jump on the bus, tap the card on the validator and get a green light because everything's happening in real time."
A card-based system like Metro of LA's physical TAP cards poses challenges because there's a lag time between the time the reload happens at the retail POS and the time the value gets loaded onto the TAP card, which is usually the next time the customer taps the card on a bus validator.
Competing for Contracts; InComm Fees
InComm's large retail network and its market presence has prompted just about every major fare-collection systems integrator to pre-integrate with the retail network. That includes Cubic Transportation Systems–both for its bespoke fare systems technology, used by MTA's OMNY card in New York; and for its Umo software-as-a service platform, which was selected recently by the Milwaukee County Transit System for MCTS's planned ABT system. The agency hasn't announced the winning vendor for the contract, but Mobility Payments has reported it was Cubic.
Other systems integrators, such as INIT, Schiedt & Bachmann and Vix Technology have also integrated with InComm, as well as such other SaaS ticketing providers Masabi and Bytemark.
Some transit agencies contract directly with InComm, like Valley Metro in Phoenix did last year. The agency issued two RFPs for its planned ABT fare-payments system, which is designed to reduce cash usage. One tender request was for the fare-collection system itself, including validators and a back-office system, which Vix won. The other was for a retail cash reload network, which went to InComm.
In other cases, the agency contracts with the systems integrator or other prime contractor and InComm serves as a subcontractor with this vendor. For example, the Metropolitan Transit Authority of Harris County in Houston last year hired INIT to build its ABT system, which in turn hired InComm to provide the retail network.
The pre-integration of InComm technology with the back-office of these major fare-collection systems suppliers doesn't necessarily mean the rollouts of the retail networks will go quickly, however.
"We have some agencies that literally take years, and then we have some agencies that could get up and running in a few months," said Herold. "It is typically driven by the agency or the system integrator. Once we're integrated to the back-office of the system integrator, for us, it's kind of like a product ad."
At present, conditions out of the control of either the agencies or InComm–the global chip supply shortage–are delaying implementations of cash reload networks, Herold said.
Once in operation, InComm's services come at a cost to agencies, of course.
InComm's fees for reloads range from around 3.5% to 5% of the value loaded. For the MCTS contract in Milwaukee, for example, InComm plans to charge 5% of the reload value, plus a one-time fee of $1 for activation of new fare cards customers purchase, according to Flowbird, one of the vendors bidding on the ABT fare-collection contract.
On the other hand, InComm, working through SaaS ticketing platform provider Masabi, was charging a 3.5% fee for reloads, according to Masabi's contract with the RTC of Southern Nevada, the agency serving Las Vegas and the surrounding region. Masabi added a 1% stored value fee on top of the 3.5% from InComm.
InComm's Herold said its pricing depends on the requirements agencies have for the retail network in their contracts. But regardless of that, he contends that the company's fees are still well below estimated costs for agencies to handle cash. He placed those estimates at 10% to 15% of the agency's cash fare revenue.
There isn't industry agreement on the true cost of accepting cash, however, and some agencies believe it's less than 10%, Herold acknowledges. Still, he argues that if maintenance and other costs for ticket-vending machines, along with armored cars, insurance, shrinkage and the rest, are counted, the cost could easily reach 15%. "I think a lot of agencies don't acknowledge all of the costs associated with cash," he said.
Accommodating Low-Income Customers
Meanwhile, a related trend to the move by agencies to account-based ticketing and expanding their customers' card reload options is fare capping. More and more U.S. agencies are asking for the ability to offer daily, weekly or monthly capping, or a combination of the three. This can work with both closed-loop and open-loop cards and mobile-ticketing accounts.
Fare capping also helps agencies accommodate low-income customers who often aren't able to afford prepaid daily, weekly or monthly passes. That's why these customers often use cash.
So as agencies introduce fare capping, as well as reducing cash acceptance on board vehicles, they have to offer their underbanked and unbanked customers more options to use closed-loop fare cards or ticketing on smartphones. One way they do this is through expanding the cash reload points through retail networks, said Herold.
Indeed U.S. federal law, specifically Title VI of the U.S. Civil Rights Act, obligates public transit agencies above a certain size and that receive federal funds, to accommodate low-income and minority customers who might be adversely affected by a major change in agency policy. This means that the "social-equity piece" is a major reason agencies are moving toward expanding their cash-reload options, Herold said.
"There's a cost factor; there's an efficiency factor. And at the end of the day, one of the most important things that has been driving in this is Title VI requirements," he said.
© Mobility Payments and Forthwrite Media. Mobility Payments content is for individual use and cannot be copied or distributed without the express permission of the publisher.