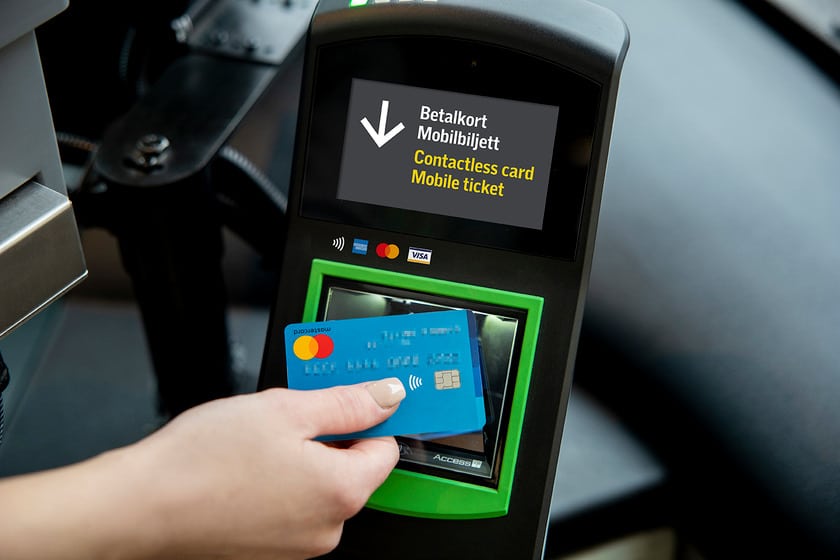 Article Highlights
Key Takeaway:
Nearly a year after Storstockholms Lokaltrafik, or SL, in Stockholm launched open-loop payments for its multimodal transport network, the agency was seeing around 15% of its total fare revenue coming from contactless EMV payments. The figures show a fairly quick start for open loop in the Swedish capital.
Key Data:
Chart: Open-loop revenue as a percentage of total revenue
Nearly a year after Storstockholms Lokaltrafik, or SL, in Stockholm launched open-loop payments for its multimodal transport network, the agency was seeing around 15% of its total fare revenue coming from contactless EMV payments, according to figures obtained by Mobility Payments.
SL, which oversees metro, bus, tram and train networks in greater Stockholm, launched open-loop payments in February 2021 on the various modes. A separate agency that manages ferries serving the city also accepts open-loop debit and credit cards and card credentials in NFC wallets. The two agencies take Visa-, Mastercard- and American Express-branded cards and card credentials supporting Apple Pay, Google Pay and Samsung Pay, along with local wearables wallet Fidesmo.
Figures provided by SL to Mobility Payments, showed the agency collected a total SEK 525.8 million (US$58.1 million) in open-loop fare revenue from February through December 2021. That amounted to 9.5% of SL's total revenue of SEK 5.5 billion (US$607.8 million) for the period, according to the agency figures.
Monthly figures show that the percentage of open-loop revenue topped 10% of total revenue in each of the last five months of 2021, with a high of 14% on SEK 88.6 million (US$9.7 million) in open-loop revenue in November. (See chart on this page.) The agency in November said 50,000 riders per day were using debit cards to pay for tickets. SL did not provide figures for the months of January and February 2022.
"Open-loop payments offer an easy way to travel–especially for people who don't commute daily and mainly buy single tickets," an SL spokeswoman told Mobility Payments. "It doesn't require an app or a dedicated travel pass. You only need to bring your credit or debit card to travel by public transport."
It's unclear how Covid might have affected the open-loop revenue figures for 2021, besides the fact that ridership was recovering during the year. The agency began installing "safety glass" around bus drivers at about the same time it launched open-loop acceptance, so the front doors and EMV-enabled validators on board the buses were open for most of 2021. SL removed most other Covid restrictions on the vehicles last September. There was a short period the front doors were closed earlier this year.
All told, around 2,300 validators on Stockholm buses and 850 in metro stations support open- and closed-loop payments. All or most also support barcode tickets, including those from mobile devices. Other transport modes also have the devices.
The figures through December show a fairly quick start for open-loop payments in the Swedish capital. That is particularly impressive given that open-loop payments are at a substantial disadvantage compared with SL's closed-loop cards because the latter can support 30-day passes, which many customers buy. Customers can only pay for single-journey tickets with open-loop cards and NFC wallets, and there is no fare capping. But the agency did introduce support for concessionary discounts with open-loop debit cards. (See below.)
In addition, SL is one of the first large agencies to migrate its closed-loop card to white-label EMV technology, which can use the same infrastructure as open loop. It's replacing its Mifare-based SL Access cards with this more standardized technology.
Many Agencies in Europe Rolling Out Open Loop
The agency is among a number of transit agencies that have rolled out open-loop payments, especially in Europe. That includes agencies serving London, Rome, Brussels, Madrid, Milan and Moscow, and also those in a number of smaller cities. Some agencies in North America and Asia Pacific have also introduced open loop, including those in Sydney, New York, Singapore, Vancouver, Bangkok and Chicago. Others are in the implementation stages of their open-loop projects, such as those serving Amsterdam, Helsinki, Brisbane and Boston.
Adoption of open loop varies widely, with London seeing more than 50% of its trips from contactless debit and credit cards as of last fall. Sydney, also last year, reported that customers were paying for more than 30% of their rides with open-loop cards and NFC wallets.
In addition, the Metropolitan Transportation Authority in New York said it had hit an open-loop penetration rate of 16% of total transactions with its OMNY service as of July 2021. That's a little more than two years after the first phase of its rollout, though only six months after the agency had completed the deployment of thousands of terminals at subway stations and on board buses in the city.
There are also open-loop payments services that continue to make up a low percentage of total trips or revenue. That includes in Vancouver, where open loop accounts for fewer than 2% of trips; and in Portland, OR, where around 3% of rides are paid for by customers tapping credit and debit cards or NFC phones. Agencies in both of these cities promote their closed-loop cards much more than they do open-loop payments.
Supporting Senior, Student Discounts
Among the reasons transit agencies hold onto closed-loop card programs is that they can more readily support concessionary discounts with closed loop.
But SL has introduced a service in which customers can register their contactless debit cards to receive senior, student and youth discounts. The customers must enter their card details, authenticate themselves to their banks and formally request the discounts from the agency.
The discount application, if approved, takes one day to go into effect. The agency applies the discounts in the back office. Customers receive a discounted price on single tickets of SEK 26 (US$2.68), down from SEK 39 (US$4.01).
The SL spokeswoman said the agency introduced the new feature in September. "Since the use of public transport is still highly affected by the pandemic, it's hard to draw any conclusions of its popularity yet."
© Mobility Payments and Forthwrite Media. Mobility Payments content is for individual use and cannot be copied or distributed without the express permission of the publisher.