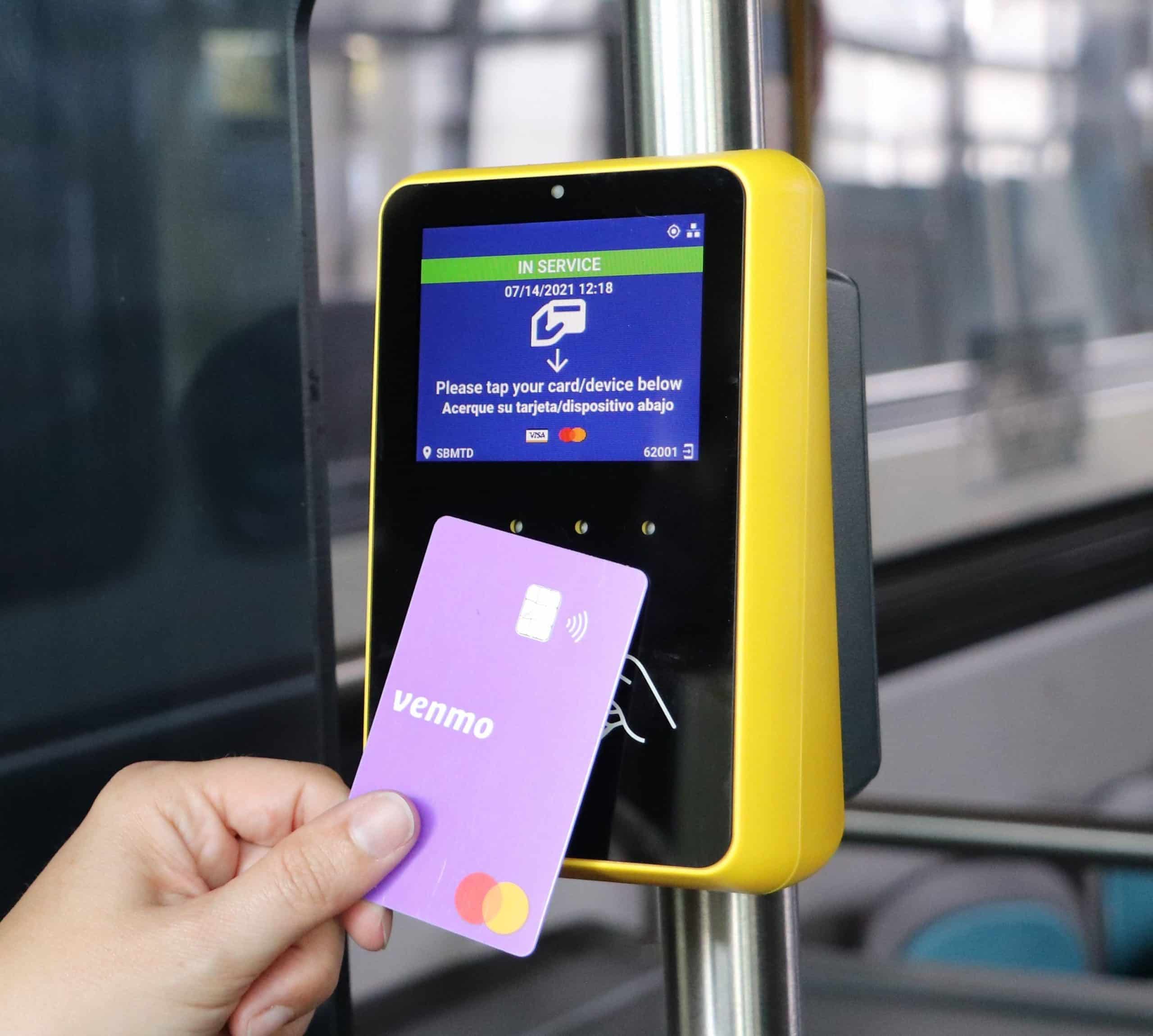 Article Highlights
Key Takeaway:
The California Integrated Travel Project, or Cal-ITP, was created by officials to help the state's nearly 300 local transit agencies buy the core technology they need to launch open-loop payments. Cal-ITP head Gillian Gillett talks to Mobility Payments about the promise the state's open-loop payments initiative holds and the challenges it faces.
Key Data:
Cal-ITP backers need to accommodate the nearly 30% of state residents who are classified as either underbanked or unbanked–a percentage that skews even higher among transit agency customers.
Gillian Gillett, manager of the California Integrated Mobility program in the state Department of Transportation, once observed that 97% of Californians never even think about taking public transit. "I mean, if we were a business, we would be out of business," she said.
Gillett and other state officials believe that California's nearly 300 local transit agencies offer a fragmented and inefficient mix of fare collection systems–a fact they say discourages many potential riders among the state's nearly 40 million residents from using public transit.
One of the answers officials came up with to this problem is the California Integrated Travel Project, or Cal-ITP. Gillett, a former senior advisor to San Francisco's mayor on transportation policy, with experience in the financial services industry, as well, heads the initiative. It's part of the state's Integrated Mobility program.
Backers of Cal-ITP seek to create a "mobility marketplace" made up of vendors that can offer plug-and-play components to transit agencies throughout the state and beyond–potentially changing the way agencies procure their fare-collection systems in the future, the backers say.
Officials, after talking to the transit and payments industries, chose open-loop technology as a means to create an interoperable fare-collection system, which they say will offer riders a convenient pay-as-you-go experience with fare-capping.
Since getting rolling last year, Cal-ITP has organized five pilots, which officials call "demonstrations," of the plug-and-play concept. Transaction numbers are generally small, though more pilots are planned. The state is also expected to soon finalize master services agreements with a total of six vendors across seven contracts to provide validators and fare-calculation software and services. After that, the vendors would be ready to take orders from agencies. And California officials plan to allow agencies from other states to buy from the contracted vendors, as well.
But the project faces some challenges. Among them is the fact that while at least a few agencies have expressed strong interest in rolling out open-loop payments through Cal-ITP, no agency yet has officially announced it will buy its equipment through the state. It remains to be seen how many will.
In addition, big transit agencies, especially those serving the major population centers of Los Angeles and San Francisco, account for most of the public transit fare revenue and trips generated in the state. But Cal-ITP's modular, pre-integrated approach to building fare-collection systems is more suited to small to mid-tier agencies than large ones.
Moreover, Cal-ITP backers need to accommodate the nearly 30% of state residents who are classified as either underbanked or unbanked–a percentage that skews even higher among transit agency customers.
And the state's recent procurement process to hire vendors for its mobility marketplace did not go smoothly. Some well-established vendors were disqualified for what they privately complained were administrative issues beyond their control.
Mobility Payments recently discussed these challenges and the promise of the Cal-ITP program with Gillett: The interview, which was edited for length and readability, follows.
Mobility Payments: Now that Cal-ITP has held pilots, and the state is just about finished with its procurement process to contract with vendors to provide open-loop fare products, are you seeing interest among transit agencies to roll out the technology?
Gillian Gillett: I'd have to go and look at the numbers, but it's certainly scores in California, and then there are also agencies in other states that have started calling us. We've had calls from folks in Illinois, Michigan, Oregon, Massachusetts, South Carolina, Florida.
Mobility Payments: Are the agencies in California just expressing interest and asking for more information, or are they actually ready to roll out when the time comes?
Gillett: I would say many of them are ready to roll out when the time comes. At Caltrans' (California Department of Transportation) division of rail and mass transit, they are trying to consolidate the grant applications to open the doors to all the grants at once. And that happens March 1. So we will know a lot more when the grant cycle closes at the end of April about how many applicants want to use these fiscal funds for purchasing Cal-ITP products.
Mobility Payments: Are these mainly small agencies?
Gillett: We (also) talk to larger agencies in other states and larger agencies here, as well. They don't apply for their grant funding through us, so putting money on the line is their own process.
Mobility Payments: According to Cal ITPs own feasibility study, big transit agencies, especially those in San Francisco and LA, accounted for most of the $1.8 billion in total public transit fare revenue in California in 2018. And these agencies, I think, are unlikely to buy open-loop technology through Cal ITP, if they enable open loop at all. So does that leave enough business for the vendors that have been selected to provide products and services?
Gillett: Well, I would counter your assertion that larger agencies if they make the choice for open loop are not going to purchase from the state. Because the price is so competitive, it's going to be a price that they can't get (elsewhere). In terms of Los Angeles, the City Council this week, their Transportation Committee, voted to purchase validators from us for their municipal system (LADOT).
And the Los Angeles airport express buses have a demonstration (pilot) through us. It seems like things are changing. Los Angeles, in particular, has a history of purchasing through the state. We have similar master services agreements for buses, for instance. And the chief stakeholder for those master services agreements has been LA Metro. They have a history of using the state contracts because of the volume.
Mobility Payments: But Metro hasn't said whether it would be interested in Cal-ITP. I don't think they've confirmed that they're interested in open loop yet.
Gillett: Well, there is a recently signed memorandum of understanding between Caltrans and LA Metro to work together towards compliance of both GTFS (General Transit Feed Specification) and open loop.
(Editor's note: The Los Angeles Department of Transportation, or LADOT, plans an open-loop pilot on its Commuter Express buses. And an executive with the Los Angeles County Metropolitan Transportation Authority, known as Metro, which is much larger than LADOT, told Mobility Payments that the agency has not yet decided whether to roll out open-loop payments. The executive also said she didn't know of a memorandum of understanding between Metro and Caltrans concerning GTFS and open loop.)
Mobility Payments: Bank fees, mostly for interchange, that agencies pay to accept open-loop payments are very high in the U.S., especially compared with Europe. How much do you think these fees are discouraging transit agencies in the U.S. from accepting contactless credit and debit for fares?
Gillett: I don't think the fees are as much of an issue as that of transit (agencies thinking that they) needed a separate currency. That's the first and more significant hurdle.
Mobility Payments: Their closed-loop cards?
Gillett: Not even the closed-loop cards, just this notion that other than cash, the notion of paying directly is new to transit. You have to get a ticket or you have to use a closed-loop card to purchase the ticket. There's this idea that what actually allows you to travel is a ticket, not a payment.
And it's unique to transit. Small merchants with smaller tickets like dry cleaners and coffee shops in the United States up until Square came along, those companies didn't take debit and credit cards, either.
(But) dry cleaners and coffee shops, with the exception of Starbucks, they didn't create their own form of currency. They didn't create "dry cleaner bucks," (and say) "We will only accept payment in dry cleaner bucks or in coffee shop bucks." Whereas, that's exactly what transit did, in the form of a ticket and passes and ticket-vending machines. That's been the culture and the experience of payment in transit forever. And that is the most difficult issue.
Mobility Payments: I've heard you say that these (transit agencies) are the only merchants left in America that are not on the bank rails. So what do you think is going to change that? Programs like yours?
Gillett: Yeah, I very much think so. They're not the last merchant. Government on the whole isn't really on the bank rails. Some (government) agencies take debit and credit cards, but most agencies don't have revenue in the same way that transit does.
Another way to answer your question–a very large hurdle for transit agencies is the 70-plus percent of Americans that have some form of digital payment, a debit card or credit card. But the transit industry has focused on the 30% that are under or unbanked, because no one was issuing to that population an account that they could use.
Mobility Payments: You've talked a lot about the unbanked and particularly the underbanked, with the latter making up 21% of California's population–a huge number of people. And they have, as you mentioned, income and smartphones, but they often don't want to use conventional debit cards because they don't trust the banks. How does Cal ITP plan to reach them?
Gillett: Many of them take transit, so they're fairly easy to reach. Transit is a great way to show that there are alternatives. The distrust of the banks often comes because of the minimum balance requirements of a commercial bank account. That's the problem of the underbanked. They have a debit card, but they can't afford to use it because their account might go below the minimum balance, and then they get "fee-ed" to death.
So the point that we've been advocating for, and it's correct and true, is that having an account–the ability to transact–and having money in the account, are two different problems. We have all these alternatives now. We have Venmo. We have Square. We have PayPal. We have other vendors like the Angeleno card in Los Angeles. The issuer there (in Los Angeles) directly issues an account that is bank-like. It offers several different financial services, including payment. But it's not a bank account and, therefore, doesn't require a minimum balance.
Mobility Payments: So these are the fintech alternatives that you believe can accommodate the unbanked and underbanked?
Gillett: We see it in the numbers. We're working on getting updated numbers from Square in Monterey and Sacramento, but between May and August of last year, approximately 30% of the new Square Cash accounts to the end user in the Monterey-Salinas service area are directly attributable to Monterey-Salinas (Transit), meaning the very first use of the account was on a Monterey-Salinas trip. And those customers are, in fact, using their accounts for things besides transit.
So what you can say, this program is bringing people into the financial ecosystem, learning about the alternatives because of transit. And they are becoming a banked consumer that is not at risk of high fees.
Mobility Payments: What about the need, or lack of it, for transit agencies to continue to accept cash?
Gillett: I don't think that this is a discussion about cash. This is a discussion about 30% of the population not having a digital alternative that they can use. So they need to have an option. And by making those options clear and available, transit agencies can finally open themselves up to the 70% of Americans that use their debit or credit card to pay for everything.
Mobility Payments: Regarding the state procurement for the master services agreements that in December chose six vendors across seven contracts–a total of nine vendors were disqualified for what some might consider minor administrative compliance issues or issues out of their control. This group includes some well-known vendors. Do you consider this a successful procurement, and are there a sufficient number of vendors that will be providing open-loop products?
Gillett: The Department of General Services hasn't made the award yet, so what I can say is extremely limited. What I can say is, I am very pleased with the work that's happened, and I would like to do more.
Mobility Payments: You were on the vendor selection committee. Can you say whether the (tender) rules were too strict, too rigid?
Gillett: I'm not in a position to say that. I'm not a procurement official. I'm a subject matter expert on the transit industry's payment stack.
Mobility Payments: But are you satisfied, from your perspective as program director, with the procurement that lined up vendors for agencies to place orders with?
Gillett: I think it's a great start.
© Mobility Payments and Forthwrite Media. Mobility Payments content is for individual use and cannot be copied or distributed without the express permission of the publisher.