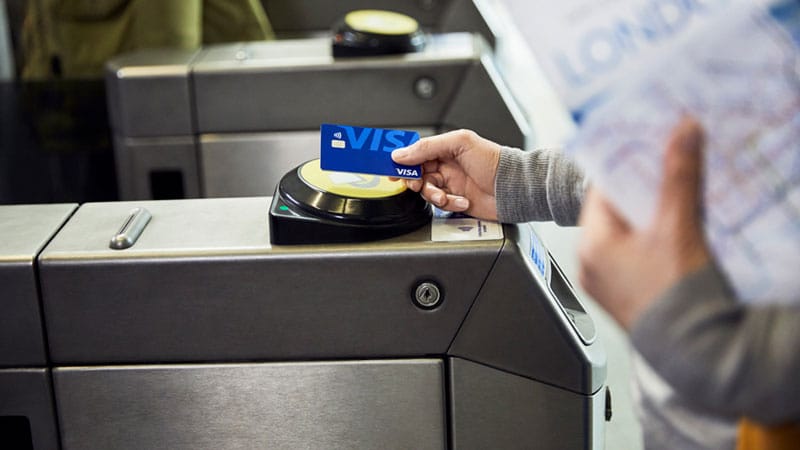 Article Highlights
Key Takeaway:
Visa said it saw strong growth of open-loop fare projects and transaction volume during its fiscal first half, ending March 31.
Key Data:
Visa said it had processed over 500 million Visa open-loop transactions globally during the first half, compared with 700 million for all of last year. If the trend continues at the same pace during the second half of the fiscal year, it would amount to growth of more than 40%.
Organizations Mentioned:
• Visa
Visa said 50 more cities globally introduced open-loop payments that included acceptance of Visa-branded cards and NFC wallet credentials during the six months ending March 31, though the payments scheme is believed to be including cities where agencies only launched pilots.
Visa touted the growth of transit payments Tuesday during its conference call following release of its fiscal second quarter and first-half financial results. The payments company said more than 500 transit agencies globally now accept Visa-branded payments on board buses, at metro gates and for other transport modes. Many are small agencies and the total is believed to also include pilots.
"Transit is one of the best ways to habituate tapping, and the first half of fiscal 2022 has set records," said Visa CEO Al Kelly, during his prepared statement to financial analysts. "We enabled 50 cities around the world, including in Thailand, Japan, Turkey, Italy, Switzerland, Norway and Canada, bringing our tap-to-ride footprint to over 500 transit authorities."
While Visa did not offer details about the agencies and cities where open-loop payments have launched during the company's fiscal first half, they no doubt include the Mass Rapid Transit Authority of Thailand, which in January launched a pilot accepting Visa- and Mastercard-branded cards on the two lines of its Bangkok metro. And in Japan, public bus company Alpico Kōtsū in December began accepting Visa Touch contactless cards on two express bus lines in Nagano prefecture.
In Italy, Visa is likely referring to the launch of a pilot in February in Genoa, the country's sixth largest city. Visa is taking an active role in the project, helping Italian transit operator AMT to launch the service. And in Canada, Visa may be referring to Montréal-area bus operator STL, which rolled out its open-loop service on more than 360 buses a couple of months ago, though the official launch was in April.
And there have been at least four small to mid-tier cities in France that have launched open-loop payments that include Visa cards and credentials, during the six-month period ending in March. They include the cities of Rennes, Besançon and Bayonne, as Mobility Payments reported.
Among the major cities where transit agencies have rolled out open-loop payments over the years, including accepting Visa, are London, Sydney, Singapore, New York, Rome, Milan and Rio de Janeiro.
Visa's Kelly also said during Tuesday's conference call that the payments network had processed over 500 million Visa open-loop transactions globally during the first half, compared with 700 million for all of last year. If the trend continues at the same pace during the second half of the fiscal year, it would amount to growth of more than 40%.
While that 500 million transaction volume is only a minuscule slice of the nearly 120 billion total debit and credit card transactions that Visa recorded during its fiscal 2022 first half, it still represents a strong growth rate.
Among the most promising markets Visa sees for future launches of open-loop fare payments is the U.S., where only a handful of cities now accept contactless credit and debit on board buses and for other transport modes.
U.S. banks in recent years have been catching up with Europe and other developed markets in rolling out contactless EMV cards. And these cards, along with such NFC payments services as Apple Pay and Google Pay, now account for a significant share of retail payments.
Just before Kelly talked about Visa's gains in transit fare payments, Tuesday, he mentioned that more than 20% of card payments at retail in the U.S. are contactless. That compares with the beginning of 2018, when Visa said that fewer than 1% of transactions from cards or credentials carrying its brand were contactless in the U.S.
That 20% penetration rate for contactless payments still pales in comparison with the 50% or more that contactless payments make up of total card payments in many other developed markets. But because of the massive size of retail market in the U.S., the 20% penetrate rate now ranks the U.S. as Visa's second largest market for contactless taps worldwide, according to Kelly. He did not say which is the largest market.
Among measures Visa appears to be taking to encourage more transit agencies in the U.S. to accept Visa-branded cards is to lower historically high interchange rates that agencies must pay as part of their merchant fees.
As Mobility Payments reported, Visa has lowered a key interchange rate that requires agencies to pay high fixed fees on their low-value fare transactions.
Visa has not announced the new rate, however, and sources have said that, at least for now, the rate cut is for only a three-year period and possibly only covers certain geographies. Visa also did not appear to reduce other interchange rates and network fees.
© Mobility Payments and Forthwrite Media. Mobility Payments content is for individual use and cannot be copied or distributed without the express permission of the publisher.