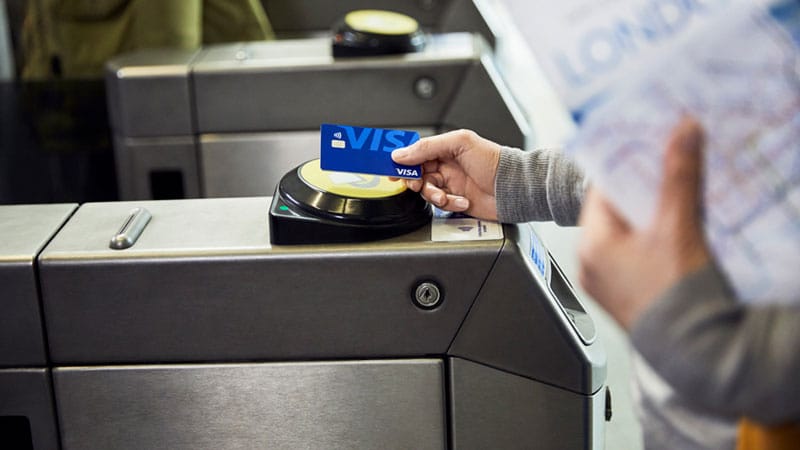 Article Highlights
Key Takeaway:
Open-loop payments is perhaps the hottest fare-payments technology around today. But getting reliable estimates on just how large the open-loop footprint is has proved to be difficult. The giant payments scheme, Visa, says it's been involved in more than 600 open-loop projects globally. Counting the projects is anything but clear-cut.
Key Data:
Visa saw public transit fare payments itself as the smallest of eight market opportunities for new acceptance segments for Visa payments. Public transit fare revenue, at an estimated $16 billion globally, followed well behind rent, tuition, sports betting, micromobility, even parking.
Open-loop payments is perhaps the hottest fare-payments technology around today. But getting reliable estimates on just how large the open-loop footprint is has proved to be difficult.
How many projects, programs or implementations of open-loop fare payments have there been globally? It all depends on how you count them, say observers.
Should there be a separate open-loop project tallied for every transit operator, authority, city or region that launches the technology? Should open-loop pilots count, as well? How about mom-and-pop bus or coach operators with two or three vehicles that accept credit and debit cards and Apple Pay?
And then there are the projects for which all the bus or gate terminals are EMV-ready but not yet activated to accept open-loop payments. Should these projects be added to the open-loop project column, as well? Even if the transit agency won't actually start accepting open-loop transactions for years?
While a few market researchers, among others, have tried to make estimates of open-loop projects globally, they are not considered reliable since there is no accepted way to count the global projects.
Into this relative vacuum has stepped Visa. The giant payments scheme's global estimates of open-loop projects are often cited by transit industry executives. And those numbers continue to grow.
Speaking at the Visa-sponsored Transforming Urban Mobility online conference in November, Nick Mackie, Visa's vice president and global head of urban mobility, said the payments scheme had helped launch more than 100 open-loop projects during the fiscal year ending last September alone. He also said Visa had processed 70% more open-loop fare transactions than the year before, surpassing 1 billion for the first time.
"Today, over 600 projects have launched worldwide with half of these launching in the past three years alone," Mackie said during the event.
Mackie is not alone at Visa in touting the high global footprint of open-loop projects. The marketing message is repeated by members of his urban mobility team, included in promotional materials and is pitched to investors.
Visa's then-chairman and CEO Al Kelly, in prepared remarks to financial analysts in late March 2022 for the company's second quarter earnings report, noted that during the first six months of last fiscal year, Visa had enabled 50 cities around the world. That included in Thailand, Japan, Turkey, Italy, Switzerland, Norway and Canada. It brought the payments scheme's "tap-to-ride footprint to over 500 transit authorities," Kelly said.
No Further Explanation from Visa
The Visa tally has since grown to more than 600 open-loop projects. Where are all of these projects and what type of transit agencies are launching them? Well, Visa is staying tight-lipped on that.
The payments scheme didn't respond to nearly all of the multiple requests for additional information from Mobility Payments to its various regional and international press offices and also its investor relations office on the type and location of the projects.
Only one Visa spokesperson ever responded, the director of media relations for Visa corporate communications in Europe, who said in late November she was "digging" into the information and would get back as soon as she could. After another prompt from Mobility Payments, she finally responded on Dec. 12 to say she was "struggling to get my hands on the data. Will let you know if/when I do." She has not responded since.
Mobility Payments also contacted Mackie and other members of the Visa urban mobility team multiple times. Mackie only responded once, referring all questions to the Visa press office.
Chasing the 'Halo Effect'
Visa is likely the largest single promoter of open-loop payments globally, and it has a lot riding on getting more transit agencies to accept credit, debit and prepaid cards carrying its brand, as well as Visa card credentials in NFC wallets.
Depending on the locale, the company gets paid network assessment and other fees each time a rider taps a Visa card or credential. That does not include much higher interchange fees, most of which go to card issuers.
But when it comes to open-loop payments, Visa appears to be more interested in selling its solutions and making cards and credentials bearing its brand top-of-wallet for retail and other transactions.
Visa's promotion of its solutions was on full display during the three-and-a-half-hour, highly scripted Transforming Urban Mobility webinar in November, targeting Asia Pacific. The event featured Visa-organized sessions to sell such open-loop services and products as fare payments processing from its Cybersource unit and its prepaid and private-label card technology.
Moreover, during an investor day presentation in February 2020, Visa spotlighted what it calls the "halo effect" from open-loop fare payments. It looked specifically at the largest open-loop project of them all, launched by Transport for London in late 2012 and expanded in 2014. Visa pointed to an overall doubling of overall transactions–not just for fare payments–from Visa cardholders riding London buses, Underground and other transport modes as compared with other cardholders. Spending on cards and credentials from these tap-to-pay transit customers also showed 70% higher growth than for other cardholders. (See slide to right).
By contrast, Visa saw public transit fare payments itself as the smallest of eight market opportunities for new acceptance segments for Visa payments. Public transit fare revenue, at an estimated $16 billion globally, followed well behind rent, tuition, sports betting, micromobility, even parking. (See slide below.)
Looking for Visa's 600-Plus Projects
Visa has variously referred to its open-loop footprint as "projects," "programs," "cities" and "implementations." But for all of them, the network says it has had some part in the launch of the service–though it has not fully spelled out exactly what that involvement is for most projects. And Visa has made it clear it is talking only about live projects, that is, those that have launched–not including those only in the pipeline.
Involvement by Visa could include the scheme taking an active role in the project, as in a pilot launched last year in Genoa, Italy, in which Visa said it was serving as the "technological partner of the solution." Or it could take a small role, such as merely certifying its contactless kernel on terminals.
Update: Visa is funding some of the projects, as well, which could include offering marketing money to transit agencies, which the agencies in turn could use to pay for implementation or operational, even hardware costs. That appears to be true in Venice, where Visa is providing marketing and communications for an open-loop service planned by transit agency AVM. The deal could including funding by Visa, though no money is directly changing hands between Visa and AVM. Visa is also providing money for validators for a open-loop rollout on buses in Kiev, Ukraine, Mobility Payments has learned. End update.
Sometimes the funding is more straight forward for payments schemes, like a recent project in Hungary being paid for by Mastercard. Neither payments network likes to talk about its project funding activities.
Mastercard, Visa's smaller rival, in announcing the planned launch of an open-loop transit payments service in Amman, Jordan, last month, said it has "over 250 cities" live with contactless open-loop fare payments.
That is probably not a conservative estimate by Mastercard, but is still fewer than half of the open-loop projects Visa says are live–unless Visa is counting multiple projects in some cities. But at least as far back as 2020, Visa was using the term projects and "cities" interchangeably, such as in this blog post, in which it said it had more than 500 "cities" with "tap-to-pay solutions, and "more than 500 active transit projects," in such cities as Brussels, Bratislava, Bucharest, Hong Kong, Santo Domingo and Turin.
And most of the open-loop fare payments services that accept Visa-branded cards and credentials also take Mastercard, and vice versa, so both schemes should have roughly the same number of cities offering open-loop payments. Yet Mastercard was estimating nearly 60% fewer cities. (Mastercard's international and regional press spokespersons also did not respond to requests for more specifics on their scheme's open-loop project or city numbers.)
Visa in its Investor Day presentation in February 2020 mentioned on one slide that there were "180-plus cities with live tap to pay transit systems and 150 more planned," without elaboration. (See slide at right.) The live plus planned cities would take the global figure for Visa to 330. (See slide to right.)
Visa didn't specify the names or even the size of the 150 cities planning open-loop service. But if they were large cities, the estimate might have been too optimistic. That's a conclusion by Sam Gazeley, an industry analyst with UK-based ABI Research, about his own research.
Gazeley authored a much-quoted report on open-loop payments, released in May 2021, which said 150 "large cities are looking to adopt EMV as another contactless payment method, which will sit alongside existing proprietary solutions."
He told Mobility Payments late last month that while he believes open loop "has the potential to become the dominant (payments) technology" for agencies, he appeared to back off the estimate that 150 large cities were poised to roll out the technology. He defines "large" or "major" city as one with more than one million population or that is a regional or provincial capital.
"As we speak to a wide range of industry players, the general consensus is that a complete overhaul of infrastructure to open-loop EMV would be very costly and time-consuming as it relates to physical hardware, PCI compliance, etc.," Gazeley said recently. "As the ticketing market is still recovering from Covid-driven ridership shortages and an allocation shortfall from a chip perspective, we do not anticipate many transit authorities moving to this in the short term."
Andrea Soehnchen, manager of the Urban Mobility Open Payments Forum at the International Association of Public Transport, or UITP, said the organization hasn't independently estimated total open-loop projects globally. It instead relies on Visa, the "lead partner" in the forum, for the estimate. She said Visa has the "best overview of new rollouts," adding:
"(The 600-plus figure) is just the overall estimate, but no details. It has been good enough so far, but it would be interesting indeed to have more details. Not sure how realistic it is to compile this. Things seem to develop rather fast."
Breaking Down Projects by Region
Looking regionally, Visa said in its promotional material for the Transforming Mobility webinar in November that 45 open-loop programs involving Visa have launched to date in Asia Pacific, part of the 600-plus global projects it touts.
This total includes a couple of large projects, like those in Sydney and Singapore, but most of the projects in the region are small–in such markets as Japan, Hong Kong, Malaysia and Taiwan. It also includes at least one project in Thailand, in which the local transit authority has launched open loop on two lines of the Bangkok MRT.
Nearly 30 of the projects are in Japanese cities and towns, though not apparently in Tokyo. All or most of the launches involve Cybersource and Visa's large bank acquiring partner Sumitomo Mitsui Card.
Visa said during the webinar that 29 projects have been implemented over a two-year period ending September 2022 in Japan. Most are small, involving private bus and rail companies. Some of the projects are reportedly trials. Among them are launches by such privately held transit operators as Nankai Electric Railway and local bus company Shinki Bus. Another source told Mobility Payments that the three-line Fukuoka City Subway also accepts Visa's contactless brand in Japan, Visa Touch, at some ticket gates.
Visa has struggled for years to build acceptance and consumer usage of Visa Touch in Japan, where closed-loop e-purse cards based on Sony's FeliCa technology dominate contactless payments at both transit and retail. Visa probably offered, at a minimum, resources, such as technical help, to Japanese agencies to launch acceptance of Visa Touch from the agencies.
In North America there are even fewer open-loop transit payments projects live than in Asia Pacific. The U.S. basically has only six live projects–in New York, Chicago, Dallas, Miami, Portland and recently, the Tampa Bay metropolitan area in Florida. In addition, there are four to six open-loop trials going on in the U.S., most or all in California. Canada only has a handful of live open-loop projects, including Vancouver, five smaller launches in the Toronto area, and one in suburban Montreal. There are also some but not many projects in Mexico and the rest of Latin America or in Africa.
That leaves Europe, by far the region with the most live open-loop fare payments projects. But Visa would need to show more than 500 projects in the region to reach 600 projects globally, given the relatively low count in the rest of the world.
In its Investor Day presentation in February 2020, Visa said there were only 35 open-loop projects launched in Europe as of that date, with 40 in the pipeline. Again, the scheme didn't specify size. But it probably didn't include projects with small to medium-sized agencies.
Today there are more than 30 projects live from municipal transit agencies in France alone, as Mobility Payments has reported, including top five cities Lyon and Toulouse, though not Paris. Most of the projects are in smaller cities and towns, such as Dijon, Besaçon, Nevers and Pau.
A local integrator in Turkey told Mobility Payments, there are 23 open-loop projects in that country, including those in the top four cities Istanbul, Ankara, Izmir and Bursa. Italy also has a number of projects, including in Rome, Milan, Naples, Turin and Genoa. Netherlands, which is rolling out open loop nationwide, has seven to 10 projects or implementations covering all major cities, except for Rotterdam for now.
Then there are the open-loop hot spots in the UK and such Eastern European countries as Poland, Czech Republic and Russia. In these countries there are dozens of mostly small open-loop projects.
Venceslas Cartier, a member of Visa's urban mobility team in Europe, speaking at a webinar organized by Worldline in late November, repeated the 600 open-loop figure for cities, and said they include London and other "large or very large cities." And he noted that the technology is not only for cities of this size, "but is reaching small or even medium cities."
Of the 600 cities globally, he estimated there were more than 200 cities in Europe supporting open loop, or only around a third.
Could Small Operators Put Visa Over Top?
All of this is not enough to get Visa to the 600 or more figure. But the UK is one country where Visa could perhaps find the projects–though many of them would be very small.
The UK has a lot of family-owned independent bus companies accepting open loop. For example, Delaine Buses, which operates 31 buses in some small East Midlands cities and towns since 2018, accepts Visa- and Mastercard-branded cards and credentials in Apple Pay and Google Wallet.
Connexions buses which serves towns north of Leeds in Northern England, enabled 40 buses for open loop three years ago. Craig Temple, Managing Director, told Mobility Payments, he procured validators from UK-based Ticketer and hired as payments service provider, Australia- and UK-based Littlepay to accept contactless open loop.
Temple estimates there are nearly 30 small independent bus companies like his and most have also procured contactless technology. That doesn't count the many coach companies that also can accept open loop.
Littlepay claims to have more than 250 transport and mobility provider clients globally supporting open loop fare payments. Of these, most are in the UK. "Loads of our customers are small independent operators," said global head of commercial, Paul Griffin. Some have as few as two to three buses.
Littlepay also serves three of the big five commercial bus operators in the UK, with thousands of buses each, Go-Ahead, First Bus and Arrival. Each regional operating company for these bus companies has a separate implementation, said Griffin. Go-Ahead has 15 regional operators, for example, so Littlepay counts this as 15 providers it is enabling for open loop.
"I wouldn't want to critique other organizations' marketing claims," he said, referring to Visa. "But from Littlepay's perspective, we have over 250 separate implementations just in the UK, covering 75 cities and 1,000 towns, so it's not inconceivable that there are 600 or more globally."
'Creates a Sense of Urgency'
If that is indeed how Visa is reaching the 600-project mark, some critics say the figure can be misleading.
Visa often talks about the 600 projects or cities in the same breath as it touts Transport for London's 4 million contactless trips per day or New York's Metropolitan Transportation Authority hitting 1.4 million rides in a day with its OMNY open-loop service, as Mackie did in November.
But then when Visa doesn't specify the size of most of the agencies that make up its 600-plus project figure, it can give the agencies a false impression, said one critic.
"Lots of agencies do not have the resources to strategize and evaluate this kind of fake news," said one longtime industry observer who asked not to be named because he or she might work with Visa in the future. "They (agencies) end up making public procurement decisions while having been misguided by such marketing."
And that does not touch on the issue of how much or little riders are tapping to pay with contactless. For London, it is a lot, but many agencies that have launched open loop continue to see contactless penetration in the low single digits, said the industry veteran.
Another source connected with a large U.S. transit agency, who also did not want to be named, said he or she has heard the pitches Visa has made to agencies about how fast open-loop adoption was growing.
"It makes transit agencies feel like they are being left behind technology-wise and creates a sense of urgency," the agency source said.
There's no doubt that the global footprint open-loop projects is significant and growing. But with no accepted way to count the projects and with little sense of urgency on the part of Visa to explain its figures, it will be difficult to know just how large that global open-loop footprint is.
© Mobility Payments and Forthwrite Media. Mobility Payments content is for individual use and cannot be copied or distributed without the express permission of the publisher.