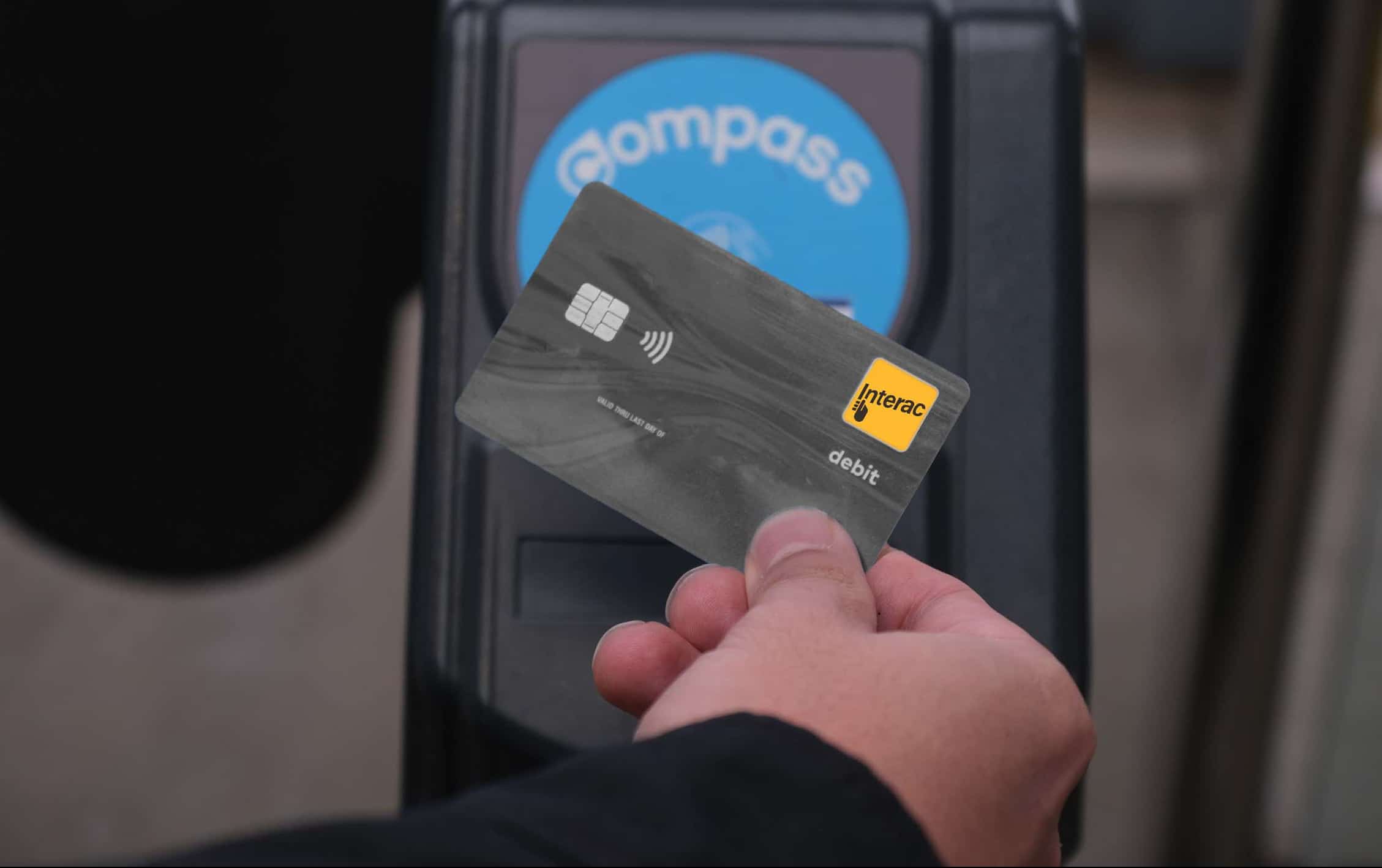 Article Highlights
Key Takeaway:
Vancouver transit authority TransLink signed a deal with Canadian debit scheme Interac last year that would pay TransLink a total of CA$2.75 million (US$2.1 million) for enabling customers to tap Interac cards and credentials to pay for fares and for promoting the Interac brand, Mobility Payments has learned.
Key Data:
• Table: TransLink/Interac incentive agreement
Vancouver transit authority TransLink signed a deal with Canadian debit scheme Interac last year that will pay TransLink a total of CA$2.75 million (US$2.1 million) for enabling customers to tap Interac cards and credentials to pay for fares and for promoting the Interac brand, Mobility Payments has learned.
The contract, "Transit Open Payments Agreement," signed last August by representatives of TransLink and Interac, requires TransLink to help promote use of Interac debit on its transit system and to ensure the project launches on time–by the end of August 2022.
The contract documents, obtained by Mobility Payments, offer insight into the promotional deals sometimes forged between payments schemes and transit agencies before the launch or expansion of open-loop payments services.
In this one, there is a provision that requires TransLink to place the Interac logo above logos for credit card brands Visa, Mastercard and American Express, according to the documents. And the contract mandates placing the Interac logo at the entrances to transit vehicles, on station boards, websites and "wherever fare information is posted," as well as on ticket-vending machines.
That would be in addition to putting the logo on more than 5,000 fare terminals, where TransLink now accepts its closed-loop Compass card, as well as open-loop payments from credit cards.
Visa and Mastercard sign promotional deals with agencies rolling out open-loop payments, as well. It's something that neither the payments brands nor the agencies like to talk about. In this case, TransLink resisted releasing the contract documents for six months.
The focus of the deal is TransLink's little used open-loop payments service, originally launched in 2018 across the agency's network of buses, trains and ferries. The service supported only Visa- and Mastercard-branded credit cards and credit credentials in NFC wallets to begin with. TransLink added the American Express brand in 2019. While TransLink can also technically accept Visa- and Mastercard-branded debit cards, these transactions are handled by the schemes like credit cards.
Adoption of open-loop payments in Vancouver remains low, at fewer than 2% of rides. That's mainly because TransLink fare's policies offer customers a discount of around 20% to tap to pay with closed-loop Compass cards rather than with contactless credit. TransLink also only accepts open-loop payments for single rides and, in fact, prices fares paid with open-loop cards and wallets at the same rate as fares paid with cash.
TransLink announced last November it would add acceptance of Interac before the end of this year. Even if the agency doesn't change its fare policies, some observers believe that accepting cards from Canada's popular domestic debit scheme will substantially increase take-up of open loop. Interac is the most-used contactless payments brand at retail in Canada, especially for low value-transactions.
For its part, Interac sees transit fare payments as a promising merchant category. Moreover, the debit scheme and its card issuing banks together collect just under 3 Canadian cents for each transaction with Interac's contactless "Flash" cards, no matter how small the transactions are. There is a higher charge if the transactions are with Interac credentials in NFC wallets.
The Interac Flash interchange and other bank fees are much lower than the fees transit agencies pay in the U.S. But the rates when Interac Flash is used are still significant when charged on single fares, which start at $3.05. Besides interchange and network assessment fees, the charges include acquirer fees, which TransLink declines to release.
Agreement Sets Launch Deadline, Promotional Terms
Under their Transit Open Payments Agreement, Interac agrees to pay TransLink the following. (All amounts in Canadian dollars. See also table on this page):
1. $2 million "incentive payment" upon executing the agreement.
Under the deal, the largest amount TransLink is to receive from Interac is a payment of $2 million (US$1.6 million). But the contract doesn't say specifically what the $2 million is for.
It might be to cover the cost of the hardware and other technical integration work needed to enable Interac acceptance on the 5,000-TransLink plus fare terminals.
As Mobility Payments first reported last month, a proposal by TransLink's system integrator, Cubic Transportation Systems, said it would cost a total CA$2.1 million to integrate Interac into the fare terminals, including adding a new secure-access module, or SAM, to each of the contactless readers.
A separate change order to Cubic's long-term contract with TransLink, signed last October, calls for TransLink to pay Cubic a little more than $1.95 million for the work to add the new SAMs and to integrate and test the readers with merchant acquirers, among other tasks. That exactly matches the amount in Cubic's proposal, less Canada's 5% goods and services tax.
But a spokesman for TransLink told Mobility Payments last year that for the project to enable Interac payments, "the integration comes at no cost to TransLink."
That seems to indicate that Interac would pay for the integration and this might be what the $2 million payment is for in the Interac-TransLink deal. Also in the deal are commitments by TransLink to oversee the integration work by Cubic and to make sure it gets finished on time.
Neither TransLink nor Interac would confirm that Interac is paying for the technical work to enable its brand to be accepted on the more than 5,000 TransLink terminals, however. And neither the agency nor debit network would comment for this article.
2. $100,000 after six months of steady operation.
Interac and TransLink agree that agency will seek to launch Interac acceptance by the end of August, 2022 on all fare readers and other contactless points of sale. After six months of a "steady state of operation" of Interac payments across TransLink's transit network, the debit scheme will pay TransLink $100,000.
3. $400,000 as a bonus to meet launch and operational deadlines
Under the contract, Interac also will pay TransLink a bonus of $400,000 if the launch of Interac acceptance happens by the Aug. 31, 2022 deadline and if the service has a steady operation for the following six months.
But if TransLink and its vendor, Cubic, do not meet the launch deadline, Interac will deduct $200,000 for each month of the delay, up to the amount of the $400,000 bonus.
Interac also set another condition on the bonus. The agreement states that TransLink must use the $400,000 or whatever it receives for the bonus to pay for a co-branded travel rewards program to promote Interac payments on its transit network. The program, for example, might give customers a "ride twice, get one ride free" offer. TransLink and Interac will work out details of the program jointly.
If TransLink does not get the bonus money, for example, if the project is delayed, the agency would have to spend its own money or resources–up to $250,000 of "fair market value"–to promote Interac within TransLink's marketing programs.
4. $250,000 to promote Interac debit loyalty program.
Interac and TransLink in October amended their agreement to add another incentive payment for TransLink, this one for $250,000. The agency will receive the money to assist Interac in rolling out an Interac debit loyalty program across the transit network in 2022.
The contract doesn't really specify what the program will entail, but said it could involve direct consumer marketing and would promote Interac to "all communities." The latter would include unbanked and low-income TransLink customers.
With this amendment, the contract totals $2.75 million in payments to TransLink. Besides participating in the marketing and promotional activities, giving Interac's brand top billing at acceptance points and other transit agency venues and managing implementation of the technology, TransLink also promises to share data and explore other opportunities in partnership with Interac, according to the contract.
The latter would include possibly developing an "official Interac transit card," with TransLink's banking partner. The agreement offers no other details on this proposed card.
But, in general, as the deal makes clear, Interac is interested in developing transit fare payments as a source of new transactions.
And as Mobility Payments has reported, the debit network also is working with transit agencies in other major Canadian cities, Toronto and the Montréal area, to enable debit card payments on board buses and on other transport modes. It's not clear whether Interac has promotional deals with agencies in these cities, as well.
© Mobility Payments and Forthwrite Media. Mobility Payments content is for individual use and cannot be copied or distributed without the express permission of the publisher.