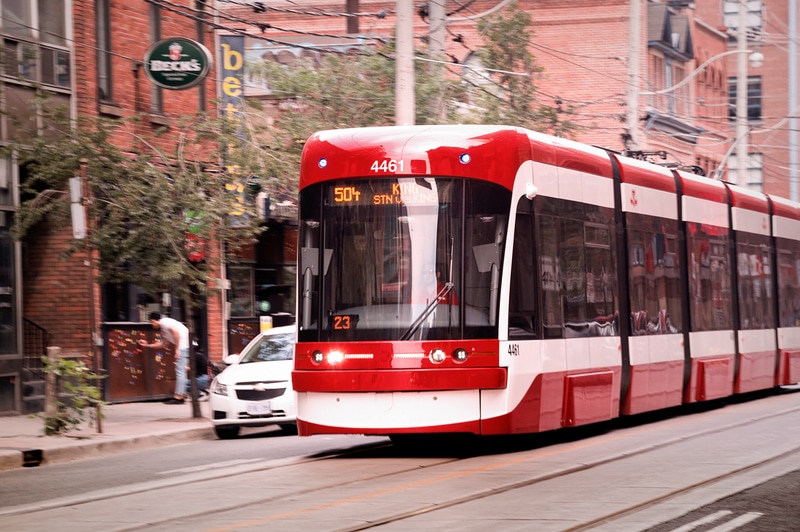 Article Highlights
Key Takeaway:
Canadian transit agencies are lagging behind other countries, especially those in Europe, in supporting open-loop payments. There are signs that this will change, but it could take several years. One advantage is that bank card fees are relatively low in Canada, especially for debit payments.
Key Data:
Table: Debit card fees-U.S. vs. Canada
Organizations Mentioned:
• Moneris
• TransLink (Vancouver)
• STL (Laval)
• Metrolinx (Toronto)
• TTC (Toronto)
• STM (Montréal)
• Lethbridge Transit
When it comes to open-loop payments, Canada has been lagging behind, acknowledges Pasquale Pizzi, senior vice president for Moneris, a major processor and acquirer in the country.
But he says interest is growing among transit agencies to enable their customers to tap their contactless debit and credit cards and NFC wallets to pay for fares on board buses and on other transport modes.
"We're at the tail end of this, meaning that other countries have adopted open payments a lot sooner than Canada has. But we're quite excited to see that over the coming years, open payments will become the norm in Canada in the collection of fares within the transit space," Pizzi, told Mobility Payments in an interview.
Canada has a long way to go to catch up, however, especially with countries in Europe. To date, only two to three transit agencies of any size have rolled out open loop, supporting mainly credit cards. That includes TransLink in Vancouver on its buses, metro, commuter trains and ferries; and Société de Transport de Laval, or STL, a transit operator that runs more than 360 buses serving Montreal's largest suburb. Neither agency promotes open loop over their respective closed-loop cards. And, so far, open loop makes up fewer than 2% of total trips for each agency.
In addition, BC Ferries, which runs 35 ferries in the province of British Columbia, also takes contactless credit and debit cards and wallets for fares or soon will.
Promising Developments
There are a couple of promising developments expected before the end of the year for open loop in Canada.
First, both TransLink and STL are planning to support debit payments with Interac Flash contactless cards and credentials for such mobile-payments services as Apple Pay and Google Pay, as Mobility Payments reported. Most Canadian consumers who pay with contactless at retail use Interac domestic debit, especially for low-value transactions.
Second, Toronto transit agency Metrolinx, which runs the large closed-loop Presto card program, said it plans to expand open-loop payment from its pilot on the UP Express airport line to other agencies that use Presto, including the major transit agency serving Canada's largest city, the Toronto Transit Commission, or TTC.
TTC operates Toronto's four-line subway, as well as buses and streetcars. A spokeswoman for Metrolinx told Mobility Payments that following its pilot, launched last year, on the UP Express, the agency is currently testing for the "next phase" of the open-loop rollout. This will include launching contactless credit and debit on GO Transit commuter rail and bus lines, which like UP Express, Metrolinx also operates. It will also include TTC.
The spokeswoman said the launches could start before the end of the year. The pressure is on for Metrolinx to launch the long-delayed open-loop services, with the agency and its main vendor Accenture, having failed to deliver in past years.
Metrolinx is moving to a more modular approach to contracting, and as Mobility Payments reported, one of its contract lots was going to be procurement of 5,000 new validators for bus and new light-rail lines for TTC. That is apparently off the table for now, as Metrolinx seeks to speed up the open-loop payments implementation by adapting existing Presto validators to also accept contactless credit and debit cards.
The Metrolinx spokeswoman did not confirm that the new open-loop launches planned for this year would be of significant size.
Few Other Major Projects Have Green Light
According to sources, other major transit agencies in Canada have no definite plans to move on open loop yet.
For example, there are no imminent plans for the other agencies serving Canada's second-largest city, Montréal, including Montréal Metro operator STM, to go out for tender for an open-loop system. The region's transit authority, ARTM, apparently is not ready to move.
Calgary, Canada's third largest city, which was late to roll out closed-loop payments, is also apparently holding back. An official with Calgary Transit did not respond to a request for comment from Mobility Payments on whether the agency has any timeline for rolling out contactless credit and debit payments.
One small agency planning to launch the service is Lethbridge Transit, which will equip its fleet of roughly 40 buses in the small Alberta provincial city next year, Mobility Payments has learned.
Moneris' Pizzi acknowledged that while there is a lot of interest, including among transit agencies that already have a contractual relationship with the acquirer, the prospective projects remain in the talking stage.
"I wouldn't say that we've seen a whole lot of RFPs at this point," he said. "What we've seen are a lot of RFIs, so there's a lot of requests for information right now. We're seeing a lot of questions. And a lot of our current transit agencies that are working with Moneris already are asking, 'how can we migrate from our current closed-loop services to open-loop payments?' "
The pandemic has slowed down rollouts of open loop and other projects, even as the virus has increased demand for more contactless payments options, he said.
"A lot of projects were put on pause while the ridership was not there," Pizzi said. "But with ridership levels coming back to the transit agencies, eventually these projects will continue and move forward. So investments will start to happen once the ridership starts to come back."
Statistics Canada's said "urban transit" networks in the country carried around 78.6 million riders in February 2022, the last month for which figures are available. That's an increase of more than 60% from February 2021, but is still only half of pre-pandemic levels.
Debit Popular for Low-Value Payments
Enabling Canada's most-used contactless payments method, Interac Flash, could also spur demand.
Moneris, which is the merchant acquirer for Metrolinx's UP Express open-loop pilot, will acquire both credit and debit card transactions for Metrolinx as it expands open loop to other agencies that accept Presto, said Pizzi.
He noted that, at present, Moneris is the only acquirer certified to accept Interac-branded debit fare payments. Besides Metrolinx, that includes STL in Laval and, it's believed, BC Ferries.
As Mobility Payments reported earlier, contactless payments are making up a growing share of transactions at retail stores in Canada, and debit is leading the way.
According to interbank association Payments Canada, 62% of contactless transactions were made with debit cards or card credentials in wallets in 2020, compared with 38% with credit. All contactless transactions–credit and debit combined–increased by 13% over 2019. That is attributed in large part to the pandemic, which has caused consumers to seek to avoid touching public surfaces.
"If they don't have access to credit, they may have access to a bank account, which would give them access to an Interac card," Pizzi said.
"Interac is a very popular form of payment in Canada."
Debit Card Fees 'Very Manageable'
Contactless retail payments are growing in the U.S. as well, and open-loop fare payments are seen as a prime market opportunity for low-value payments in both countries.
But while bank cards fees for transit agencies to accept open loop are high in the U.S., that's not the case for Canada, at least not by North American standards.
For credit, Visa and Mastercard have avoided Canadian federal government-imposed interchange caps by agreeing to limit interchange to an average of 1.4% of the transaction value, including for open-loop fare payments.
Regarding debit transactions fees, which are especially onerous for U.S. transit agencies because of the high fixed interchange on their low-value transactions, Interac fees in Canada are "very manageable," said Pizzi.
He added: "I'm not going to speak specifically about the U.S. and what the fees are because we understand that the banking network in the U.S. is a lot different than the network in Canada."
Debit, by far, is the most-used type of payments in the U.S. for low-value open-loop fare payments. Interchange rates set by payments networks, such as Visa, result in transit agencies and other merchants paying a fixed fee per transaction of US$0.21, plus $0.1 for fraud protection, along with a small variable rate of 0.05%. These debit interchange rates, charged to all merchants no matter the transaction amount, are forwarded to the card issuers.
By comparison, Interac's interchange rate for its Flash contactless application on debit cards is a fixed fee of CA$0.02 (US$0.015) per transaction for a range of low-ticket merchants, including transit agencies.
As Mobility Payments has reported, Visa in the U.S. is offering a lower interchange rate for debit transactions of US$5 or less targeting only transit agencies accepting open-loop payments. But besides limiting the interchange rate cut only to transactions of $5 or less, Visa also is believed not to have made the lower rate permanent and may be limiting it to certain geographies in the U.S.
In addition to interchange, transit agencies and other merchants, pay network assessment fees, which go to the payments brands themselves, and processing fees, which go to the acquirer.
For Interac debit, the network assessment fee is CA$0.00945, or just under 1 Canadian cent per transaction for Interac-branded contactless cards, and CA$0.025, or 2.5 cents, for Interac debit payments made with the network's credentials in NFC wallets for Apple Pay and Google Pay
Visa's network assessment fees for debit card transactions in the U.S. are 0.13% of transaction amount, plus a fixed fee of $0.0155 per transaction. That's about double the Interac rate for a transaction as low as US$2.50. The network assessment fee would be even higher for larger transactions, for example if a U.S. agency aggregated its fare transactions.
There is also a Base II System File fee of just under one-fifth of US$0.01 on all transactions and a small fixed charge based on total transaction value for the month, also for both credit and debit cards. And these network assessment fees would be higher for international credit or debit cards, transactions that don't follow scheme rules or requirements and transactions that involve multiple authorizations.
Finally, open-loop card fees include the acquirer's processing fee, which Moneris' Pizzi declined to reveal since, he said, it's the result of direct negotiations with transit agencies.
But, when asked, he said the per-transaction fee was lower than the US$0.03 per-transaction processing fee charged by U.S. acquirer Elavon for California agencies–part of a contract Elavon has with the state of California. It was also lower than the $0.014 per-transaction fee charged by another acquirer, Fiserv, also under a California state contract.
The lower bank card fees by themselves, however, likely won't spur many Canadian transit agencies to launch open loop. Transit agencies still have to maintain their separate closed-loop card programs, and they plan to continue to collect cash.
Pizzi, however, said he still believes the added convenience of open loop, among other benefits, will convince Canadian agencies to act.
"Will closed-loop programs disappear? Absolutely not," he said. "There will still be a use cases for closed-loop programs. But what we will see is closed-loop programs migrating over to open loop programs, where you still will be able to get your day pass or your monthly pass as an example, but use it within a contactless program."
© Mobility Payments and Forthwrite Media. Mobility Payments content is for individual use and cannot be copied or distributed without the express permission of the publisher.