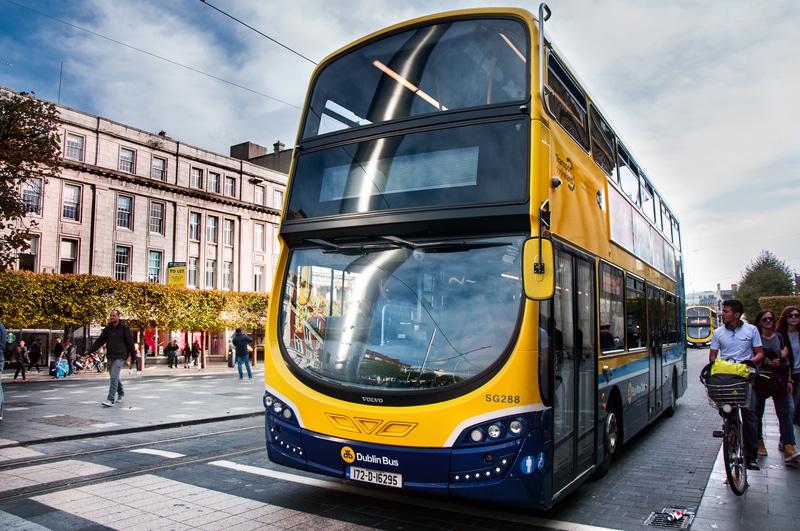 Article Highlights
Key Takeaway:
Ireland's National Transport Authority, or NTA, plans to award a contract for its long-awaited nationwide next-generation ticketing project by the fourth quarter of next year. That is at least a year behind schedule. The new system will support open-loop payments and integrate with MaaS, among other features.
Key Data:
• Chart: NTA-Ireland-costs-Leap-figures
• Chart: NTA-Ireland-ridership
Organizations Mentioned:
• NTA (Ireland)
• Cubic
Ireland's National Transport Authority, or NTA, plans to award a contract for its long-awaited nationwide next-generation ticketing project by the fourth quarter of next year, the agency has told Mobility Payments. That is at least a year behind schedule.
The agency plans to roll out an account-based ticketing system that will support open-loop payments and other fare-payments methods. It will encompass all modes of transport in Dublin and elsewhere in the country, including buses, rail, trams and a proposed metro line.
Barry Dorgan, NTA's head of transport technology systems, told Mobility Payments that the agency has shortlisted five vendor groups to submit bids on the project later this year, which he did not name.
The agency, in its prequalification document issued in September 2020, said it had wanted to award a contract under a framework agreement during the third quarter of this year.
Dorgan said the delays were due to the extra time it took to gain approval for a "preliminary business case" for the project. He added that when the agency does award a contract by the end of next year, it would like to roll out the technology "as soon as it is practical." He added, however:
"NTA does not have a detailed timetable, as that will depend on the plan proposed by the winning bidder."
The contract will include 10 years of operations of the fare system by the vendor group selected for the project. NTA estimated the project would cost between €260 million (US$278.4 million) and €440 million for capital costs. Operational costs would amount to between €800 million and €1.2 billion over the first 10 years. If extended for a second 10 years, NTA said in a 2020 tender document that the contract could be worth just under €2.8 billion in total.
Dorgan said those estimates were still accurate. He said the agency calls the contract a "single-party framework agreement" because it reserves the right to procure outside of the framework, if needed.
Nearly Half of Trips Taken on Dublin Bus
NTA recorded a total of 290.3 million trips on the various public transport modes it oversees in 2019, the last year before the pandemic. Nearly half of those trips, or 47.5%, were taken on Dublin Bus, a state-owned bus operator. The second highest number were on national rail operator Irish Rail, at 17.2%; followed closely by the Luas tram, at 16.6%; and Go Ahead bus at 4.8% of total rides. (See chart on this page).
NTA said it would enable the new ticketing system on buses first, then follow with other modes. The project will require the agency to purchase all new validators, though the total number is unclear.
In 2020, the Dublin Bus had a fleet of just under 1,000 buses and Go-Ahead Ireland had 140 buses. The agency might end up installing multiple validators on board each bus.
The validators for the buses and later, for other transport modes, would support contactless EMV cards, the closed-loop Leap Card and QR codes for mobile ticketing.
In a separate contract, NTA in April hired Cubic Transportation Systems to be the operations service provider for the TFI Leap Card scheme, in a 5-year contract valued at up to €71.5 million (US$76.7 million). This contract was also delayed.
Cubic already provides the mobile-ticketing system to NTA. The U.S.-based system integrator is expected to be one of the five bidders on the large next-generation ticketing project.
White-Label EMV
The Leap Card is accepted on all major transport modes in Ireland, and was used for 81.5 million trips last year, a slight decrease from 2020, and down sharply from the nearly 170 million trips taken with Leap in 2019. There were nearly 4 million valid Leap cards on issue last year. (See charts on this page.)
NTA said one of its plans is to migrate the Leap Card system into the new account-based ticketing system, making the Leap Card just another token on the system. The agency might create a digital version of the card, as well.
NTA in its tender documents also said it would provision white-label EMV physical and virtual cards as part of the new project. If it issues the cards, they would almost certainly replace the proprietary card technology used for Leap Cards today, which is believed to be Mifare DESFire.
NTA also said it would seek to enable mobility-as-a-service services with its planned account-based ticketing system. This would integrate the system with third party MaaS mobility providers or schemes.
And the agency said it plans to implement other emerging technologies for the new fare system, including accepting EMV cards that follow the cEMV model 3 specification. This would enable customers to prepurchase tickets or passes with their EMV cards, then tap the cards to ride. That would be in addition to open-loop payments that follow cEMV model 2, fare aggregation.
And the tender suggested the agency could introduce more innovative mobile-ticketing validation technology than QR codes. That could include enabling readers to use hands-free or nearly hands-free technologies to check in/check out or be in/be out of the ticketing apps.
© Mobility Payments and Forthwrite Media. Mobility Payments content is for individual use and cannot be copied or distributed without the express permission of the publisher.