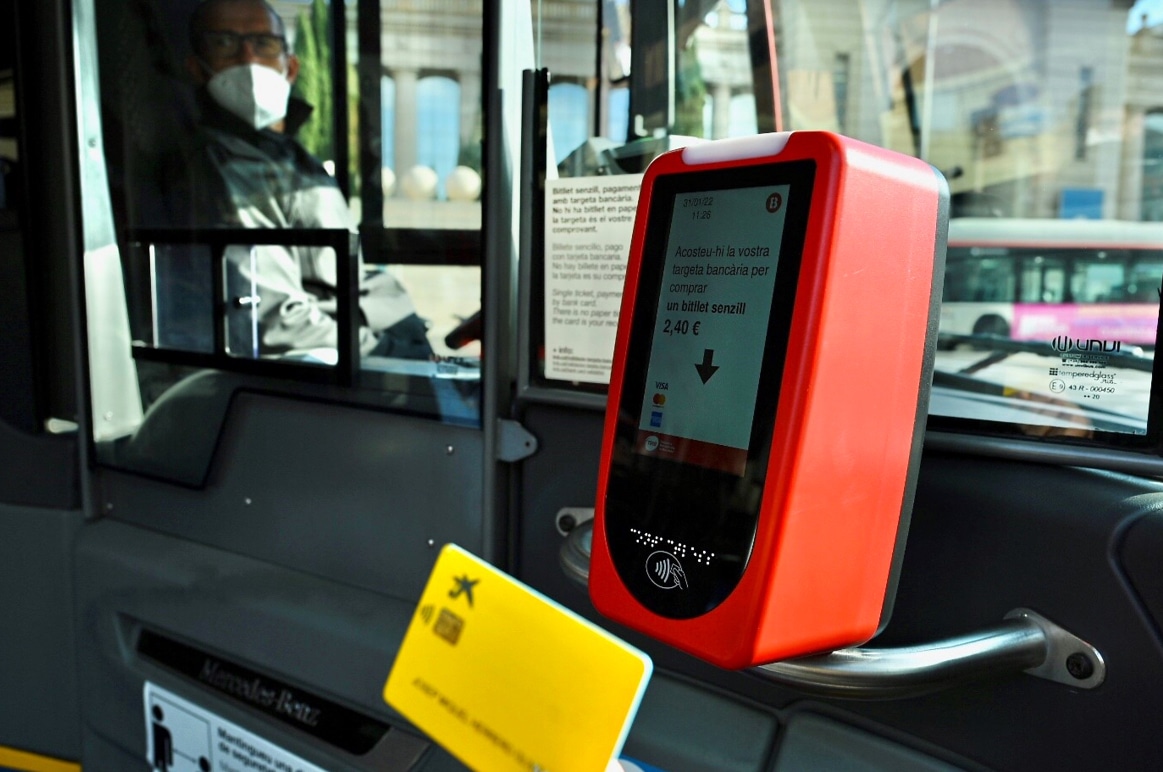 Article Highlights
Key Takeaway:
In what would be the largest project of its kind, ATM in Barcelona has issued an RFP for technology to help it to quickly roll out open-loop payments across the metro, train, bus and tram networks in and around Spain's second largest city. The agency seeks to modify its closed-loop terminals to accept bank cards by plugging in new secure-access modules, or SAMs.
Key Data:
The estimated €4 million (US$4.1 million) project would buy and install 15,500 "account-based ticketing secure-access modules," or "ABT SAMs," to support such credit and debit brands as Visa and Mastercard.
The Metropolitan Transport Authority, or ATM, in Barcelona has issued a request for proposal for technology to help it to quickly roll out open-loop payments across the metro, train, bus and tram networks in and around Spain's second largest city.
But the project doesn't call for deploying new validators and readers at gates, platforms and on board buses. Instead, the transit agency plans to modify the closed-loop contactless readers of its much-delayed closed-loop card program, T-mobilitat, or T-mobility.
The estimated €4 million (US$4.1 million) project would buy and install 15,500 "account-based ticketing secure-access modules," or "ABT SAMs," to support such credit and debit brands as Visa and Mastercard. The authority is targeting open loop mainly at the many tourists who visit Barcelona every year and other occasional users.
SAMs are microprocessor chips, usually in a smart card format, that can be plugged into card readers. They perform cryptographic operations for card authentication and can redirect a closed-loop transit terminal to read bank credit and debit cards or open-loop credentials in NFC wallets.
It would be the biggest project to date using SAMs to enable open-loop payments. The next largest project is being implemented now in Vancouver, Canada, where transit authority TransLink is using SAM technology to modify more than 5,000 closed-loop Compass card terminals to accept the Interac domestic debit application, as Mobility Payments reported.
The total cost of that project is an estimated CA$2.1 million (US$1.6 million), which includes purchase of the SAMs and recertification of the terminals and existing card brands, along with end-to-end compliance with EMV specifications.
The Vancouver transit authority already accepts contactless EMV credit and charge cards branded Visa, Mastercard and American Express and open-loop credentials in NFC wallets on the terminals. Brazil-based Planeta Informática is providing the SAMs, a technology it originally developed with Visa. There are already a handful of smaller SAM open-loop projects in operation in Latin America using Planeta SAMs. The vendor receives yearly licensing fees from agencies using its technology.
Planeta Informática head Artur Costa told Mobility Payments this week that he believes ATM's T-mobility closed-loop card uses a separate SAM in terminals, as well, which gives the agency some "hardware independency.
"And now they are asking to extend the solution to include EMV, also having a SAM as an enabler technology," he said. "In the case of Barcelona, it is very easy to do it since all the readers already have L1 (level 1) certification (from EMVCo)."
Update: Carme Fabregas, ATM's CTO and chief innovation officer, confirmed to Mobility Payments that it is procuring the SAMs for open-loop payments and can do so "because the contactless terminals installed (for) T-mobilitat already comply with the EMVCo L1 certification since their deployment."
She also confirmed that the current readers use a separate SAM to enable the T-mobilitat functionality. So the T-mobilitat terminals will have two SAMs. Those currently in operation have a "CBT" SAM, or card-based ticketing secure-access module, installed. "And the new SAM ABT (will) enable fare payments from EMV bank cards." End update.
Delayed Closed-Loop Program
Still, observers wonder why ATM Barcelona has decided to use SAM technology to retrofit its closed-loop terminals. Some suggest it might have something to do with the chronic delays and technical problems that have beset the T-mobility program for years.
ATM awarded the multimodal T-mobility card project in 2014 to a consortium headed by one of Spain's largest banks, Caixabank, along with Indra, Fujitsu and Marfina. At one point, the bank had reportedly threatened to withdraw financing for the project, apparently dissatisfied with how it was progressing.
Despite the tendering process beginning in October 2013, and the contract award a year later, pilots for T-mobility did not begin until the summer and into the fall of 2021.
And it's only been in the past several weeks to a few months that the T-mobility card has been accepted in 36 municipalities within the first two zones in metropolitan Barcelona. That includes gates of the Barcelona Metro and buses in the city, both run by Barcelona's largest transit operator, Metropolitan Transport of Barcelona, or TMB.
ATM only announced within the past two weeks that suburban and commuter trains extending just into the third zone also support the closed-loop card. Officials have reportedly estimated T-mobility won't cover all seven zones, as planned, until the end of this year or early in 2023. And the rollout to the entire Catalonia region won't be completed until 2024, according to forecasts.
As a result of the delays, most riders still use paper mag-stripe tickets and passes, instead of loading these tickets and passes onto the rechargeable contactless T-mobility cards.
"The transport network system (in Barcelona) is 20 years behind the curve," one fare industry observer said.
ATM offers a range of tickets and pass types, 25 in all, including specialized passes with discounts for youth, single-parent families and even for riders that have agreed to get rid of their private vehicles. Only seven of these passes can be loaded onto T-mobility cards. But that now includes two popular pass types, one the monthly "T-usual" multimodal pass, the other the "T-casual" 10-ride pass, which is also good for multimodal rides.
ATM has also added closed-loop functionality to its mobile app, including offering a virtual card that customers can load into the app on Android NFC phones. While Apple devices don't support a digital T-mobility card, users can top-up their physical T-mobility cards with passes by tapping them against the NFC interface on the back of iPhones, as well as Android phones. The physical T-mobility card costs €4.50, while the virtual version on Android only costs riders €1.
ATM Wants Quick Rollout
Besides the delays in the T-mobility rollout, Barcelona transit operators were also getting impatient for promised support for EMV payments, said another observer.
And this perhaps caused ATM to seek a fast, low-cost rollout option for open loop, using SAMs to modify the T-mobility terminals–which haven't been fully rolled out themselves.
ATM marked its open-loop RFP "urgent," and plans to use EU Covid relief funds to pay the €4 million cost, not counting VAT, of the SAM implementation. The estimated budget includes funds for staffing, certifications and the SAMs themselves.
Using SAMs not only could save time and money with the open-loop rollout, it could help ATM retain control of the project, said the observers. And it could allow ATM to save some face after the serious problems with the T-mobility rollout, one observer added.
Update: ATM's Fabregas told Mobility Payments in written comments that the agency marked the tender request urgent because the funding for the project under the REACT-EU program has short deadlines. She added that the agency has "long studied" the technical design of the open-loop project, including using separate SAMs, and has already verified it in-house as a proof-of-concept." She did not immediately respond to a request for an interview about the project. End update.
But there are trade-offs for ATM with the open-loop implementation using SAMs. The agency is not installing a full back office with an account-based ticketing (ABT) system that would cover both EMV cards and closed-loop T-mobility. So the latter will remain a card-based ticketing system, which requires fare calculation and fare changes to happen on the front end, with cards and terminals.
In addition, ATM will not be refreshing the rest of its fare-collection system. And without full account-based ticketing, it will be more difficult for the authority to build a mobility-as-a-service platform.
Barcelona transit operator TMB has already launched acceptance of cards and NFC credentials branded Visa, Mastercard and American Express payments on its 1,000 buses serving Barcelona, in January.
The payments are only good for single tickets at €2.40 apiece, giving customers another option for paying after the operator earlier eliminated cash acceptance on board buses, a first for Spain. But single-use tickets account for fewer than 2% of rides.
It's not clear how much help TMB received from ATM for this open-loop project. TMB didn't immediately respond to a request for comment.
How Open-Loop SAMs Work
As Mobility Payments has reported, for the purposes of transit payments, the secure-access module can give a legacy reader brand-specific open-loop payments functionality. It only requires a few extra lines of code on the validator to redirect the EMV tap to the right SAM slot.
In effect, the implementation intercepts the communication between the card and closed-loop terminal.
If a rider taps a closed-loop card that the validator recognizes, it will accept the card and begin the process of determining whether the customer has sufficient value or a ticket to ride–either stored on the card or in an account in the back office.
If the validator doesn't recognize the card or credential, it uses a special "virtualization library" that generates the APDUs necessary for the card and reader to communicate. This identifies the EMV card or credential and then begins the steps toward processing of the EMV transaction, provided the card isn't blacklisted. APDUs, or application protocol data units, is the language that EMV cards and credentials use to talk with readers.
Network specifications group EMVCo certifies readers to ensure they meet lower-level contactless and communication protocols when EMV cards or NFC-enable devices communicate with readers. This is known as level-1 certification.
Level-2 certification covers the payment application, with each network having its own contactless "kernel," such as one for Visa payWave. And level-3 certification ensures the entire system–from the reader through to the merchant acquirer–meets EMV specifications for functionality and security. When agencies add one or more SAMs to their readers, they need to get all new level-2 and level-3 certifications, while retaining the validity of their level-1 certifications.
ATM said in its tender request that it needs transaction times of 500 milliseconds or less for open loop, so it apparently believes the SAM technology can achieve this.
Planeta earlier said that if the transit agency doesn't want to support EMV payments, its SAMs, known as VSAMs, also could "virtualize" Mifare Classic into a more secure form of Mifare, such as DESFire, or even to a competing technology, such as Cipurse from the OSPT Alliance.
ATM is one of a relatively few transit agencies that have backed OSPT and its closed-loop technology. OSPT is merging with the Calypso Networks Association, promoter of Calypso closed-loop technology that is popular in Europe.
ATM in the past may have worked with SAMs for its closed-loop program, using a local vendor that supplies the technology, said a source. It's likely that any supplier of SAMs for the new ATM project would need a license from Planeta.
Tight Deadlines
Besides the deployment of the SAMs, ATM's open-loop service will require development of a back office, which, according to the RFP, will offer the "ultimate management of all information related to EMV bank cards."
That includes managing transaction logs, applying fare policy and calculating the best fare. The payments service provider, or PSP, usually has a hand in this, before sending the transactions on to the merchant acquirer. The latter would distribute revenue and commissions.
Also according to its RFP, ATM wants the winning vendor to hold a lab trial for up to one month starting by the end of January 2023.
Later next year, by October 2023, the agency requires field trials lasting at least two months.
These trials must test Visa- and Mastercard-branded cards on terminals for TMB operations, which would include the Barcelona Metro and presumably buses. It also wants the trials to cover FGC and Renfe commuter trains, as well as trams and other buses.
According to ATM's tender request, a "mass deployment" would follow even before the end of these field trials, starting around November of 2023.
This timeline offers little room for error. And given the fact that ATM Barcelona's rollout of the closed-loop T-mobility card will likely take more than another year to complete–around 10 years in all–it seems doubtful that the authority will hit its goal of 18 months from tendering to mass rollout of the open-loop payments service.
© Mobility Payments and Forthwrite Media. Mobility Payments content is for individual use and cannot be copied or distributed without the express permission of the publisher.