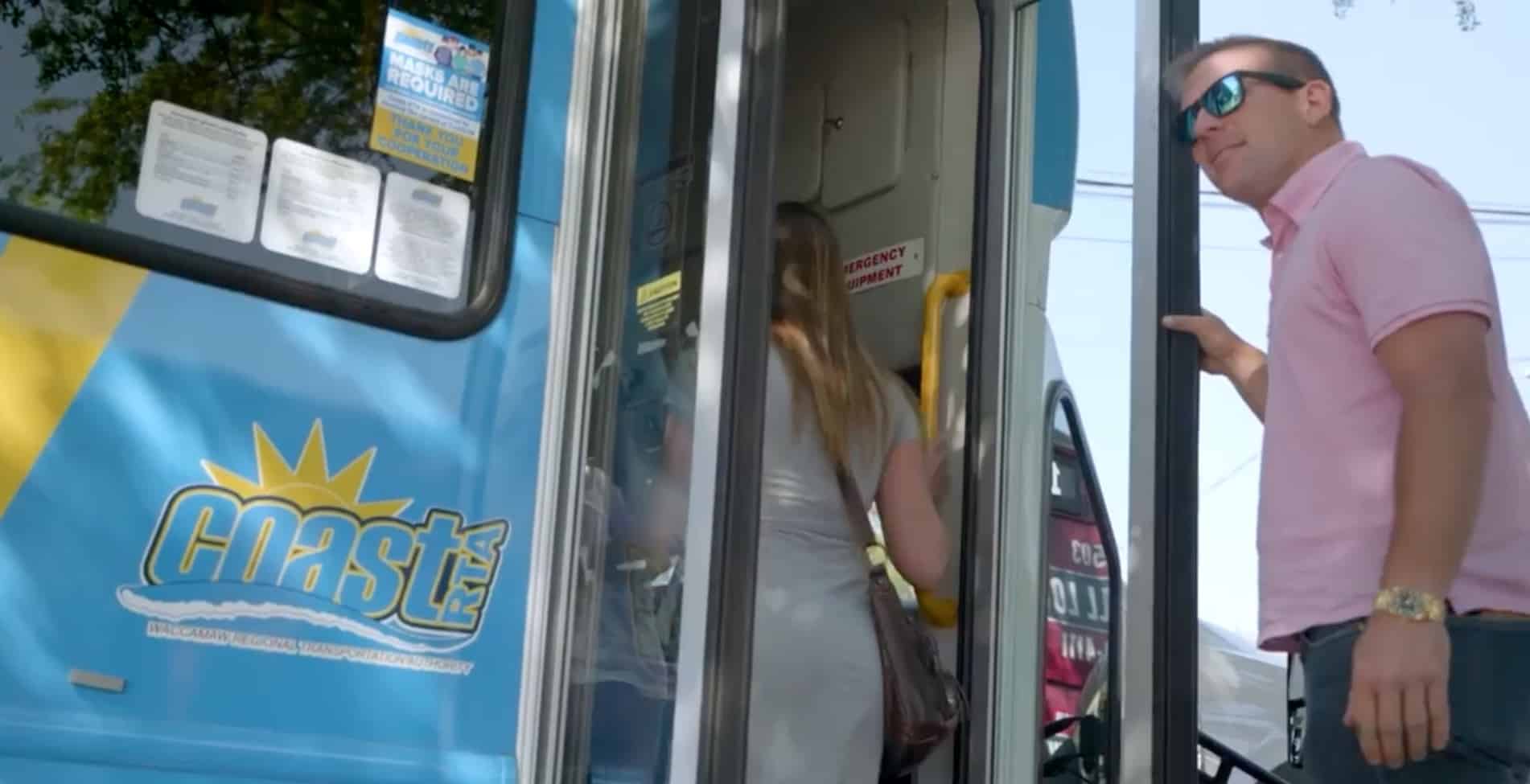 Article Highlights
Key Takeaway:
Despite significant costs for handling cash, very few transit agencies in the U.S. have eliminated cash from their fare-collection systems. But the head of one small bus agency in South Carolina, which recently launched open-loop payments, says he plans to try. He has a long way to go.
Key Data:
As Mobility Payments reported earlier this year, Visa quietly lowered interchange for regulated debit card transactions under $5. This is a card type that hits transit agencies especially hard because they must pay a fixed fee of $0.21 plus $0.01, or $0.22, on each of their low-value fare transactions.
Despite significant costs for handling cash, very few transit agencies in the U.S. have eliminated cash from their fare-collection systems. But the head of one small bus agency in South Carolina, which recently launched open-loop payments, says he plans to try.
Brian Piascik, CEO and general manager of the Waccamaw Regional Transportation Authority, known as Coast RTA, acknowledges his agency has a long way to go to eliminate cash from its buses. Cash made up 87% of all fare revenue for his 10 fixed bus routes and paratransit service during the first few weeks of October.
"The problem for it here is that it's all salaried individuals; I've even gotten in there a few times and counted ones (one-dollar bills)," he told Mobility Payments, referring to the agency's cash-handling operation. "We've just got better things that we could be doing."
Open-loop payments during the first 18 days of October averaged 13% of rides. That's a quick start for Coast RTA, which only launched acceptance of contactless credit and debit and card credentials in NFC wallets in late September.
The agency, which began collecting fares again in July, recently discontinued its non-reloadable mag-stripe card. This probably helped spur use of open loop by riders. Daily fare capping starting with the fourth ride paid for with bank cards or wallets likely helped, as well. And Coast RTA cut single fares by 50%, from $1.50 to $1, too.
Piascik hopes open loop will help him to completely reverse the ratio of cash acceptance to open-loop payments. He seeks to reduce the cash he takes in to 10% to 15% of total fare revenue before he goes cashless.
That will be a tall order, however.
For one thing, Piascik has to accommodate the roughly 10% of his riders who are unbanked. Coast RTA serves the resort community of Myrtle Beach and nearby coastal cities and towns in South Carolina and carries a lot of the resort workers, a population that surges during the summer.
Another challenge for Piascik is that he wants to avoid issuing fully reloadable closed-loop contactless cards because of the costs. Those costs include not only the price of the cards themselves and issuing them, but commissions of up to 5% charged by companies that run reload networks at popular retail chains in the U.S., such as 7-Eleven convenience stores and CVS pharmacies.
Yet, among the very few U.S. agencies that has rid its buses and other transit vehicles of cash acceptance is Greater Dayton RTA, which went cashless a year ago. Dayton accomplished the feat entirely with a closed-loop reloadable card, which it calls TAPP, along with two retail reload networks, InComm Payments and T-Cetra.
Agency Receives Lower Acquiring, Interchange Fees
Piascik said he guesses that costs to handle cash for Coast RTA will be "way more" than those for accepting open loop–although he has not done a formal cost analysis.
The agency will be getting somewhat of a break on one of the major costs for accepting open-loop payments–bank card fees.
As Mobility Payments reported in August, Coast RTA has the distinction of being the first agency outside of California to buy its open-loop payments technology through a program of the state of California, known as Cal-ITP. The program is designed to reduce costs and hassles for transit agencies, especially small ones, to procure open-loop technology.
In all, six vendors have contracts with the state to provide technology, mainly validators and "transit processing" services. That's in addition to two merchant acquirers that the state also contracts with, Elavon and Fiserv. Under the latter two contracts or master service agreements, only California state agencies, including transit agencies, qualify for lower rates from the acquirers.
Piascik, however, said Elavon agreed to give Coast RTA the same rate it offers to the California agencies, which is 3 cents per open-loop transaction. The rate includes gateway/processing fees from Visa-owned Cybersource.
Perhaps even more importantly, Piascik confirmed to Mobility Payments that his agency will also receive Visa's new interchange rate designated for public transit operators. It makes Coast RTA the first agency to confirm it is receiving the interchange rate outside of California.
As Mobility Payments reported earlier this year, Visa quietly lowered interchange for regulated debit card transactions under $5. This is a card type that hits transit agencies especially hard because they must pay a fixed fee of $0.21 plus $0.01, or $0.22, on each of their low-value fare transactions. It's also generally the most popular type of bank cards that riders tap to pay for transit fares.
The new mass transit interchange category, which actually began in the fall of 2021, reduces that $0.22 fixed fee to only $0.02 per transaction, while the variable fee increases slightly from .05% to 2%.
On low-value transactions, the rate reduction is significant and the interchange rate change could offer a substantial savings for U.S. agencies adopting open-loop payments.
Interchange generally accounts for more than 60% of total card fees for transit agencies in many markets, including California. And Visa-branded cards and credentials account for more than 80% of open-loop payments among the four to five agencies now supporting the technology in California (for pilots).
Neither Visa nor the California Integrated Travel Project (Cal-ITP), which is coordinating the state open-loop technology procurement program, responded to requests for comment or confirmation about Coast RTA receiving the lower interchange rate.
Of course, all the other interchange rates transit agencies (and other merchants) remain the same, so bank card fees U.S. agencies pay to accept open loop are still significant. Moreover, Visa is believed to have made its special interchange rate for transit agencies temporary. It's scheduled to be in effect for a total of three years, one agency head in California said earlier. And it's unclear if Visa will extend the rate.
Costs: Cash Versus Open Loop
Like many transit agency heads, Coast RTA's Piascik said he doesn't know exactly what his costs to handle cash are–though he plans to study it. He believes, however, they are high.
That's especially true given that small agencies, like Coast RTA, usually don't have a dedicated unit to count the cash they collect. And their fixed costs can't be spread over millions of dollars in receipts.
An industry figure on costs of cash handling for transit agencies in the U.S. is elusive, though some observers put it at up to 10% of cash fare revenue collected.
As Mobility Payments reported, a representative from U.S.-based fintech InComm, the largest provider of retail cash reload networks for fare cards, argued that if maintenance and other costs for ticket-vending machines, along with armored cars, insurance, shrinkage and the rest, are counted, the costs could easily reach 15% of cash collected. InComm charges commissions of 3.5% to 5%, which agencies have to pay when users reload value on their fare cards at retail locations in the InComm network.
Most U.S. transit agencies feel they can't eliminate cash, in part because they don't want to fall afoul of U.S. federal non-discrimination regulations. At the same time, if they launch open-loop payments, bank card fees can hit them hard.
On the high side, as Mobility Payments reported, TriMet in Portland, OR, has seen fees from accepting bank cards top 9% of open-loop revenue. That takes in interchange, acquiring/processing fees and network assessments. Acquiring statements from Elavon for California agency SacRT last December–on very small open-loop transaction volumes–showed the agency paid 9.2% of its open-loop revenue for bank card fees. The agency is piloting open loop through Cal-ITP.
Visa's lower interchange rate helped, with small bus agency Monterey-Salinas Transit–the first transit agency in California launching a pilot of open loop–reporting that it paid 5.7% of its open-loop revenue in total bank-card fees–interchange, acquiring/processing and network assessments–in February 2022. Both SacRT and Monterey-Salinas Transit use Elavon as acquirer and get the $0.03-per-transaction rate.
Larger agencies that can negotiate lower acquiring and processing fees and which regularly aggregate transactions to cut the impact of fixed fees, can see much lower percentages of bank card fees with open loop.
In addition, Monterey-Salinas Transit head Carl Sedoryk told Mobility Payments earlier this year that even with other interchange rates remaining the same, costs of open-loop payments stack up well against other methods of fare payments.
"As a comparison, we have estimated that our costs of supplies, repairs, labor, depreciation, etc., on our traditional farebox system that collects currency and issues closed-loops cards runs about 14% of each dollar collected, which is about average for the industry."
Not Enough 'Horsepower' to Attract Big Vendors
Coast RTA bought its validators from UK-based Kuba, which has a master service agreement through Cal-ITP. The agency only needed 44 validators–equipping the agency's 28 buses and 13 paratransit vehicles, plus a few units to spare. Kuba invoiced Coast RTA $52,000, which takes in the validators and related costs, probably including mounting poles.
All told, the agency has spent around $180,000 for its open-loop rollout, said Piascik, although a significant part of that is for wireless routers on buses that are not strictly needed to take open-loop payments.
The agency also agreed to hire Australia- and UK-based Littlepay as payments service provider (called "transit processor' in Cal-ITP parlance) and a sister company to Kuba in investment group ICM Mobility. Littlepay is believed to have set its fee rate at 2.25% of open-loop revenue collected. Among other things, Littlepay aggregates credit and debit card and NFC wallet taps, enabling Coast RTA to offer daily fare capping. This is benefitting around 10% of open-loop payments users so far.
Piascik said Littlepay was the first California-vetted vendor he talked to, then contacted Kuba and another Cal-ITP-approved validator supplier, India-based SC Soft last February. Both are pre-integrated with Littlepay. He told both validator suppliers that he wanted the units on a quick turnaround schedule of around four months, by June. Kuba was the only one that said it could meet the tight schedule, though did not deliver the validators until August, according to Piascik.
He said originally he was planning only to try to duplicate the procurement process Cal-ITP used, which actually was handled by the California Department of General Services. In talking with Cal-ITP head Gillian Gillett, she suggested Coast RTA buy through the Cal-ITP program, which the state had opened to all agencies in the U.S.
Piascik agreed to go through Cal-ITP, saying he had already tried to contact larger fare-collection system vendors but didn't hear back from most.
"I don't have the horsepower to get the INITs of the world to bid," Piascik said.
The U.S. branch of Germany-based INIT has projects with such U.S. transit agencies as those in Portland, OR; Houston and Seattle. But it also has contracts with California to supply both validators and transit processing, through Cal-ITP, though it is not believed to have received orders yet.
The head of INIT's U.S. branch could not immediately confirm a contact by Piascik. "I can only guess that it was a misunderstanding or anomaly. I'll dig deeper; shouldn't have happened," he said.
Accommodating Unbanked Riders
Coast RTA dropped the mag-stripe closed-loop cards it was using from its previous vendor Genfare. They weren't reloadable and with the humidity in South Carolina, the mag-stripe readers were sometimes malfunctioning, Piascik said.
At least a few customers have already complained about not having a closed-loop option, Despite this and his cashless goal, Piascik said he hesitates to procure reloadable closed-loop cards in addition to the open-loop payments infrastructure he's just rolled out. When asked if he'd consider using white-label EMV cards for closed loop, which can be used on the same open-loop readers he's already had installed–like New York's Metropolitan Transportation Authority has done with its closed-loop OMNY card–Piascik demurred.
"One, if I were MTA, and I could buy 2 million cards, I could get a reasonable rate on the cost per unit on the card," he said. "You know, when I'm ordering 10,000 of them in a system my size, that's not really cost effective. And then the second issue is, I don't have the number of outlets like MTA has where we can sell them (cards)."
But without closed-loop cards, Piascik has a problem to solve to accommodate his agency's unbanked riders. Cal-ITP proposes options like the Cash App, from the Fintech formerly known as Square. Users don't need a bank account to get a Cash app account, with which they can pay open-loop fares with a virtual Visa-branded card in wallets connected with Apple Pay or other NFC payments services. They could also use a Cash App physical Visa-branded card. But if users don't have a bank account, they'd have to pay significant fees to reload the Cash App at retail outlets.
Piascik said he's talked with a couple of local banks that have indicated they're willing to give people a no-fee debit account. That is only as a pilot. Yet, even if rolled out, it wouldn't solve the entire problem of low-income people not having or wanting to use bank cards.
"I don't know that there is a silver bullet," said Piascik. "It's probably going to be sort of a multisolution attack."
If he accomplishes his goal of going cashless, Coast RTA would also be able to avoid buying new fare boxes.
Coast RTA's fare boxes are 12 years old, and Piascik said he doesn't want to spend $10,000 or more per bus to replace them.
That is another reason he wants to get out of the cash-handling business. It's expensive, he said.
"So we're gonna try this out and see what happens."
© Mobility Payments and Forthwrite Media. Mobility Payments content is for individual use and cannot be copied or distributed without the express permission of the publisher.