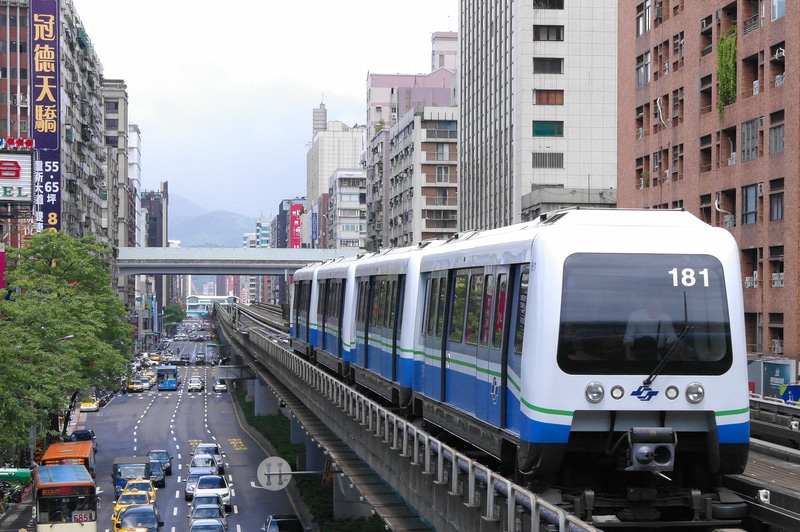 Article Highlights
Key Takeaway:
The Taipei Metro, a major transit operator in Asia, plans to launch open-loop payments around 2025, Mobility Payments has learned. Taipei has been one of a dwindling number of the large cities that have resisted adopting the fare-payments technology. The metro is seeking lower transaction fees from banks and payments companies when it launches the technology.
Key Data:
Chart: Taipei Metro ridership
The Taipei Metro, a major transit operator in Asia, plans to launch open-loop payments around 2025, Mobility Payments has learned. Taipei has been one of a dwindling number of the large cities that have resisted adopting the fare-payments technology.
Fare-system suppliers Thales RCS and Taipei-based MiTAC Information Technology, which worked together on Taiwan's dominant closed-loop fare card, EasyCard, will implement the open-loop service, Mobility Payments has learned. The project has not yet been announced.
Suppliers will roll out the service at more than 120 stations and likely on more than 1,500 gates on the six-line metro, which serves Taiwan's capital and adjoining New Taipei City. It will support such major credit card brands as Visa and Mastercard and NFC payments services Apple Pay and Google Wallet.
The city of Taipei, which owns controlling stakes in both the Taipei Metro and EasyCard Corp., had been hesitating to support bank card payments–probably in an effort to protect its valuable EasyCard business. The EasyCard e-purse is accepted widely throughout Taiwan, including at thousands of convenience stores and other merchant locations.
City officials were not available for comment. But one source, an open-loop payments backer, told Mobility Payments he believes officials decided to support the technology because they felt Taipei was being left behind by not offering the fare-payments option. Taiwanese consumers use contactless EMV payments for a very high percentage of retail transactions throughout Taiwan.
The officials also might see open loop as a way to further recover ridership following the pandemic, the source said.
Other Asian markets feature government-owned e-purse businesses, as well, but gradually they've agreed or been mandated to accept open loop as a fare-payments option. That includes in Singapore, Bangkok and more recently, Hong Kong. Tokyo Metro plans to test open-loop technology, but state-owned commuter railway JR East, parent of Japan's largest e-purse, Suica, still has no plans to accept open-loop fare payments, Mobility Payments has learned.
Will Open Loop Make a Difference in Taipei?
Despite the decision by Taipei officials to finally accept open loop, the technology appears destined to play a minor role in fare payments in the city for years to come after the launch.
For one thing, there are no plans, at least for now, to equip Taipei's bus network to also accept open loop. While smaller than the Taipei Metro, or MRT, public buses are a major mode of transport in and around the capital. A source told Mobility Payments that there are more technical hurdles to implementing the technology on buses than on the metro and control of the bus network is not as centralized.
More importantly, perhaps, are the alternatives to tapping credit and debit cards and NFC wallets to pay for fares in Taiwan.
Besides EasyCard, there are at least two other e-purses that riders can use in Taipei and elsewhere in Taiwan. There are also QR code-based payments services that the new or upgraded validators for the Taipei MRT are also expected to support.
There is also an increasingly popular monthly transit pass in Taiwan called TPASS. The program–heavily subsidized by the central government–offers unlimited travel on the country's metros, local and intercity buses and even on the national railway.
The government sold nearly 1.3 million of the passes in Taiwan in just two months, July and August, after launching the program July 1 in major cities and most counties. Riders can buy a separate TPASS card or load the pass onto their existing EasyCards or other closed-loop e-purse cards.
The subsidized prices, which top out at NT$1,200 (US$37.58) per month in Taipei and surrounding areas of Northern Taiwan–can cut monthly commuter costs by up to half.
"You can see many passengers buy the TPASS, and also ridership for each mode has increased," Yen-po Chen, a deputy minister for Taiwan's Ministry of Transportation and Communications, told Mobility Payments. He spoke at this week's Mobility Payments Asia Pacific conference in Taipei, organized by payments and identity industry association APSCA.
Chen added: "Our ministry will continue to support this project."
Just how long the national government will pay the generous subsidies has been a key question for market observers. Some in Taiwan have expressed doubts that the government will continue fund TPASS past 2025.
The government has said it will spend a whopping NT$20 billion (US$626.5 million) on the project over three years–from 2023 through 2025. This has prompted many observers in Taiwan to speculate that the outlay is intended to help the ruling Democratic Progressive Party win more votes in the upcoming presidential election in January.
Chen, when asked for comment by Mobility Payments, denied that the party is using TPASS to score political points. He then declined to answer any more questions.
If the national government continues to fund TPASS after 2025, it could cut into potential use of open-loop payments on the Taipei Metro by regular riders. One Taiwanese transit industry observer said he believes the government will continue to fund TPASS at least through 2030. This would make it even more likely that open-loop payments will be used largely by visitors and occasional riders.
That is the fate of the little-used open-loop service launched in January 2019 by the Kaohsiung MRT, which serves Taiwan's third-largest city. The MRT accepts five payments brands on both physical cards and in NFC wallets–Visa, Mastercard, UnionPay, JCB and American Express. It also accepts an QR code-based wallet from UnionPay and another one from messaging app Line. But open-loop adoption has been estimated to make up only 3% of trips, likely only of full-fare single trips.
Dr. Chien-pang Liu, deputy director-general of Kaohsiung city's Transportation Bureau, who also spoke at the conference, told Mobility Payments he believes one reason for the low take-up is that the Kaohsiung MRT charges 15% more when customers tap a credit card than when they pay with EasyCard or two other e-purses the operator accepts, iPASS and icash.
Seeking Lower Interchange Fees
Sources say Taipei Metro has yet to reveal whether it plans to price bank card payments at a premium. But the transit operator has made it clear in one or more procurement documents that it wants lower transaction fees than acquirers generally charge merchants in Taiwan.
A source told Mobility Payments that the Taipei Metro is insisting that it pay the same commission fee that it now does to accept EasyCard and other e-purses. That is believed to be 1% of the transaction amount. But banks in Taiwan charge fees of at least 1.8% to accept open-loop cards at stores and restaurants, said the source.
The source said there have been talks with banks and payments companies about lowering the open-loop fee, which includes interchange. One possibility is that a payments network, such as Mastercard, would fund the difference between the e-purse rate and regular merchant rate, or perhaps pay for the entire transaction fee–at least for a period of time.
Mastercard, like Visa, have quietly paid for parts of open-loop projects in many other cities, and not only the transaction fees. In fact, Mastercard is believed to have provided funds for Kaohsiung MRT's open-loop service when it launched nearly five years ago. One source said riders got free fares for six months after the MRT launched the service. In return, Mastercard promoted its brand at turnstiles and also enjoyed an exclusivity period for acceptance of cards and wallet credentials carrying its brand.
It remains to be seen what promotions Taipei Metro will be able to offer when it launches open-loop payments in the next two years or so.
However, with EasyCard accounting for a large majority of Taipei Metro fare payments for years, and now with riders able to reap substantial discounts by using TPASS, the prospects for broad use of open-loop payments by riders in Taipei look dim.
© Mobility Payments and Forthwrite Media. Mobility Payments content is for individual use and cannot be copied or distributed without the express permission of the publisher.