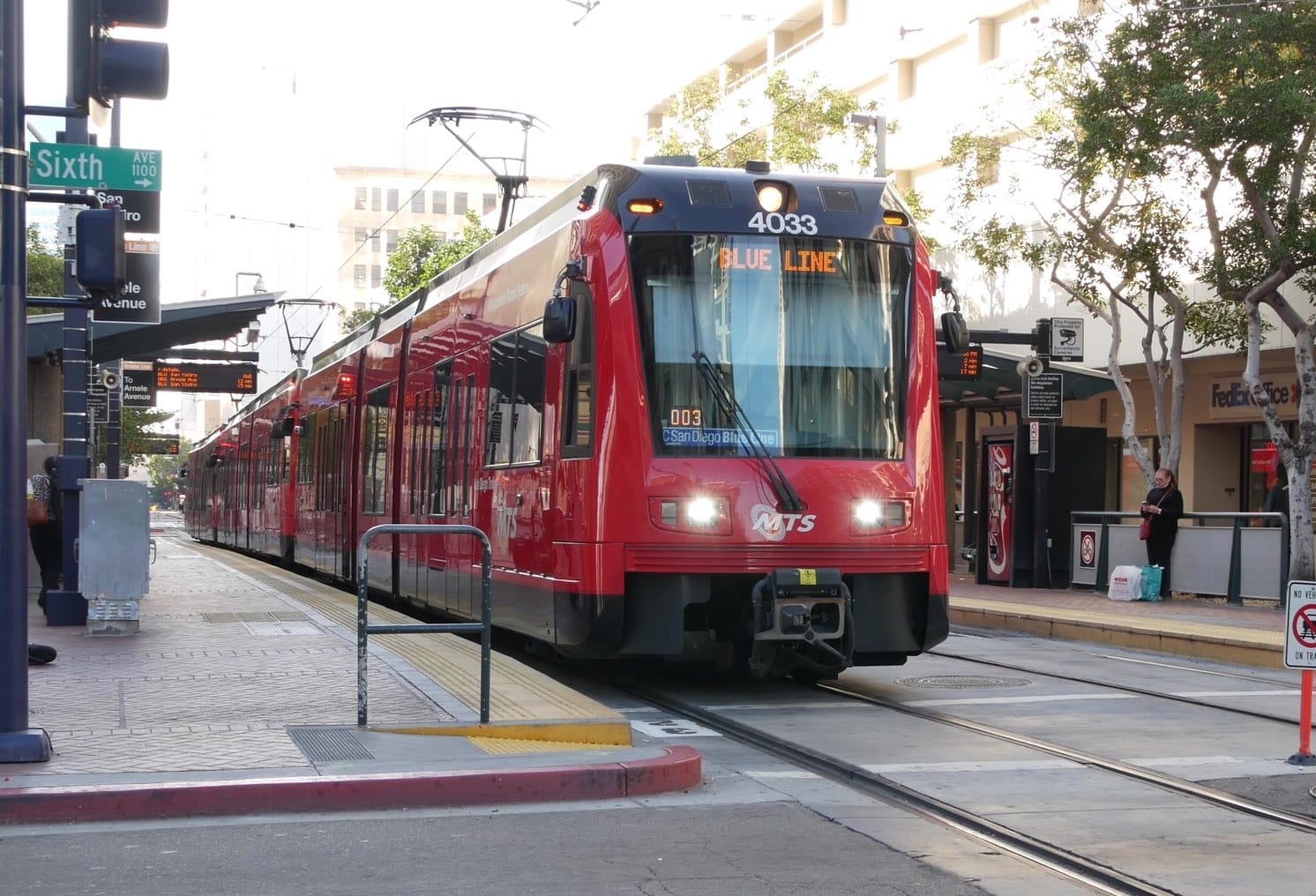 Article Highlights
Key Takeaway:
The San Diego Metropolitan Transit System and a smaller affiliated transit agency are planning to introduce open-loop payments in April–deep in the heart of car-centric Southern California. MTS will offer open loop as a single-ride option to its much-used closed-loop Pronto card.
Key Data:
• Document: INIT Pricing for open-loop add-on
• Document: Bids in 2018 for MTS' ABT fare system
Organizations Mentioned:
• MTS (San Diego)
• INIT
• Cubic
• Conduent
• Scheidt & Bachmann
The San Diego Metropolitan Transit System, or MTS, and a smaller affiliated transit agency are planning to introduce open-loop payments in April–deep in the heart of car-centric Southern California.
The open-loop rollout is part of an account-based fare system, which MTS and its main vendor, Germany-based INIT, began rolling out a little less than five years ago. The agency introduced the new closed-loop part of the system, called Pronto, in September 2021, replacing the previous Compass Card program operated for many years by U.S.-based Cubic Transportation Systems.
The MTS waited two years before giving the green light to implement the final parts of the open-loop system. The agency's board last week approved $1.2 million for the project, including INIT extending its back office to handle open-loop payments and the vendor providing 10 years of software maintenance on around 1,000 validators on board buses and trolley platforms. (See MTS board document on INIT's pricing for the open-loop add-on.)
The $1.2 million is part of a total $44.7 million that the MTS board has so far authorized on INIT's 2018 contract. The validators were already equipped with EMV–enabled readers when they were rolled out for Pronto. They are believed to have since been certified to full EMVCo specifications, including level 3.
INIT beat out three other vendors, which had bid on the original contract: Cubic, Conduent and Scheidt & Bachmann. While Conduent submitted a lower overall bid thanks to the cheap operational and maintenance costs it proposed, MTS deemed this part of the bid not viable. (See MTS board document with 2018 bids results).
MTS originally approved the INIT contract for a total $37.7 million in 2018–mainly for capital costs at $23.2 million and 10 years of operational and maintenance at just over $11 million. Change orders and add-ons, including the open-loop project, have brought the contract amount to $44.7 million, not counting another $2.1 million in possible options.
The North County Transit District, which provides bus and rail service to Northern San Diego County, participates in the Pronto program and will introduce open loop next spring, as well. NCTD is believed to have earlier purchased around 200 validators from INIT in a separate deal.
Waiting for Right Time
Israel Maldonado, head of fare technology and operations for MTS, said that the closed-loop part of the system was implemented in 33 months, which he noted was fast considering that the agency was changing vendors as it rolled out a new fare system.
He told Mobility Payments that MTS then waited until the "time was right" to execute the open-loop option. That included getting the typical kinks out of a new closed-loop fare system and ensuring there was enough contactless adoption at retail in the region for consumers to have gotten accustomed to tapping to pay with their credit and debit cards and NFC wallets. Some community groups and individuals had also exerted pressure on the MTS board to move forward on open loop.
But MTS so far has only approved phase one of the open-loop service. This means customers can only tap their bank cards and wallets for one-way adult single fares with free transfers for two hours. Also, phase one will enable inspectors to validate EMV fare payments with 25 handheld devices, likely on MTS trolleys, or trams.
"Phase one is exactly that, for the infrequent rider or those riders that only attend special events," Maldonado told Mobility Payments. "It definitely can help expedite the ingress to events, dispersing the crowd after, without having to go to a ticket-vending machine or download the app. You can just tap your credit card and go."
Phase two would add daily and monthly fare caps and also support concessionary discounts with open loop.
MTS already offers daily fare capping with closed-loop Pronto. In addition, users can load prepaid monthly passes on their Pronto cards, and they can tap Pronto photo cards to receive their concessions. The agency is planning to put a virtual Pronto card into wallets from Google, Samsung and, according to the plan, Apple.
MTS: Open Loop Not Ready for Concessions
Maldonado acknowledged, however, that there is no definite timeline for when a second phase will happen.
He was confident the agency will add daily fare capping to open loop, and perhaps monthly capping. But it's not clear yet when the technology will be ready to support discounts for seniors, disabled persons, military veterans and other concessions the agency offers, he said.
MTS along with North County Transit met with INIT, payments processor and acquirer Chase and payments gateway NMI in "several workshops" to discuss a "minimal-viable product" for the open-loop implementation. One or more representatives of the California Integrated Travel Project, or Cal-ITP, also attended the meeting.
Cal-ITP, a state-backed program that helps transit agencies in California and beyond procure open-loop technology, was there at least in part to talk about its solution to enroll riders in concessionary programs and apply discounts they are eligible for when the riders tap their credit or debit cards.
Maldonado said he came away from the meetings and from other research and observations doubting that a viable system for establishing eligibility for discounts and applying them at the terminal would be ready anytime soon. Among the problems are that the system Cal-ITP is proposing would be overly complex for many seniors, which is the first group Cal-ITP has enabled with a pilot. There is also a lack of support so far for other groups entitled to discounts, such a veterans, he said. The latter problem would require MTS to integrate with multiple platforms and databases.
Most agencies accepting open-loop payments are having trouble enabling the discounts with bank cards and wallets or don't believe it's necessary.
"Again, in five years, I do believe things will change," Maldonado said. "I do believe there will be easier integration. Those portals will be refined. But at the moment, it just seemed way more complex for the benefit.
"And by the way, those customers are still being served well today with the closed-loop component," he added. "So it didn't make a lot of sense to put that as part of that first phase, because it would significantly delay the entire (open-loop) project."
Lofty Transaction Fees Expected
Like other transit agencies in the U.S. supporting open loop, MTS will likely have to pay high transaction fees as compared with agencies in other markets, especially Europe.
There is currently no cap on interchange that banks in the U.S. can charge merchants on credit card transactions. Most debit card fees are capped at a fixed fee of $0.21 per transaction, with an additional $0.01 allowed for fraud protection, plus a small variable fee of .05%. Debit cards are the most-used payments type for low-value contactless transactions.
The fixed debit fee does not amount to much on larger purchases, but on a $2.50 fare, which is what MTS charges for a single ride, it makes up nearly 10%. That's not including acquiring or network assessment fees. By comparison, regulations cap interchange fees in most of Europe at 0.2% for debit and 0.3% for credit for all merchants, including transit agencies.
While MTS' fare system is likely equipped to handle fare aggregation, which could lessen the impact of fixed merchant service fees, Maldonado doesn't know whether MTS will aggregate transactions during phase one. If the agency doesn't, it would have to pay the merchant fees on each $2.50 transaction. That does not include the fees NMI will charge to handle transactions as the payments gateway.
He also didn't know if MTS would fall under a special interchange rate that Visa is provisionally offering to U.S. transit agencies on most debit transactions under $5.
As Mobility Payments has reported, Visa agreed to drop the fixed interchange fee on fares paid for with regulated debit cards from $0.21 down to $0.02 per transaction, while the variable fee would increase from .05% to 2%. This substantially cuts interchange fees on very low-value transactions. But the offer, begun just under two years ago, is believed to be temporary, lasting for a total of three years. Visa does not talk publicly about the offer, including to say whether it would renew it. The offer might also be limited geographically in the U.S.
Maldonado said his agency now pays total transaction fees of $0.041 on every dollar when customers pay with credit or debit cards online, for example to top up their closed-loop Pronto cards. That's a 4.1% rate.
He didn't immediately provide more details, except to say the average online top-up of Pronto accounts is $10 or $11. This larger transaction amount may be why the merchant fees are 4.1% and not higher.
This fee would include interchange, acquiring and network assessment fees, all billed by Chase. It's not clear whether it would include any gateway fees from NMI.
For single-fare transactions of $2.50, the merchant service fees would obviously be higher.
"Credit card fees are just, 'it is what it is,' to use that unfortunate term," Maldonado said. "As we get the real data and the real charges, then we'll have a better idea so that we can compare the cost of the open-payment fees versus the traditional credit card fees."
Banks in the U.S. also have not agreed to share the first-ride risk with transit agencies, as they do in such countries as the UK. This leaves U.S. agencies, like MTS, on the hook if they have a problem collecting a fare–for example, if a rider had used a fraudulent card or one whose account had insufficient funds. The card would be blacklisted at the terminal, but only after the first ride.
High Share of Unbanked Riders
Meanwhile, although San Diego is the eighth largest city in the U.S. by population, it's not a dense city. This is one reason the vast majority of commuters drive cars. Only 3.5% of residents took public transit, according to a report released by the city of San Diego in late 2016. That is even lower than the rate of public transit ridership, 5.2%, in the U.S. as a whole. Moreover, in many, if not most, of these U.S. cities, probably including San Diego, the rate of public transit ridership is probably lower today following the pandemic. That's because the pandemic caused even more commuters to drive to work or to work remotely at home.
MTS' ridership is 87% of pre-Covid levels, Maldonado said. The agency delivered just under 65 million rides in 2022.
Public transit riders in the San Diego typically also earn less than those in many other cities, with a median income of only $21,000 per year in 2016, according to the city report. That was only a little more than half the median income of commuters who took their cars to work in the metro area.
While income is no doubt higher today, it means that a high percentage of MTS' riders are low-income and many of these riders are no doubt unbanked or underbanked. These riders either don't have bank cards or don't want to use them because of fees.
The percentage of unbanked and underbanked riders for MTS was not immediately available, but the combined rate in California is more than 25%, according to Cal-ITP. Backers of the state program have proposed fintech options to try to accommodate these riders, who they say could use open-loop cards or wallet credentials without having to deal with traditional banks. One such option is the Cash App from Block, the company formerly known as Square. But this likely won't solve the problem of how most agencies could serve their bank-wary riders with open loop.
MTS appears resigned to the fact it will have to accommodate these riders with its closed-loop card. The cash-toting customers can top up Pronto at 170 "points of contact," including ticket-vending machines and MTS customer service centers. Another 175 participating retailers accept cash for top-ups, as well.
The closed-loop card and to a much lesser extent, MTS' mobile app, have helped reduce cash usage by riders on board buses to only 6% to 7%. That's down by half over four years, thanks to policies that promote use of Pronto over cash. Riders get a free two-hour transfer if they use Pronto–the same as they will with open loop. But each fare paid into the cash fare box is good only for one-way rides.
Despite its reduction of cash usage on board buses, MTS is not pursuing the goal of eliminating cash altogether. And given the demographics of its customer base, open loop probably wouldn't help it achieve this goal in any case.
"I don't think we will ever be able to get to zero, unfortunately," Maldonado said. "I just I don't see that happening."
© Mobility Payments and Forthwrite Media. Mobility Payments content is for individual use and cannot be copied or distributed without the express permission of the publisher.