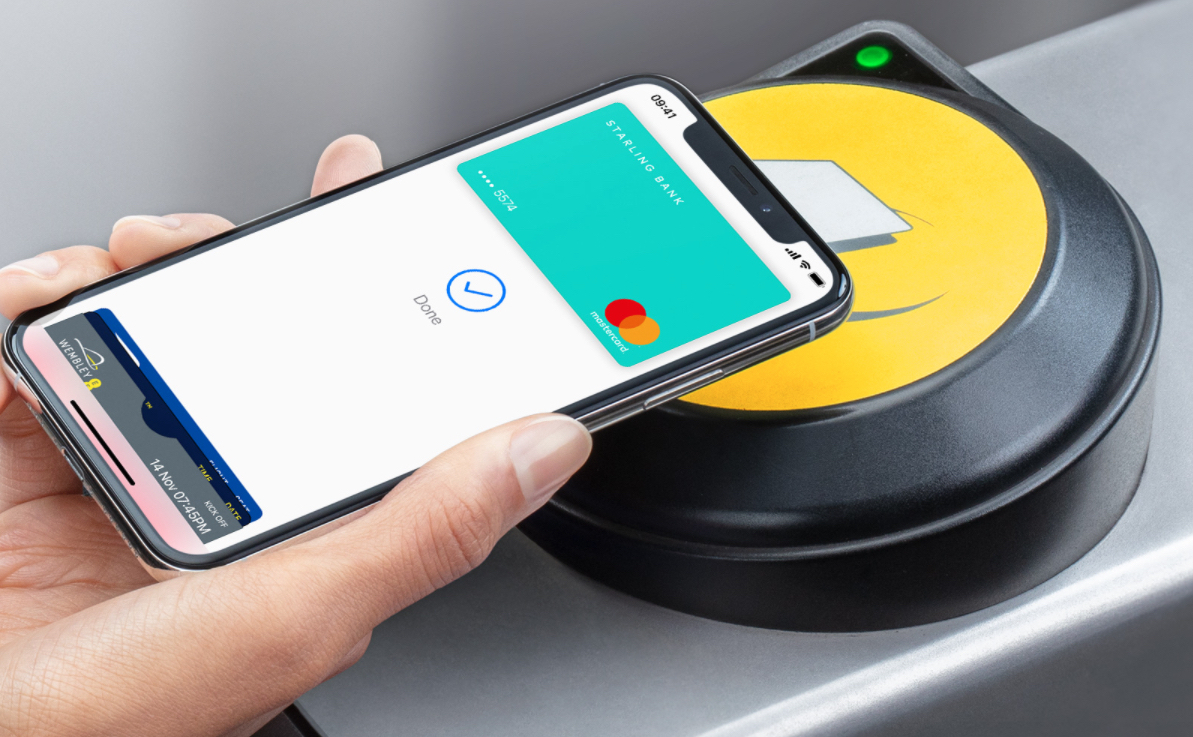 Article Highlights
Key Takeaway:
NFC mobile wallets are making up a growing percentage of contactless EMV fare payments for those transit agencies that have introduced the technology.
Key Data:
NFC mobile wallets, such as Apple Pay and Google Pay made up 20% of contactless EMV fare payments as of October 2019, Transport for London confirmed.
Organizations Mentioned:
• Transport for London
• Apple
• Transport for Greater Manchester
• TriMet
(This premium article was originally published in October 2019. © Mobility Payments and Forthwrite Media.)
Use of NFC wallets continues to steadily increase as part of Transport for London's landmark contactless payments service, with payments from NFC-enabled smartphones and smartwatches now accounting for 20% of all contactless payments, NFC Times has learned.
While contactless EMV credit and debit cards still make up the bulk of contactless fare payments, the growing share for NFC devices linked to mobile wallets is significant. Transport for London's open-loop contactless payments service is by far the largest in the world, so trends in usage are watched closely by the industry.
The transit authority, responding today to a freedom of information request from Mobility Payments and NFC Times editor Dan Balaban, confirmed that transactions using "mobile and other noncard devices" made up 20% of all contactless payments.
That is up from earlier this year. As Mobility Payments sister publication NFC Times reported in August, according to a report released last June by banking and payments group UK Finance, NFC wallets accounted for 16% of contactless journeys, with the rest coming from EMV cards. That percentage was based on information from Transport for London.
Transport for London hasn't actually announced a figure for payments from NFC wallets since April 2018, when it said NFC devices made up one in every eight contactless transactions, or around 12.5% of contactless payments for the London Underground, buses and other transit modes. A year earlier, the authority had announced that NFC devices accounted for 10% of contactless transactions.
So use of NFC smarphones and wearables for fare payments has doubled in a little more than two years as a percentage of contactless transit payments in London.
Transport for London first began accepting EMV contactless bank cards and card credentials in NFC wallets for payment of fares on London buses in late 2012. It expanded the open-loop payments service to other modes of transport, including the large subway system, the Underground, in September 2014.
At 20% of contactless transit payments today from devices linked to NFC wallets, it means that it has taken five years for customers to become more comfortable tapping their NFC phones and wearables to pay fares.
Riders can pay with such NFC payments services as Apple Pay, Google Pay and Samsung Pay, using either smartphones and smartwatches, since nearly all major banks support these Pays wallets. Customers with such wearables-only payments services as Fitbit Pay also can pay for transit fares in London.
Users of Apple Pay have been able to pay for fares in London since the payments service launched in the UK in 2015, though Apple has not yet enabled "Express Transit" in London, as it has for transit payments in Japan, the Chinese cities of Beijing and Shanghai, and New York and Portland, Ore., in the U.S. The service enables riders to tap to pay with their NFC devices without authenticating themselves. Apple is expected to eventually extend Express Transit to London.
Before Apple Pay launched in the UK, at least one or two SIM-based NFC wallets could be used to pay fares on London buses and trains, although these wallets were used little.
The 20% of contactless transactions from NFC devices that Transport for London is reporting, is slightly larger than the percentage of fare payments that some other transit authorities that accept NFC mobile wallets are reporting.
For example, elsewhere in the UK, a spokesman for Transport for Greater Manchester told NFC Times in August that four weeks after launching its contactless service, trips paid for with NFC smartphones accounted for 17.4% of total contactless journeys, while wearables made up another 0.4%. Contactless bank cards accounted for the remaining 82.2%.
Those percentages have held up, with the spokesman telling NFC Times that between Sept. 1 and Oct. 27, NFC smartphones and wearables accounted for 18% of contactless payments, with cards making up the rest.
In the U.S., New York's Metropolitan Transportation Authority in August, in touting its one millionth ride paid for with its still limited OMNY open-loop payments rollout, said payments from NFC wallets made up a whopping 80% of those first 1 million transactions. But that figure is misleading since U.S. banks only began rolling out contactless bank cards in significant numbers this year, so most OMNY users would only have NFC wallets available to tap to pay for rides.
In the U.S., while it's difficult to get meaningful figures on NFC wallet usage for transit payments, comparing wallet usage to closed-loop contactless transit cards provides a better measure than comparing it to open-loop contactless EMV cards.
One place to look is in Portland, Ore., where both Google and Apple enabled the closed-loop Hop Fastpass contactless card application from transit authority TriMet to be loaded onto the Google Pay and Apple Pay wallets, respectively, this past spring. Google added Hop in April, while Apple enabled the application in May.
Transit authority TriMet in August said it was seeing 11% of fares paid with Hop from these two NFC wallets, compared with 91% from Hop Fastpass cards, a spokeswoman told NFC Times. Hop cards have been rolled out widely and account for more than 40% of total fare payments for TriMet.
Of course, even with Transport for London's estimated 20% of contactless transactions from NFC-enabled smartphones and wearables, it's important to keep the number in perspective.
Contactless payments has taken off in London, accounting for 52% of all pay-as-you-go fare payments on the London Underground during the 2018-19 fiscal year, with closed-loop Oyster cards making up the rest. Contactless payments is at or near the 50% for pay-as-you-go fares on buses.
But pay as you go itself makes up only around 60% of total payments on the Underground, and much less on buses, with the rest mainly coming from Oyster season tickets, Oyster Freedom Pass and day tickets.
It means that contactless payments–mainly credit and debit cards–made up 32.2% of total fare payments on the Underground during the last fiscal year. And so mobile contactless amounted to just 6% of total payments on the Underground and less on buses and other modes of transit.
So while use of NFC wallets to pay for fares on London transit is definitely growing, it will likely be a long time before customers are routinely tapping their smartphones or smartwatches to ride.
© Mobility Payments and Forthwrite Media. Mobility Payments content is for individual use and cannot be copied or distributed without the express permission of the publisher.