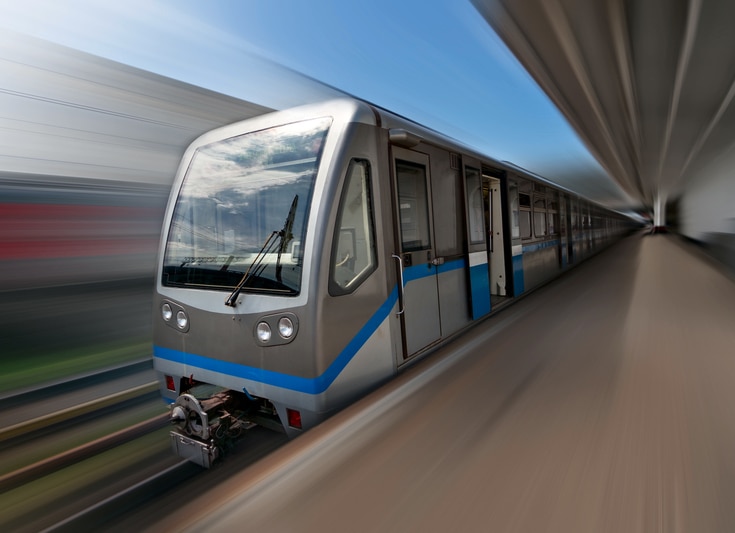 Article Highlights
Key Takeaway:
Moscow Metro has been testing facial recognition technology to enable customers to pay fares and plans to roll out the technology by year's end. That is despite the fact that tests have shown masks can sometimes increase verification times significantly.
Key Data:
The Face Pay system takes one to two seconds to recognize the passenger and about two more seconds to make the payment and open the turnstile. However, if users are wearing a mask, it can increase the time it takes to recognize the user to three or four seconds. That five- to six-second total transaction time compares with 800 milliseconds for users of the agency's closed-loop Troika card.
Organizations Mentioned:
• Moscow Metro
• Guiyang Urban Rail
• São Paulo Metro
Moscow Metro announced that it is officially testing facial recognition-based fare payments at turnstiles, with plans to roll out the technology by the end of the year.
But while the giant subway system said last week it would lift its Covid requirements that passengers wear gloves on the metro, it is not removing its mask mandates. This could slow verification times for facial recognition, a Moscow Metro transit official acknowledged recently.
The transit agency announced Saturday that it has begun to test its Face Pay facial recognition system at turnstiles with 1,000 passengers on one of its dozen metro lines. The trial follows testing with Metro employees, which the agency says has resulted in more than 1 million successful Face Pay transactions.
"We will gradually connect all lines to the test and increase the focus group, and by the end of the year the service will be available at all stations," said Maxim Liksutov, deputy Moscow mayor in charge of the transport, said in a statement.
This week's announcement follows statements by Roman Latypov, first deputy CEO for the strategic development and client work for Moscow Metro, speaking at a conference in June, in which he said tests showed that the facial recognition system still worked with users wearing masks. But masks sometimes significantly slowed down the total time it took for the system to recognize the user, complete the transaction and open the turnstile to five or six seconds. The agency was still satisfied with the technology, he added.
The metro had earlier tested facial recognition at ticket offices for users to pay for topping up cards or purchase tickets. Those tests involved about 2,000 people, according to Latypov, though it's not clear if these were customers, employees or both. The trial announced Saturday involving 1,000 passengers will test the technology at turnstiles on Line 4, the Filyovskaya line. The agency had earlier tested facial recognition with employees at turnstiles, as well.
To use Face Pay, passengers link their bank cards with a facial photo on a secure website. At the turnstile, cameras and facial recognition software match the passenger's face to the photo and charge the linked bank card. The system scanning faces without a mask takes one to two seconds to recognize the passenger and about two more seconds to make the payment and open the turnstile, said Latypov.
"However, in a mask, it can increase to three or four seconds the recognition itself. It may or it may not; it really depends on the face," he said, speaking at a recent Transport Ticketing Digital Summit conference. "We didn't find a pattern yet. It works, however, sometimes (it's) a bit long."
With or without masks, Latypov said the time it takes to open the turnstile with facial recognition still is much longer than it takes for transactions with Moscow Metro's closed-loop Troika card, at 800 milliseconds, or for contactless EMV cards or these card credentials in wallets. Contactless EMV transactions take a little bit longer than closed-loop payments, said Latypov, though the agency is trying to reduce that time difference.
Customers can tap contactless EMV bank cards and card credentials in such NFC payments services as Apple Pay, Google Pay and Samsung Pay to pay fares. Latypov also said the Moscow Metro was working to create virtual versions of Troika cards for inclusion in mobile wallets linked to these Pays services.
While the total transaction times are much longer, facial recognition offers an advantage over closed- and open-loop cards or mobile wallets of enabling customers to enter the metro system hands-free.
Government officials in Moscow already make frequent use of facial recognition technology, including to identify criminal suspects and Covid quarantine cheats. While Liksutov did not directly address privacy concerns with using facial recognition for fare payments in his recent statements, he did say that Face Pay will "not be mandatory." All other payments options will continue to be available. He added that, "we are sure that this method will be chosen by tens of thousands of Muscovites who follow trends and love modern technologies."

Other Transit Agencies Interested in Fares with Facial Recognition
Moscow Metro isn't the only transit agency experimenting with facial recognition biometrics for account-based fare payments. Guiyang Urban Rail, in southwestern China's Guizhou province, is among agencies in China that has used facial recognition-based payments. Guiyang Urban Rail reportedly launched service on its transit line 1 and main BRT routes in July 2020, following six months of testing.
In South Korea, the transit agency for the Seoul metropolitan area reportedly began an employee pilot in January 2021 at 22 gates in 13 stations on its Ui-Sinsol line. The system also works without requiring passengers to lower face masks. Store-value payments network Tmoney said it will track payment speed through the pilot.
And in Brazil, the country's Ministry of Infrastructure along with other government agencies announced in June that they had begun testing facial recognition on the air shuttle service between two of the country's largest airports, in São Paulo and Rio de Janeiro. The system had already undergone tests at four other Brazilian airports.
The Brazilian case illustrates the privacy concerns underlying the use of facial recognition technology for fare payments. In May, a Brazilian court ordered ViaQuatro, a concessionary of the São Paulo Metro, not to capture images, sound or personal data of commuters without their consent.
When it comes to facial recognition, consumer consent is crucial. In China, Jiang Chuan, head of the Guiyang facial recognition payments project at Shanghai-based AI firm YITU, said that user authorization was the key to protecting consumers' data. He also emphasized that the project was commercial, not government-run.
In Brazil, backers of facial recognition announcing the air shuttle project cited a recent International Air Transport Association survey, in which 70% of respondents said they were willing to share biometric data, such as facial images, for identification purposes during the boarding process.
© Mobility Payments and Forthwrite Media. Mobility Payments content is for individual use and cannot be copied or distributed without the express permission of the publisher.