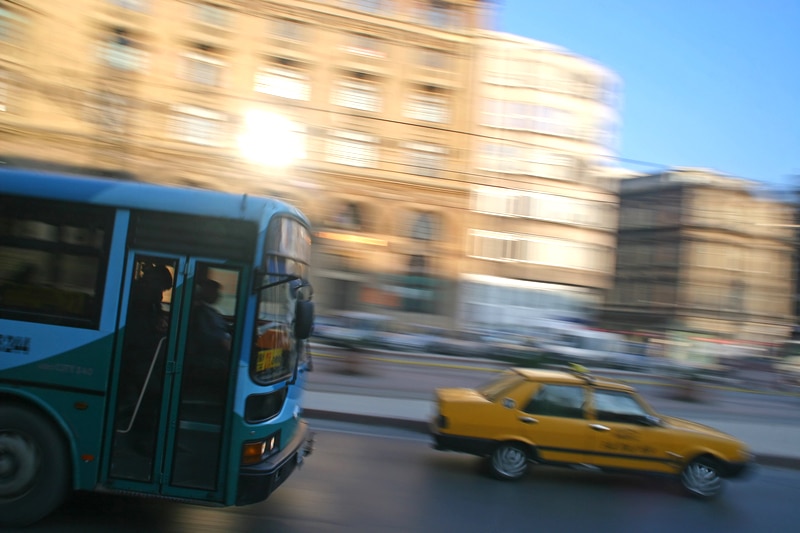 Article Highlights
Key Takeaway:
Mobility as a service has failed to take off as expected. Two MaaS industry veterans, Andy Taylor, senior director, global strategy, for Cubic Transportation Systems; and Sampo Hietanen, CEO of MaaS Global, developer of the pioneering Whim app; debate who should control MaaS and how they should go about it.
Key Data:
Singapore-based mobilityX fully shut down its Zipster MaaS app recently; and Finland-based Kyyti Group, provider of white-label MaaS platforms, also recently filed for bankruptcy.
Third part in a series featuring MaaS industry veterans Andy Taylor and Sampo Hietanen debating the question: Who should control MaaS?
Andy Taylor, senior director, global strategy for Cubic Transportation Systems contended that the MaaS market is at a crossroads and could fail if it doesn't change course, including putting cities and public agencies firmly in the "driving seat" of MaaS apps.
Taylor, a former board member of the Europe-based MaaS Alliance was rebutting comments by Sampo Hietanen, CEO and founder of Finland-based MaaS Global, developer of the groundbreaking Whim app.
In an article in Mobility Payments last week, Hietanen argued that while public transit services should form the backbone of MaaS, public agencies have an inherent conflict of interest. They tend to favor their own public transit services at the expense of various other mobility services. And some of them are shutting out third-party MaaS apps like Whim. All of this could hinder consumers' "freedom to choose."
Hietanen himself was responding to earlier statements by Taylor, including in a Mobility Payments article, in which Taylor questioned MaaS Global's business model and those like it. That business model is based on the idea that mobility services should be "repackaged," "resold" or "brokered" for consumers, usually for a subscription fee.
'Absolute Champion' but Wrong 'Commercial Angle'
Taylor gave Hietanen credit for being an "absolute champion" for MaaS and one of the technology's "biggest advocates" globally. But he doubled-down on his earlier statements, contending that the "commercial angle" that Hietanen and other MaaS start-ups have been pushing for the past six years has not worked.
"The traditional Gartner Hype curve–we've gone through some initial acceleration, and we've peaked, and we're on our way down to that trough of disillusionment," Taylor told Mobility Payments. "We're seeing private mobility service providers and mass operators fail. We're seeing them go out of business. But then it's going to be the public agencies, which basically get us back up to that plateau, where we see MaaS as a real solution that cities can use to provide better mobility services."
Taylor earlier pointed to the recent failures of Singapore-based mobilityX, which fully shut down its Zipster MaaS app; and Finland-based Kyyti Group, provider of white-label MaaS platforms, which filed for bankruptcy. These are two signs, but not the only ones, that it's time for the industry to move to a new model of putting public agencies and cities in control–a so-called "MaaS 2.0," he said.
Taylor: Goals of MaaS Start-Ups and Public Agencies Don't Mesh
MaaS Global's Hietanen has argued that public transit agencies are contributing to the demise of commercial MaaS apps by in some cases refusing to work with them, including limiting their ability to resell public transit tickets. Taylor responded that the goals of transit agencies and commercial MaaS start-ups are considerably mismatched.
Public transit agencies work on "elongated timelines" and have to serve 100% of a city's residents, he said. On the other hand, venture capital-funded companies, such as MaaS Global, are "there to take risks, invest heavily to take a share of the market as quickly as they can. They only target 20% to 30% of the population, those with smartphones, credit cards, disposable income and a propensity to move away from using their own vehicles."
So why, asks Taylor, would a city want to integrate and invest in a private MaaS start-up when "they're only going to be focusing on a certain percent of the population?"
He also seized on a statement Hietanen made in the Mobility Payments article that MaaS Global might have to steer customers away from public transit and toward more lucrative mobility providers, such as taxis or ride-hailing companies, which would earn higher commissions for his company.
Hietanen indeed told Mobility Payments that he might be forced to do that if transit agencies continue to refuse to cooperate and decline to allow MaaS Global to resell a range of their transit tickets. "They push us into a corner, like Vienna, where they just give us single tickets." Hietanen said. "If we have to sell one ride at a time, then yes, it is more lucrative for us to sell the more expensive one."
And that would only be for MaaS Global's pay-as-you-go option. For the company's main subscription packages, it would be more lucrative to sell public transit and other low-cost mobility modes, such as bike rental, he added.
Still, any scenario in which a MaaS app would drive business away from transit agencies doesn't send a reassuring message to the agencies, said Taylor. Many of them are already convinced that the commercial MaaS platforms like MaaS Global will take riders away from them, sending their customers to private mobility providers.
In addition, Hietanen's statement that he only has funding for another year of operations would give agency partners pause, said Taylor. Hietanen, who said being blocked by transit agencies in certain cities and hit hard by the pandemic after expanding the Whim app to 10 cities hasn't helped Maas Global's finances. Though he says it's normal for a start-up to work on one year's worth of capital, he told Mobility Payments he's planning to announce additional funding from investors soon.
"By Sampo's own admission in the article, he's now looking at moving away from the lower commission (transit services), into the higher commission mobility services, which means they're going to be pushing people to TNCs and taxis to increase the commission revenues," said Taylor. "Why would a transit agency want to trust somebody that could come in and cannibalize their systems and then disappear within a year?"
Taylor: Cities Ready to Control MaaS
Taylor said he wouldn't support the idea of private bus or train operators controlling which mobility providers can participate in a MaaS app.
"It's not like we're asking National Express to basically run the system, because that would be wrong," he told Mobility Payments. "It's the same reason why we wouldn't want a TNC like Uber or Lyft setting up a MaaS platform that's meant to provide equity, because there is that concern that they are going to promote their own services over public transportation."
But the cities or public transport authorities that hire transit operators, such as Transport for London and Transport for the West Midlands in the UK, and Transport for New South Wales in Sydney, could indeed control the MaaS platform, including managing the ecosystem of mobility providers for a given MaaS scheme, Taylor said. These transit authorities and others are already building their own MaaS platforms, in fact.
The authorities would enforce mobility policy set by city, regional or national governments or their own boards. These policymakers in turn could mandate that private mobility providers have fair and equal access to the MaaS platforms, Taylor said. And as he wrote on LinkedIn last October, because of the pandemic, cities and transit agencies are more open than ever to calling on private mobility providers to fill in the gaps in their services, including with demand-responsive transport or other mobility on demand.
"Public agencies are now looking at private mobility service providers and MaaS operators to basically ask the question, 'How can I build back a more flexible and resilient network that's going to deliver the best services for my citizens in the future?'" Taylor told Mobility Payments. "Unless there's collaboration between public and private entities, then MaaS will fail from day one."
Hietanen: 'It's a Nice Utopia From North Korea'
Like Taylor, Hietanen says he believes cities and transit authorities should ultimately control Maas within their jurisdictions, or as Hietanen puts it, they should be the "puppeteers," pulling the strings behind the scenes for how MaaS is rolled out in their communities. But it's how cities or authorities exercise that control that separates his views from Taylor's, Hietanen said.
"The biggest difference is, selling MaaS to the end user, is that a competitive field or a monopolized field?" said Hietanen.
Taylor is on record saying that cities are asking how they can bring private mobility into "their managed public mobility ecosystem," noted Hietanen.
"This means that every city has their own MaaS solution, and it's a non-scalable world," Hietanen told Mobility Payments. "It's not an ecosystem. So they kind of want to mislead, in a way that says, 'Yes, we gladly accept everyone into our service, and then control the end-user relationship. It's a non-functioning formula, and we should all understand that it's a nice utopia from North Korea."
Hietanen asserts that "people do not buy mobility management; they do not want to be managed." They want to choose the apps where they get access to mobility providers, and Taylor's approach would take that away, he argued.
"Just think of it from an end-user perspective," Hietanen said. "You're in London, and there's only one way of accessing all the different modes of bikes and black cabs and Ubers and scooters and whatever will come. Or take Berlin, and the only access, the only service that gives you that access is a city-provided app. And no, it doesn't work in Potsdam. No, it doesn't work in Paris when you go there. No, it doesn't work in any of the other German cities."
In the end, transit agencies are monopolies and they often behave that way, said Hietanen. He complains that transit agencies in such cities as Berlin, Vienna and Munich are blocking the Whim app by not allowing MaaS Global to resell the full range of their transit tickets, or any tickets at all. BVG, which runs buses, trains, trams and ferries in the German capital, has completely blocked MaaS Global, as it promotes its own MaaS app, Jelbi, launched in 2019, Hietanen charges. BVG did not immediately respond to a request for comment from Mobility Payments.
Wiener Linien, which operates the metro, tram and buses in Vienna, only permits MaaS Global to sell single-ride tickets, which would make it difficult to offer attractive packages for a Whim app in the city, he said. Wiener Linien also has its own MaaS app, WienMobil. And Hietanen believes that Munich, which also locks MaaS Global out, is planning its own MaaS app, as well.
These are transit operators, not authorities, but they are owned by city or state governments. Cubic's Taylor told Mobility Payments that agencies that run MaaS apps and provide their own bus, train or other transit services should, "without a shadow of a doubt," demonstrate that private mobility providers can get an "equitable chance to operate and provide mobility services." Taylor also said that, in general, transit agencies or cities "have the right to allow anyone, or no one except the city, e.g., Berlin, to be able to access and provide services via the MaaS ecosystem. There is room for Whim in this equation, as long as they play by the rules that the city or region lays down."
Hietanen contended that this approach sometimes doesn't work in practice. A number of transit agencies and government officials have welcomed third-party MaaS app providers like MaaS Global, including those in Antwerp, Belgium; Sydney and Los Angeles. Others, however, like those in Berlin, Vienna and Munich have not, despite support for an open MaaS ecosystem from politicians in one or more of these cities, said Hietanen.
"Yes, on paper, the Soviet Union was the best. It's really productive and, you know, the city and the government does everything," he told Mobility Payments. "But in reality, we all know that competition is quite necessary. And it looks kind of silly that somehow the public agency would actually be the one trying to gather everything for the end user; that the public agency will be the face for consumers both for public and private services."
Hietanen: 'Where Does Cubic Get Its Money?'
Of course, relatively few cities are faced with the situation of having multiple MaaS app providers clamoring to launch in their cities. The technology just hasn't taken off as expected, at least not yet. But Hietanen argues that without giving consumers the choice of how they access mobility, that situation will never happen.
After all, the overall goal for mobility as a service is to coax consumers out of their private vehicles. For that, it will require MaaS apps that offer a broad mix of public and private mobility services, which consumers can conveniently plan, book and pay for to get them door-to-door to their destinations–all at the right price.
Privately owned cars make up 76% of the mobility market and account for a large share of greenhouse gas emissions, while being used just 4% of the time, Hietanen noted. "So, it's pretty obvious we have to find a replacement for the car," he said. "But can you find a replacement for the car­ or something that is a symbol of freedom by forcing people into a one-star solution?"
And while Cubic says it could provide the MaaS app–either white label or consumer-facing–to transit agencies as an "agnostic third party platform," Hietanen doubts whether Cubic could be impartial in developing or operating the app for both public and private mobility providers. Cubic opted not to launch a B2C MaaS platform, like MaaS Global has done, even if Cubic's Umo app is consumer-facing, Hietanen noted. So it remains dependent on transit agencies, which are its main clients.
"They're not taking the consumer risk at all, I mean, all they're doing is providing stuff for transit agencies," he said. "You need to ask yourself, where does Cubic get its money?"
Taylor: 'Not How the Beautiful Game Should be Played'
Hietanen, in last week's article, reached for a football analogy to argue that public transit agencies that offer bus, train and other transit services for a MaaS app would be among the "players" in any MaaS scheme. Therefore, they shouldn't also take on the role of the governing body for the MaaS system, such as UEFA does for European football; or as the "referee" on the MaaS field of play. It would be like letting the football players set the rules and enforce them, too. "Don't let Cristiano Ronaldo make the rules," Hietanen remarked.
Cubic's Taylor sought to move the analogy down the field a bit by noting that Hietanen's acknowledgement last week that he might have to steer users to more expensive (and lucrative) mobility services rather than public transit would be like "Ronaldo's agent offering a peak sale price on his player depending on how well he's playing.
"It's almost like Uber charging peak pricing…That is not how the beautiful game should be played," quipped Taylor
Football aside, what is clear is that with the pandemic shaking up travel patterns and commuter habits to an as-yet unknown extent, both public agencies and private mobility providers will have to up their game if MaaS has any chance of one day matching its hype.
But it remains to be seen whether control of MaaS by public agencies or by private start-ups will prove to be the most effective, or if either will succeed at all.
© Mobility Payments and Forthwrite Media. Mobility Payments content is for individual use and cannot be copied or distributed without the express permission of the publisher.