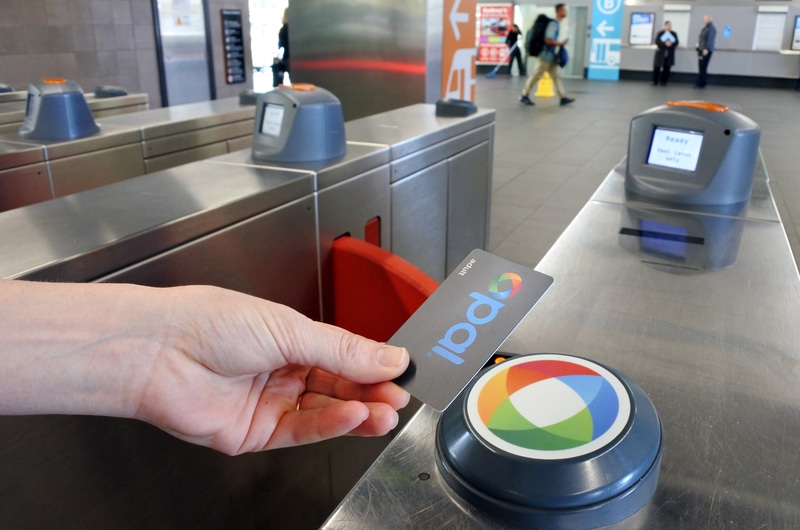 Article Highlights
Key Takeaway:
Open-loop contactless fare payments in Sydney are growing rapidly, especially with NFC mobile wallets, but transit agency Transport for New South Wales says the closed-loop, stored-value card Opal is here to stay. The Opal brand carries weight, and the card still accounts for most fare payments for the agency.
Key Data:
NFC wallets now account for 55%–or more than half–of all contactless open-loop payments on the Sydney Metro, buses, trams and ferries. All told, contactless payments–both from mobile wallets and contactless EMV credit and debit cards–make up more than 30% of all adult trips, and is growing.
Organizations Mentioned:
• Transport for NSW
• Transport for London
Sydney-based Transport for New South Wales, Australia's largest transit agency, has no plans to phase out or de-emphasize its closed-loop Opal card, despite strong adoption of contactless open-loop payments by customers, especially with mobile wallets, according to Kurt Brissett, executive director for connected journeys for the agency.
Brissett, speaking today at the Mobility Payments Asia Pacific 2021 conference, reiterated figures on contactless adoption, first reported by Mobility Payments last month, that NFC wallets now account for 55%–or more than half–of all contactless open-loop payments on the Sydney Metro, buses, trams and ferries. All told, contactless payments–both from mobile wallets and contactless EMV credit and debit cards–make up more than 30% of all adult trips, and is growing. The stored-value Opal card accounts for the rest.
"Opal is a well-loved and trusted brand within New South Wales, so the Opal card is not going anywhere soon," he said, in response to a question from Mobility Payments. "What we tried to do is really to provide customers with choice, so the implementation of contactless payments was just really another way for customers to pay, particularly infrequent travelers and tourists, who may not necessarily have an Opal card."
Transport for NSW told Mobility Payments last month that it had recorded 133 million trips paid for with contactless EMV devices and cards since the agency began rolling out open-loop payments with its trial on the Manly Ferry in July 2017.
That cumulative figure of 133 million is up from 30 million in January 2020 and by that time, the agency had extended contactless to its other transport modes, including the metro and buses. Brissett earlier this year had said there were more than 60 million trips paid for with contactless cards or NFC wallets since 2017, across 25,000 terminals.
An agency spokesman last month attributed the sharp increase in wallet use by riders to the Covid-19 pandemic. A number of agencies have noticed increased use of mobile ticketing and payments during the pandemic, perhaps because riders believe it's safer to touch only their own devices. That doesn't fully explain why they prefer their own smartphones over their personal credit or debit cards to tap on transit terminals.
Promoting Opal Brand
Transport for NSW is definitely continuing to promote Opal, which launched in late 2012.
The agency usually refers to its contactless open-loop payments service as being available across its "Opal network," and offers all or most of the same discounts, including daily, weekly and weekend fare caps with contactless as it does with Opal. (Transport for NSW built the contactless acceptance infrastructure on top of its Opal terminal network and rolled out contactless following trials on trains in late 2018, followed by buses in September 2019.)
The agency introduced a hybrid account-based ticketing service called "Opal Connect" in 2019 for customers to pay online for on-demand transport. It is expanding this payments platform to other services and intends to use it for customers to plan, book and pay for a planned mobility-as-a-service offer. Customers can load either their Opal cards or contactless credit or debit cards into the platform to pay for the services.
And last December, the agency launched a trial of a digital Opal card, which participants can load into wallets for Apple Pay, Samsung Pay and, soon, Google Pay.
Strong Mobile Wallet Use
Brissett today didn't release preliminary results of the digital Opal card trial– which is scheduled to run through the end of the year and include up to 10,000 customers. He also didn't say whether the agency plans to roll out a digital version of Opal after the trial.
But he did note the strong take-up of mobile wallets storing open-loop debit and credit cards by customers to pay for rides on the agency's various transport modes. Customers can tap NFC-enabled smartphones or, where available, smartwatches supporting Apple Pay, Google Pay, Samsung Pay and Fitbit Pay to pay for fares.
The 55% penetration rate of NFC wallets out of total contactless fare payments is all the more impressive considering that a large majority of consumers in Australia have carried physical contactless credit and debit cards for years. And for several years running, contactless has made up 90% or more of all retail card payments in Australia, most of that is still with contactless credit and debit cards.
By comparison, in London, where contactless EMV cards are also widely rolled out, the share of NFC mobile wallet usage for all contactless fare payments for Transport for London was 21%–although that was in February 2020, just before the pandemic. Update: Transport for London said today that, at present, around 25% of contactless transactions are from phones and wearables. But contactless payments from cards and devices combined in London make up a much larger share of total fare payments than in Sydney at more than 50%–most of that from cards. Of only pay-as-you-go transactions–the largest share of payments for Transport for London–contactless now makes up 70% with Oyster accounting for the remainder. End update. The London transit authority rolled out contactless payments across its network in 2014.
Brissett noted today that use of NFC mobile wallets to pay fares on the New South Wales transport network was higher than use of wallets for contactless retail transactions in the state or country, though he expects wallet use at retail to continue to increase in Australia.
"You really have to look at the convenience that it offers public transport customers, as well," he said, when asked why he thinks transit customers are more and more turning to mobile wallets to pay. "Often our commuters are glued to their phones when they're on a bus or on a train, and then the ability to use that same device to get through a gate is ultra-convenient."
© Mobility Payments and Forthwrite Media. Mobility Payments content is for individual use and cannot be copied or distributed without the express permission of the publisher.