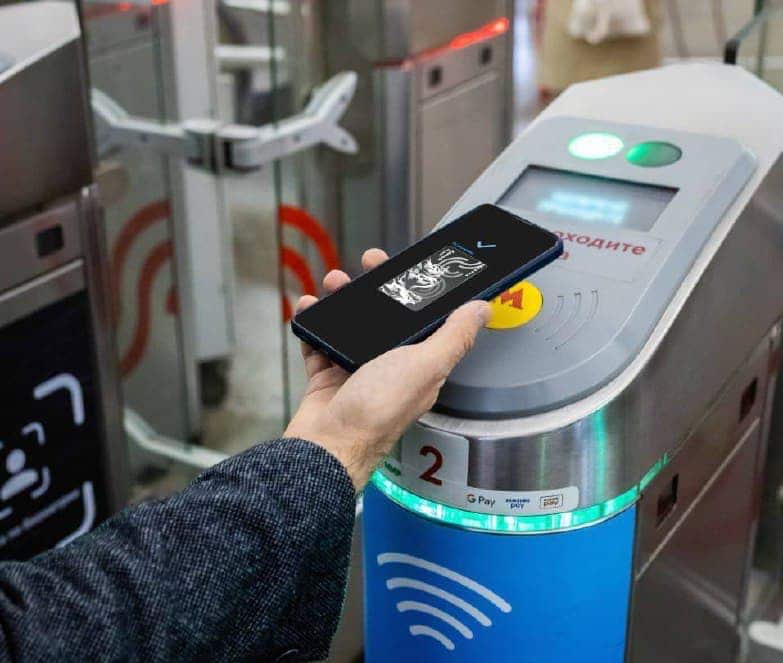 Article Highlights
Key Takeaway:
Moscow Metro is expanding the test of its "Virtual Troika" closed-loop card. That follows the rollout last month by the big agency of its "Face Pay" service, using facial recognition technology.
Key Data:
In his statement, Liksutov predicted that around half of Moscow Metro riders will eventually adopt the digital version of Troika, noting that about 92% regular passengers have a smartphone.
Moscow Metro is recruiting more users to test its "Virtual Troika" card in two NFC wallets, those supporting Google Pay and Samsung Pay, as one of the world's largest subway operators continues to seek more ways for its customers to pay for rides.
The expanded pilot is putting Moscow Metro's closed-loop Troika card into the Google and Samsung wallets for another 4,000 users, adding to the 1,000 users for a trial announced in August. The agency said it seeks to have a total of 5,000 users testing Troika in the two wallets. And the agency hinted that it is in discussions to add the digital Troika card to Apple Pay, as well.
To help attract users, the agency is offering discounts of 10% to 50% on 30-day or longer-term passes loaded into the digital Troika cards.
Moscow Metro already supports open-loop payments with contactless EMV cards and at least five Pays wallets operating in Russia. And last month it rolled out its "Face Pay" service throughout the metro. The service uses facial-recognition technology, and the agency predicts it will be used regularly by 10% to 15% of customers over the next two to three years.
"We quickly came to the conclusion that plastic cards are becoming less and less convenient," said Moscow deputy mayor for Transport Maksim Liksutov wrote in a column posted Wednesday. "For example, we receive discounts in stores by phone number or through a mobile application. Moscow transport is not lagging behind–in parallel with the Face Pay technology, we are developing another one–a virtual Troika card."
In his statement, Liksutov predicted that around half of Moscow Metro riders will eventually adopt the digital version of Troika, noting that about 92% regular passengers have a smartphone.
Another Moscow transport official earlier this year had said that plans call for also adding Troika to Apple Pay. And in Wednesday's announcement of the expanded trial involving Google Pay and Samsung Pay, the agency noted that while the digital Troika card is only available on Android phones, at present, "integration of the service is being discussed with other big smartphone manufacturers, as well."
That is an obvious reference to Apple Pay and perhaps other NFC wallets. Besides Google Pay, Samsung Pay and Apple Pay, Huawei Pay and the local Mir Pay wallets also operate in Russia. The agency did not mention Samsung Pay in the announcement of its first part of the trial in August.
Liksutov in his column Wednesday said that Moscow Metro has recorded 20,000 digital-Troika transactions in the first part of the trial from August. With 1,000 users, that works out to only 20 transactions per user since the trial began.
He said the agency acted on feedback and suggestions it collected from the first group of trial users. And among the changes it made was to "accelerate the operation of the virtual card."
According to Liksutov, Virtual Troika will be "as fast as a bank card"–from 0.8 to 1.5 seconds." He added that the agency is updating software at metro turnstiles make transactions "even faster." The agency didn't define what a typical transaction entails and how much slower transactions with digital cards on mobile devices might be compared with physical cards. Raw transaction speeds for contactless EMV cards and especially closed-loop cards are often faster than 0.8 seconds.
Moscow Metro added that with Samsung Pay, users won't need to unlock their phones, just tap them on gate readers. With Google Pay, they must "turn on their screens," which usually means unlocking them. With few exceptions, Google stores NFC applications in software on Android devices, using host-card emulation, not embedded NFC secure elements. So Google Pay would need the phone's screen to be turned on to function.
To help recruit users, Moscow Metro is offering discounts of 10% to 50% on long-term passes. It said 30-day passes, which cost RUB 2,245 (US$31.33), will be half price. The agency will apparently offer discounts starting at 10% for 90-day and one-year passes.
The agency during the summer also said the digital Troika card with the passes will work on various modes of transport in Moscow, including trams and regular and electric buses, in addition to the metro. To purchase the tickets, customers use a special version of the Moscow Metro app, with participation from VTB Bank, which will handle the "issuing and uploading the card to the mobile device," the parties said. The virtual Troika card is apparently transferred to the Google Pay app after that. Mastercard is also involved in the trial.
Roman Latypov, first deputy CEO for the strategic development and client work for Moscow Metro, speaking at a conference in June, had said one of the goals of the agency is to develop its closed-loop virtual-Troika card program. "The idea is that we put our closed-loop card Troika into wallets in different phones from Google Pay to Samsung Pay to Apple Pay and others." The Pays wallets routinely tokenize cards loaded into the wallets to increase security.
After it rolls out the digital Troika cards, Moscow Metro will join other transit agencies that have added virtual versions of their closed-loop cards to the Pays wallets over the past few years.
These include large transit agencies in North America, Asia and Europe–working with the Pays wallets providers, such as Apple Pay and Google Pay. In the past year to 18 months alone, several agencies have introduced mobile and wearables fare payments with closed-loop cards, including those in Los Angeles, Washington, D.C., Chicago, Hong Kong and Slovakia.
© Mobility Payments and Forthwrite Media. Mobility Payments content is for individual use and cannot be copied or distributed without the express permission of the publisher.