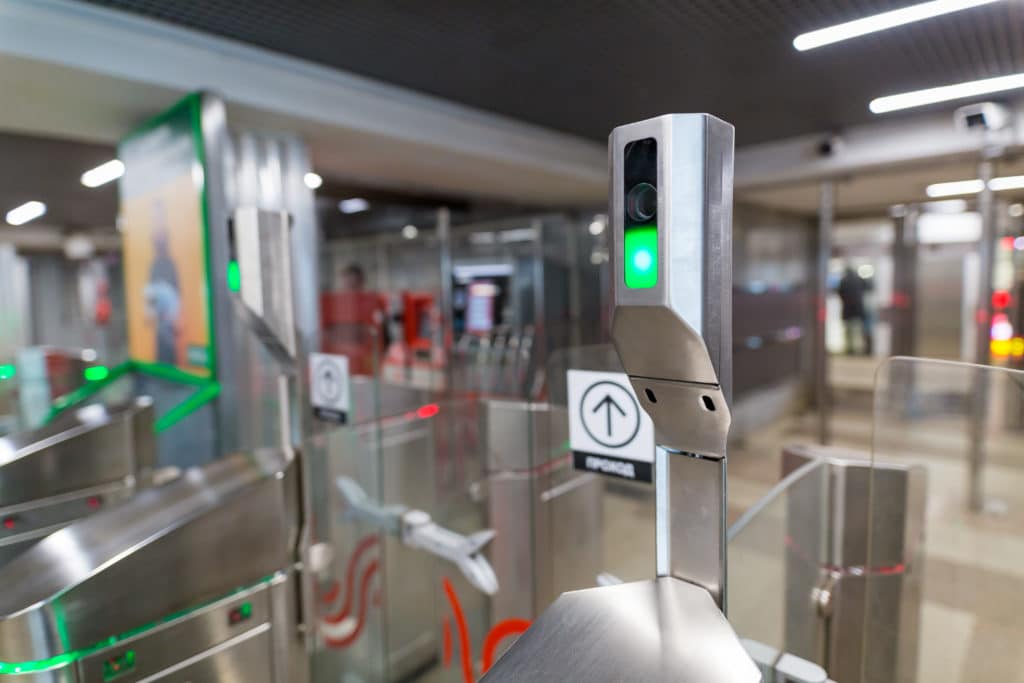 Article Highlights
Key Takeaway:
Moscow Metro, which launched the world's largest biometric fare-collection service in October, said it now has 45,000 users and has recorded 160,000 transactions for the Face Pay service in one and a half months. While not large-scale growth, the agency still predicts that that up to 15% of passengers will be using the service in two to three years.
Key Data:
In a statement attributed to Maksim Liksutov, Moscow's deputy mayor for Transport, the metro is still predicting that 10% to 15% of riders will use regularly use Face Pay in two to three years.
Organizations Mentioned:
Moscow Metro has 45,000 users for its Face Pay service since launching its rollout of facial recognition fare-payments in mid-October, the transit agency said today, in releasing more details about how the service works.
That is only 20,000 more registered users, however, since after the first full day of the Face Pay launch Oct. 15, during which the metro said 25,000 users had signed up. The metro also said today it has recorded 160,000 biometric transactions since the launch, or around 3,500 per day, on average. That, of course, is still a tiny percentage of daily rides on the massive subway system, which reportedly averaged nearly 7 million per day a couple of years before the Covid-19 outbreak.
But in a statement attributed to Maksim Liksutov, Moscow's deputy mayor for Transport, the metro is still predicting that 10% to 15% of riders will regularly use Face Pay in two to three years.
"All the more so, interest in biometrics has increased in the pandemic," he said in the statement. "I believe that Face Pay is now the most convenient and secure service for payment service in transport."
The agency also described in further detail how the system works. To register, it said users need to add a photo to the Metro Moscow app. That photo is converted into an encrypted biometric key, which consists of a character set that "cannot be translated back into a face image." Users also must link a bank card to the service, which is used to pay for the rides. They also must register their closed-loop Troika card.
"When you go through the turnstile, the camera also immediately translates the image of your face into a biometric key, compares it with the keys from the database and deducts the fare. All personal information about the name and bank card information of the passenger is stored and processed only in secure information systems of your bank," Liksutov said in the statement.
Moscow Metro, one of the largest transit agencies in the world, has much to prove with the completely hands-free Face Pay system. That includes whether it can handle fast throughput at busy stations, sometimes under less-than-optimal lighting conditions or with masked travelers. The system also raises privacy issues, with advocates criticizing the launch.
And so, while the Face Pay service is the largest of its kind worldwide, it likely won't be replicated in a number of countries because of privacy concerns.
Moreover, the metro noted today that its related Sfera facial recognition technology, which has been in operation throughout the metro for a much longer time than Face Pay, has identified more than 2,500 suspected criminals on the Russian government's list of wanted persons. That's in addition to finding lost people, including children.
The facial-recognition surveillance system in Russia is extensive–with Moscow itself having an estimated 200,000 cameras deployed looking for suspects. Some human rights activists charge that these cameras also are used to track political protesters.
When it launched the service, officials tried to put users at ease. In a statement, Liksutov insisted that "what worries individual passengers most of all, privacy, will be at the highest level (of concern for the agency). "So, if you are still worried about "Big Brother," you can be calm–he does not follow us, but serves you and opens all the doors."
City officials have not been shy about promoting Face Pay and other payments services it offers, including contactless payments and putting digital versions of its closed-loop Troika card in Pays wallets.
© Mobility Payments and Forthwrite Media. Mobility Payments content is for individual use and cannot be copied or distributed without the express permission of the publisher.