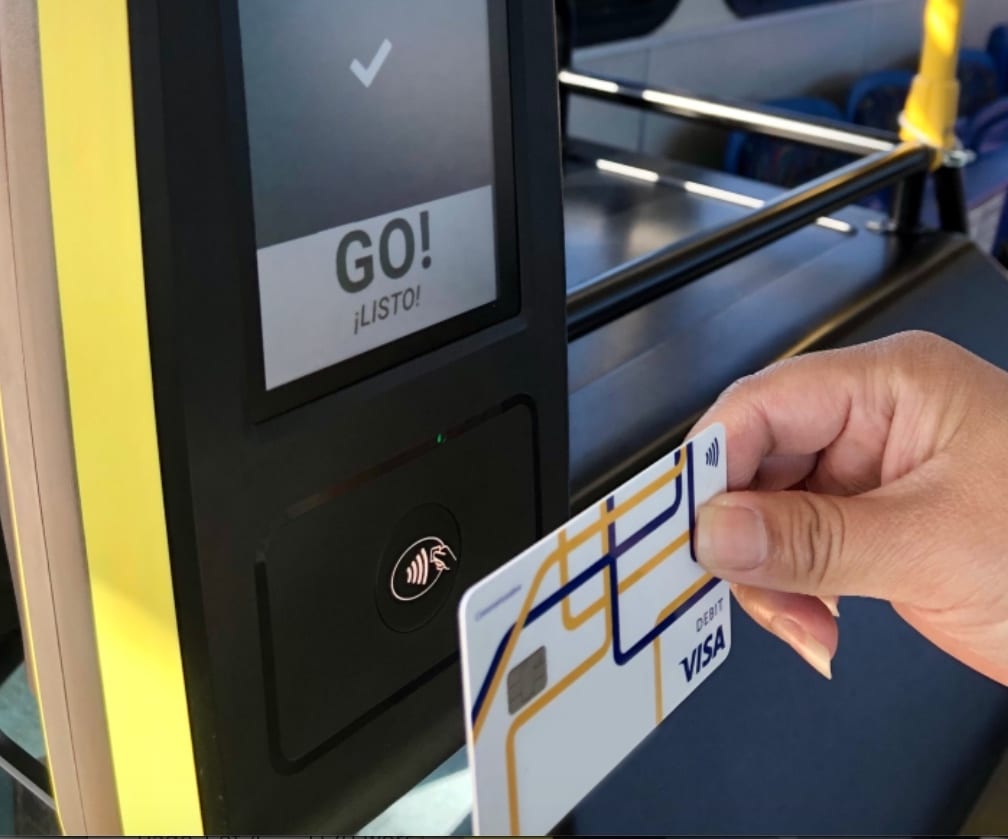 Article Highlights
Key Takeaway:
As part of California's initiative to help transit agencies throughout the state to roll out open-loop payments, one of those agencies has launched a trial enabling customers to link eligibility for senior discounts to their bank cards. If successful, this trial could help solve the problem of how agencies can support concessionary fares with bank cards. One drawback with the latest trial is that it doesn't apparently support NFC mobile wallets, only physical bank cards.
Key Data:
Perhaps it's a bit ironic that California seeks to encourage residents to get out of their cars and take public transit in part by tapping the state's huge database of driver's licenses. California owns the largest such database in the country. It includes information on other state-issued ID cards, as well.
California officials have launched a new phase of one of their trials of open-loop payments–testing a solution to the problem of how to grant discounts to seniors and other customer segments with the same contactless EMV payments cards that the customers use to pay for fares.
Monterey-Salinas Transit, a public bus agency serving Monterey County, located between San Francisco and Los Angeles, announced Monday it was testing a system to instantly link customers' eligibility for senior discounts to their bank cards. The system involves a one-time network communication with the state's massive Department of Motor Vehicle database to verify that the customers are 65 or above. This would enable them to receive the senior discount when they tap their contactless EMV credit or debit cards.
However, the system being tested with Monterey-Salinas Transit, doesn't support credit and debit card credentials in NFC wallets, like those connected with Apple Pay, Google Pay and Samsung Pay, the agency confirmed to Mobility Payments. Customers have to use physical contactless cards to participate in the trial, according to an agent. Update: A state official told Mobility Payments, however, that developers are working to support NFC wallets, in addition to physical cards. End update.
If the system works as planned and demonstrates it can scale, it could provide a model for dealing with a thorny problem faced by transit agencies globally that offer open-loop payments: How to enable customers to use EMV payments to pay fares while at the same time giving the senior, student, disabled person or other customer segment the discounts they are entitled to.
At present, agencies generally can only offer the discounts–also known as concessions–with specially issued closed-loop or other cards or by asking the rider to pull out a separate photo ID card to prove to the driver, conductor or other agency personnel that they qualify for the discount.
"With the right structure and integrations, this could work anywhere, (with) connections to driver agencies, health agencies or other government agencies for disability or senior discounts and integrations to universities and schools for student passes," Simon Laker, who specializes in open-loop transit payments for UK-based Consult Hyperion, told Mobility Payments.
He added that it would help if the industry would define common APIs, "rather than developing unique integrations for each agency."
The California Integrated Travel Project, known as Cal-ITP, organized the new trial phase for Monterey-Salinas Transit, or MST. Cal-ITP, an initiative overseen by the California Department of Transportation, seeks to help hundreds of local transit agencies throughout the state to roll out open-loop payments. State officials believe an interoperable payments system that supports pay as you go fares will simplify fare collection and encourage more of the state's nearly 40 million residents to take public transit.
Cal-ITP has already organized at least four trials of open-loop payments, most launched by small public transit agencies, starting with MST in May.
The main assistance the state is providing to the transit agencies–most of them small bus operators–is to help them procure the technology they need to roll out open-loop payments.
It is doing that by setting up contracts, actually master service agreements, with qualified vendors that the agencies can then order their hardware and software from. It's part of a modular approach to procurement that Cal-ITP is supporting. The agencies don't need to issue their own RFPs, and they likely will receive lower prices from the vendors contracted by the state than they would if they tried to procure the open-loop systems themselves. As Mobility Payments recently reported, the state recently disclosed it had whittled the list of bidders to six qualified companies (with seven total bids), and issued a notice of intent to issue contracts.
Tapping State's Massive Database of Drivers
Perhaps it's a bit ironic that California seeks to encourage residents to get out of their cars and take public transit in part by tapping the state's huge database of driver's licenses. California owns the largest such database in the country. It includes information on other state-issued ID cards, as well.
Under the proposed system the state is trialing, customers wanting to enable their bank cards for discounts must visit a mini-web portal set up by Cal-ITP. There they enter their state driver's license or ID card number, along with their name. Cal-ITP takes this information and connects to the California Department of Motor Vehicles database to verify that the transit customer is 65 or above and, therefore, eligible for the senior discount.
The site then asks customers to enter their bank card number. The system then links the customer's eligibility for a discount with his or her bank card. Cal-ITP sends this linkage information to the company that calculates fares for the agency.
In the case of the Monterey-Salinas Transit project, that company is Littlepay, a UK- and Australia-based payments service provider and transit processor. When the customer taps to pay a fare, the company associates the card with the discount in the back office and applies the latter to the fare, Paul Griffin, Littlepay's global head of commercial told Mobility Payments. The linkage is "instant," so after customers' information is verified, and they are deemed eligible, they can begin tapping their bank cards on validators and immediately get credit for senior discounts.
"We recognize the card as having an eligibility assigned; we apply the correct fare adjustments, and it's done," Griffin said. "When riding the bus, they (customers) can just tap and ride as normal and access their concession fares without driver interaction."
Cal-ITP says it does not store either the driver's license/ID card data or bank card information the customer enters.
MST general manager Carl Sedoryk said in a statement that the agency next plans to offer discounts using the same system for disabled persons and military veterans. The state DMV also keeps this information. MST also offers discounts to riders 18 and under and for a couple of other categories. But MST didn't say it would expand the eligibility test to these other categories, including to young people, who often don't have bank cards and, if they are below 16, don't have a driver's license.
Cal-ITP did not say whether it plans expand the discount system test to agencies conducting other open-loop pilots under the Cal-ITP program, including those in Sacramento, Santa Barbara or Santa Cruz–the latter planning to launch a pilot early next year, as Mobility Payments reported. But the Cal-ITP portal indicates there will be other transit agencies involved.
One significant drawback for the discount-eligibility system that MST is testing is that it does not support EMV card credentials used with such NFC payments services as Apple Pay, Google Pay and Samsung Pay, according to the agency. These card credentials use tokens, not actual card numbers, and the full tokenized numbers are not readily available to consumers. MST only mentioned customers using bank cards to receive discounts when promoting the new trial.
Update: A California state official, who asked not to be named because he or she was not authorized to speak publicly, indicated to Mobility Payments that work is underway to support NFC wallets, because the system is "not going to work at scale without it." The source pointed to the OMNY open-loop service in New York, in which customers make most open-loop transactions with Apple Pay and other NFC payments services. End update.
Can it Scale?
The key question is whether Cal-ITP's proposed solution of linking concessionary discounts to payments cards in the back office can scale throughout the state of California alone, let alone in other states and countries that want to enable discounts with bank cards.
Littlepay's Griffin said he believes that it can scale, and there are other options available for verification apart from department of motor vehicles databases.
"Some countries have excellent digital ID programs with defined APIs that we can link up to," he said. "Elsewhere, we are looking at linking up with digital ID (eKYC) service providers–some of these are region specific. Our card scheme partners also provide a form of this functionality."
He added that he does not believe it was difficult or expensive to implement network connections between Cal-ITP and the state DMV database to verify the eligibility of customers; or from Cal-ITP to Littlepay to send the information on linkages between discount eligibility and bank cards.
Consult Hyperion's Laker, when asked why this system hasn't apparently been tried before, said he believes it still entails complexity to set up. And, he added that, "I doubt it's a priority for the licensing or government departments to support."
The state official said it is too early to say whether the Cal-ITP system of supporting concessionary discounts with bank cards will scale. The current trial is still a "proof of concept," the person noted.
"Nothing is perfect; that's why you do demonstrations. But, yes, it works."
© Mobility Payments and Forthwrite Media. Mobility Payments content is for individual use and cannot be copied or distributed without the express permission of the publisher.