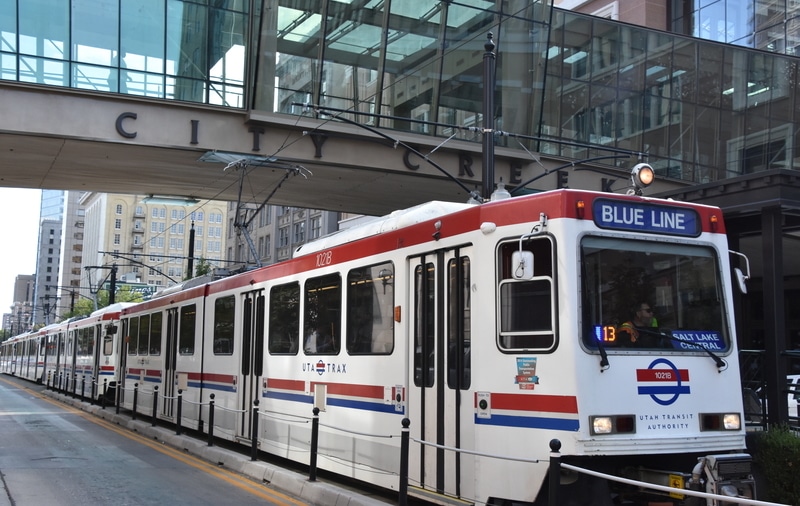 Article Highlights
Key Takeaway:
The Utah Transit Authority in Salt Lake City plans to overhaul its fare-collection system, including supporting open-loop payments and launching a new mobile app. The project will make the mid-tier U.S. transit agency perhaps the first to roll out open-loop payments twice. UTA had launched acceptance of contactless debit and credit more than 10 years ago–the first such agency to do so in the U.S. on more than a trial basis.
Key Data:
• Table: Estimated expenses for UTA's planned fare system
• Table: Percentage of revenue from costs
The Utah Transit Authority in Salt Lake City plans to overhaul its fare-collection system, including supporting open-loop payments and launching a new mobile app.
The project will make the mid-tier U.S. transit agency perhaps the first to roll out open-loop payments twice. UTA had launched acceptance of contactless debit and credit more than 10 years ago–the first such agency to do so in the U.S. on more than a trial basis. But with relatively few contactless bank cards in circulation, among other hurdles, adoption rates were minuscule. So UTA killed service in 2018 to save on costs.
UTA issued a request for proposal earlier this month for the new electronic fare-collection system, including support for open loop again, along with other fare media. The RFP, obtained by Mobility Payments, calls for a new account-based ticketing system with new validators for all of the agency's buses and rail station platforms.
The project also calls for installation of new integrated ticket-vending machines and a back-office system that supports closed- and open-loop payments and mobile ticketing. In addition, the vendor that submits the winning tender bid will host the system for at least 10 years, according to current plans.
The RFP did not include a timeline for the rollout, but the agency expects to sign a contract for the main fare system in late October. Before that, it expects to choose a vendor for the new mobile payments app by the end of June.
UTA had total ridership of more than 44 million trips per year before the pandemic. Nearly half, or 47%, were on buses. The agency's TRAX light-rail service accounted for 37% of rides, and its FrontRunner commuter rail service made up 11%.
The agency operates more than 700 buses and more than 100 light-rail vehicles, the latter serving 50 stations. The agency also runs 18 commuter trains, with 15 stations. The new validators will go on board buses and on station platforms. The agency is expected to buy at least 900 of them.
Neither UTA nor its main consultant on the project, U.S.-based Clevor Consulting Group responded to requests for comment or information from Mobility Payments.
Significant Costs
A presentation UTA staffers made to the agency's board last October, show that the agency and Clevor estimate the new fare system would require just under $32 million for capital costs. That includes certified validators and ticket-vending machines, or TVMs, along with the new mobile app.
The account-based ticketing back office, which the main vendor would host, would be able to handle closed- and open-loop payments and mobile ticketing. UTA will continue to accept cash, as well, but Clevor estimated the agency's fareboxes still had three to five years of useful life in them.
Meanwhile, operational costs for the main vendor the agency hires to run the fare system would amount to nearly $34 million over 10 years, according to estimates. (See table on this page.)
The estimated capital and operating costs for UTA are much less than the hundreds of millions of dollars or more that top-tier transit agencies typically pay for their new fare-collection systems. But the costs to UTA are significant.
UTA with Clevor estimate total costs to operate the new system in year 10 of the project–vendor and agency costs combined–will amount to 20% of projected fare revenue collected.
That compares with operational costs of 17% of fare revenue if the agency kept the existing system intact and only added upgraded TVMs. The estimates are based on the assumption that UTA will bring in $60 million in revenue in year 10. (See table on this page.) Clevor estimated that cumulative costs for fare collection over 10 years would also make up around 20% of total fare revenue over that period if UTA installs a new fare system. It would also amount to about 17% without the new system.
One industry expert told Mobility Payments that fare-collection costs accounting for 20% of fare revenue are not high for a mid-tier agency in the U.S.
"For the largest agencies, an annual cost of operation will be around 15% but, as a general rule, the smaller the agency, the higher the percentage," he said. But he added that if UTA doesn't hit its revenue assumptions of $60 million per year by year 10, the share of costs would be higher because most of the costs for the vendor model that UTA is proposing would be fixed.
UTA recorded revenue of $54 million in 2019, the last year before the pandemic. Some industry observers believe public transit agencies will never reach their pre-pandemic revenue and ridership levels.
During the October UTA board of trustees meeting, one member of UTA's three-member board, Jeff Acerson, seemed to express some doubts that the agency would reach the $60 million mark for revenue.
"That's, that's…I hope we get there soon," he said. "That's long range. I'm sure that's a very valid number." He added that he wanted the board to explore the idea of eliminating fares while seeking increased funding from the state legislature. But board members generally agreed that the state would be unlikely to do away with fares for its major transit agency.
Costs Could be Lower?
After reviewing the RFP at the request of Mobility Payments, the industry expert, who asked not to be named, said he believes that costs could be lower.
The RFP, at 118 pages, includes highly detailed specifications, with numerous design reviews and acceptance tests, he said.
"This approach virtually guarantees that the system will be much more expensive, since the selected provider will be obligated to modify its solution to accommodate the agency's requirements and to support the various design reviews and tests," the expert said. "This ensures that the agency and its passengers will be the alpha and beta users of the system and that it will be unique, proprietary and costly to maintain and change in the future."
While not arguing for a modular approach to building fare systems, he pointed out that UTA has demonstrated the expertise to build and run its own back-office system and to develop applications for it. UTA's RFP notes that the agency successfully built an account-based ticketing back office and brought it in-house in 2018. This back office was integrated with validators and other parts of a fare system that was originally provided by Australia-based ERG Ltd. in 2008. ERG later became Vix Technology and Vix operated the UTA system for a time.
With the modular approach, agencies would buy the various components of the fare-collection system, including validators, fare calculation and processing, along with the back office, as needed. The approach can save money for agencies, which have more control over the implementation of the system. But they also bear more responsibility if something goes wrong.
SaaS Vendor Possible
While the RFP appears to call for the traditional system integrator model to design, build and operate the fare system, a UTA staffer said a software-as-a-service vendor that owns and controls the fare-collection platform was a possibility.
The industry expert told Mobility Payments, however, that the RFP's specifications would make it unlikely that full-fledged SaaS vendors would bid on the project because such vendors likely could not meet the RFP's various requirements with their platforms. SaaS vendors could potentially save agencies money, though the ability for agencies to customize the SaaS platform would be limited.
"The agency's specification makes it much more likely that it will get primarily, if not exclusively, proposals for traditional, proprietary, custom-built solutions unless it agrees to waive the design review and acceptance tests requirements," he said.
A tendering process for a new fare system conducted last year by a smaller mid-tier agency in the U.S., the Milwaukee County Transit System, MCTS, ended up choosing a SaaS vendor, though this was not specifically called for in the MCTS's RFP. The agency chose Cubic Transportation Systems, which is mainly a traditional fare-collection system integrator. But Cubic proposed use of its separate SaaS platform, Umo, for the Milwaukee project, as Mobility Payments reported.
It's possible UTA could negotiate changes to the project requirements to accommodate a variety of vendor models. But the 118-page UTA RFP obtained by Mobility Payments did not have a requirements or compliance matrix to compare how well bidders meet or do not meet requirements in the RFP.
The matrix also allows bidders to propose exceptions or modifications to the RFP requirements. The UTA RFP did not indicate that the matrix could be found in a separate document. The RFP that Milwaukee's MCTS issued in April 2021, and which, like the UTA RFP, ran 118 pages, included the matrix within the RFP document.
Alisha Garrett, UTA's chief enterprise strategy officer, who led the staff review of the project during the October UTA board meeting, seemed to indicate that hiring of a SaaS vendor was a possibility.
"The models are now changing, and so the pricing for the EFC (electronic fare-collection system) could really fluctuate depending on which vendor we go with," she said. "But software as a service is much more of the business model now. And so, there may be a lower upfront capital cost outside of the validators and things that will need to go along with the system. And then it would be a higher ongoing operating cost versus the capital cost."
UTA Falling Behind Other Agencies
While once a pioneering agency, at least in terms of support for open-loop payments, UTA has fallen behind others in terms of features its fare system offers to customers, according to Clevor's assessment.
For example, besides not being technically ready to accept contactless credit and debit cards, UTA doesn't yet have a virtual version of its closed-loop card available in an NFC wallet. Also, UTA's fare system is not integrated with the agency's accounting system or with consumer and corporate customer websites. Moreover, its ticket-vending machines and mobile app are not integrated with its electronic-fare system.
In general, such U.S. agencies as those in New York, Boston, Los Angeles, San Francisco, Chicago, Dallas and Seattle and Portland, OR, offer most or all of these features, as do some smaller agencies in Nashville, Honolulu and Tampa. That is according to a survey by Clevor, which has worked with some of these agencies.
Replacing Mobile-Ticketing Provider
UTA has also issued a separate RFP for its planned new mobile app, the agency confirmed. Procurement of the mobile-ticketing service will likely take a faster track than the rest of the fare-collection system because UTA's current mobile-ticketing vendor, Passport Labs, is discontinuing its service. Passport provides a white-label app and ticketing platform for UTA, which brands the app "GoRide."
U.S.-based Passport, in fact, is dropping its SaaS transit-ticketing service for all cities, focusing instead on its much larger electronic parking payments offer. The vendor told Mobility Payments this week that as of Jan. 1, 2023, it would end the transit-ticketing service, "including back-office reporting and supporting software." The company said it told agencies that use Passport of the decision to end transit support last October.
According to the recommendation by Clevor, UTA plans to hire a new ticketing provider that can accept 2D barcode electronic tickets, with an option to take virtual contactless cards and wallets. This would require additional hardware.
The mobile-ticketing service would be integrated with the overall account-based fare system, so users would be able to load value into their accounts online, via the mobile app, at ticket-vending machines and retail merchant outlets and at customer-service locations. The app would also need to support ticketing in third-party apps, such as Transit or Moovit, via an API or SDK.
It would make the mobile phone just another token used to access the account-based system, the same as physical closed- or open-loop cards or NFC wallets supporting virtual cards.
The new mobile-ticketing provider will also support a feature that enables bus drivers and other agency personnel to visually inspect users' smartphone screens to validate tickets. That's in case UTA decides to go this low-tech route. At present, that is the only way users can validate their tickets in the GoRide app, which does not support electronic validation.
The new mobile-ticketing vendor is expected to be a software-as-a-service platform provider. The procurement option recommended by Clevor–supporting scanning of 2D barcodes on mobile tickets with the possibility of contactless validation­–would cost $3.3 million to operate over 10 years, most of it–$2 million–from the vendor. Capital costs, presumably for scanners and integration with validators, among other upfront expenses, would cost $2.1 million.
Return to Open Loop
The UTA RFP requires that the validators and the back office fully support contactless credit and debit cards branded by the four major U.S. open-loop networks, Visa, Mastercard, American Express and Discover. The system must also support such NFC mobile-payments services as Apple Pay, Google Pay and Samsung Pay.
UTA had supported all four brands on cards in its earlier open-loop rollout, which it ended almost exactly four years ago. The decision to end the service was due to the combination of substantial costs, including maintaining compliance with PCI security standards, and very low take-up. At the time it quit open loop, UTA was reportedly recording only around 100 customers per day tapping credit or debit cards to ride.
Since then, U.S. banks and credit card companies have issued hundreds of millions of contactless credit and debit cards, and NFC wallets, like those connected with Apple Pay and Google Pay, have continued to expand.
Most transit agencies, mid-tier and larger, that are tendering for new fare collection systems globally generally include a requirement that new validators and back-office systems be made at least technically ready to accept contactless EMV payments in the future. This gives agencies the option to turn on open loop at the same time they launch the rest of the system or to activate it later.
For example, Mobility Payments has learned that an RFP recently issued by Dubai's Roads and Transport Authority, for RTA's planned overhaul of its large fare-collection system, includes a requirement for open loop. The EMV contactless technology might not be rolled out until phase 2 of the account-based ticket implementation, a source said.
The much smaller UTA also apparently believes the time is right to support open loop again, along with upgrades of its other fare payments methods. While it might not reach its pre-pandemic ridership levels again, the agency is sure to surpass the paltry number of EMV taps from it saw during its first rollout of open-loop payments.
© Mobility Payments and Forthwrite Media. Mobility Payments content is for individual use and cannot be copied or distributed without the express permission of the publisher.