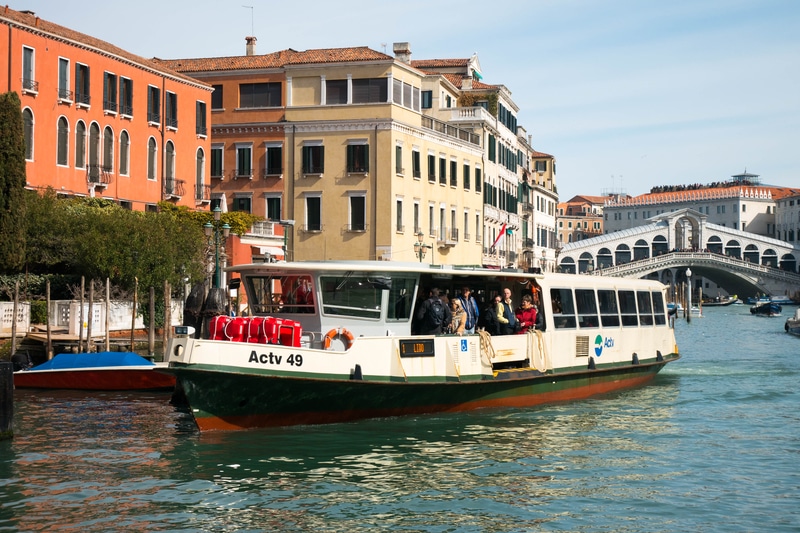 Article Highlights
Key Takeaway:
Venice transit agency AVM has issued a tender request for an open-loop fare payments system based on the concession model. The agency plans to pay the winning vendor a commission on open-loop revenue collected, while the vendor will pay for all costs for the system, both hardware and software.
Key Data:
• Table: Main provisions, likely bidders for Venice concession agreement
Transit officials in Venice, Italy, plan to launch open-loop payments during the first part of 2023, following such Italian cities as Rome, Milan, Naples and Turin in enabling customers to pay fares with their contactless credit and debit cards.
But Venice transit agency Azienda Veneziana della Mobilità, or AVM, is undertaking an unconventional approach to procuring its open-loop system. It seeks to hire a vendor to operate the system under a five-year concession agreement.
And according to a tender request from AVM obtained by Mobility Payments, the vendor must pay for all hardware and software costs, including buying and installing between 1,700 and 1,900 certified validators on board buses, trams, water buses and shuttles, which AVM and its subsidiary Actv manage.
That's in addition to the vendor providing a fare-calculation engine; integrating the EMV payments service with the existing electronic-ticketing system; signing up and integrating an acquirer and providing a "traveler's portal," where customers can consult their transaction history and possibly associate their contactless payment bank card with Venice's closed-loop Unica card. The card stores tickets and long-term passes.
In return, the vendor the agency hires will receive a commission of up to 3.5% of the amount of fares customers pay directly at validators with their credit and debit cards and credentials on NFC phones. That's in addition to acquiring fees that the agency would pay of a maximum of 1% for domestic debit cards; not more than 3% for "non-consumer" domestic cards and not more than 5.5% if a customer uses an international bank card.
The system will accept such major payments brands as Visa, Mastercard and American Express, in addition to Italian debit card Bancomat; along with these credentials in NFC wallets, such as those connected with Apple Pay and Google Pay. The NFC payments services don't yet support Bancomat.
Concession Model has Some Vendors Worried
The structure of the proposed deal poses risks for prospective vendors, since they would have to fund millions of euros worth of hardware and operational costs, as well as paying for "communication" of the service to help sell tickets. (See names of three likely bidders below).
There is no guaranteed payment if the commissions don't cover the costs of the system.
One source in Italy who is knowledgeable about the Venice contract told Mobility Payments he believes the concession deal will be a money-loser by itself, adding: "But they'll (concessionaire) get enormous reward in communication all around the world." That means the vendors could use Venice as a reference implementation to win business elsewhere.
Transit officials in Venice will set the commission rate after negotiation with the vendors during the tendering process, which is going on now. 3.5% is believed to be the maximum rate for the first year. The negotiated rate will likely be set on a sliding scale, with the rate dropping as transaction amounts increase. The higher the transaction value, the lower the rate of commission.
The Venice tender request follows a deal in Valencia, Spain, in which bank BBVA agreed to an even lower commission rate to enable open-loop payments, according to industry sources.
Under conventional contracts to build open-loop and other fare-collection systems, transit agencies pay for the capital expenses, including the validators and back-office software. They also pay vendors for operational expenses, if vendors operate the system for them, usually via fees. Software-as-a-service mobile-ticketing vendors–which collect a commission on ticketing revenue from agencies that use their platforms–also receive payment from agencies if the service calls for validators.
In the case of AVM in Venice, the agency is pursuing a sort of "open-payments-as-a-service contract," as one industry supplier put it, but one in which it is asking for vendor-funded hardware.
Giovanni Santoro, head of institutional and customer relations at AVM, when asked why his agency decided to set up a concession agreement for the open-loop service, said AVM was exploring the market and was seeking a "space for an important innovation and a huge investment without fixed costs."
That means vendors will pay for a minimum of 1,700 validators and apparently for a maximum of 1,900 validators. The agency will apparently pay for any validators over 1,900.
In addition, the vendor chosen as the concessionaire has to fund what Santoro called a "communication campaign." This refers to a provision that mandates that the concessionaire invest in communications "encouraging the use of digital tools for the purchase of travel tickets." The knowledgeable source said one requirement for investment in communication would cost €500,000 (US$536,000). This amount might refer to that communication campaign requirement.
Agency Receives Three Bids
Despite the difficult business case for the vendor that wins the concession contract, Santoro confirmed to Mobility Payments that AVM has received bids from three vendor "groups." He declined to name the bidders, but they are believed to be U.S.-based Conduent, working with acquirer Elavon; France-based Flowbird, allied with an unnamed acquirer; and Italy-based Pluservice, working with Nexi, which is now part of SIA.
With the large number of tourists that visit Venice every year, the vendors bidding on the project perhaps believe that the open-loop service will turn a profit or at least attract enough taps to cover costs. Tourists, of course, are less likely to carry the agency's closed-loop card.
And there is some talk that vendors possibly could earn revenue from a payments scheme wanting to promote its brand. It's not clear, however, how much of that promotional revenue would be kept by the concessionaire.
AVM's Santoro said the contactless EMV payments service is not only targeted at tourists and occasional riders, but will also be an option for regular, local riders, even those with subscriptions.
The knowledgeable source, who asked not to be named, told Mobility Payments that Venice already has a well-regarded "smart-ticketing system" in place with the Calypso-based Unica card. The EMV payments service is an add-on, which the agency doesn't want to spend money on buying new validators.
If successful, Venice's plan to use a capex-free concession agreement to deliver open-loop payments would offer a new model for transit agencies eager to accept contactless credit and debit cards for fares but concerned about costs.
But if the deal flops, AVM might be facing calls from its concessionaire to renegotiate its contract. And the vendor would be unlikely to renew the contract after five years.
© Mobility Payments and Forthwrite Media. Mobility Payments content is for individual use and cannot be copied or distributed without the express permission of the publisher.