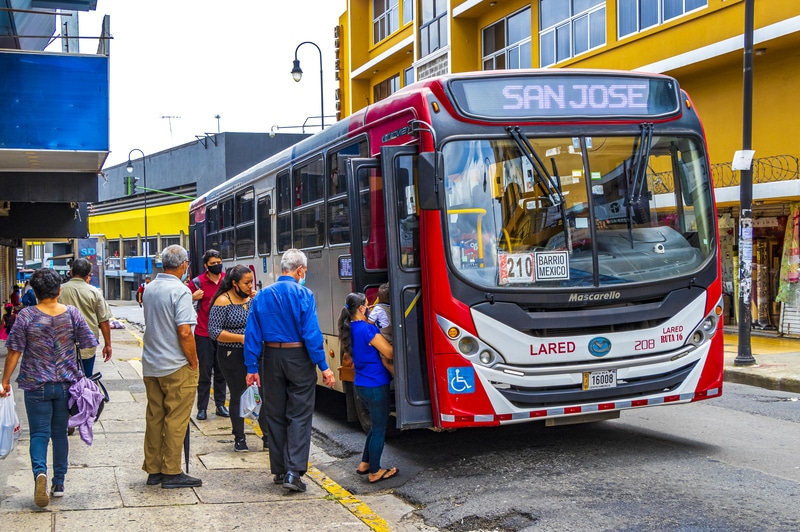 Article Highlights
Key Takeaway:
In a first for Latin America and perhaps one of the only projects of its kind in the world, the Central Bank of Costa Rica is building a nationwide infrastructure for open-loop transit payments, as it seeks to ultimately eliminate cash on board its buses and trains. The aggressive push would leapfrog the country over a closed-loop payments infrastructure.
Key Data:
Table: Costa Rica's open-loop rollout–key points
In a first for Latin America and perhaps one of the only projects of its kind in the world, the Central Bank of Costa Rica is building a nationwide infrastructure for open-loop transit payments, as it seeks to ultimately eliminate cash on board its buses and trains.
The open-loop rollout for transit, now being trialed for buses after having launched on commuter trains in September, is expected to complement Costa Rica's successful contactless-payments deployment at the retail point-of-sale.
The country, in fact, has one of the leading rollouts of contactless EMV payments at retail in Latin America and wants to do the same for open-loop transit payments. Among other challenges, it must deal with Costa Rica's fragmented base of bus operators. (See below).
In exclusive comments to Mobility Payments, the country's central bank, Banco Central de Costa Rica, or BCCR, said it expects that rolling out contactless for transit payments will substantially reduce or eliminate cash usage on board thousands of buses, along with trains, helping Costa Rica cut cash transactions dramatically nationwide. BCCR said public transport now makes up a whopping 50% of all cash payments in the Central American country.
The goal is to eliminate 600 million cash transactions per year in Costa Rica after contactless open-loop payments are fully rolled out, including on around 5,000 buses. Most of those buses belong to hundreds of private bus companies. And they will be responsible for purchasing and installing their own hardware.
Bus operators that resist getting on board with the project could delay the rollout, though many are believed to have said they will support it.
For those reluctant to adopt the new electronic payment method, government regulations covering public transport concessions managed by the Public Transportation Council and the Ministry of Public Works and Transport, MOPT, can push them to participate in the system.
BCCR believes that enabling riders to tap to pay will take a big bite out of the cost of cash handling–which the central bank estimates amounts to $500 million per year. That represents 0.08% of the Costa Rica's gross national product.
In addition, open-loop fare payments would enable transit agencies to leapfrog over the need to build a closed-loop contactless infrastructure, which many agencies deploy well before rolling out open loop.
"With cEMV, (we) can avoid incurring the costs associated with the development of a solution based on proprietary cards, the building and maintenance of which requires constant and incremental costs," BCCR told Mobility Payments.
If it works as planned, Costa Rica's open-loop fare payments rollout could serve as a model for other developing countries, especially those with a decentralized base of operators that include many privately held companies, said Paul Griffin, global head of commercial for UK- and Australia-based Littlepay, a payments service provider and key vendor for the Costa Rican project.
The open-loop system uses a modular architecture, for which BCCR built a light back office to handle the contactless EMV transactions, and hired acquirers and the PSP, noted Griffin. It also set specifications, including certification requirements, for validators, for which transit operators will not be required to procure through formal bidding.
BCCR believes these specs will enable operators to buy functional, secure validators without the formal bids. The central bank has worked with the Ministry of Public Works and Transport and other national agencies on the project, which they call the National Electronic Payment System in Public Transportation, or SINPE-TP.
"It makes great sense for a government to set up a shared national EMV transit payments hub in just the same way it made sense for national banking institutions to set up their own ATM networks in the '80s and '90s," Griffin told Mobility Payments. "Small operators can introduce EMV by simply buying a standard, integrated validator and (conducting) a simple onboarding."
Success Factors
It helps that Costa Rica has already demonstrated it can roll out contactless EMV payments at the retail point of sale and gain healthy adoption.
The central bank led this rollout, as well, starting with mandates in 2015. This included requirements that all credit, debit and prepaid cards support contactless EMV by the end of 2018 and all POS terminals accept the technology by the end of 2020, both ahead of regional mandates set by Visa and Mastercard.
By the end of 2021, 99% of cards and 98% of POS terminals were equipped to handle contactless EMV payments, and the penetration rate of contactless transactions hit 75% of transactions with cards, according to BCCR. (Apple Pay began supporting NFC wallet transactions in Costa Rica in late 2021).
The penetration of contactless transactions at the retail point of sale was 26% as of the end of 2018, according to a Visa-sponsored white paper released in 2019, "Contactless payments in Costa Rica," by Miami-based American Market Intelligence. The report cited Visa figures for the 2018 penetration rate.
BCCR said it doesn't have a figure for the percentage of retail transactions made today with cash. A BCCR study found that in 2017 that while cash represented only 10% of the total value of transactions, it made up 79% of the number of transactions.
That means cash was being used for most low-value transactions. BCCR told Mobility Payments that total card transactions increased between 2019 and 2021, but only by 5.6% over the two years, to 546.5 million in 2021. And the total value of the transactions dropped substantially because of the pandemic.
Still, there seems to be little doubt that consumers are tapping contactless cards more often at the retail point of sale. And the big banks have also seen a business case for supporting contactless.
BCCR said it can take advantage of this "good level" of deployment and adoption of contactless EMV at retail to offer transit riders a better experience when they pay their fares, while reducing cash acceptance. Open loop would also be more convenient for the three million tourists a year the country hosts, BCCR added.
Costa Rica has 8.8 million contactless payment cards on issue, which for a country of only 5.1 million people, works out to 1.7 card per capita. There are around 192,000 POS terminals, just under 22,000 of which are either mPOS or smartphones supporting Tap-to-Phone apps.
Challenges Remain
Still, the government faces several challenges to making the open-loop fare payments rollout a success. The 2019 Visa-backed American Market Intelligence report identified some of these.
One was to gain the support of various regulatory bodies and big banks, which it appears to have done. Another was "enforcing the new system on hundreds of transit operators." Most of these operators, at least 350, are commercial bus companies.
When asked by Mobility Payments whether it would mandate that the private bus companies participate in the open-loop payments service, BCCR noted that the bus companies operate under concession contracts with the Public Transportation Council, which is a regulatory and technical body attached to the Ministry of Transportation. And since September 2021, all new concession agreements include a provision that presses operators to implement the open-loop contactless SINPE-TP system.
If they choose not to play along, the council and ministry have regulations in place that could make participation by operators a condition for continuation of their concession agreements.
Still, the concession contracts run for seven years, and it's not clear when during those contracts that bus operators would need to comply by buying and installing validators on board their buses.
In addition, while the central bank said that operators cover their costs through fare revenue, fares will not be increased to pay for the open-loop hardware and installation costs. And BCCR could not say how much the project will cost in total because it doesn't know what brand of equipment, mainly validators, that operators will buy.
BCCR also said it doesn't know when the rollout will be completed–only that 5% of the buses, around 250, would be equipped to accept contactless debit and credit by the third quarter of this year. After that, "the gradual expansion plan to the rest of the national routes will begin."
The central bank later told Mobility Payments that it hopes to complete the system in four years. And it added that government officials are even drafting a law "to eliminate cash in public transport, once contactless payments are deployed nationwide."
Littlepay was chosen as PSP after a formal bidding process, said Griffin. He added that he doesn't worry that the validators bus operators buy and install without formal bids will have performance or interoperability (or security) problems or add integration costs to the operators' bills.
"That hardware will be 'homologated' (certified) first by BCCR," Griffin said. "Only pre-integrated kit will be able to connect into BCCR. The operators therefore don't have to consider any project or integration costs."
He said he believes the larger rollout by bus operators following the pilot phase should "happen reasonably quickly given the investment and priority the project has had from central government."
Singapore-based validator maker SC Soft got an initial order for hardware for a certain number of units for the pilot. It isn't known what these units cost. The vendor bid US$1,250 for its lowest-cost validator as part of the statewide Cal-ITP project in California, as Mobility Payments reported. That price was for the first unit, not counting installation. The Cal-ITP bids are considered ceiling prices.
Accommodating Unbanked Riders
Open-loop payments backers in Costa Rica also have to make sure they serve customers without debit or credit cards or those who don't want to use them to pay fares if they hope to eventually eliminate cash on board buses and trains.
Costa Rica appears to be well-positioned to deal with this challenge. The country is one of the leaders in Latin America in the share of citizens who have bank accounts. That percentage stands at 79% of people over 15 in Costa Rica, according to BCCR.
Part of that high rate is thanks to creation of a system in 2015 that gives people access to simplified bank accounts that are easy to open–with a national ID card or passport–and which eliminate account maintenance fees.
As of the end of last year, there were 1.7 million such accounts, called CES accounts, according to BCCR. They provide each accountholder with a contactless debit card, which would enable them to tap to pay for public transit.
"It is possible that in the end, there will remain a small group of people for whom banking is a real option and yet they decide not to get a card for some personal reason," BCCR said. "To serve these people, an alternative mechanism will have to be created that allows them to travel on public transport after cash is eliminated as a means of fare payment."
One proposal would have an issuer, perhaps one of the country's large banks, to roll out reloadable EMV-enabled prepaid cards that riders could buy at retail locations.
Much Riding on Costa Rica's Initiative
Other countries or large political subdivisions are seeking to use open-loop technology to roll out interoperable fare systems and reduce fragmentation.
To name just two, in India, the government has been pushing a National Common Mobility Card, or NCMC, issued by banks. And in the U.S. state of California, the Cal-ITP program seeks to make it easier for transit agencies to hire the vendors they need to begin accepting debit and credit cards for fares.
NCMC, launched around three years ago, has so far failed to take off, at least in part because of poor economics for financial institutions to support the system. Cal-ITP opened its so-called "Mobility Marketplace" of validator and fare-calculation software suppliers to transit agencies across the U.S., only this year. It faces an uphill climb, however, to get most Americans out of their private cars and into public transportation. Perhaps the only thing that would do that is continued high prices for gasoline.
Costa Rica's open-loop fare payments initiative–though originally expected to launch as a pilot in 2019, is showing early signs of promise. The financially strapped commuter rail agency INCOFER, which launched open-loop payments in September, is now seeing 30% of its fares paid for with bank cards, according to BCCR.
Ridership for the state-owned commuter rail agency did not even reach 15,000 per day, on average, before the pandemic and remains well below that today. Bus ridership is much higher, but the hundreds of bus operators make delivery of service highly fragmented. The central bank and other backers of the government's open-loop fare payments project believe that the system they are building is enough to overcome that fragmentation and other challenges.
"It's not large scale regional (transit) authorities or government controlled franchises," said Littlepay's Griffin. "These are just commercial operators, working at pretty low margins, with pretty low fare revenues. (Without the SINPE-TP system) they wouldn't be able to do this kind of complex fare-collection project like this on an independent basis because there's no economy of scale."
© Mobility Payments and Forthwrite Media. Mobility Payments content is for individual use and cannot be copied or distributed without the express permission of the publisher.