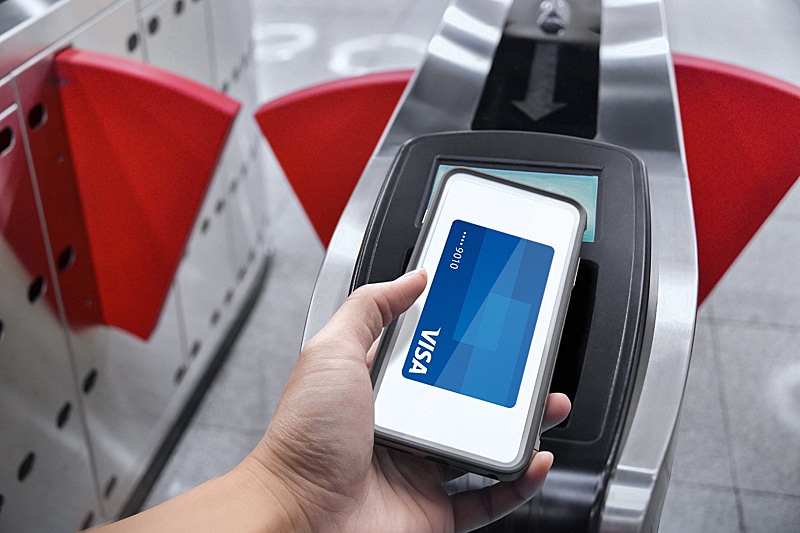 Article Highlights
Key Takeaway:
In a region that has lagged behind in open-loop payments rollouts, Visa Tuesday sought to showcase the two largest launches to date in Asia Pacific–in Sydney and Singapore, where representatives of transit agencies said they are seeing strong adoption of the technology by customers.
Key Data:
Asia Pacific hasn't seen any large-scale launches of the open-loop technology in the past three to four years. The region trails well behind Europe, in particular.
Organizations Mentioned:
In a region that has lagged behind in open-loop payments rollouts, Visa Tuesday sought to showcase the two largest launches to date in Asia Pacific–Sydney and Singapore, where representatives of transit agencies said they are seeing strong adoption of the technology by customers.
Speaking at the Visa-sponsored Transforming Urban Mobility online conference, representatives of Sydney-based Transport for New South Wales and Land Transport Authority of Singapore both said there is still much room for growth in use of open-loop payments–though they added that support for concessionary discounts with open-loop cards and wallets remains a challenge.
It was the fourth conference of its kind organized by Visa for the region, the last two held online because of the pandemic. But Asia Pacific hasn't seen any large-scale launches of the open-loop technology in the past three to four years. The region trails well behind Europe, in particular.
One problem for Visa­–which would like to sell more of its open-loop products and services and to see its brand on credit and debit cards and in mobile wallets tapped more often­–is that major transit agencies in the region continue to promote their closed-loop fare cards.
Fare-collection companies, of which the transit authorities or the governments behind them usually own a large stake, issue these cards. The business can be a lucrative one because customers can tap the reloadable e-purse cards not only to pay fares on buses or at metro gates, but also for purchases in large retail networks the companies manage.
Visa on Tuesday pointed to open-loop launches by mostly small bus or train operators in such markets as Japan, Hong Kong, Malaysia and Thailand. In the latter, the local transit authority has launched open loop on two lines of the Bangkok MRT. A large account-based ticketing project, featuring open-loop payments, is now being implemented in Brisbane and the surrounding state of Queensland. But aside from pilots, this service has not launched yet.
During the three-and-a-half-hour, highly scripted conference, Visa was keen to promote such open-loop "solutions" as fare payments processing from its Cybersource unit and its prepaid and private-label card technology. More than once, the payments scheme touted what it says are the more than 600 open-loop fare payments launches it has participated in globally–half of them launching in the past three years.
Visa didn't offer many details about the figure, which no doubt includes a number of launches by small bus and rail operators. It's not clear whether the figure includes pilots and how much involvement Visa had in each of the projects. In addition, Visa, like Mastercard, at times funds open-loop projects–often funneling the money through promotional or marketing deals.
Small Launches in Japan
In Asia Pacific, the open-loop launches in Japan are noteworthy because they involve nearly 30 implementations in a country where FeliCa-based closed-loop cards, such as Suica, Pasmo and Icoca, are entrenched. All or most of the launches involve Cybersource and Visa's large bank acquiring partner Sumitomo Mitsui Card. Visa said the 29 projects have been implemented over a two-year period ending September 2022.
Some of the projects are reportedly trials. Among them are launches by such privately held transit operators as Nankai Electric Railway and local bus company Shinki Bus. It's unclear when the trial by Nankai launched. It was originally scheduled to happen in the spring of 2021. Both operators are based in Japan's Kansai region, in the southwest of Japan's main island.
Masatoshi Ishizuka, head of the transit business division of Sumitomo Mitsui Card, who was interviewed by a Visa representative during the conference, said the effort to encourage transit operators to support open loop began in 2019 and made little headway at first.
"The turning point came after the Covid outbreak, in March 2020, when a state of emergency was declared," said Ishizuka, in a translation provided by Visa. "The pandemic had a detrimental impact on transportation operators, which suffered a sudden drop in ridership of 30%, as well as on the leisure and travel industry nationwide. The damage to this industry transformed their mindsets."
The operators hope the addition of an open-loop fare option will increase ridership, including by tourists and other visitors. The private operators, whose parent companies sometimes own retail outlets, also hope open-loop transit payments will have a knock-on effect on contactless payments at retail.
But the open-loop projects in Japan so far do not apparently involve major agencies, such as Tokyo-based rail operator JR East, the issuer of Suica.
Further Growth Could Come with Greater Awareness, Incentives
Transport for New South Wales and Land Transport Authority, or LTA, have fully rolled out the two largest open-loop payments projects to date in Asia Pacific. Both completed their rollouts around three to four years ago. (Ironically, while Visa spotlighted these two projects during its event, both transit agencies originally launched pilots for the projects exclusively with Visa rival Mastercard in 2017, and LTA had a lengthy exclusivity period with Mastercard after that.)
During their Visa conference session, the agencies said the rate of future growth for open-loop services could hinge on how well they continue to build on customer awareness of the technology and how much they and other open-loop backers are willing to provide additional incentives for customers to tap their bank cards or wallets to pay.
"Even today, after three years or four years promoting contactless cards, there is still a significant portion of people who are not aware that they can use their credit cards," noted Silvester Prakasam, senior advisor on public transit ticketing for LTA. "So this is one sector I think we must be more aggressive (in)."
He estimated that open-loop payments now account for around 30% of ticketing for LTA, with "most of the EMV transactions taking place on phones rather than cards." While overall ridership has returned to around 80% of pre-Covid levels, use of open-loop payments has grown faster than it has for such closed-loop cards as EZ-Link.
Surprisingly, Prakasam said he believes LTA could see adoption rates for open loop approach 100% in two years or so. He did not fully explain how the agency could accomplish this penetration rate so soon, especially since he also said he believes it could take a few years to work out how to support for concessionary discounts for seniors and other riders with open-loop cards and wallets.
When asked by moderator Ryan Koo, director of contactless and urban mobility programs for Visa Asia Pacific, how LTA could achieve full open-loop penetration, Prakasam said that in addition to building awareness, the agency would need to offer incentives.
"I suppose the easiest thing would be some kind of loyalty program to give discounts, because if you look at it very, very objectively, there are savings by going to contactless ticketing. So there's no reason (not) to share some other benefits with the commuter." He had noted that the agency saves money on equipment such as ticket-vending machines because of its open-loop service.
Kurt Brissett, executive director of connected journeys for Transport for New South Wales, agreed that there was a need for more customer education of the benefits of open loop and also to offer more incentives–the latter potentially coming from the financial services sector, he said.
Around 55% of adult customers for Transport for New South Wales tap open-loop payments to pay fares, only three years after the agency fully rolled out the technology. The majority of the open-loop payments come from mobile wallets, according to Brissett. The agency accepts such NFC payments services as Apple Pay and Google Wallet.
"It's obviously a very competitive market, and all the schemes and banks are looking to maximize their market share," he said. "If they can market their products and provide our customers with discounts and incentives, then ultimately, the customer is a beneficiary and the agency's a beneficiary, because we're able to maximize the adoption of EMV."
Brissett added that not all customers realize that open-loop payments is priced the same as the agency's closed-loop Opal card, including on discounts from daily, weekly and Sunday fare capping. "So we think that there's certainly still an education piece that we can capitalize on."
Difficulty Supporting Concessions
Both speakers believe one obstacle potentially standing in the way of increasing the share of customers tapping their debit or credit cards or NFC wallets to pay fares is being able to link the cards or tokenized wallet credentials to concessionary discounts for seniors, disabled persons, students and others. Today, agencies often issue these customers special closed-loop cards bearing the customers' photos. That is highly impractical for bank-issued cards or credentials so the link would have to occur in the back office.
Brissett said account-based ticketing–which his agency plans to roll out–is the answer to "most effectively implement a concession-based pricing while using an EMV token across the transit network." But he added: "Obviously, there are some challenges and technical complexity associated with that."
New York's Metropolitan Transportation Authority late last month was the first major transit agency to roll out concessionary discounts linked to open-loop payments. The new feature, however, does not check the eligibility of seniors and disabled persons to receive the discounts.
The key is verifying that a customer is eligible to receive the concession then supporting it with the customer's preferred open-loop card or credential, said LTA's Prakasam. "If this can be resolved, I think, yes, we can use (only) contactless EMV cards," he said.
To move onto an EMV-only system, it would require the agency to either provide open-loop options for customers that don't have bank cards or don't want to use them, or to issue a closed-loop card using white-label EMV technology. Prakasam didn't say which one he supported, but noted that the "ultimate goal" is to maintain only one system. LTA already supports account-based ticketing.
Brissett said Transport for NSW's planned account-based ticketing system could help bring the agency's separate closed-loop and open-loop systems together. And he noted that the agency successfully trialed a digital Opal card complying with EMV technology loaded in mobile wallets around 18 months ago. It's now piloting a subscription-based mobility-as-a-service app, Opal Plus, with a similar digital Opal card that can be used to access rides with mobility providers.
With mobile wallets becoming more popular, both agencies are also looking into what Brissett calls "frictionless" ticketing, "rather than being reliant on an NFC interaction with a payment terminal." That could include such hands-free technologies for smartphones as Bluetooth and GPS.
For Transport for NSW, such new ticketing technologies could at the least be offered to disabled persons who have trouble accessing gates by tapping cards or NFC wallets on readers.
To date, only transit agencies without gates or other fare barriers have launched mobile ticketing that allows customers to board and exit transit vehicles by merely checking in and out on their smartphones. Prakasam predicted his agency could possibly support gateless technologies "by the end of the decade."
"This is already happening in some cities around the world and uses other media to track commuters, for example, they can use their own phones," he said. "I think that will be the next big thing for ticketing in Singapore."
Any check-in/check-out or fully hands-free mobility-ticketing apps could support Visa-branded cards and those from other payments brands as a funding source.
© Mobility Payments and Forthwrite Media. Mobility Payments content is for individual use and cannot be copied or distributed without the express permission of the publisher.