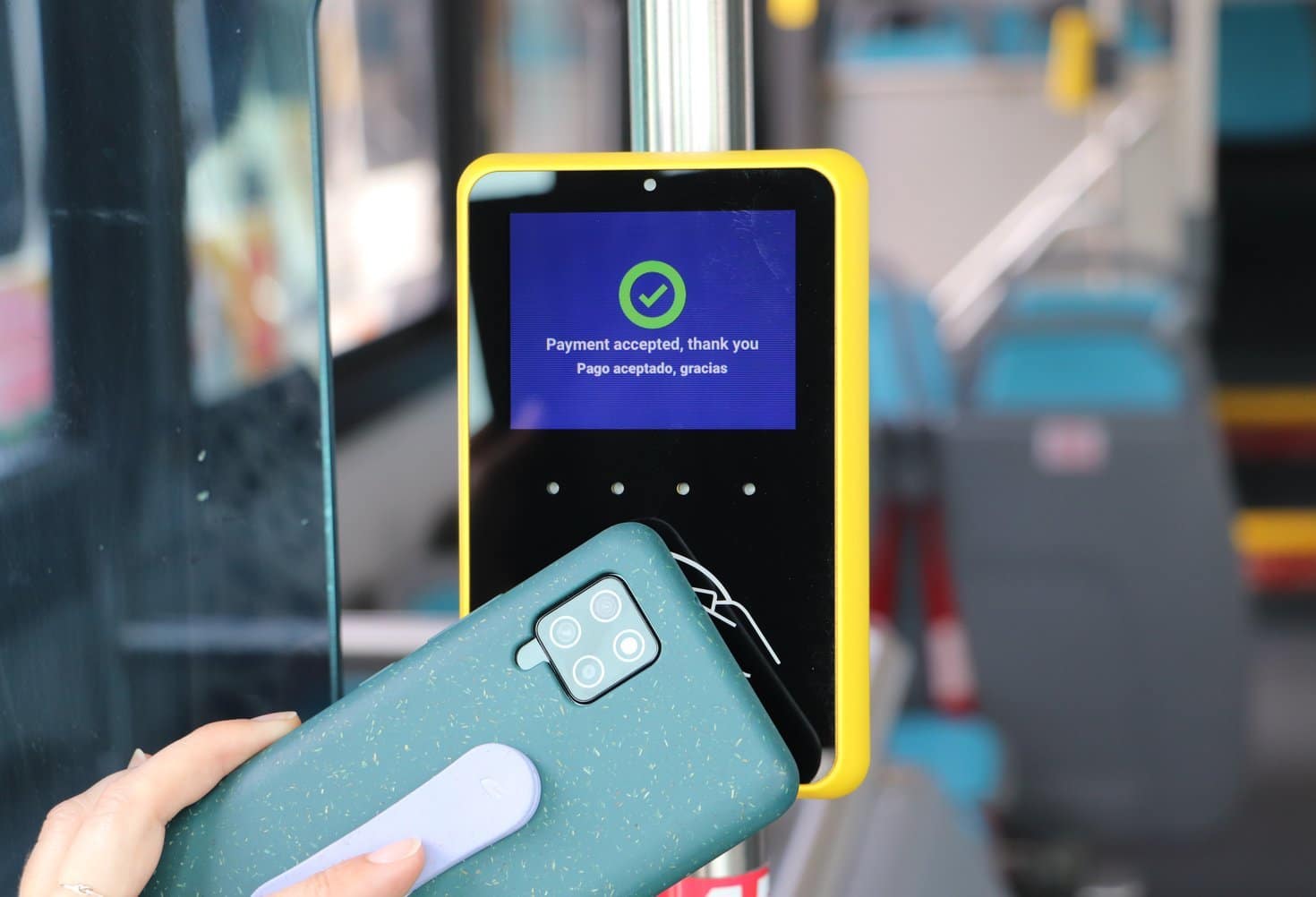 Article Highlights
Key Takeaway:
The California Department of Transportation, or Caltrans, wants to find more suppliers of validators that can accept open-loop payments, and it has asked a U.S. federal agency for assistance, Mobility Payments has learned. Caltrans seeks to scale its open-loop procurement program.
Key Data:
Through nearly a year of activity, Cal-ITP vendors reported orders from only eight transit agencies—most very small—with the orders totaling US$488,000 for validators and related hardware.
The California Department of Transportation, or Caltrans, wants to find more suppliers of validators that can accept open-loop payments, and it has asked a U.S. federal agency for assistance, Mobility Payments has learned.
Caltrans has requested the U.S. General Services Administration to research the market to determine the availability of qualified hardware vendors that meet requirements of the state's Cal-ITP program. It appears that GSA could then vet the vendors, ask them quotes and potentially put them under contract.
GSA issued a request for information, or RFI, asking vendors if they could supply validators that accept contactless EMV payments and meet or exceed the minimum specifications for validators in California's master service agreements. Suppliers also were asked if they could support transit agencies across the U.S. with their products, including installing their validators.
Cal-ITP assists transit agencies to procure open-loop technology. Although Cal-ITP's so-called "Mobility Marketplace" was off to a slow start through nearly its first year of operation, officials apparently believe they need more validator suppliers than the three the state currently has under contract–UK-based Kuba, Singapore- and India-based SC Soft and Germany-based INIT. Cal-ITP has opened its program to transit agencies throughout the U.S., not just California.
In response to questions from Mobility Payments, Cal-ITP would only say in a statement that it is "supportive of GSA assessing the size of the contactless payments market and determining if there are more hardware and software vendors that could support agencies across the U.S."
Responses to the RFI were due Dec. 21. The GSA stated in the document that it might ask for quotes from qualified vendors.
"The California Department of Transportation came to the U.S. General Services Administration seeking market research assistance for their potential requirement under GSA's Cooperative Purchasing Program," a GSA spokesman told Mobility Payments when asked why it issued the RFI.
The Cooperative Purchasing Program allows state, local and other government agencies to buy information technology, security and other products and services. For the IT sector alone, there are more than 7.5 million products, services and solutions from over 4,600 "pre-vetted vendors," GSA said. The agency, known as the federal government's landlord, also handles purchasing contracts and supply-chain management for federal agencies.
It's unclear that if GSA were to contract with validator suppliers, how much involvement Cal-ITP would have with transit agencies procuring through the federal purchasing program. Cal-ITP could continue to offer consulting services, as it does now with agencies that buy through the state's master service agreements, or MSAs. Cal-ITP helps the transit agencies to negotiate lower prices with vendors and draft scope-of-work documents for their open-loop projects.
Many Vendors Disqualified
It's also unclear why California officials needed to go through the General Services Administration for "market research" to identify additional validator suppliers.
As Mobility Payments reported, in response to request for proposals for five-year master service agreements for validator suppliers and "transit processor" services, the state received 22 bids in the latter half of 2021. But the California Department of General Services, which handled the tendering process, disqualified all but seven of the proposals.
Among the bids disqualified were those from such well-established fare-collection vendors as Scheidt & Bachmann, Flowbird and Access-IS, along with Modeshift. None met the state's administrative requirements. Other well-known vendors, Vix Technology, Masabi and Paragon ID, along with ZED Digital, were also knocked out of the competition for one or both of the supply agreements because of both administrative and technical issues flagged by state evaluators.
Besides hiring the three validator suppliers, Kuba, SC Soft and INIT, the state gave MSAs to four vendors to provide transit processing and PSP services: Australia- and UK-based Littlepay, Canada-based Enghouse, U.S.-based Bytemark and INIT. The latter has two state MSAs, one to supply validators and one for transit processing.
But in early procurements through Cal-ITP, only three vendors have received contracts from transit agencies–Kuba and SC Soft for validators and Littlepay as a payments service provider.
These three vendors won the contracts because of their lower prices and the fact their platforms are pre-integrated–thus saving agencies substantially on integration fees. But critics question whether Cal-ITP's procurement program can scale nationally with a lineup of only three validator suppliers. And they note that two of the total six vendors hired by the state, Kuba and Littlepay, are part of the same ownership group, ICM Mobility.
Littlepay's global head of commercial, Paul Griffin, pushed back on the criticism, contending that no agency has raised concerns about "any shared ultimate ownership" between Littlepay and Kuba.
"The market understands very well that we are entirely independently managed organizations," he said. "We (Littlepay) have an equal working relationship with SC Soft," adding: "We have also signaled our interest, openness and willingness to work with INIT validators as soon as any agency requests this."
One fare-collection industry observer believes officials in California did not want to go through the time and expense of organizing another procurement so are turning to the GSA to vet more validator suppliers. Another observer said he believes that the current MSAs from California would preclude them from going out to tender again so soon. It's not clear that that's the case, however.
INIT declined to speculate on the specifics of the agreement between Caltrans and the GSA when it comes to contracting more validators suppliers, saying only that "with the expansion of the Cal-ITP master agreements to all 50 states, it is at the discretion of the GSA to expand hardware and software technology offerings to include other suppliers."
INIT added that its validators for the U.S. market are American made and are certified by Visa for the scheme's mobility and transport transaction model, or MTT.
Neither Kuba nor SC Soft responded to a request for comment about the possibility of the federal agency hiring new validator suppliers.
Off to a Slow Start
Whatever the case regarding future expansion of the Cal-ITP program, it is not believed to be overstretching the capacity of vendors so far.
Through nearly a year of activity, Cal-ITP vendors reported orders from only eight transit agencies—most very small—with the orders totaling US$488,000 for validators and related hardware.
That was from the launch of the Mobility Marketplace in March 2022, through December 2022. Most of that $488,000 is from a project planned by Capitol Corridor, a commuter and intercity rail agency serving major cities in Northern California. Capitol Corridor also helped fund the Cal-ITP program itself using state grant funds. The rail agency has only committed to a 200-person pilot, to launch later this month, though the agency is expected to roll out open-loop technology for all of its customers.

Only one agency outside of California, Coast RTA, which operates around 10 fixed bus routes in and around Myrtle Beach, South Carolina, has bought its open-loop technology through Cal-ITP, records obtained by Mobility Payments confirm.
And Coast RTA is one of the few agencies working with Cal-ITP to go live with an open-loop rollout. Cal-ITP has also enabled four to six pilots, which the state calls demonstrations.
Cal-ITP head Gillian Gillett, speaking at a committee meeting Feb. 8 with board members of two of the largest transit agencies in the San Francisco Bay Area, BART and AC Transit, said Cal-ITP has "60 agencies in our pipeline and about 15 of them are outside of California."
It's not clear whether she was referring to transit agencies that have ordered or definitely plan to order from the Cal-ITP vendors or that the agencies have merely contacted Cal-ITP for guidance and are only thinking about ordering. Offering consulting services to agencies considering rolling out open loop is one of Cal-ITP's major roles. Caltrans didn't respond to a request for clarification.
Coming soon: In-depth look at Cal-ITP's first year.
© Mobility Payments and Forthwrite Media. Mobility Payments content is for individual use and cannot be copied or distributed without the express permission of the publisher.